Acer Nitro XV272 review: Top-tier gaming on a 1080p monitor
At a glance
Expert's Rating
Pros
Very accurate color  
Great out-of-box image quality 
Good range of image adjustments 
Smooth, clear motion performance 
Cons
Expensive for a 1080p monitor 
Bland, basic design  
Modest SDR brightness 
Our Verdict
Acer's Nitro XV272 costs more than a lot of 1080p monitors, but the IPS, 165Hz screen provides above-average image quality and motion performance, and a full range of monitor-stand adjustments and a generous array of ports make it worth the cost.
Best Prices Today: Acer Nitro XV272
1080p resolution isn't cutting-edge, but it remains the most popular resolution among modern PC displays. This is often because of budget: There are dozens of cheap 1080p monitors. But what happens when a 1080p monitor makes image quality a priority?  
Acer XV272: The specs
The Acer Nitro XV272 (LVbmiiprx) is a 27-inch, 1080p monitor with an IPS panel and a 165Hz refresh rate. This puts it smack-dab in the most crowded segment of the monitor market. Here are the XV272's most noteworthy specs.
Display size: 27-inch 
Native resolution: 1920×1080 
Panel type: IPS 
Refresh rate: Up to 165Hz 
Adaptive sync: AMD FreeSync Premium and G-Sync Compatible 
Ports: 2x HDMI 2.0, 1x DisplayPort, 4x USB 3 
Stand adjustment: Height, tilt, swivel, pivot 
VESA mount: Yes, 100x100mm 
Speakers: Yes 
Price: $349 MSRP, around $279 typical 
A few features help the Nitro XV272 stand out. It has a 165Hz refresh and is compatible with both AMD FreeSync and Nvidia G-Sync. It also has three video inputs, four USB ports, and a stand with numerous ergonomic adjustments. These features signal that the Nitro XV272, though not expensive, is a cut above entry-level 1080p monitors.  
Acer Nitro XV272: Design
The "Nitro" name might sound exciting, but the XV272, like all such monitors from Acer, looks pretty plain. Acer's Nitro sub-brand focuses on performance over design. Essentially all Nitro monitors use a simple, matte black housing paired with a skinny stand with round base. It's dull but inoffensive.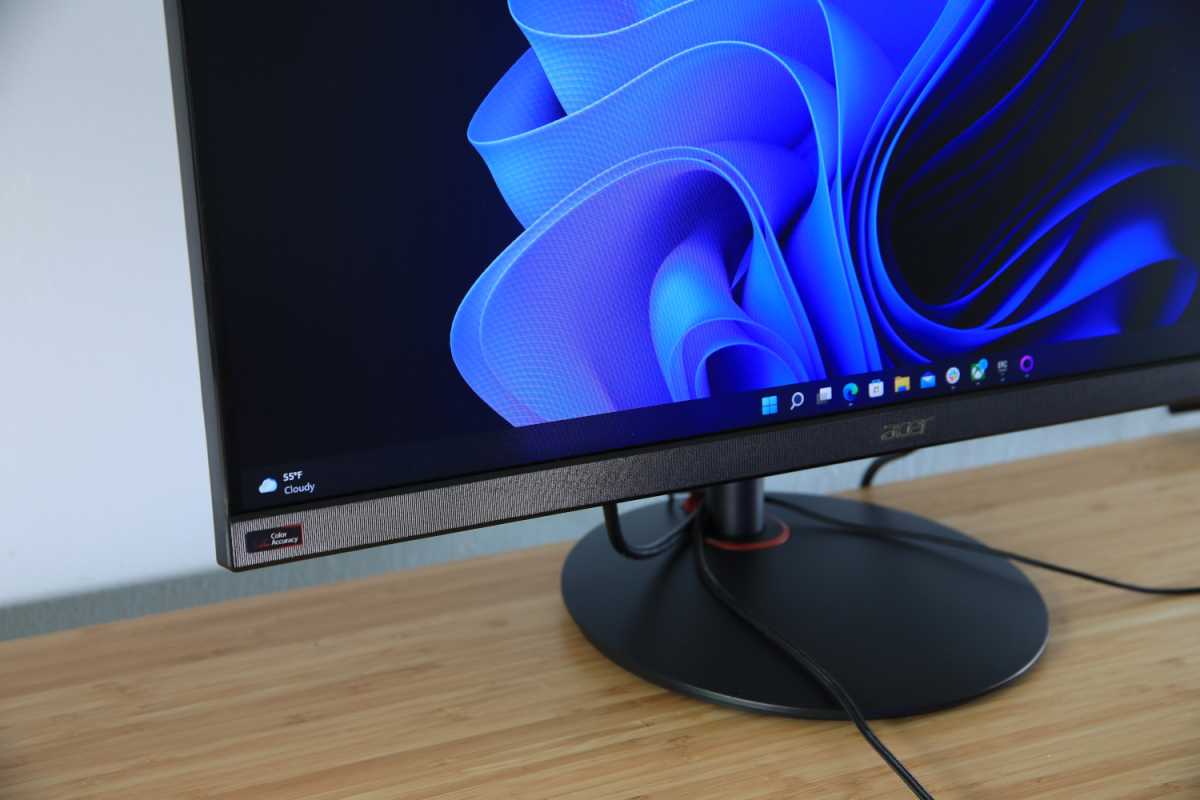 Matt Smith / Foundry
The stand feels cheap when handled but offers plenty of ergonomic adjustment. This includes height, tilt, swivel, and even pivot. Swivel and pivot aren't guaranteed at this price point, so it's good to see them here. There's also a 100x100mm VESA mount for attaching a third-party monitor arm or stand. 
There is one problem with the stand: cable management. You won't find a hole in the stand for routing cables. Instead, Acer uses a tiny clip on the base that does a terrible job of keeping cables bundled.  
Acer XV272: Features and menu 
Connectivity includes two HDMI 2.0 ports, plus one DisplayPort, and a total of four USB-A 3.0 ports for connecting wired peripherals. This makes the monitor a moderately useful USB hub, though it lacks more advanced features like USB-C with Power Delivery. Still, the Acer Nitro XV272 has more ports than most 1080p gaming monitors.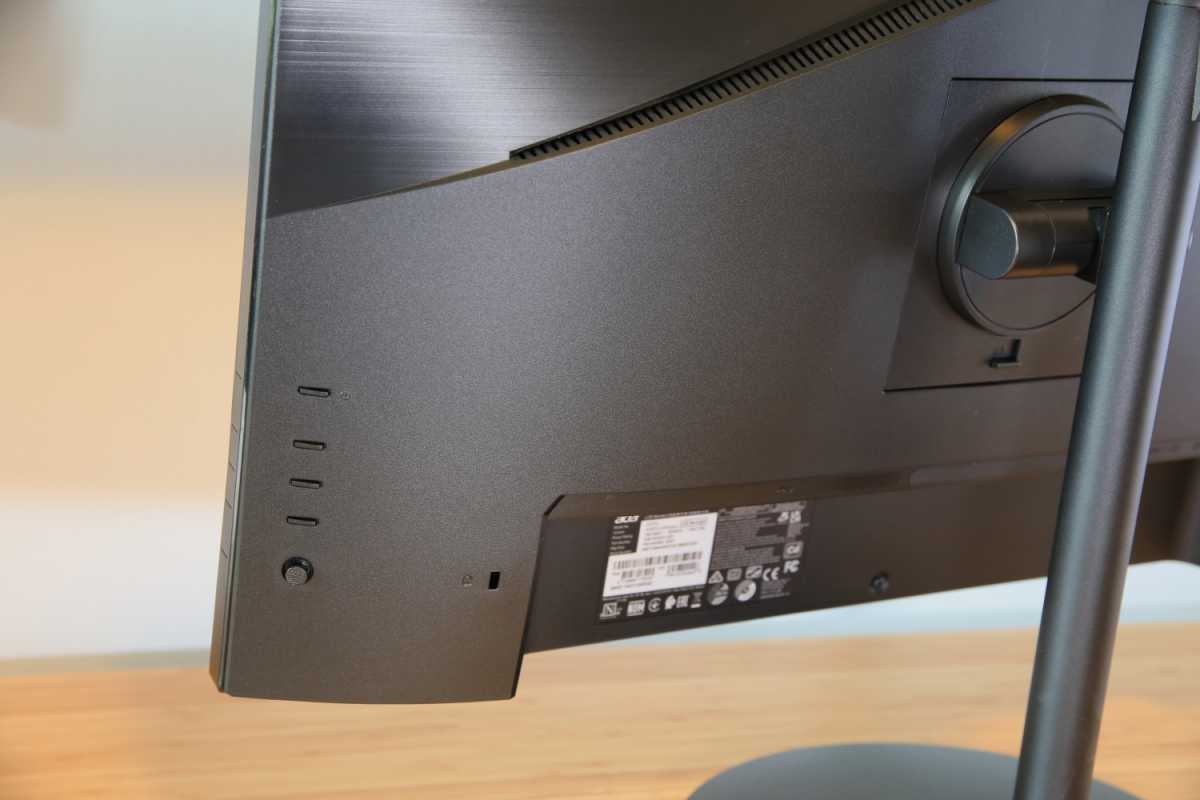 Matt Smith / Foundry
The Nitro XV272's menu system could be better. It looks basic, with simple icons and unattractive fonts, and doesn't feel responsive while using the joystick to scroll through options. The joystick and select buttons are easy to use, but the power button is a bit too close to the select buttons. I accidentally turned off the monitor several times. 
These issues hide a surprisingly robust slate of image-quality options. This includes precise gamma presets, several color temperature modes, and six-way adjustment of color saturation and hue. There's also a few gaming-centric features such as a frames-per-second counter and built-in aim points. The monitor lacks a black equalizer setting for brightening dark areas, however, which might disappoint fans of competitive shooters.  
The monitor includes a pair of two-watt speakers. They're not great but well suited for podcasts, YouTube, or games with less impressive audio. You'll want to put on a headset when sound quality matters. 
Acer XV272: SDR image quality
The Acer Nitro XV272 is towards the high end of pricing for a 27-inch 1080p display. Gamers can snag a 1440p or 4K monitor for about the same price. Acer combats this with a vivid, accurate image.  
SDR brightness comes in at about 250 nits. This is low but, as you'll see when I discuss HDR, it's not the monitor's true maximum brightness. Acer appears to be limiting the monitor's maximum potential in SDR mode. That said, the monitor is still bright enough for use in nearly all situations. It will only appear dim if used opposite a sunlit window.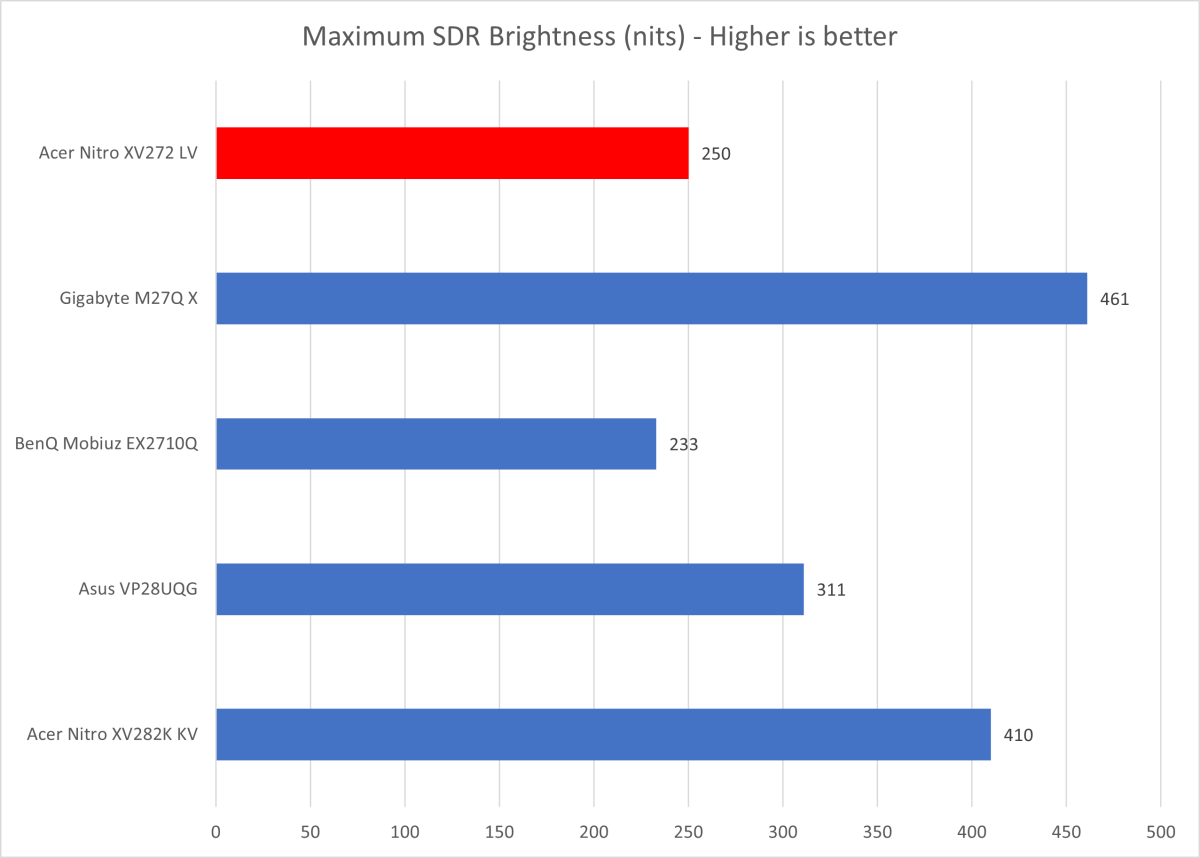 Matt Smith / Foundry
The Nitro XV272's modest contrast ratio is typical for a modern IPS gaming monitor without Mini-LED technology. Like its peers, the XV272 suffers from "IPS glow"—a hazy and blotchy appearance noticeable in dark scenes.  
That said, the monitor's contrast ratio is good for the price. Aside from LG's new IPS Black panel technology, which is currently available in just a couple displays from Dell, no IPS monitor without Mini-LED performs significantly better.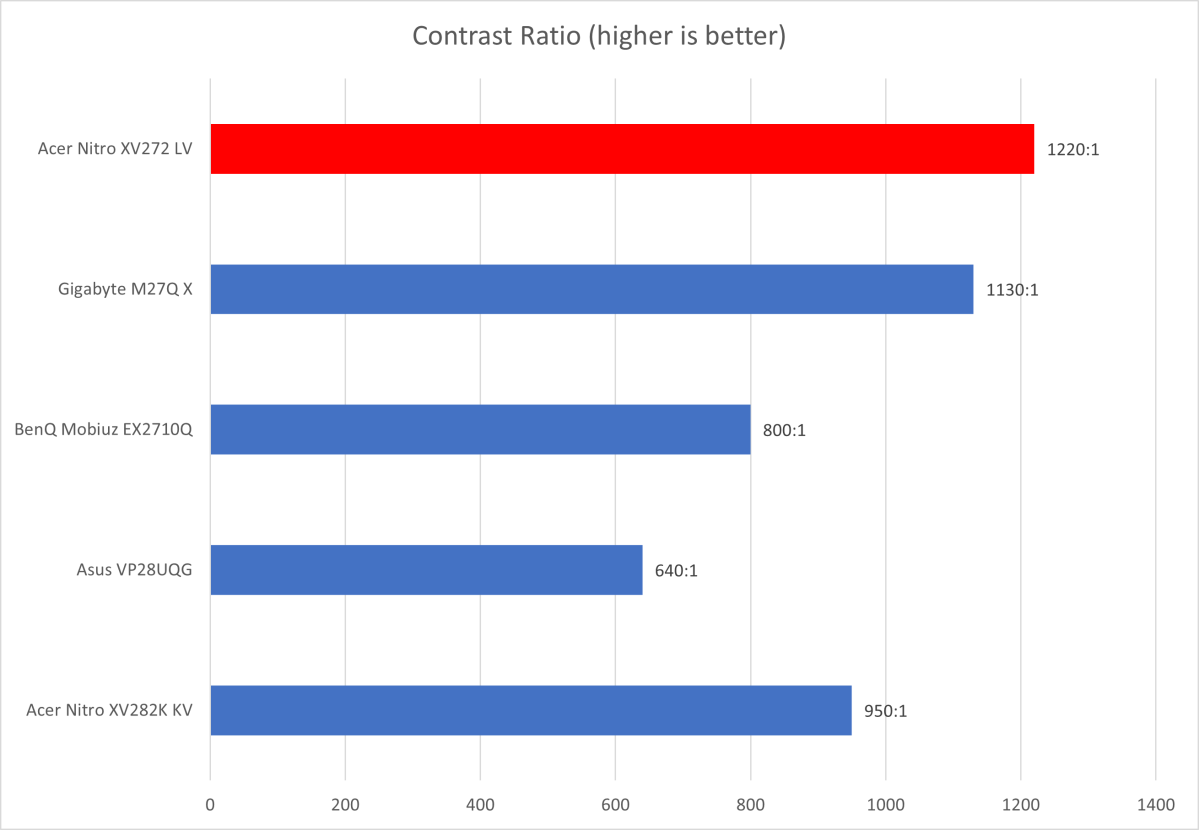 Matt Smith / Foundry
Color gamut is solid, covering the entire sRGB color space plus 88 percent of DCI-P3. The range of colors it can display is great for a mid-range gaming monitor and does provide an advantage over alternatives with a more narrow color space. The added color provides a vivid, saturated look that's attractive in games.  
As for color accuracy, the Nitro XV272 knocks it out of the park, with a default color accuracy more typical of a high-end professional monitor than a mid-range gaming monitor.  
Acer doesn't sell the XV272 as a professional display, and its meager 1080p resolution will take it out of contention for many, but creators who stick to 1080p resolution will find this monitor surprisingly capable when editing photos, video, and digital art.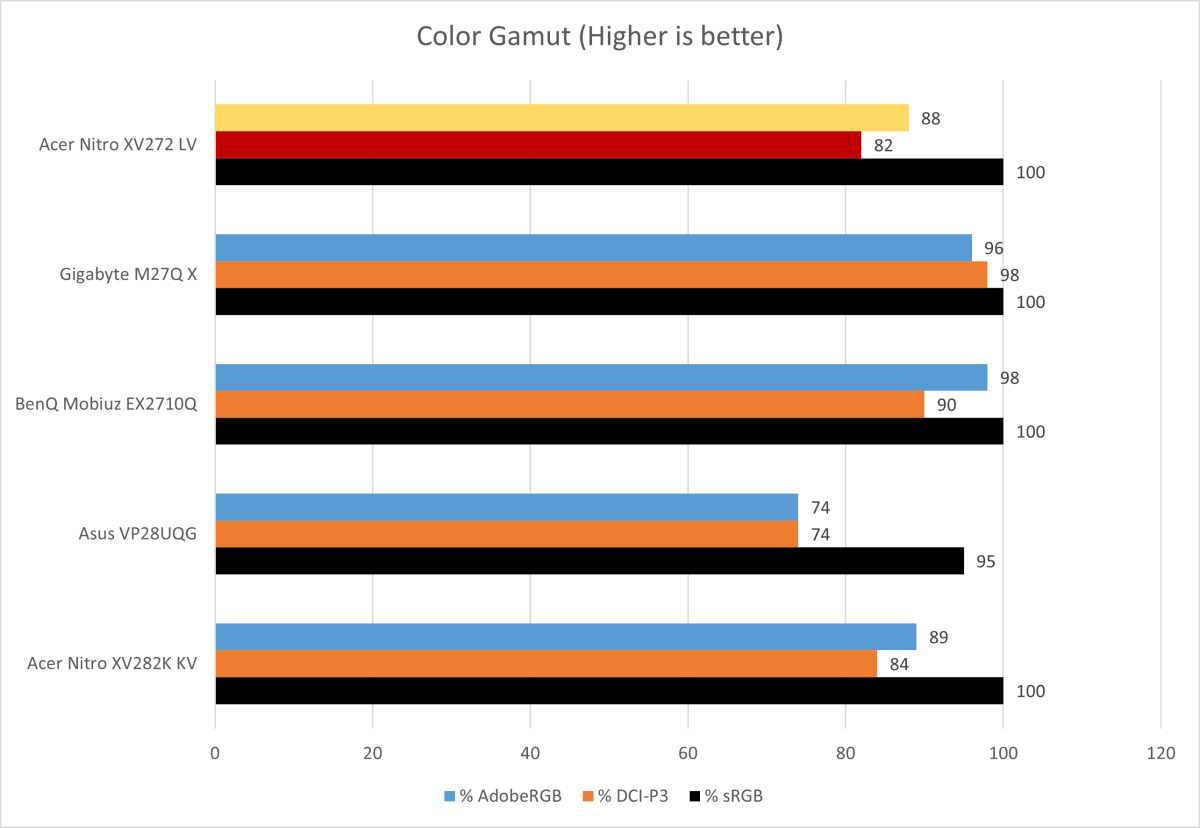 Matt Smith / Foundry
The monitor had an ideal gamma curve of 2.2, which means content looks about as bright as was intended. Default color temperature came in at 6200K, which is slightly warmer and more reddish than the typical temperature of 6500K. As mentioned earlier, the monitor offers multiple gamma and color temperature settings, so there's a lot of room to tweak the image if you want.  
But you don't need to—and that is the monitor's greatest strength. The XV272's decent contrast, accurate color, and lack of noticeable flaws makes for a fantastic out-of-box experience. The SDR image is lively and inviting.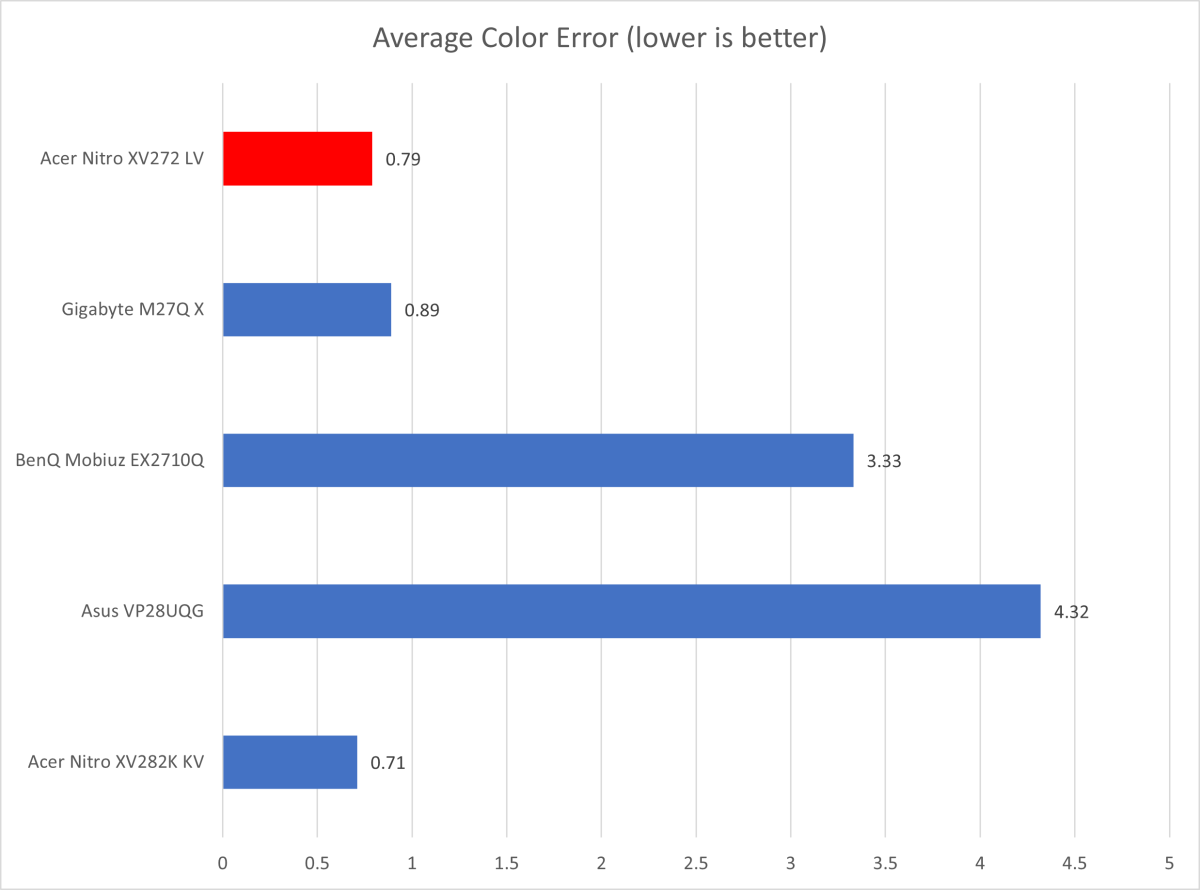 Matt Smith / Foundry
There's one obvious limitation: resolution. This is a 27-inch 1080p monitor, which translates to a meager pixel density of 81 pixels per inch. Fonts are poorly defined, videos lack sharpness, and games show distracting shimmering and pixelation. This isn't a dealbreaker for me, but you should know what you're getting into. A 1440p alternative will look much sharper.  
Acer XV272: HDR performance
The Acer Nitro XV272 supports HDR and is VESA DisplayHDR 400 certified. HDR support is becoming common among gaming displays, but it still feels special at this price point. I measured a maximum HDR brightness of 450 nits, which is solid.  
Though it supports HDR, the Nitro XV272 failed to automatically detect an HDR signal and turn on HDR mode. I had to select it manually. This is a minor annoyance but disappointing, as nearly all monitors I test have no problem detecting HDR automatically.   
The Nitro XV272's HDR performance is better than expected. It delivered performance that was superior to more expensive monitors, such as the Gigabyte M27Q X and Asus ProArt PA279CV, with better color gamut and accuracy in HDR.  
Still, ultimately, this is a budget monitor that can't do HDR justice. HDR content can deliver a bit more detail in bright areas but otherwise isn't necessarily more colorful or rich than in SDR—it just looks slightly different.  
Acer XV272: Motion performance 
Acer's Nitro XV272 has a maximum refresh rate of up to 165Hz. This delivers smooth, fluid motion in games and a quicker, more responsive feel when using the desktop. The monitor officially supports AMD FreeSync Premium and Nvidia G-Sync, so you don't need to worry about whether the monitor will work with your particular video card. 
Shoppers should remember this is a 1080p display, which is less demanding than 1440p or 4K resolution. Achieving a frame rate that fully uses the 165Hz refresh rate is possible in a wide range of titles. This is good news for gamers on a budget. 
Motion clarity is good at the monitor's default response-time setting. The monitor has an OverDrive mode, which can be activated when using several gaming-oriented image-quality presets. This can improve clarity but also causes overshoot, an issue where a pixel moves beyond the intended color, resulting in artifacts around high-contrast objects. Most owners should just leave OverDrive at the default setting of Normal.  
Final thoughts
The Acer Nitro XV272 LVbmiiprx is a good monitor for gamers who want attractive image quality at a mid-range price. Resolution will be an obstacle for some, as it's possible to buy a 1440p monitor on the same budget, but the XV272's accurate image and great motion clarity makes up for the lack of sharpness.  
The XV272 is also a good choice for content creators who want accurate color for less than $300, making it a well-rounded, budget-friendly choice for those who work from home and want one display for both productivity and gaming. 
Note: When you purchase something after clicking links in our articles, we may earn a small commission. Read our affiliate link policy for more details.
'She-Hulk' Release Schedule: When Does Episode 9 Hit Disney Plus?
The current Marvel series dropping weekly episodes on Disney Plus is almost over. She-Hulk: Attorney at Law is a half-hour scripted comedy about Jennifer Walters (played by the incredible Tatiana Maslany), the Hulk's equally green cousin.
The first season consists of nine episodes. Six are directed by Kat Coiro and the other three by Anu Valia, with Jessica Gao as head writer. Originally, She-Hulk was set to take over Ms. Marvel's Wednesday release spot, but the episodes instead arrive each Thursday (probably because Star Wars series Andor took over the Wednesday slot).
Exact She-Hulk episode release dates and times
Here are the exact episode release times.
The first smashing trailer
After a teaser that well and truly teased us (by not showing She-Hulk's face), Marvel dropped the first official trailer on May 17. This time we see what She-Hulk will look like in her awesome green glory.
She-Hulk also stars Mark Ruffalo, Benedict Wong and Tim Roth, who starred as the main antagonist in 2008's The Incredible Hulk. Ginger Gonzaga, Josh Segarra, Jameela Jamil, Jon Bass and Renée Elise Goldsberry are also part of the cast.
First Super Mario Bros. Trailer Is Here: You Can Finally Hear Chris Pratt
It's-a him. Chris Pratt as Mario in the movie. OK, so co-producer Chris Meledandri confirmed back in 2021 that Pratt wasn't going to use the stereotyped voice of the video game plumber in the upcoming animated Mario film. But on Thursday, Nintendo dropped a highly anticipated teaser trailer for The Super Mario Bros. Movie, and Pratt revealed, kind of, the voice he did choose.
Honestly, the much-anticipated Pratt-as-Mario voice was kind of a letdown. There's … maybe a faint bit of Italian accent in the few lines Pratt speaks? Or is he just using his normal voice? Pratt's Mario mostly just reacts to getting the wind knocked out of him as he heads off on his Mushroom Kingdom adventure. 
Sure, there was no way Pratt was going to use the exaggerated, stereotypical voice, but so little of him can actually be heard in the teaser it's tough to say how his Mario will sound. He doesn't deliver any of Mario's famed catchphrases — no "It's-a me, Mario" or "Wahoo!" Maybe more will be revealed when a longer trailer comes along. Regardless, there's a better chance to hear some of Jack Black's Bowser (he's excellent) and a good look at the vibrant animation.
It's-a disappointing
Fans were underwhelmed by Pratt's voice, or at least what we got to hear of it.
"Everything in the Mario movie trailer looks and sounds absolutely great…except for Chris Pratt's voice lol," one viewer tweeted.
Pratt reminded one viewer of Ratso Rizzo in 1969's Midnight Cowboy. "It was like four words, but I definitely got Dustin Hoffman 'I'm WALKIN HEAH!' vibes."
And another person summed it up nicely, writing, "It's not similar to Mario. It's not similar to Mario's vibe. It's not even similar to the live action movie version. Just Chris Pratt sounding a little confused."
"It's been a lifelong dream of mine to be Mario," Pratt says in a video clip preceding the trailer, relating how he played Mario games on a machine at his childhood laundromat. Good to know, but the jury is still out on how that dream will become a reality. 
And after the trailer was published, Pratt tweeted about it, writing, "After playing the games for years as a kid (and adult) I'm excited to bring Mario to all of you! Enjoy!"
The trailer did reveal Jack Black as Bowser, and Keegan-Michael Key as Toad. But some fans were disappointed that the clip didn't include a clip of Seth Rogen as Donkey Kong, especially the actor's infamous laugh.
"My only complaint is that we didn't get to see Seth Rogen's Donkey Kong voice let alone SOME form of laughter," one fan wrote.
The Mario movie was set to come out in late 2022 but is now scheduled for release on April 7, 2023. 
How marketers are tailoring data-driven creative to engage audiences on CTV
As the end of the year approaches and marketing teams look to finalize their 2023 budgets, many are wondering how to ensure their ads are set up for success in the months ahead, appealing to unique audiences whose media consumption habits continue to evolve. 
Advances in programmatic technology and data targeting have made it possible to reach these audiences with precision and at scale, serving ads that showcase the products and services they're most interested in — be it on their desktop, mobile or CTV devices. But something the industry doesn't always discuss during the campaign planning process is how creative contributes to campaign goals and directly impacts consumers. 
Nielsen found that creative is the top driver of a brand's in-market success — up to 80% in traditional TV and 89% in digital advertising. And there are ways to ensure that creative speaks not only to viewers' collective interests but to their nuanced interests as individuals in a non-invasive, privacy-conscious way. Using existing creative — in other words, not reinventing the wheel — marketers are taking steps to boost engagement, enhance brand awareness and achieve personalization on a greater and increasingly sophisticated level. 
Making video ads actionable
Actionable creative encourages viewers to engage and interact with brands on a one-to-one level. For marketing teams, QR codes are proving an effective way to elevate this engagement, especially in the advanced TV space. For video ads produced without a QR code, these can be added as an overlay, branded frame around the video or an end card.
In essence, QR codes mirror the strategies of clickable ads in desktop or mobile environments, pushing consumers to take action and moving them through the marketing funnel (i.e., "scan to add to cart"). Not every viewer will scan the code, but even an incremental uptick in engagement is a powerful one. QR codes are an opportunity to place a brand in the palm of a consumer's hand.
Given the proliferation of smart speakers and voice assistants (estimated to be present in approximately 95 million US households), voice-to-action commands are another way advertisers are motivating viewers to act while watching ads. By suggesting that viewers "Ask Alexa to do X" — via branded frames or end cards, for instance — marketers empower consumers to purchase a product, book a test drive and more. 
Keep branding front and center
It's one thing to serve impressions; it's another for a brand to make an impression that drives campaign results. And without robust and well-placed branding, it's near impossible to ensure viewers will remember a brand. 
Video ads are increasingly cinematic, which, while entertaining, doesn't automatically ensure the successful delivery of marketing goals and KPIs. If a viewer isn't paying full attention to an ad for the full 15 to 30 seconds, they might entirely miss what the brand is, thus limiting brand recognition and recall. 
When crafting creative (for CTV or otherwise) — even a more out-of-the-box, entertaining ad — successful marketing teams often place a small logo in the corner of the screen. The effect can somewhat interrupt the cinematic tone of the ad, but it ensures that consumers know which brand is speaking to them.  
Developing dynamic creative to fine-tune targeting
Different audiences have different needs and therefore benefit from seeing different versions of a message. Not every brand has the budget to adapt its creative to every audience and screen, but many have found cost-effective ways to do this. One technique is dynamic video creative, in which one video is modified to become more personalized to each individual in a target audience, depending on the campaign strategy.
For example, historically, a local tourism board running a summer road trip campaign promoting travel to various destinations and attractions across a state has created a traditional TV spot to show off these destinations. However, if the tourism board wants to reach viewers on a more intimate — but also more programmatic — level, then dynamic video creative and data can turn the ad creative into thousands of iterations for all screens. In this way, they reach viewers with messages molded to their interests, needs and physical locations. The outcome is that adventure enthusiasts learn about destinations for mountain biking, and families with small children are shown amusement parks within driving distance, for instance.
These practices help marketers drive awareness, engagement and action at little to no added expense, ultimately ensuring a brand speaks to audiences in the most powerful, most convincing way. Creative may be king, but these simple techniques are the kingmakers; coupled with data and technology, they're more achievable than ever. 
Sponsored by: Tremor