Best external SSD for gaming: The easiest of upgrades
If you run out of space on your gaming laptop, or you simply want an easy way to make your game library portable, an external SSD provides a way to expand storage without the hassles involved with installing a drive.
But choosing an external SSD involves a dizzying headache of options, and making a poor choice can leave you wanting. Lucky for you, we've done the testing and can offer some solid recommendations that are sure to help, and not hinder, your gaming setup.
Updated 11/08/2022: To include the Crucial X6 Portable SSD as our pick for best budget external SSD for gaming and the Adata Elite SE880 SSD as our pick for most portable external SSD for gaming. Check out our new recommendations below for more info.
How we test external SSD game performance
The biggest question you want to know is, how much does using an external drive hurt game performance. To give us an idea of how much it matters, we used UL's new 3DMark Storage Benchmark. To create the benchmark, UL essentially records the drive access patterns during several common gaming tasks to make "traces." These drive-access traces are then run on the tested storage device multiple times to duplicate the patterns without having to actually load the game.
For its test, 3DMark reproduces what happens loading to the start menus of Battlefield V, Call of Duty: Black Ops 4, and Overwatch. 3DMark Storage also tests using OBS, or Open Broadcast System, to record Overwatch being played at 1080p resolution at 60fps, installing The Outer Worlds from the Epic launcher, and saving a game in The Outer Worlds. For the final test, 3DMark Storage tests copying the Steam folder for Counter-Strike: Global Offensive from an external SSD to the target drive.
We used a 12th-gen Intel Core i9-12900K running Windows 11 on an Asus ROG Maximus Z690 Hero motherboard. The board features native Thunderbolt 4 and USB 3.2 10Gbps ports. We added a Silverstone ECU06 for USB 3.2 SuperSpeed 20Gbps support. We then used a Vantec M.2 NVMe SSD to USB 3.2 Gen2x2 20G Type C enclosure with a Western Digital SN700 NVMe SSD to test USB 3.2 20Gbps and 10Gbps performance. We also installed the same SN700 into a PCIe 3.0 riser card to test its native performance. This gives you an idea of how much you lose going from being installed inside the laptop or PC compared to using a USB port. For added contrast, we also ran 3DMark Storage on an older Plextor PX-512M7VG SATA SSD inside of a Silverstone MS09 SATA enclosure that was plugged into a USB 3.2 10Gbps port. And because you want to know how slow a hard drive would be, we also ran the same test on a Western Digital 14TB EasyStore hard drive plugged into a USB 3.2 10Gbps port. The EasyStore is actually limited to USB 3.2 SuperSpeed 5Gbps.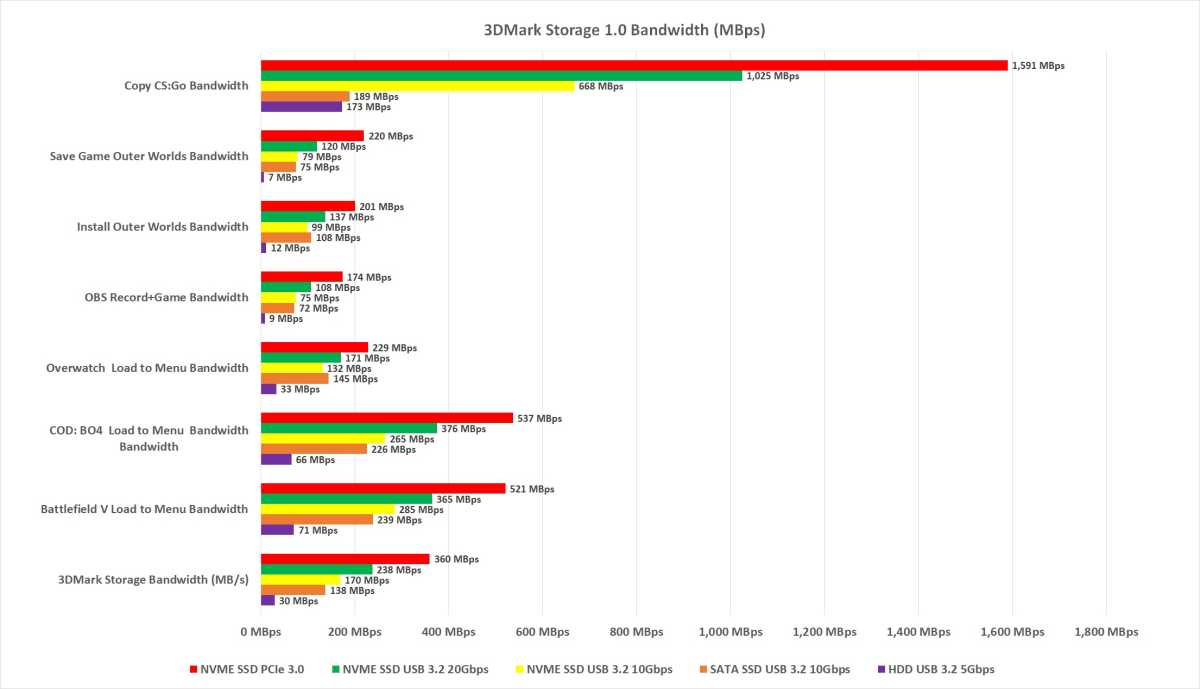 IDG
What should you make of the above results? Well, clearly if you can install an SSD inside of your PC, you'll get the most performance out of it. But you should consider some of the context. If you're only looking at the big long red bar at the top of the chart, consider that the particular test is measuring what would happen if you copied a large folder of files to the SSD. For most people, that's only done once in a while.
The more common scenario is waiting for a game to launch. Running an internal NVMe drive will still be faster, but the gap closes a little. Between the three popular USB interfaces: USB 20Gbps, USB 10Gbps, and SATA on USB 10Gbps, the fastest is USB 3.2 20Gbps. With a USB 3.2 20Gbps SSD, you might see Battlefield V shave 25 percent of the load time versus a USB 3.2 10Gbps drive. Of course, performance is also game dependent. For instance, both Call of Duty and Battlefield see 45 percent or so greater bandwidth on the internal SSD, but with the less graphically intense Overwatch, it's closer to 30 percent.
The other surprise is the performance of the SATA SSD versus the NVMe SSD when the NVMe SSD is in a USB 3.2 10Gbps port. In game loads, saves, and install scenarios, they're fairly close. The NVMe external SSD does open up to huge lead over the slower SATA once you move to a task where you're copying a huge amount of files—such as the CS:GO results. But again, how often do you do that?
Of course we can't leave this without pointing out just horrible hard drives are. Would it be more improved with a faster hard drive? Unlikely. The very minimum you should use if storing games on an external drive is a SATA SSD, so don't run a game from your external hard drive unless you like to wait for everything.
Stocking stuffer alert: Get 20% off Roblox gift cards for Cyber Monday
Amazon
Chances are, someone in your life plays Roblox—very likely younger gamers having a blast in the platform's endless player-made games. And if you're feeling generous, you could expand their horizons with an infusion of Robux, the in-game currency that helps the developers to keep the lights on and lets fans enhance their experiences with customized in-game items and abilities. If you want to help fuel your child's budding digital pizza empire, right now at Amazon, select digital Roblox gift cards are 20 percent off.
You'll spend just $20 for $25 in credit, $24 for $30 in credit, or $32 for $40 in credit. You can purchase up to two per amount, meaning that if you need to, you can buy multiples to gift your loved one. Bonus: You also get a free virtual item when you redeem a Roblox gift card. (Hope you like Thanksgiving, because that's the theme you'll be working with here.) These cards cannot be used for Roblox Premium, however.
These digital codes arrive almost immediately (within 5 minutes), so if you need a quick gift, you're easily covered. Not bad as a start to the holiday gift shopping season!
Alaina Yee is PCWorld's resident bargain hunter—when she's not covering PC building, computer components, mini-PCs, and more, she's scouring for the best tech deals. Previously her work has appeared in PC Gamer, IGN, Maximum PC, and Official Xbox Magazine. You can find her on Twitter at @morphingball.
This game-ready 1440p Dell monitor is a cool $150 on Cyber Monday
Dell
Amid the scores of monitor deals (and so-called "deals") during Black Friday and Cyber Monday, only just a few budget models are worth a look. The best of them is a humble 27-inch Dell model, which sports a 1440p resolution and 75Hz refresh rate. Now down to an incredible $150, it's considerably cheaper than its best sale price earlier this year, and 37 percent off its current list price.
This IPS panel is not officially marketed as a gaming monitor, but it's plenty capable of it, thanks to a refresh rate over 60Hz and support for FreeSync. AMD's variable refresh rate tech makes the refresh rate of your display match the frame rate output of your graphics card, making for ultra-smooth gaming. Once you try it, you won't want to go back to a monitor without such a feature.
Another bonus: The thin bezels on the Dell S2721D work well in multi-monitor setups. Not saying you need two (or more…), but if you're an office drone who can make use of more screen real estate, it won't cost as much to upgrade your desktop setup.
Heads-up, though: This deal is a limited time offer, and expires in just six hours or when stock runs out (which ever comes first). If you're tempted, don't delay too long in jumping on this deal, as you could miss out.
Alaina Yee is PCWorld's resident bargain hunter—when she's not covering PC building, computer components, mini-PCs, and more, she's scouring for the best tech deals. Previously her work has appeared in PC Gamer, IGN, Maximum PC, and Official Xbox Magazine. You can find her on Twitter at @morphingball.
Missed out on the Powerball? This puzzle might help, and it's $20 today only.
StackCommerce
It's that time of year again. You were hoping to win the Powerball to show off big at Thanksgiving and rub your new riches in your cousin Darryl's face. Instead, you're out a few bucks, and Darryl got a promotion again. Well, life's not all about constantly upgrading and winning money. But it sure can't hurt.
So, this year, why not take an additional foray with Lady Luck with The 2 Million Dollar Puzzle, a unique prize puzzle? Today only, you can get it for the Black Friday doorbuster price of just $19.99. Prices will return to normal after that, but with limited inventory, we might sell out before the sale ends!
As the name suggests, this puzzle might pay you a lot of cash. Designed by MSCHF, the makers of The One Million Dollar Puzzle, this puzzle doubles down on the original best-seller by offering two grand $1,000,000 prizes. And all you have to do is complete a puzzle. Scan your 500-piece completed puzzle (it's a giant QR code), and you'll find out immediately how much you've won. Prizes can run as low as $1, but with several prize tiers, you might get a nice chunk of change.
Right now is your chance to get The 2 Million Dollar Puzzle at its Black Friday weekend doorbuster price: just $19.99 (reg. $30). But act fast because this deal ends tonight, and we might sell out well before then!
The 2 Million Dollar Puzzle – $19.99
Prices subject to change.