Best webcams 2022: Why now is a great time to buy one
Hayden Dingman/IDG
The deals that made webcams a fantastic stocking stuffer in 2021 have continued into 2022. Over the past few years, webcams were nearly impossible to find, as millions of people gearing up to work or study from home tried to improve upon the 720p models built into most laptops. Now 1080p webcams are plentiful again, making it the perfect time to pick up a few for yourself or for loved ones.
Most laptops ship with a 720p webcam, so a 1080p webcam will be a step up—you'll stand out from the pack on your next Teams call. There are even premium models with high refresh rates and integrated ring lights for a few dollars more. This doesn't mean you can't choose from models with 4K resolution or a higher refresh rate. We've included a 4K recommendation and a 60fps option for precisely this reason.
We haven't tested all of these webcams, but we've pored over the available models to pick out the best buys based on specs and bundled extras, including our own reviews. You can also refer to our separate story on Windows Hello webcams to buy a webcam for videoconferencing and to log you in to your PC. We've taken two recommendations from that list, however, and added them here: a premium and budget webcam with Windows Hello.
To help you choose, check out our buying advice below our recommendations.
Best webcams: What to buy
Logitech C920e Business Webcam – Best overall webcam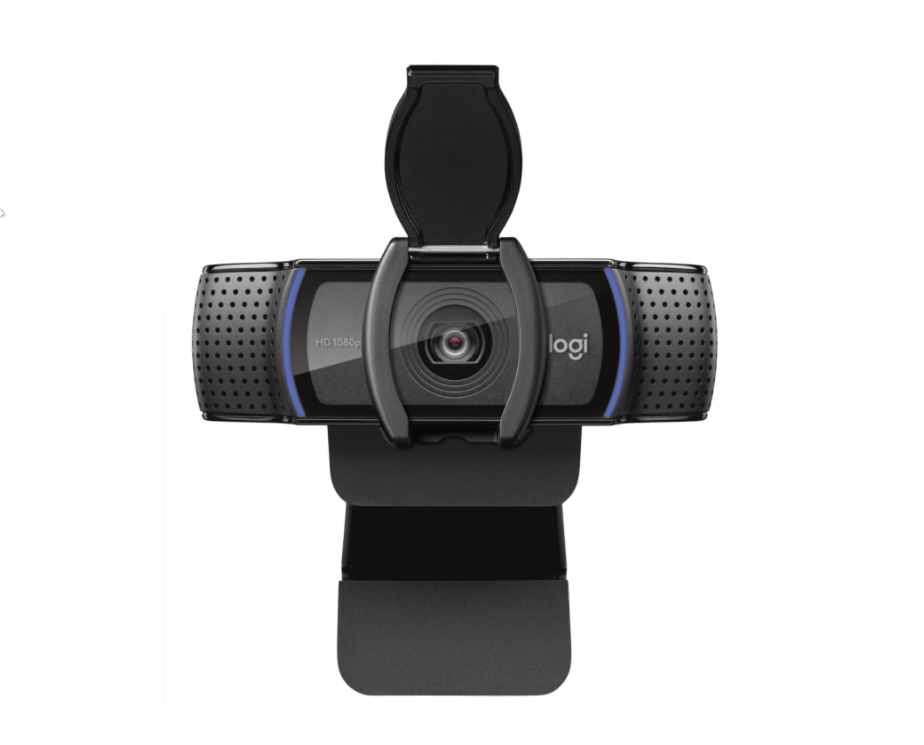 Pros
Three-year warranty
Exposure and color controls
78.5-degree viewing angle
The Logitech C920e is the most recent version of the venerable Logitech C920, probably the most iconic webcam of the last few years. Confused about whether you should buy the C920e or the C920s? Logitech describes the C920e as a business camera, and the C920s as the consumer version—they're otherwise identical, save that the C920e has a three-year warranty versus a two-year warranty, while costing the same. The C920e reportedly offers lighting and color controls that the C920s does not, as well.
Both cameras use a narrower 78.5-degree viewing angle, which focuses on your face better than other webcams that use a 90-degree viewing angle. It's also an autofocus camera, which helps justify its higher price. Aside from a lack of 60fps support, this is still a great webcam.
Logitech offers terrific hardware and support, but the fact remains that a number of the cheaper Asian companies have also begun offering a lot of what the C920 family offers, at least on paper. What may set it apart, though, is its video quality. You can refer to our Logitech C920 review for more information.
Razer Kiyo Pro – Best premium webcam
Pros
Terrific image quality in all lighting
HDR
60fps
Cons
High price
Razer Synapse software is necessary to control some functions
The Razer Kiyo Pro is an improvement over the original Kiyo in almost every way. It's a fantastic, autofocusing 1080p webcam that captures at 60 frames per second, rather than the default 30fps of its competitors. The result will be a noticeable visual improvement compared with the others on your video call. It does struggle a bit with autofocus, but the image performance is otherwise top-notch.
The Kiyo Pro webcam ships with a 1.5-meter braided USB cable, and includes a USB-A connection. Our review below includes a video shot under natural lighting, so you can see how well the Kiyo shines.
Read our full
Razer Kiyo Pro review
Anker B600 Video Bar – Best premium webcam for convenience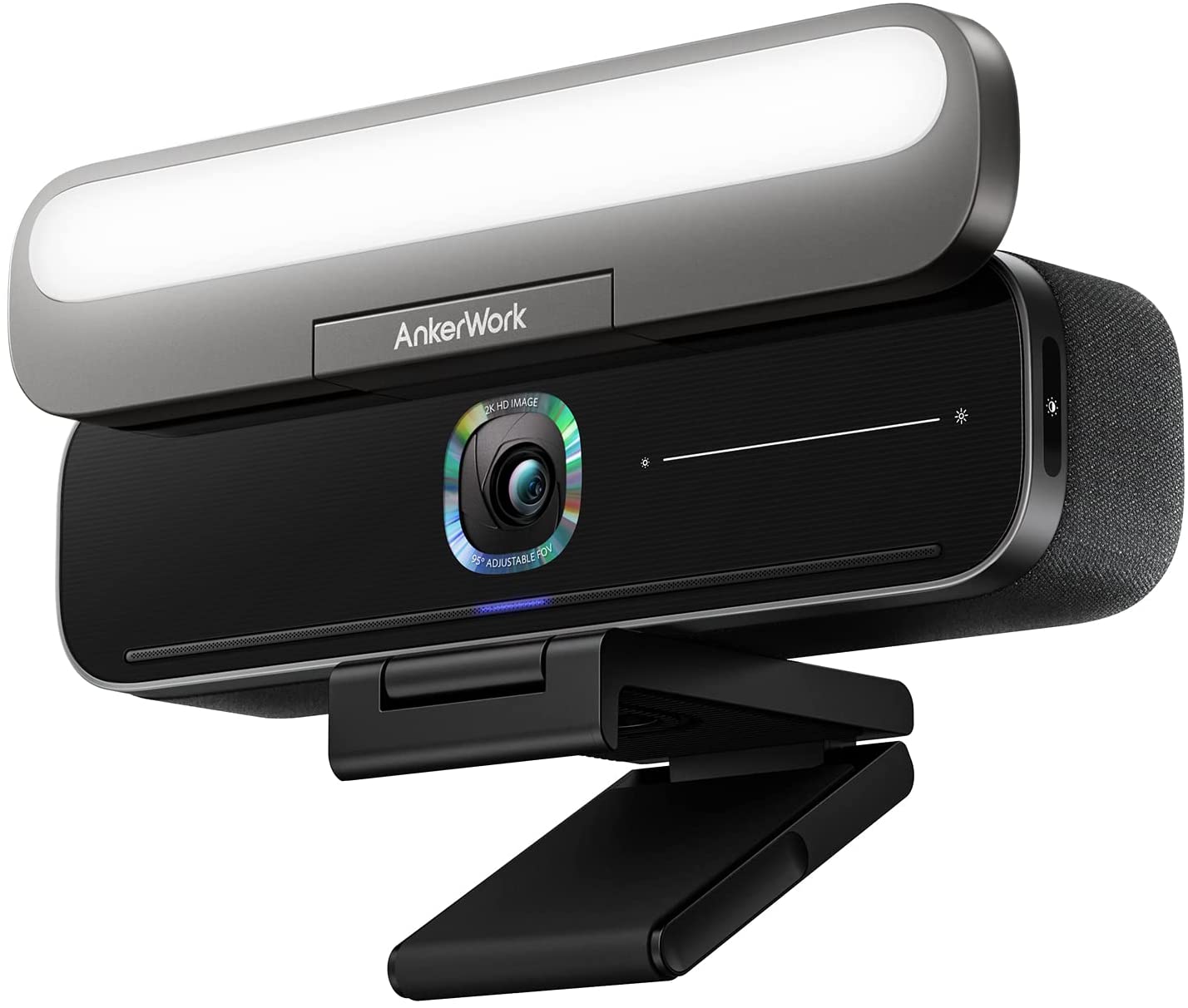 Pros
65, 78, and 95 degree viewing angles
Built-in speaker, microphone, and light bar
Adjustable settings for brightness, contrast, and more
Privacy shutter
Swivel mount
Cons
30fps
Too heavy for use with a laptop screen
The price tag on Anker's premium B600 video bar may cause double-takes. But this webcam packs in the features. Inside is a 2K resolution camera, four-microphone array, speaker, and built-in light that also serves as a privacy guard—and you get a high level of control over all the hardware.
Capacitive buttons on the device let you mute the mic, adjust the intensity of the light, and turn the light on and off. Though a bit fiddly, they work and solidly cover the basics. There's a LED light that indicates the mic's status, too.
The companion AnkerWork app expands your settings. Choosing between viewing angles of 65, 78, and 95 degrees is fast, as is downscaling the default resolution from 2K to 1080p, 720p, or 360p. You can also tune the brightness, sharpness, saturation, and contrast of your video feed, alter the light bar's color temperature, and set the light's brightness to auto adjust based on ambient conditions.
This webcam is an extremely nice all-in-one solution, so long as you're parked at a desk. (This video bar and its swiveling mount require a monitor for proper support.) The camera is clear and crisp, the speaker gets plenty loud, the mic holds its own against many laptops and earbuds, and the light is handy in dark rooms or for balancing out harsh backlighting. You can use the B600 as a speakerphone, too, eliminating problems with other callers hearing themselves as they speak.
Dell UltraSharp Webcam (WB7022) – Best premium 4K webcam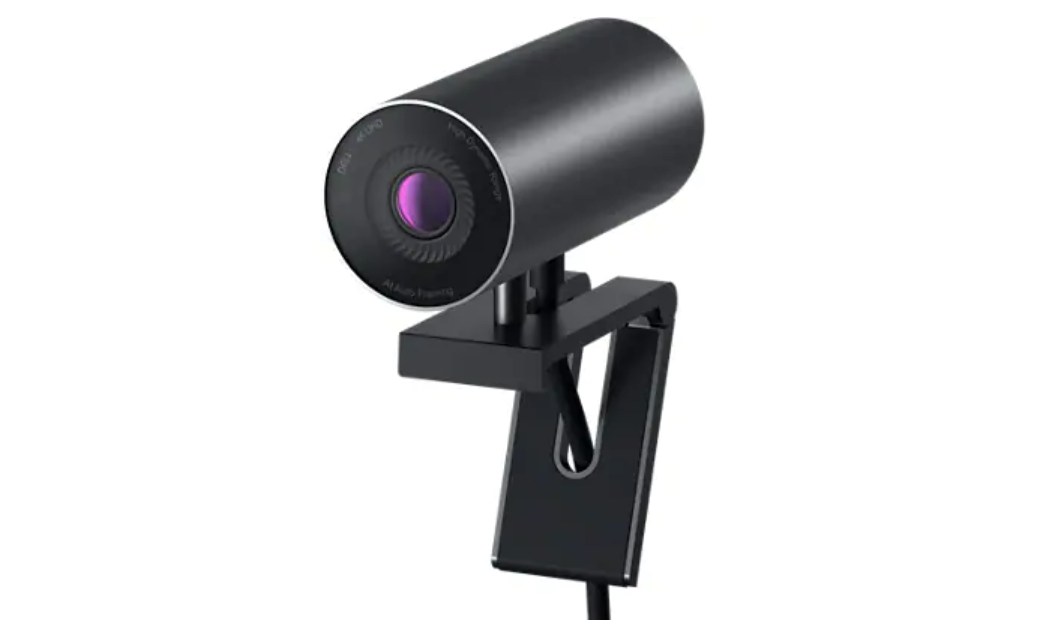 Pros
4K and HDR
AI framing crops the image to keep you centered
Configurable field of view
Cons
Privacy shutter is a separate piece that you could lose
No mic
If you want to pay extra for a 4K webcam—to show yourself off at an ultra-high-resolution—we recommend this Dell UltraSharp webcam. Save for a ring light, this webcam ships with all of the bells and whistles. The 3.5-inch-long webcam mounts either on a laptop/display or via a tripod; Dell includes both. There's a 2-meter (over 6 feet) cable, terminating in a USB Type A interface with your PC.
There's an intriguing mix of features: HDR, auto-focusing, digital zoom (up to 5X), framing, brightness, saturation, and more. Unusually, the WB7022 is neither fixed-focus nor does it offer a fixed field-of-view (FOV). Dell's AI framing crops the image to keep your face centered, and you have the option of configuring the field of view from 90 degrees, to 78 degrees, and down to a narrow 65 degrees. Dell applies HDR, temporal, and spatial noise reduction to help you look your best. There's even Windows Hello.
There are a few oddities: The privacy shutter doesn't flip down; it's a separate piece that magnetically connects to the front of the lens. There's no mic, either, so you'll have to use a headset or just your laptop's mic. You're also trading high resolution for an otherwise standard 30fps frame rate.
eMeet C960 Webcam – Best budget webcam
Pros
Dual mics
Noise cancellation
Cons
Fixed focal length
No privacy shutter, though it looks like there is
This 1080p webcam also has a wide-angle 90-degree viewing angle, which might be a little wide for a single person. It perches on the back of a laptop or flat-panel display. Don't be fooled by the image; there's no privacy shutter, though you drape a cloth over the webcam when not in use.
Reviews of this camera seem to be almost universally good, though you'll need to make sure that you're well lit. If you need extra light, eMeet also sells a version of the webcam with a ring light for $59.99.
Nexigo N60 – Best budget webcam runner-up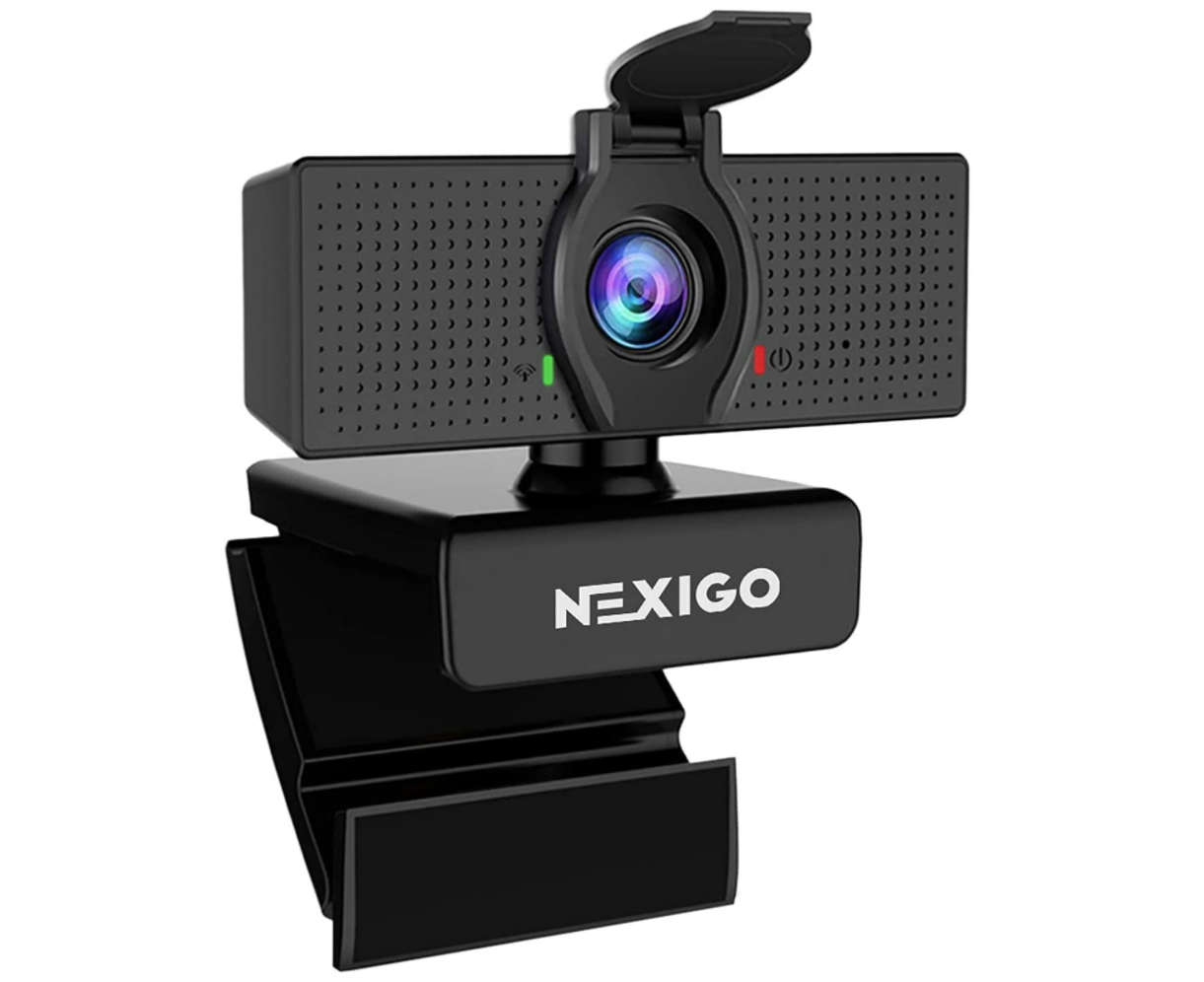 Pros
Privacy shutter
Noise-cancelling stereo mic
Cons
Fixed focus
110-degree viewing angle
This 30fps 1080 webcam is optimized more for group calls, as its 110-degree viewing angle will pick up more of the scene than rival webcams.
This webcam also clips onto a laptop or monitor. One of the nicer touches is a small LED alerting you when the camera is powered on and connected.
I bought this webcam for my son during the pandemic, and he used it everyday to connect to his classes via Zoom. He didn't have any complaints about picture quality, and we haven't seen any from other buyers, either. NexiGo provides some basic software controls to help adjust color and contrast, too. The mics seem to do quite a good job picking up your voice and filtering out any ambient noise.
NexiGo N980P – Best webcam for wide-angle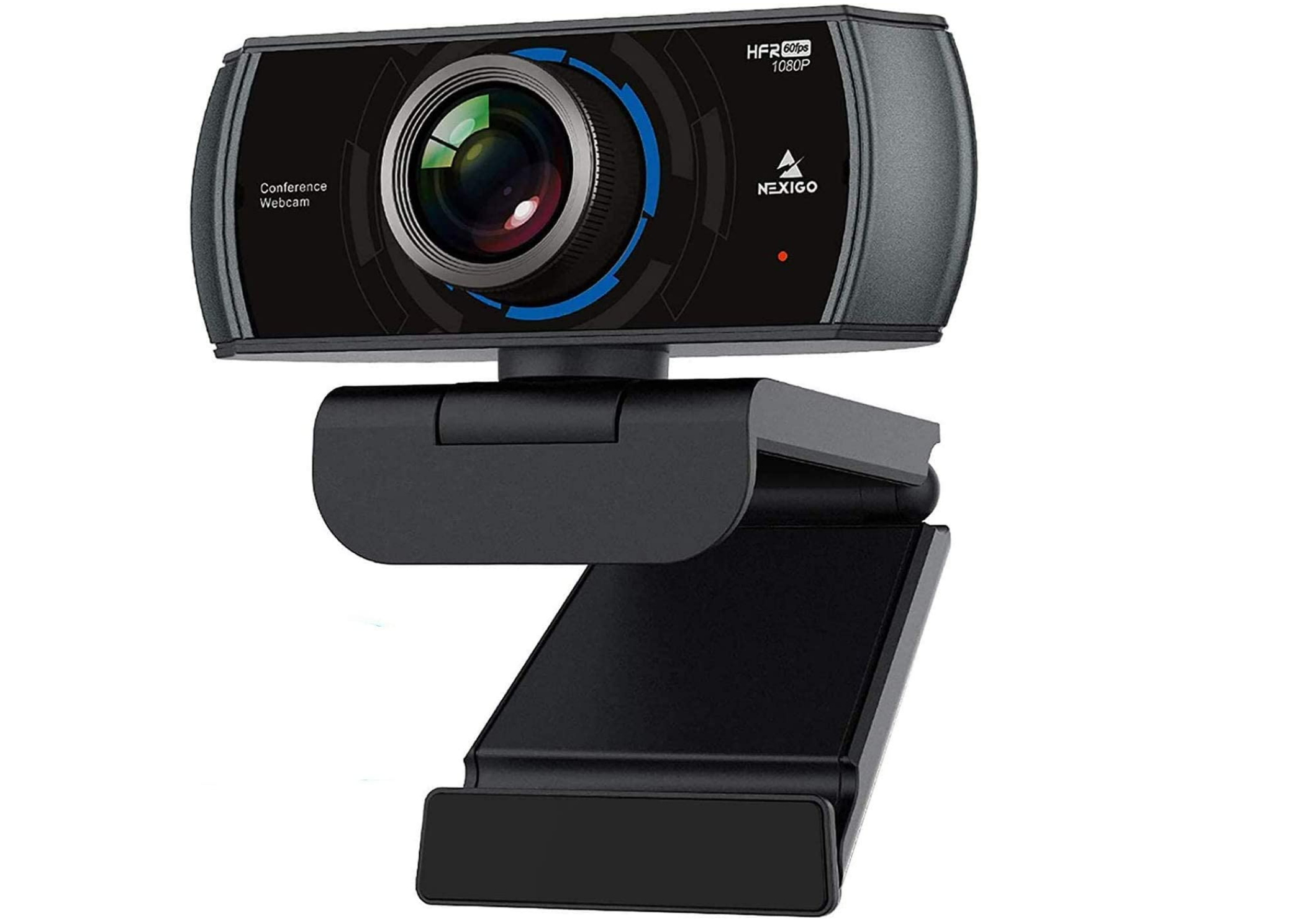 Pros
60fps
120-degree viewing angle
Privacy shutter
This fixed-focus 1080p webcam captures frames at a smooth 60 frames per second, as opposed to the more standard 30fps. You'll look smoother and more lifelike as a result. The camera also captures at a 120-degree angle, which might not be ideal for a home user but can work quite well in a living room or conference room. This webcam is very highly reviewed on Amazon, with reviewers praising it for its color balance but criticizing it for its inability to be finely adjusted.
It's still a fixed-focus camera though, and if you want an autofocusing model we'd recommend you pay about $100 for the upgraded NexiGo N680p instead.
Logitech Brio 4K Ultra HD Webcam – Best premium webcam for Windows Hello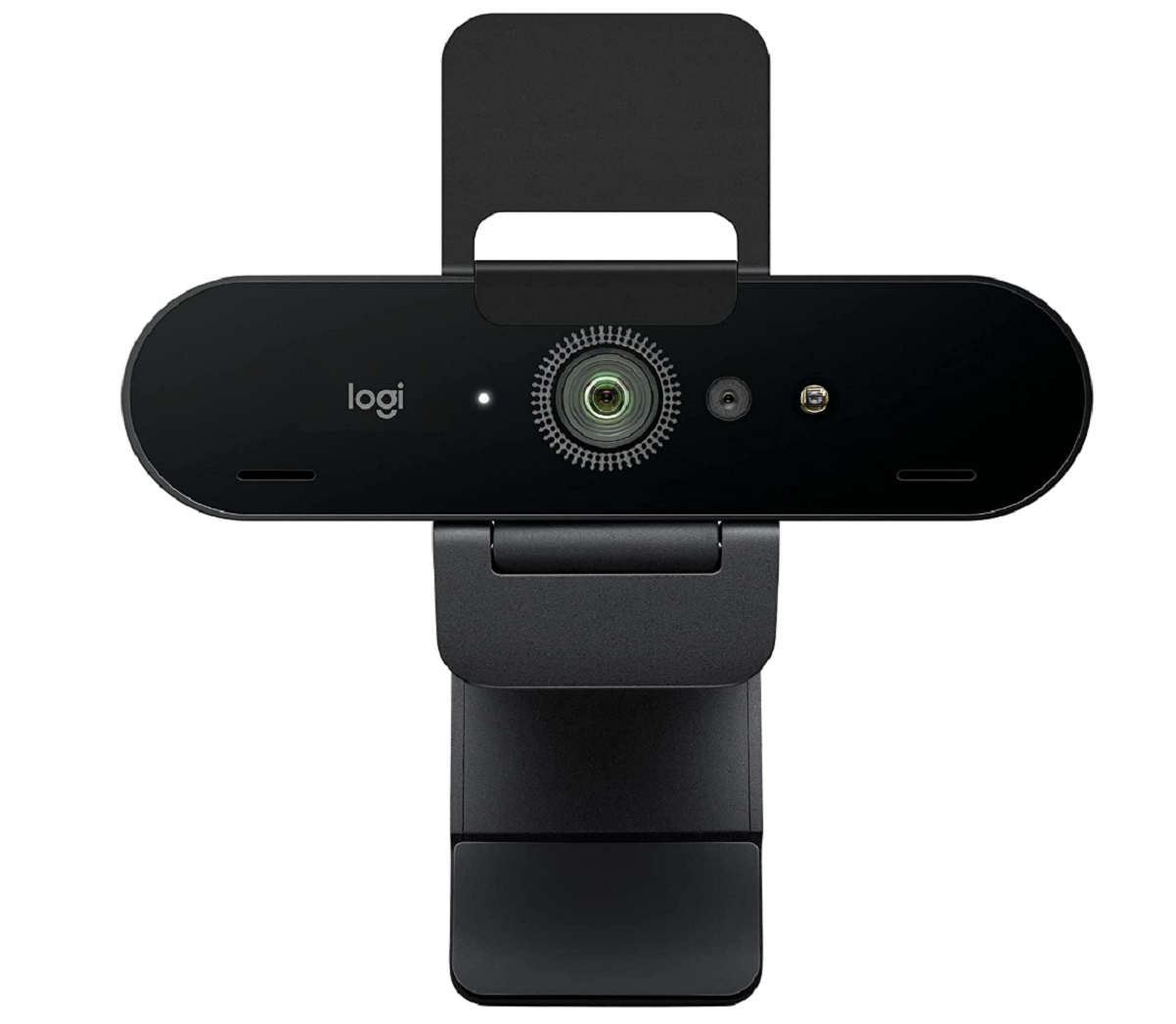 Pros
Sharply detailed resolution with vibrant colors
Wide-angle field of view
Infrared-based facial recognition
If we're being honest (and price is no object) the Dell UltraSharp webcam above would be our top pick for a Windows Hello webcam. But Logitech's also feeling the heat, and it has lowered the price of its Brio 4K as a result. We can't help but recommend it.
It still ranks highly among premium webcams, primarily because it's one of the few autofocusing webcams that captures in 4K resolution. The Brio includes a ton of features to make you look great, and its Windows Hello support will log you in in a snap.
Read our full
Logitech Brio 4K Ultra HD Webcam review
MouseComputer Facial Recognition Webcam – Best budget webcam for Windows Hello

Pros
Inexpensive, but decent quality
Cons
720p resolution
You may need to disable your PC's own webcam
Our separate story on Windows Hello webcams offers cheaper options than the MouseComputer webcam, but the image quality of the webcam itself appears to be better—or, conversely, the competition is fudging on whether they offer true 1080p resolution. In any event, this $65 or so webcam seems to offer what you'll need, plus Windows Hello functionality.
Users have complained that you'll need to make sure Windows is up to date and that your webcam is directly plugged into your laptop. There's no privacy shutter, unfortunately.
1080p webcam buying guide
A standalone 1080p webcam can't add Windows Hello to your system, but it can greatly improve how you look on your next Zoom call. Here's what to look for. You'll probably ask yourself: Should I prioritize a 60fps webcam over an autofocusing webcam? We'd say that if you have to choose one, choose the former. Unless you'll be moving about a lot, a fixed-focus webcam will do just fine.
Adjustable or fixed focus: Don't worry about fixed-focus, as it's been pre-configured at a focal length that's about the distance between your face and your laptop or monitor. You'll need to account for this with tripods, however, or pay a little more for an autofocusing webcam. Autofocus webcams are handy for situations where you may be moving about the room, but beware distracting webcams that frequently refocus.
Higher frame rates: A standard webcam captures video at 30 frames per second, and will look "normal." You'll notice the smoothness of a 60fps camera though, and so will people you're on a video call with.
Field of view (FOV): The camera's field of view can vary. A 90-degree FOV helps people focus on you (and perhaps not the clutter you've hidden off to the side). A 110-degree or higher FOV works better for group shots, although distortion can become a problem the wider your FOV gets. Think of a 90-degree FOV as one that would show two people seated side-by-side at what you would consider a "standard" distance from a webcam, or a foot or two. A 110-degree FOV can show three people, squeezed a bit close together.
Privacy shutter: These devices are not a privacy threat, for the simple reason that they can be unplugged easily. Most have a flip-down privacy shutter, but you could always tape over the camera or drape it with a dark cloth. 
Ring lights: Yes, integrated ring lights are now a thing on premium webcams, and worth the money if lighting is a challenge for you. They'll certainly help with lighting, although a big bright display in front of you will help too. You can also purchase a separate ring light, or just let a big bright display light your face, too.
Windows Hello: You may have used Windows Hello with a fingerprint reader or another laptop. The camera simply "recognizes" you, logging you in. It's exceptionally convenient.
Tripod bundle: With so many webcams on the market, manufacturers are trying hard to differentiate their products. The new trend is a small tripod, which gives you more options for mounting the camera.
Updated on July 27, 2022 with additional pricing, advice, and recommendations.
Protect your passwords and donate to charity
StackCommerce
Going back to school or signing up for an online learning platform to pick up new skills? You probably need to make a slew of passwords to log into those accounts. But considering how much personal information we share online, no account is truly safe, so protecting your logins with a password manager like LastPass is vital. 
During our Back to Education event, you can score one year of LastPass Families for $24.99, and $0.50 of your purchase will be donated to a charitable organization helping kids in need. You'll even get an email where you can vote for the charity!
Featured in The New York Times, Mashable, The Huffington Post, Today, and more, LastPass is a password manager, generator, and security tool all in one! You can store passwords for all your current accounts on LastPass, and it'll autofill them when you need to log in. And when you create new accounts, LastPass creates long, random codes that are nearly impossible to crack. It even notifies you if your personal info was found on the dark web, allowing you to secure affected accounts as soon as possible.
Protect your online presence with a one-year subscription to LastPass Families for just $24.99.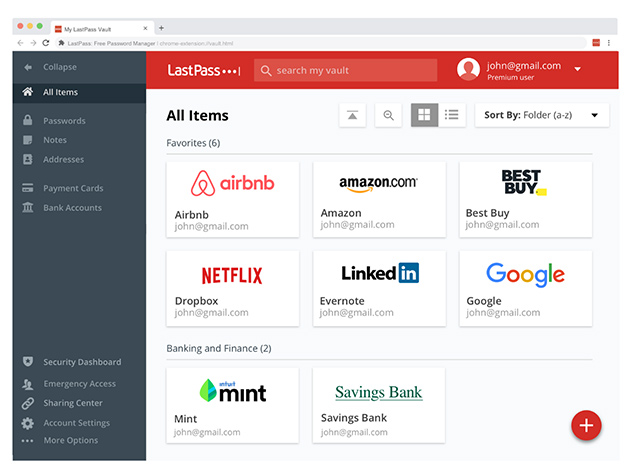 A Year of LastPass Families for only $2.75 a month! – $32.99
Prices subject to change.
Web3 and the transition toward true digital ownership 
Image Credit: ArtemisDiana/Getty
Were you unable to attend Transform 2022? Check out all of the summit sessions in our on-demand library now! Watch here.
---
How do you think you would answer if I asked you the following question: "What do you own online?" 
In real life, you own your home, the car you drive, the watch you wear, and anything else you have purchased. But do you own your email address or your business's website? How about the pictures that populate your Instagram account? Or the in-game purchases on Fortnite or FIFA video games or whatever else you are playing? 
My best guess is, after casting your mind through the things you use the internet for (which for everybody is pretty much everything, social and professional), you would struggle to find a solid answer. 
Maybe you would ask me to explain what I mean by "ownership." But it doesn't really matter. And while I don't mean this to be a trick question, it kind of is. Because in the current version of the internet, we don't have ownership rights online. 
Event
MetaBeat 2022
MetaBeat will bring together thought leaders to give guidance on how metaverse technology will transform the way all industries communicate and do business on October 4 in San Francisco, CA.
Digital ownership: Participants and products 
To understand why we don't own anything online, we must first understand the evolution of the internet and how it gave rise to the business model that has dominated its current iteration. 
In the 1990s — the decade of desktop computers and dial-up connections — the internet was predominantly a content delivery network consisting of simple static websites showcasing information. What we refer to today as Web1 was slow, siloed, and disorganized. 
Next came the platforms, such as Facebook (now Meta) and Google, driven by wireless connectivity and the development of handheld devices like laptops, smartphones, and tablets, which gave us free-to-use services that enabled us to edit, interact with and generate content. These platforms centralized the web, putting in place a top-down structure that saw users reliant on their systems and services. 
This evolution of the internet took place in the mid-2000s and is the version we know today. We call it Web2. It is a model based on connectivity and user-generated content, made in the image and interests of companies like Facebook, Twitter, Instagram, and YouTube. 
In this environment, netizens are both participants and products. We sign up for services in exchange for our data, which is sold to advertisers, and we create content that generates value and fuels engagement for these platforms. We do all this while having no rights to anything online.
Our social media profiles can be taken down and our access to email accounts or messenger apps suspended. We don't own any of the digital assets we purchase and have no autonomy over our data. Businesses we build online are often reliant on platforms and are therefore vulnerable to algorithms, data breaches and shadow bans. 
The deck is stacked against us. Because the option not to be involved, when so much of the commerce and communication in the world takes place online, is not really an option at all. And yet there is nothing that we can point to and call ours. Nothing we have any actual authority over.
And, it is this dynamic that Web3 is determined to change. 
Web3 and the "internet of value" 
Right now, when most people hear the term "Web3" they probably think "metaverse". But a better way to think about Web3 is as the evolution of the internet. 
Today, the digital experience is very corporate and very centralized. Web3 will offer the dynamic, app-driven user experience of the current mobile web in a decentralized model, shifting the power from big tech back to the users. It will do this by spreading the data outward — putting it back in the hands of netizens who are then free to use, share and monetize it as they see fit — and expanding the scale and scope of interactions between users and the internet. 
Underpinning that expansion will be guaranteed access, which means anyone can use any service without permissions and no one can block, restrict or remove any user's access. 
The idea then is that Web3 will not only be more egalitarian but that it will create an "Internet of Value" because the value generated by the web will be shared much more equitably between users, companies, and services, with much better interoperability. Users will have full ownership, authority, and control over both the content they create and their data. But how will this help us transition toward true digital ownership? 
NFTs hold the key to digital ownership 
The truth is that digital ownership is not too hard a problem to solve. And we already have the solution: NFTs. 
In the public consciousness, NFTs are known for the projects that have garnered the most media attention, such as CryptoPunks and Bored Ape Yacht Club. While projects such as these have catapulted the term into the zeitgeist, the usefulness of the underlying technology has been much less discussed. 
Simply put, NFTs act as proof of ownership. The details of the NFT's holder are recorded on the blockchain, all transactions and transfers are tracked and transparent and available to the public, and everything is managed by the token's unique ID and metadata.
So, how does this work in practice? Let's say I create an NFT. As soon as I upload it, a "smart contract" is created that tracks its creation, the current owner, and the royalties I will receive. If someone decides to purchase it, they own that NFT and any additional perks that come with ownership. Their details are registered on the blockchain and nobody can edit or remove them. 
Now, let's say that the market for my NFTs starts to heat up, demand grows and the value of my collection begins to rise. If the owner decides to sell, they make a profit and I earn a small royalty from the resale. The change in ownership is tracked on-chain in real-time and the smart contract ensures my royalty fee is deposited directly in my wallet. This is the key value proposition of NFTs: Verifiable ownership and the option to liquidate digital assets. 
What's next for Web3? 
This is what ownership looks like in Web3. It is the promise that netizens will be able to own their digital assets in the same way that they own their home, car and watch. NFTs will usher in a more equitable digital economy and will play a central role in the future of digital commerce. 
The fact is that as of right now, we are still writing the Web3 rulebook. This is still a very new, very young space. And while few things are certain, what we can say for sure is that the internet is only moving in one direction: ownership. 
The guiding principle in Web3 is to accelerate the transition towards a more equitable digital environment. It is very much opt-in, an internet built by the people for the people. It is one in which ownership is the foundation upon which new products, networks, and experiences are being built. And it is fundamental to establishing the internet of value. 
Over the next few years, as Web3 develops it will operate alongside Web2. The infrastructure supporting Web2 is very strong and I don't see us completely shifting away from that any time soon. However, in the medium-to long-term, Web3 will completely reshape our relationship with the internet.
Filip Martinsson is cofounder and chief operating officer of Moralis.
DataDecisionMakers
Welcome to the VentureBeat community!
DataDecisionMakers is where experts, including the technical people doing data work, can share data-related insights and innovation.
If you want to read about cutting-edge ideas and up-to-date information, best practices, and the future of data and data tech, join us at DataDecisionMakers.
You might even consider contributing an article of your own!
Apple blocked the latest Telegram update over a new animated emoji set
Ever since Apple launched the App Store, developers big and small have gotten caught up in the company's approval process and had their apps delayed or removed altogether. The popular messaging app Telegram is just the latest, according to the company's CEO Pavel Durov. On August 10th, Durov posted a message to his Telegram channel saying the app's latest update had been stuck in Apple's review process for two weeks without any real word from the company about why it was held up. 
As noted by The Verge, the update was finally released yesterday, and Durov again took to Telegram to discuss what happened. The CEO says that Apple told Telegram that it would have to remove a new feature called Telemoji, which Durov described as "higher quality vector-animated versions of the standard emoji." He included a preview of what they would look like in his post — they're similar to the basic emoji set Apple uses, but with some pretty delightful animations that certainly could help make messaging a little more expressive. 
"This is a puzzling move on Apple's behalf, because Telemoji would have brought an entire new dimension to its static low-resolution emoji and would have significantly enriched their ecosystem," Durov wrote in his post. It's not entirely clear how this feature would enrich Apple's overall ecosystem, but it still seems like quite the puzzling thing for Apple to get caught up over, especially since Telegram already has a host of emoji and sticker options that go far beyond the default set found in iOS. Indeed, Durov noted that there are more than 10 new emoji packs in the latest Telegram update, and said the company will take the time to make Telemoji "even more unique and recognizable."
There are still a lot of emoji-related improvements in the latest Telegram update, though. The company says it is launching an "open emoji platform" where anyone can upload their own set of emoji that people who pay for Telegram's premium service can use. If you're not a premium user, you'll still be able to see the customized emoji and test using them in "saved messages" like reminders and notes in the app. The custom emoji can be interactive as well — if you tap on them, you'll get a full-screen animated reaction. 
To make it easier to access all this, the sticker, GIF and emoji panel has been redesigned, with tabs for each of those reaction categories. This makes the iOS keyboard match up with the Android app as well as the web version of Telegram. There are also new privacy settings that let you control who can send you video and voice messages: everyone, contacts or no one. Telegram notes that, like its other privacy settings, you can set "exceptions" so that specific groups or people can "always" or "never" send you voice or video messages. The new update — sans Telemoji — is available now.
All products recommended by Engadget are selected by our editorial team, independent of our parent company. Some of our stories include affiliate links. If you buy something through one of these links, we may earn an affiliate commission.