Best wireless mice: Cut the cord with these top performers
Rob Schultz / IDG
If you still think of wireless mice as laggy, battery-sucking substitutes for a real mouse, we've got good news for you. Mouse manufacturers have largely solved the latency, connectivity, and power-efficiency problems that once blighted these devices. The best of today's wireless mice rival their wired counterparts in performance, battery life, features, and design.
There are two rather obvious benefits of a wireless mouse. It eliminates the tether to your computer, giving you greater range—essential if you are constrained by your work area or playing PC games on your TV—and removes a source of friction that often interferes with speed and accuracy. It also makes an essential device more travel friendly. No one objects to one less cord in their gear bag. You'll probably pay a bit more for a wireless mouse than a wired one, but if you value this kind of convenience it's worth it.
Want to pair your wireless mouse with a wireless keyboard? We've got you covered—see PCWorld's roundup of the best wireless keyboards.
Our picks for best wireless mice include innovative designs, ergonomic features, and multiple connectivity options. They also cover both productivity and gaming uses, so you should be able to find at least one that suits your needs. You'll find our tips on what to look for in a wireless mouse below our recommendations.
Microsoft Arc Mouse – Most portable wireless mouse
Pros
Travel-friendly size
Comfortable design
Good productivity performance
Cons
Limited customization options
Needs two AAA batteries
Might be small for bigger hands
If we had a "most unusual mouse design" category, the Arc Mouse would win that as well. It lays flat until you bend it into an arc that conforms to the shape of your mouse-ing hand. It uses a single click pad for left and right buttons and scrolling, and the default settings can be changed in Windows device settings.
At just 5.17 x 2.17 x 0.56 inches, the Arc Mouse is easily the most portable mouse we tested. We also like that there is no USB receiver to worry about misplacing—the Arc Mouse connects via Bluetooth 4.0. Folks with extra-large hands might find it a little small, but for most people it will be a welcome addition to their gear bag.
Logitech MX Ergo – Best wireless mouse with a trackball
Pros
Comfortable ergonomic tilt
Solid build
Highly customizable
Cons
Right-handed only
Expensive
Trackball mice are an acquired taste, but the MX Ergo's innovative design may have wider appeal. Its width and shape can accommodate most hand sizes and its responsive thumb-side trackball is easy to use and control.
A removable metal plate on the bottom serves a dual purpose. Its weight keeps the mouse perfectly still on your desk as you rotate the scroll wheel. And it can also be adjusted to tilt the mouse 20 degrees, an angle that puts your arm in a more natural, rested position.
The mouse has eight buttons—including a dedicated precision button that slows the cursor speed so you can make more accurate movements with the trackball—all of which can be customized using Logitech Options software. The mouse connects via an accompanying USB dongle or Bluetooth, and Logitech claims its battery can go four months on a single full charge. The only downer is it's not ambidextrous, so southpaws will have to look elsewhere.
Logitech MX Vertical – Most ergonomic wireless mouse
Pros
Comfortable ergonomic design
Can cross-control multiple devices
Customizable button mapping
Cons
Has a bit of a learning curve
Expensive
If you have a history of mouse-related hand and arm discomfort, the MX vertical is a great option. Its upright position and contoured body puts your arm at about a 57-degree vertical angle, reducing the pressure on your wrist and creating a comfortable thumb rest. Despite the unconventional design, the mouse still offers familiar controls with split mouse buttons, a scroll wheel aligned to your first two fingers, and a pair of thumb buttons on the adjascent side.
The mouse supports Logitech's Unified Receiver and Bluetooth connections. You can also wire it to your computer using the USB-C charging cable. You can use it with Logitech Options to customize button settings and with Logitech Flow to seamlessly control multiple computers with a single mouse.
The MX Veritcal is a high-performing productivity tool once you get acclimated to the vertical design, and one that may prevent pain and strain as well as ease them.
Microsoft Bluetooth Mouse – Best budget wireless mouse
Pros
Compact, ambidextrous design
Clickable scroll wheel
Inexpensive
Cons
No programmable buttons
No ergonomic features
For a no-nonsense, go-anywhere mouse, the Microsoft Bluetooth Mouse is hard to beat. As its name makes clear, it connects over Bluetooth so there's no USB dongle to keep track of. Split buttons and a clickable scroll wheel let you precisely navigate web pages and large documents, and it tracks easily over most surfaces.
The Microsoft Bluetooth Mouse runs on a single AA battery but since it uses Bluetooth Low Energy, you can expect up to 12 months of battery life. It's available in five colors.
SteelSeries Rival 650 – Best wireless mouse for gaming
Pros
Fast charging
Comfortable and attractive design
Removable weight system provides plenty of options
Cons
Heavier than some might like
Expensive
Third thumb button is small and awkwardly placed
Wireless gaming mice offer a critical advantage—no cord resistance to slow down your movements or mess with the precision of your aim. Our top pick is the the SteelSeries Rival 650. It features an eye-catching design, smart button placement, and a wealth of customization options. It also uses a unique dual-sensor system, pairing SteelSeries' exclusive TrueMove3 with a dedicated depth sensor that keeps your aim steady when you lift up and adjust the mouse.
The SteelSeries Rival 650 uses quick-charging tech similar to what you find in phones, giving you about 10 hours of charge from a mere 15 minutes plugged in. Best of all, you get all this for about half the price of its competitors.
To learn more read our full review of the SteelSeries Rival 650.
Logitech G603 – Best budget wireless mouse for gaming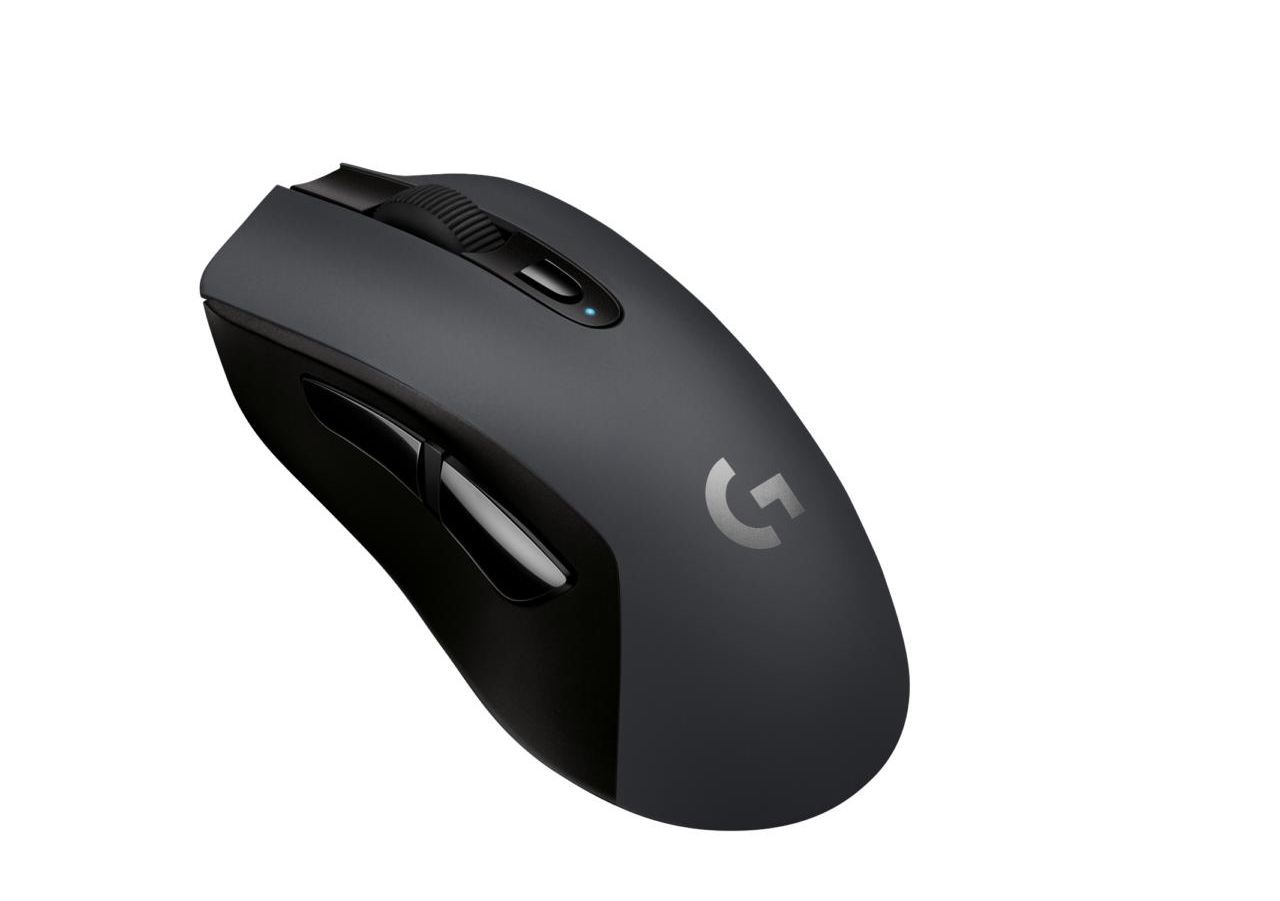 Pros
Adopts Logitech's comfortable G703 scooped shape
500 hours of high-performance gaming off two AA batteries
Flashy one-piece battery cover and button design
Cons
Heavy, thanks to the dual batteries
Hard to say how durable the buttons will be over time
You can use your main mouse for gaming on the road. But Logitech's G603 is a better choice. This dedicated wireless gaming mouse features six programmable buttons, including the scroll wheel and a comfortable scoop shape that conforms to right-handers' thumbs. Two AA batteries power up to 500 hours of gaming thanks to Logitech's proprietary HERO sensor, which provides accurate performance with no smoothing, no acceleration, and no interference up to 12,000 DPI. 
To learn more, read our full review of the Logitech G603.
What to look for in a wireless mouse
Connectivity
In lieu of a cord, wireless mice connect in one of two ways: via Bluetooth or radio frequencies. Most modern computers ship with Bluetooth support, so if you purchase a Bluetooth-compatible mouse, you'll just need to pair the two devices to get up and running.
Wireless mice that connect using radio frequencies come with a USB-RF receiver that plugs into a USB port on your computer. This is a plug-and-play process and the mouse should talk to the receiver—often called a "dongle"—as soon as you plug it in. If you don't or can't keep the dongle plugged into your computer at all times—you only have so many USB ports, after all—you'll have to vigilantly keep track of it. If you lose it, your mouse won't be good for anything but a paper weight. For this reason, some mice come with a small compartment in which you can store the receiver when it's not in use.
The main concern with wireless connectivity is latency. If your input doesn't register onscreen nearly instantly, you productivity will quickly take a hit. A mouse's responsiveness is even more critical when gaming, where quick reflexes can be the difference between virtual life and death.
Unfortunately, there's little agreement around which connectivity method is faster. Gaming companies like Razer and SteelSeries claim RF connections have the advantage, and that is likely true for gaming. But the latency difference between Bluetooth and RF, which is measured in tenths of a millisecond, is probably negligible for productivity. In our tests, we saw little difference between the two types of connectivity during basic work tasks.
Ergonomics
Mouse use has been implicated in repetitive stress injuries for years, and manufacturers have responded with all kinds of quirky designs they claim will prevent or relieve wrist and arm pain. They have tweaked the mouse's sculpt, button position, and shape seemingly every which way to facilitate a more natural angle for your arm when it's moving and at rest. But just because the box says a mouse is ergonomic doesn't mean it's guaranteed to reduce your discomfort. The only way to tell for sure is to use it for a period of time, and unfortunately retailers don't typically allow test drives.
Still, for designers, PC gamers, and others who who spend continuous hours using a mouse, prioritizing an ergonomic model is probably worth it. Just remember, the type of mouse you use is only one factor in minimizing RSIs, and your habits may be an even more important factor.
Programmable buttons
While the functions of left and right buttons and the scroll wheel are clear, many mice include additional buttons on the side and/or top of the mouse that you can configure for custom tasks. Mapping these buttons to things like the back button of your browser, "cut" and "paste" commands, or other repetitive tasks can save you a lot of time in the long run. Typically, if a mouse comes with a half-dozen buttons, it will also include the manufacturer's software for programming them.
Note: When you purchase something after clicking links in our articles, we may earn a small commission. Read our affiliate link policy for more details.
Computers and Peripherals

Computers
61% off Aura's robust antivirus software for Window, Mac, and Android – Deal Alert
Aura
Aura provides extensive protection from malware, viruses, trojans, ransomware, and more and protects up to 10 devices. Receive real-time threat alerts of malicious files and apps (Windows) and auto-malware quarantine to protect your device & data. All in one protection that includes Antivirus, VPN, Password Manager, Parental Control, and Identity Theft protection. Available on Windows, Android, and Mac. Right now the product is discounted 61% off its regular price. See this deal now on Aura's site.
Note: When you purchase something after clicking links in our articles, we may earn a small commission. Read our affiliate link policy for more details.
Acer Nitro XV272 review: Top-tier gaming on a 1080p monitor
At a glance
Expert's Rating
Pros
Very accurate color  
Great out-of-box image quality 
Good range of image adjustments 
Smooth, clear motion performance 
Cons
Expensive for a 1080p monitor 
Bland, basic design  
Modest SDR brightness 
Our Verdict
Acer's Nitro XV272 costs more than a lot of 1080p monitors, but the IPS, 165Hz screen provides above-average image quality and motion performance, and a full range of monitor-stand adjustments and a generous array of ports make it worth the cost.
Best Prices Today: Acer Nitro XV272
1080p resolution isn't cutting-edge, but it remains the most popular resolution among modern PC displays. This is often because of budget: There are dozens of cheap 1080p monitors. But what happens when a 1080p monitor makes image quality a priority?  
Acer XV272: The specs
The Acer Nitro XV272 (LVbmiiprx) is a 27-inch, 1080p monitor with an IPS panel and a 165Hz refresh rate. This puts it smack-dab in the most crowded segment of the monitor market. Here are the XV272's most noteworthy specs.
Display size: 27-inch 
Native resolution: 1920×1080 
Panel type: IPS 
Refresh rate: Up to 165Hz 
Adaptive sync: AMD FreeSync Premium and G-Sync Compatible 
Ports: 2x HDMI 2.0, 1x DisplayPort, 4x USB 3 
Stand adjustment: Height, tilt, swivel, pivot 
VESA mount: Yes, 100x100mm 
Speakers: Yes 
Price: $349 MSRP, around $279 typical 
A few features help the Nitro XV272 stand out. It has a 165Hz refresh and is compatible with both AMD FreeSync and Nvidia G-Sync. It also has three video inputs, four USB ports, and a stand with numerous ergonomic adjustments. These features signal that the Nitro XV272, though not expensive, is a cut above entry-level 1080p monitors.  
Acer Nitro XV272: Design
The "Nitro" name might sound exciting, but the XV272, like all such monitors from Acer, looks pretty plain. Acer's Nitro sub-brand focuses on performance over design. Essentially all Nitro monitors use a simple, matte black housing paired with a skinny stand with round base. It's dull but inoffensive.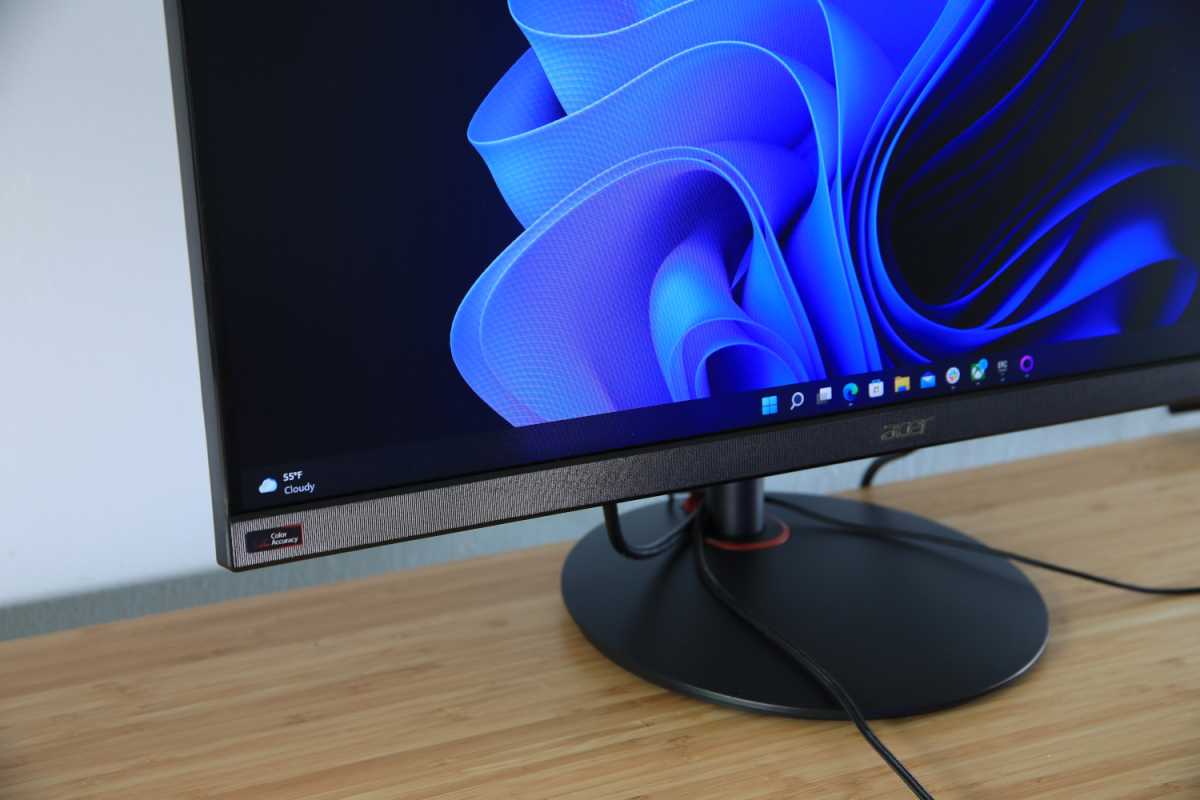 Matt Smith / Foundry
The stand feels cheap when handled but offers plenty of ergonomic adjustment. This includes height, tilt, swivel, and even pivot. Swivel and pivot aren't guaranteed at this price point, so it's good to see them here. There's also a 100x100mm VESA mount for attaching a third-party monitor arm or stand. 
There is one problem with the stand: cable management. You won't find a hole in the stand for routing cables. Instead, Acer uses a tiny clip on the base that does a terrible job of keeping cables bundled.  
Acer XV272: Features and menu 
Connectivity includes two HDMI 2.0 ports, plus one DisplayPort, and a total of four USB-A 3.0 ports for connecting wired peripherals. This makes the monitor a moderately useful USB hub, though it lacks more advanced features like USB-C with Power Delivery. Still, the Acer Nitro XV272 has more ports than most 1080p gaming monitors.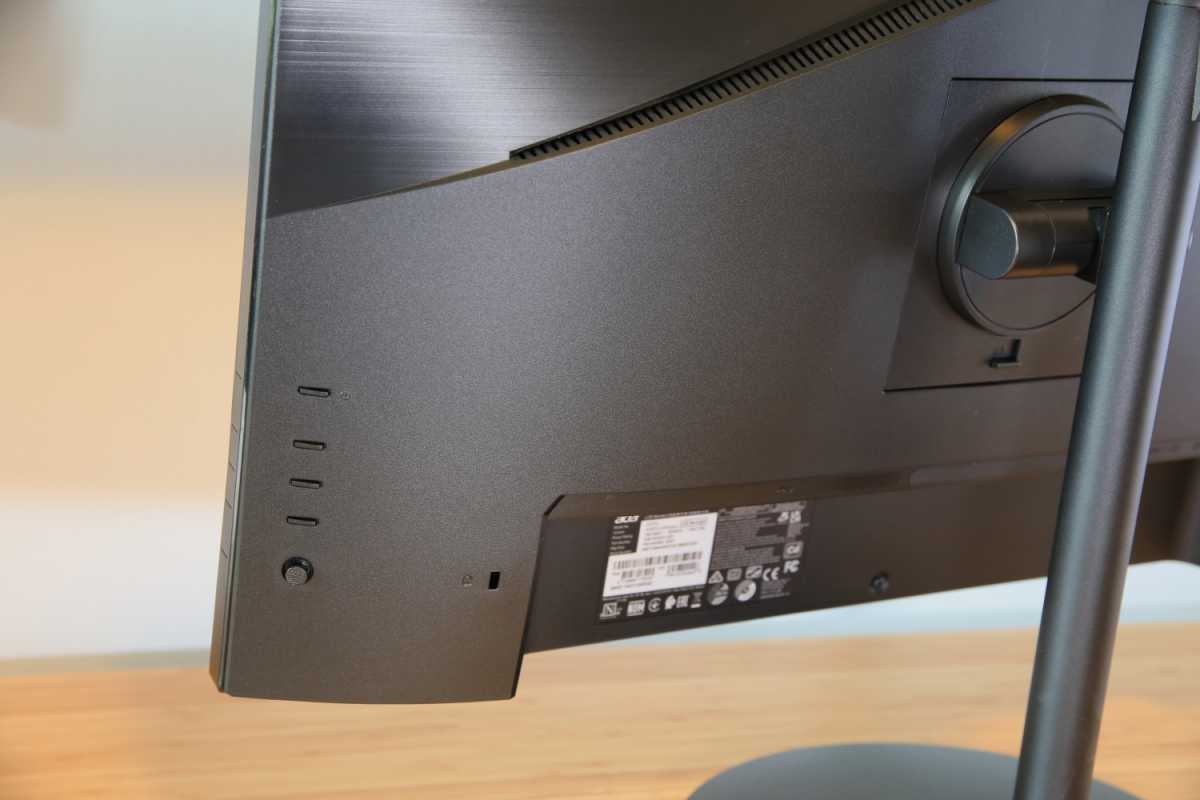 Matt Smith / Foundry
The Nitro XV272's menu system could be better. It looks basic, with simple icons and unattractive fonts, and doesn't feel responsive while using the joystick to scroll through options. The joystick and select buttons are easy to use, but the power button is a bit too close to the select buttons. I accidentally turned off the monitor several times. 
These issues hide a surprisingly robust slate of image-quality options. This includes precise gamma presets, several color temperature modes, and six-way adjustment of color saturation and hue. There's also a few gaming-centric features such as a frames-per-second counter and built-in aim points. The monitor lacks a black equalizer setting for brightening dark areas, however, which might disappoint fans of competitive shooters.  
The monitor includes a pair of two-watt speakers. They're not great but well suited for podcasts, YouTube, or games with less impressive audio. You'll want to put on a headset when sound quality matters. 
Acer XV272: SDR image quality
The Acer Nitro XV272 is towards the high end of pricing for a 27-inch 1080p display. Gamers can snag a 1440p or 4K monitor for about the same price. Acer combats this with a vivid, accurate image.  
SDR brightness comes in at about 250 nits. This is low but, as you'll see when I discuss HDR, it's not the monitor's true maximum brightness. Acer appears to be limiting the monitor's maximum potential in SDR mode. That said, the monitor is still bright enough for use in nearly all situations. It will only appear dim if used opposite a sunlit window.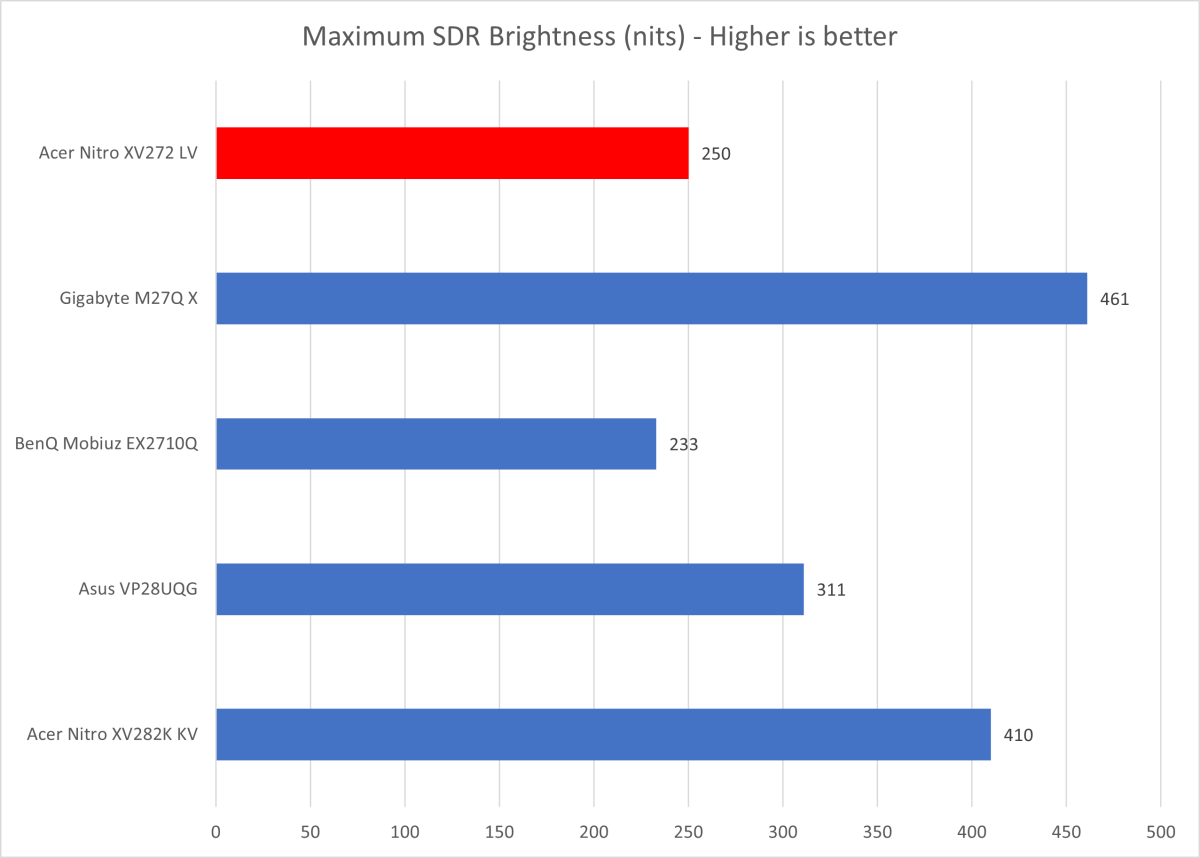 Matt Smith / Foundry
The Nitro XV272's modest contrast ratio is typical for a modern IPS gaming monitor without Mini-LED technology. Like its peers, the XV272 suffers from "IPS glow"—a hazy and blotchy appearance noticeable in dark scenes.  
That said, the monitor's contrast ratio is good for the price. Aside from LG's new IPS Black panel technology, which is currently available in just a couple displays from Dell, no IPS monitor without Mini-LED performs significantly better.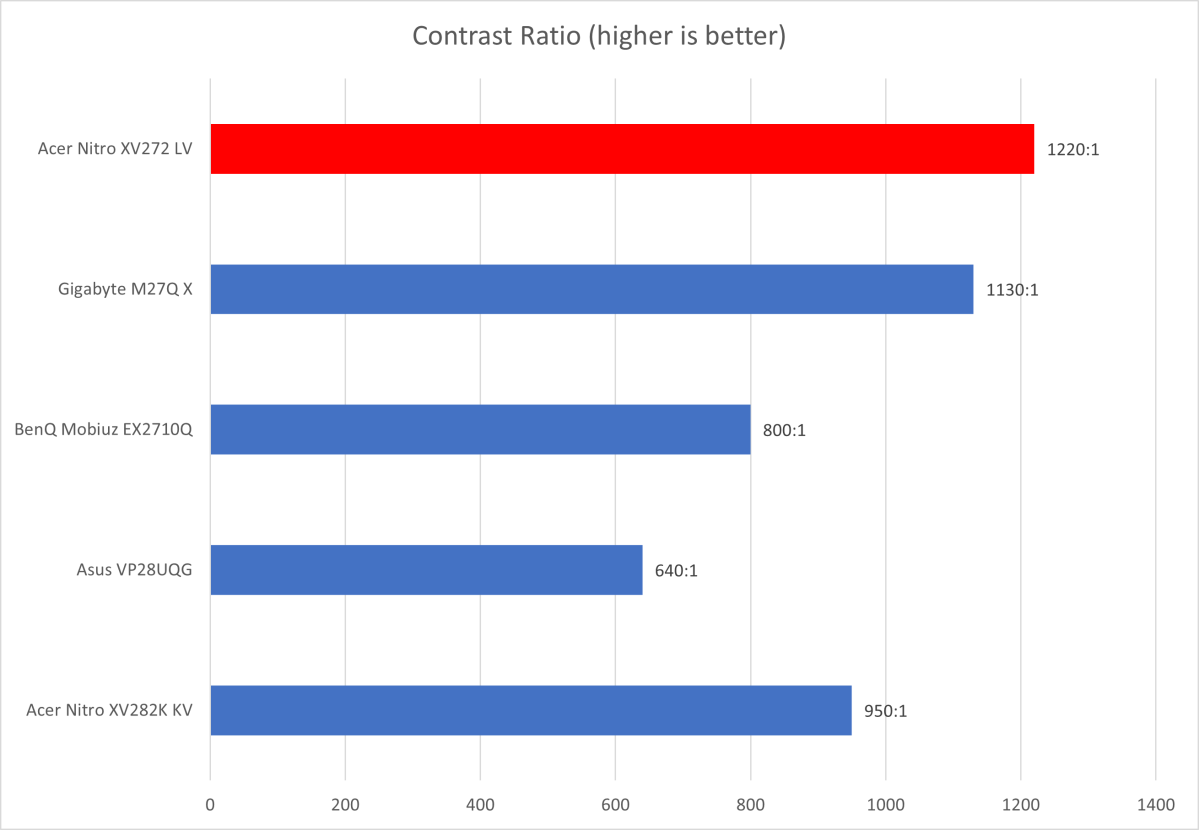 Matt Smith / Foundry
Color gamut is solid, covering the entire sRGB color space plus 88 percent of DCI-P3. The range of colors it can display is great for a mid-range gaming monitor and does provide an advantage over alternatives with a more narrow color space. The added color provides a vivid, saturated look that's attractive in games.  
As for color accuracy, the Nitro XV272 knocks it out of the park, with a default color accuracy more typical of a high-end professional monitor than a mid-range gaming monitor.  
Acer doesn't sell the XV272 as a professional display, and its meager 1080p resolution will take it out of contention for many, but creators who stick to 1080p resolution will find this monitor surprisingly capable when editing photos, video, and digital art.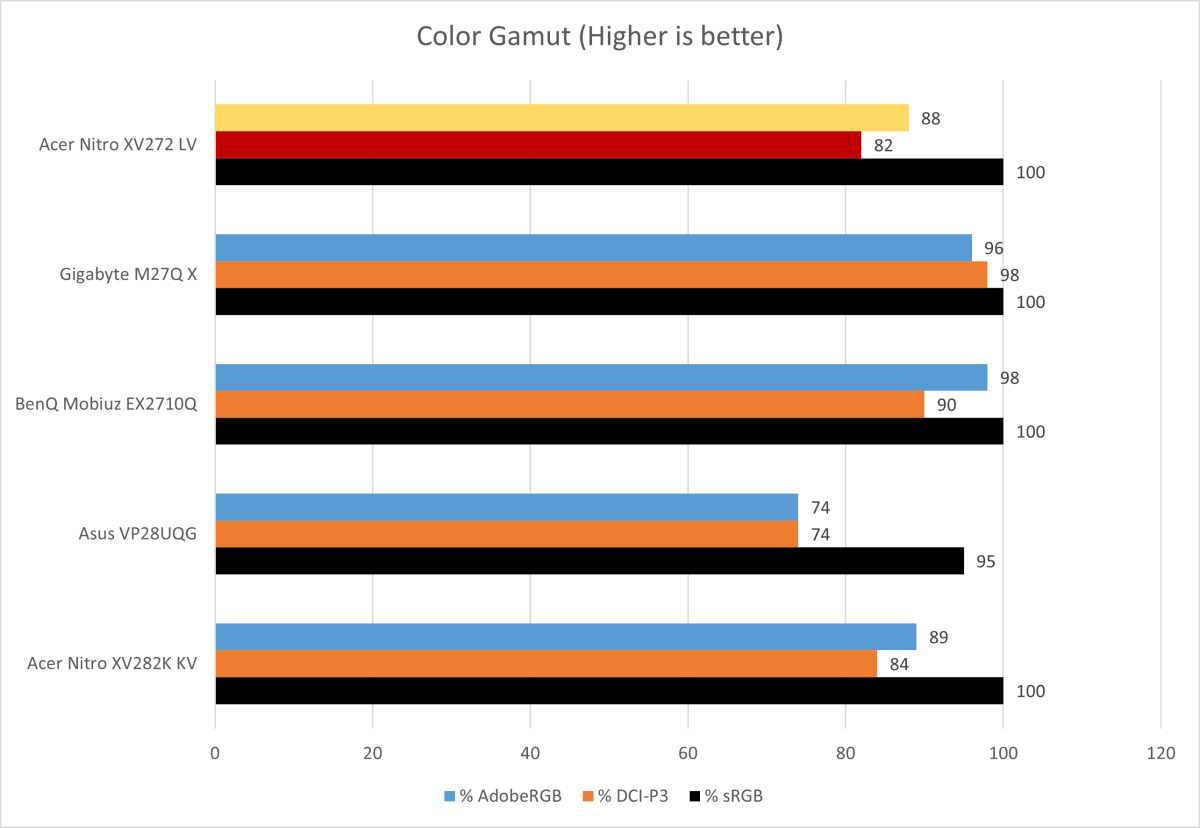 Matt Smith / Foundry
The monitor had an ideal gamma curve of 2.2, which means content looks about as bright as was intended. Default color temperature came in at 6200K, which is slightly warmer and more reddish than the typical temperature of 6500K. As mentioned earlier, the monitor offers multiple gamma and color temperature settings, so there's a lot of room to tweak the image if you want.  
But you don't need to—and that is the monitor's greatest strength. The XV272's decent contrast, accurate color, and lack of noticeable flaws makes for a fantastic out-of-box experience. The SDR image is lively and inviting.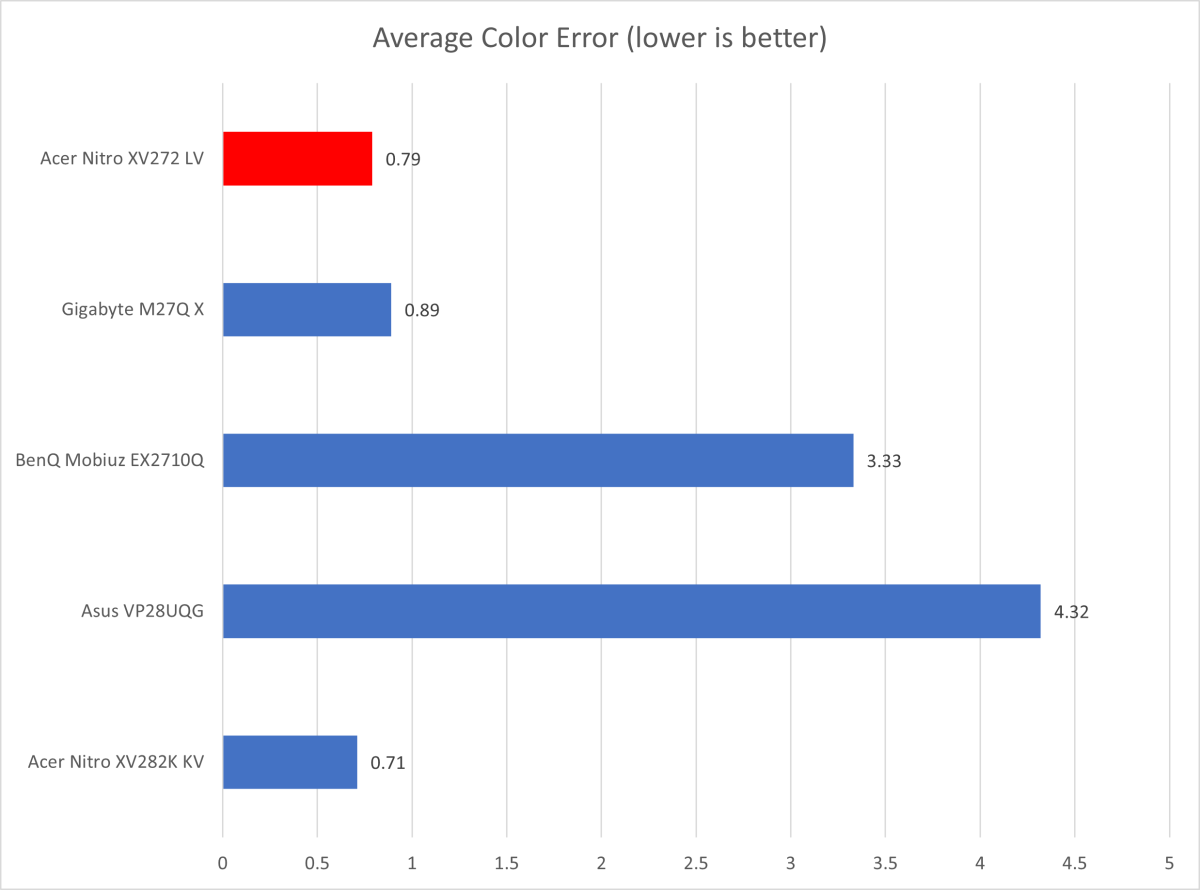 Matt Smith / Foundry
There's one obvious limitation: resolution. This is a 27-inch 1080p monitor, which translates to a meager pixel density of 81 pixels per inch. Fonts are poorly defined, videos lack sharpness, and games show distracting shimmering and pixelation. This isn't a dealbreaker for me, but you should know what you're getting into. A 1440p alternative will look much sharper.  
Acer XV272: HDR performance
The Acer Nitro XV272 supports HDR and is VESA DisplayHDR 400 certified. HDR support is becoming common among gaming displays, but it still feels special at this price point. I measured a maximum HDR brightness of 450 nits, which is solid.  
Though it supports HDR, the Nitro XV272 failed to automatically detect an HDR signal and turn on HDR mode. I had to select it manually. This is a minor annoyance but disappointing, as nearly all monitors I test have no problem detecting HDR automatically.   
The Nitro XV272's HDR performance is better than expected. It delivered performance that was superior to more expensive monitors, such as the Gigabyte M27Q X and Asus ProArt PA279CV, with better color gamut and accuracy in HDR.  
Still, ultimately, this is a budget monitor that can't do HDR justice. HDR content can deliver a bit more detail in bright areas but otherwise isn't necessarily more colorful or rich than in SDR—it just looks slightly different.  
Acer XV272: Motion performance 
Acer's Nitro XV272 has a maximum refresh rate of up to 165Hz. This delivers smooth, fluid motion in games and a quicker, more responsive feel when using the desktop. The monitor officially supports AMD FreeSync Premium and Nvidia G-Sync, so you don't need to worry about whether the monitor will work with your particular video card. 
Shoppers should remember this is a 1080p display, which is less demanding than 1440p or 4K resolution. Achieving a frame rate that fully uses the 165Hz refresh rate is possible in a wide range of titles. This is good news for gamers on a budget. 
Motion clarity is good at the monitor's default response-time setting. The monitor has an OverDrive mode, which can be activated when using several gaming-oriented image-quality presets. This can improve clarity but also causes overshoot, an issue where a pixel moves beyond the intended color, resulting in artifacts around high-contrast objects. Most owners should just leave OverDrive at the default setting of Normal.  
Final thoughts
The Acer Nitro XV272 LVbmiiprx is a good monitor for gamers who want attractive image quality at a mid-range price. Resolution will be an obstacle for some, as it's possible to buy a 1440p monitor on the same budget, but the XV272's accurate image and great motion clarity makes up for the lack of sharpness.  
The XV272 is also a good choice for content creators who want accurate color for less than $300, making it a well-rounded, budget-friendly choice for those who work from home and want one display for both productivity and gaming. 
Note: When you purchase something after clicking links in our articles, we may earn a small commission. Read our affiliate link policy for more details.
Best free PDF editors: Our top picks
While nothing beats a full-featured PDF editor like Adobe's Acrobat Pro DC, sometimes you don't need all the bells and whistles. When you just have to edit a few lines of text, add or reposition an image, or make some review notes, a free PDF editor may be the way to go.
Free PDF editors offer a few advantages over their paid partners. First and most obviously, they don't cost anything. If you don't work regularly with PDF files, a premium editor probably won't be worth the investment and a free editor can get the job done on the occasions you need to make some quick changes to document. Second, free PDF editors generally work in your browser so, unlike paid PDF editors, there are no platform- or device-compatibility issues to worry about. (The exceptions are free trial versions of paid editors, which need to be downloaded to a device.) Finally, because free online PDF editors are used on-the-fly, they generally have much simpler, more-intuitive interfaces and tools than paid editors do.
Of course, you can't expect a free product to have all the sophisticated features of a paid one. Most will let you edit PDF files by adding and modifying text and images and annotating with shapes, freehand drawings, and notes. Fonts and font sizes, colors, and shape options will almost assuredly be more limited than what you'd find in a paid editor, though. Free editors will also let you create PDFs and convert them to other file formats. This is probably all you need for occasional work with PDFs.
You may find features like form filling, e-signatures, and content redaction in some free editors. But capabilities like password protection and bates numbering are almost unheard of. Frankly, if you dive deep enough into PDFs to use any of these features, you're probably better served by one of the desktop editors in our best paid PDF editors buying guide.
1. PDF Candy – Best free PDF editor overall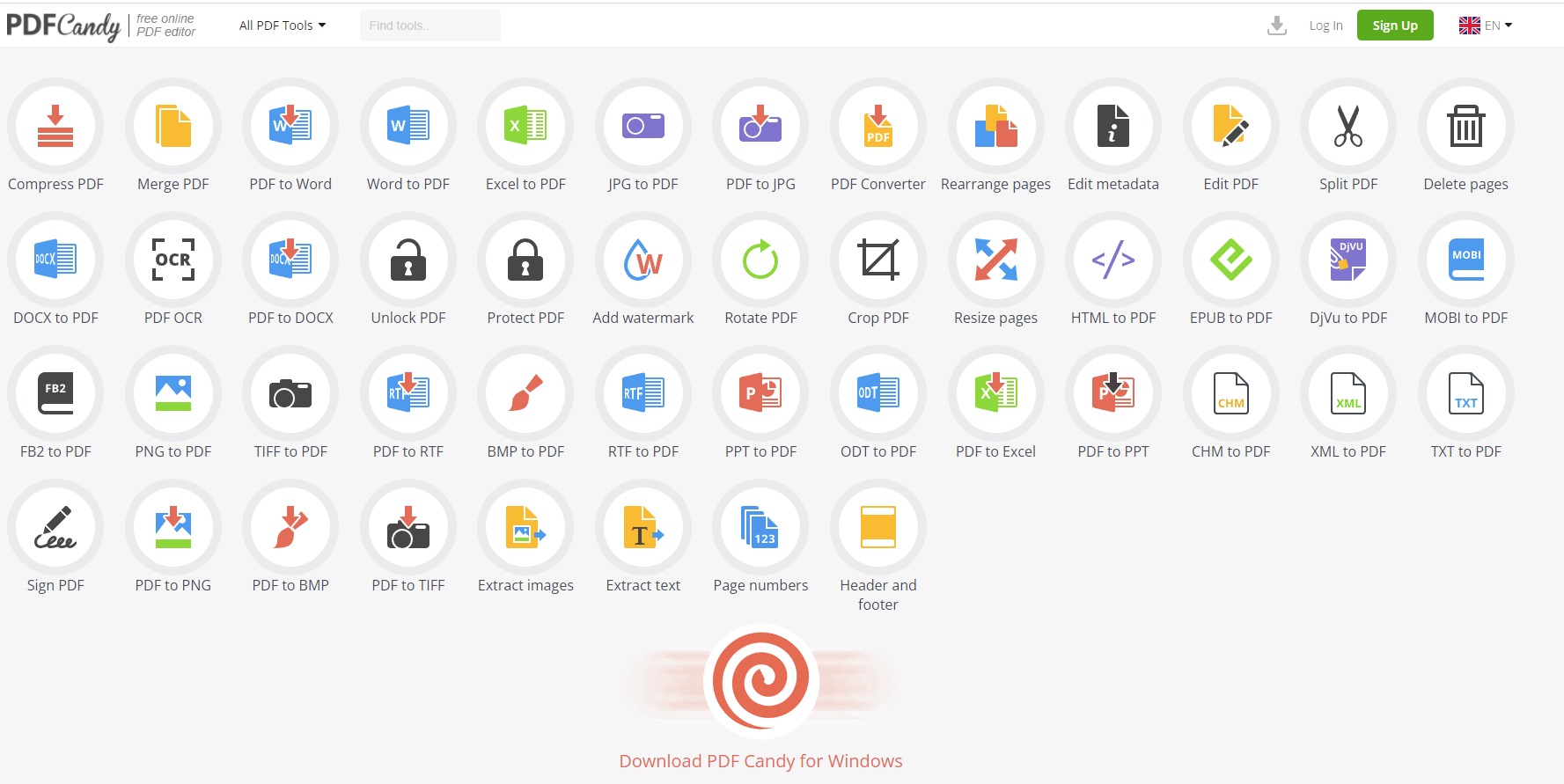 Pros
Many advanced features
OCR capability
Very easy to use
Cons
Lacks a single interface, which some users may not like
Free version limits you to one task per hour
PDF Candy is the rare free PDF editor that offers a lot of the features you'd typically have to pay for. We're talking scanning, multiple file-conversion options, and OCR functionality. While the free version has access to the expansive toolset of the paid version, you're limited to one PDF task per hour. For unfettered access, you need to shell out $6 month.
2. Apple Preview PDF editor – Best free PDF editor for Mac users
Pros
Full set of PDF markup tools
Supports form filling
PDFs can be protected with passwords, encryption, and permission controls
Cons
Limited native sharing options
Only available to Mac users
Mac users have an excellent PDF editor built right into their operating system. Although its ostensibly a photo viewer, macOS's Preview app is rife with PDF-editing capabilities including tools for adding text and shapes, redacting content, making freehand drawings, inserting sticky notes, and capturing your signature using your trackpad, camera, or iPhone.
3. Sejda PDF editor – Most versatile free PDF editor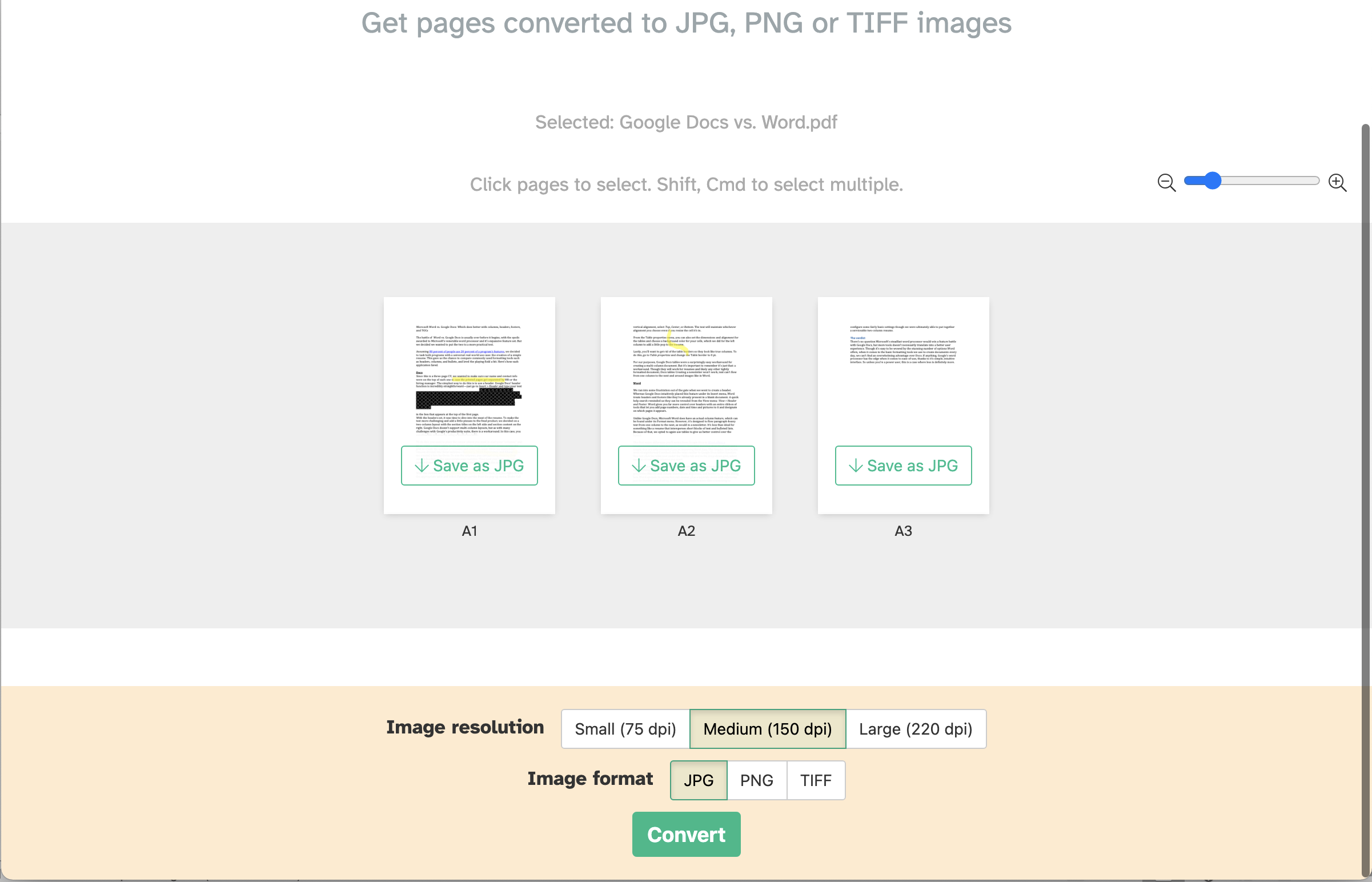 Pros
Online and desktop versions available
Performs dozens of PDF tasks
No frills interface is easy to use
Cons
There are daily usage limits without a subscription
Limited font options
Offered as both an online tool and a desktop editor, Sejda is capable of performing dozens of tasks including editing, form creation and filling, Bates stamping, file encryption, and more. If the daily usage limits are too restrictive for you, you can upgrade to the affordable paid version.
Read our full
Sejda PDF editor review
What to look for in a free PDF editor
Content editing: As its name indicates, a PDF editor's primary function is to enable you to edit a document. That includes the ability to add and modify text; insert, resize, and move images; and reorganize pages in the PDF. Most free PDF editors will let you perform these tasks, though they may impose daily limits on how many you can perform or how many documents you can edit.
Create, convert, and export PDFs: A common need for a PDF editor is to create PDF files from scanned hard copies or by converting digital documents. A good free PDF editor will be able to convert common file formats such as Word, JPG, and HTML to a PDF and preserve the original formatting. It should also be able to export PDFs into other editable formats such as Microsoft Word and PowerPoint, HTML, or plain text, maintaining the original files hyperlinks, images, and other elements.
Review and annotate: Most free PDF editors allow you to add comments and other annotations to PDF files during review. Typical annotation tools include sticky notes, shapes, and drawing markup options.
Signatures: Often all you need a PDF editor for is to sign a document. This used to be a premium feature only available on paid desktop editors, but more free PDF editors are allowing users to create and add electronic signatures to documents.
Note: When you purchase something after clicking links in our articles, we may earn a small commission. Read our affiliate link policy for more details.
Michael Ansaldo is veteran consumer and small-business technology journalist. He contributes regularly to TechHive and PCWorld.