Bitcoin Could Be Cheaper Than It Looks According to Fidelity
Bitcoin has halted its free fall, bouncing off the previous cycle peak and returning above $22,000 today, but it could be undervalued according to Fidelity.
Bitcoin has lost a whopping 26% over the past week, falling to an 18-month low of $20,193. It has since regained a little composure returning to $22,344 at the time of writing, but the asset remains in the doldrums, down 67% from its all-time high.
Director of Global Macro at investment giant Fidelity, Jurrien Timmer, has been looking into the price-earnings ratio (P/E) for bitcoin which equates to a price/network ratio since it is not a company.
According to the chart, the ratio has returned to the same levels it was during the cycle peaks of 2013 and 2017. He summarized that "valuation often is more important than price."
Bitcoin valuation
A P/E ratio is used in traditional finance to value a company by measuring its current share price relative to its earnings per share. As this does not work for cryptocurrencies, the price is measured against network activity. A similar way of looking at it is the network value to transactions ratio (NVT), as proposed by technical analyst Willy Woo.
Timmer added that another way to highlight it is by overlaying bitcoin's non-zero addresses against its price. "Price is now below the network curve," he observed. Using Glassnode's Bitcoin Dormancy Flow model, he then showed how oversold the asset was at the moment. Bitcoin has not been this oversold since the capitulation events in 2011, 2014, and 2018.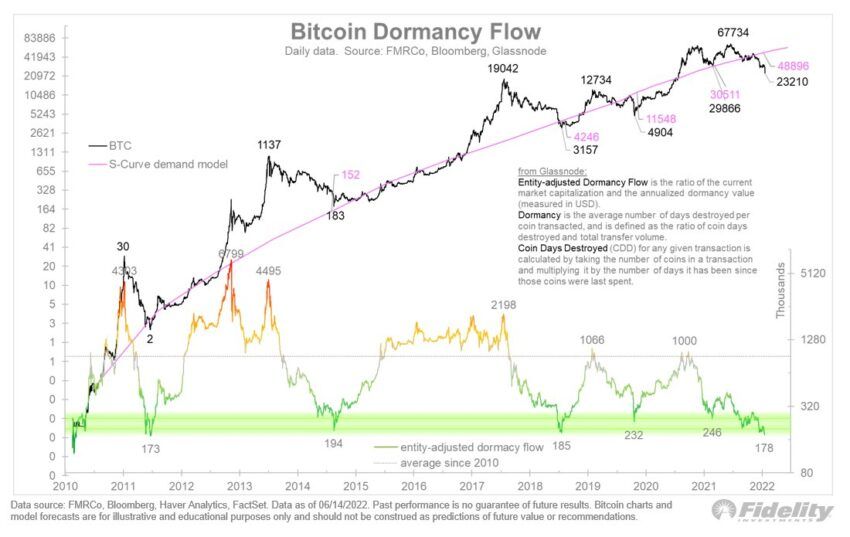 This could be an indication that we are very close to the bottom of this market cycle and this week's massive sell-off may have been the final flush-out.
Final miner capitulation
There is one additional factor that could cause a final leg down, similar to the one in the 2018 market crash – bitcoin miners.
Miners have been moving BTC to exchanges at record levels this week. CoinMetrics reported that there was an all-time high in dollar terms with a net $1.94 billion worth of BTC sent to exchanges yesterday. This equated to a record 88,000 coins in just one day.
Miners need to offload the asset to cover their increasing power expenses and remain in business for the crypto winter. This mass liquidation could cause another big dump echoing the over 80% drawdowns that occurred in previous cycles.
If this happens, bitcoin prices could realistically fall to around $12,000 very quickly which would mark an 82% retreat from peak levels. Castle Island Ventures partner, Nic Carter, explained the forces behind this miner liquidation event in a recent tweet.
Disclaimer
All the information contained on our website is published in good faith and for general information purposes only. Any action the reader takes upon the information found on our website is strictly at their own risk.
Crypto Exchange Zipmex Moves to Release Some BTC, ETH Holdings This Week
Shortly after resuming withdrawals for some altcoins, Asian crypto exchange Zipmex announced that it will be easing withdrawal amounts of Bitcoin and Ether later this week.
The statement comes after the platform had assured its users on August 4 that it is "committed to resuming all services on the Zipmex platform ASAP and to rebuild confidence and alleviate customer concerns."
August 11, 16 earmarked for release
Zipmex, a cryptocurrency exchange with offices in Singapore and Thailand, announced a temporary halt to client withdrawals from the platform back on July 20. While the exchange blamed falling crypto asset prices and loan defaults by industry heavyweights for the decision, it said it will resume withdrawals less than 24 hours after suspending operations.
Now, despite the exchange's battle with Babel and Celsius, it intends to release a specific amount of ETH and BTC on August 11 and 16, respectively.
Previously on August 2, 100% of users' SOL was released, 100% of XRP was announced for release on August 4, and Zipmex said it will make 100% of ADA available on August 9, 2022. Stablecoins, on the other hand, will remain inaccessible for the time being.
Meanwhile, in Singapore, Zipmex has requested bankruptcy protection to address its financial concerns by way of a moratorium for five of its businesses. While the hearing is to take place on August 15, it is crucial to reiterate that Zipmex has raised a total of $62.9 million in investment over the course of 6 rounds. As per Crunchbase, Coinbase and B Capital Group were the most recent investors.
That said, co-founder Akalarp Yimwilai had also stated on Twitter last month that the "primary objective at this stage is to raise funds and open up Z Wallet as soon as possible."
Will the Singapore court go the Vauld way?
Just last week, the High Court of Singapore granted the troubled cryptocurrency lender Vauld a three-month moratorium period. As a result, the corporation will be effectively protected from any prospective legal action from creditors during this time. Therefore, a similar route for Zipmex will allow the platform to resolve its liquidity issues and re-enable its Z wallet.
Just to reiterate, Zipmex Asia Pte Ltd, Zipmex Pte Ltd, Thailand-based Zipmex Company Limited, PT Zipmex Exchange Indonesia, and Zipmex Australia Pty Ltd are among the businesses asking for assistance under Section 64 of Singapore's Insolvency, Restructuring and Dissolution Act 2018. According to Singaporean legislation, these businesses must be given an automatic moratorium for 30 days or until the court issues a ruling.
What do you think about this subject? Write to us and tell us!
Disclaimer
All the information contained on our website is published in good faith and for general information purposes only. Any action the reader takes upon the information found on our website is strictly at their own risk.
Dave Portnoy's SafeMoon position is down 94%, claims he's being sued by project
The Barstool Sports founder panic-sold Bitcoin in 2020 and has expressed fleeting interest in digital assets ever since.
1258 Total views
48 Total shares
Barstool Sports founder Dave Portnoy has watched his investment in SafeMoon (SAFEMOON) crash by over 94%, proving to crypto enthusiasts that he is, in fact, capable of hodling during the bear market. 
The stock trader and media personality took to Twitter on Monday to lament his $40,000 investment in the memecoin, which has fallen to just $2,370.94 after he didn't withdraw a single token. "Still holding by the way," Portnoy said. "Diamond hands."
I put 40k into @safemoon I haven't withdrawn any. It's not worth 2.3k. And I'm being sued. https://t.co/qRAyBegQMm

— Dave Portnoy (@stoolpresidente) August 8, 2022
Portnoy claimed that he's also being sued by SafeMoon, possibly for "trashing" the project on his show, but didn't elaborate much further. In a separate tweet, Portnoy shared a screenshot of SafeMoon's sales manager expressing displeasure with the Barstool Sports frontman for giving the company "a bad look and unfair representation." Portnoy "mentioned his SafeMoon losses on air but failed to mention he hasn't upgraded his holdings to V2 yet," the manager said.
And let's not forget when @safemoon themselves complained about me trashing them. pic.twitter.com/1Fg2i9lijC

— Dave Portnoy (@stoolpresidente) August 8, 2022
Portnoy is no stranger to cryptocurrencies, having bought Bitcoin (BTC) in August 2020 only to sell it one week later due to volatility. He later expressed regret over his lack of conviction and went on to make several additional bets on cryptos, which included SafeMoon.
Related: Dogecoin founder speaks out against 'meme coins'
As far as prices go, SafeMoon is down over 99% from its all-time high of $0.00001399 in April 2021, according to CoinMarketCap. The coin has a lifetime return on investment of negative 86%. 
SafeMoon was audited in May 2021 by blockchain security firm HashEx. At the time, the firm identified 12 smart contract vulnerabilities, including a "temporary ownership renounce" that made it especially prone to a rug pull.
Circle freezes blacklisted Tornado Cash smart contract addresses
Stablecoin issuers can blacklist interactions with the Tornado Cash DApp on the Ethereum smart contract level.
997 Total views
19 Total shares
Crypto data aggregator Dune Analytics said that, on Monday, Circle, the issuer of the USD Coin (USDC) stablecoin, froze over 75,000 USDC worth of funds linked to the 44 Tornado Cash addresses sanctioned by the U.S. Office of Foreign Assets Control's Specially Designated Nationals and Blocked Persons (SDN) list. Tornado Cash is a decentralized application, or DApp, used to obfuscate the trail of previous cryptocurrency transactions on the Ethereum blockchain. 
All U.S. persons and entities are prohibited from interacting with the virtual currency mixer's USDC and Ethereum smart contract addresses on the SDN list. Penalties for willful noncompliance can range from fines of $50,000 to $10,000,000 and 10 to 30 years imprisonment. An estimated $437 million worth of assets, consisting of stablecoins, Ethereum, and wrapped Bitcoin (WBTC), are currently held in Tornado Cash's smart contract addresses. As a result, issuers are expected to take steps to prevent the transaction or redemption of such assets. 
Both the entities behind USDC and Tether can freeze their stablecoin transfers to and from Tornado Cash on the Ethereum smart contract level. Meanwhile, Palo Alto, California-based BitGo, would also, theoretically, need to restrict access to Tornado Cash to comply with such sanctions. One possible method is suspending the redemption of Tornado Cash-linked WBTC.
As told by pseudonymous DeFi educator BowTiedIguana, the new Tornado Cash sanctions apply across the board for U.S. individuals and entities. Simple interactions such as Gitcoin donations, working for the project, running or downloading its software, visiting its website, and depositing/withdrawing from smart contracts could be interpreted as violations. 
Circle just frozen 75,000 USDC belonging to unsuspecting Tornado users, as well as 149 USDC donated to the project. pic.twitter.com/GBS41FtZvB

— banteg (@bantg) August 8, 2022