Chinese Gov Bitcoin Holdings Outrank MicroStrategy Despite Crypto Ban
The Chinese government currently has more Bitcoin holdings than MicroStrategy as a result of the funds it seized from the PlusToken Ponzi scheme.
The Chinese government holds more Bitcoin than MicroStrategy after it seized 194,775 BTC during the infamous PlusToken scam.
The total value of the Bitcoin holdings is about $3.9 billion.
In addition to the Bitcoin, the government also seized 833,083 ETH, 1.4 million LTC, 27.6 million EOS, 74,167 DASH, 487 million XRP, 6 billion DOGE, 79,581 BCH, and 213,724 USDT. In total, the government has crypto assets worth over $5 billion.
China's Bitcoin Holdings Top Even MicroStrategy
This makes the Chinese government holder of over 1% of the total bitcoins in circulation. However, the current status of this stash is not known. There is no information on whether this has been sold or any update from the government at all.
The crypto assets were seized during the infamous PlusToken scam, which was a Ponzi scheme that siphoned between $2 to $2.9 billion at the time. A Chinese court has highlighted that the seized tokens "would be processed pursuant to laws" and "forfeited to the national treasury."
There is some concern in the market that the country could influence the price of bitcoin and the market if it sold the assets. The concerns are similar to the worries that the Mt. Gox rehabilitation plan will deliver 140,000 BTC to creditors. However, that concern has been assuaged.
But in this case, China could dump a large amount of bitcoin, which would negatively affect the market. This remains speculation, however.
PlusToken — One of the Biggest Crypto Ponzis
The PlusToken Ponzi scheme began in 2018, saying that it would offer monthly payments to users of its cryptocurrency wallet. Most of its users were based in China and South Korea.
The Ponzi scheme was helmed by multiple individuals who were arrested in various countries, including Vanuatu, Cambodia, Vietnam, and Malaysia. 27 of them were sentenced to 11 years in prison. There were over 100 members in the scam.
The selloff during the Ponzi scheme was believed to have had a negative effect on bitcoin and the market. Accounts associated with the scam were frequently moving large amounts of tokens like ether, stoking fears in the market.
Funds Linked to PlusToken Still Moving
Firms like CryptoQuant have analyzed how funds from PlusToken have moved. Primitive Crypto founder Dovey Wan also said that it was sent to exchanges like Bittrex and Huobi. CryptoQuant used multi-hop graph traversal to identify the wallets in question.
However, in what is a surprising development, funds are still moving. 60 BTC was moved from a mixer to exchanges on Nov. 2 and 50 BTC on Oct. 28. 750 BTC was also moved in June 2022.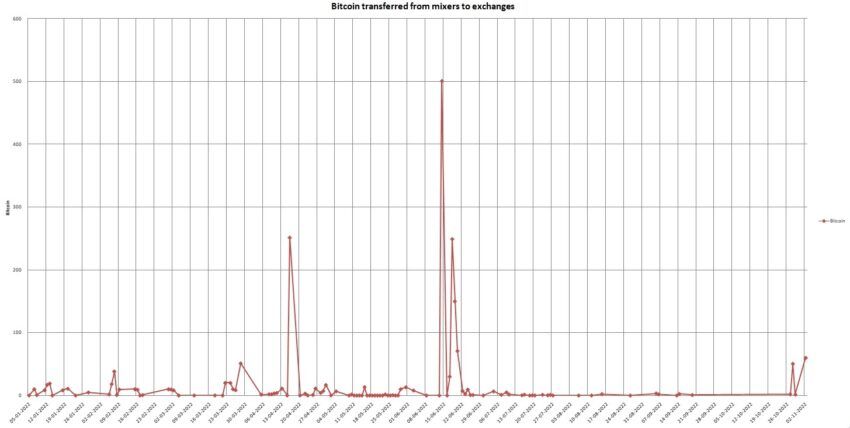 Disclaimer
All the information contained on our website is published in good faith and for general information purposes only. Any action the reader takes upon the information found on our website is strictly at their own risk.
Bitcoin Rallies as PCE Price Index Comes in Below Expectations
Bitcoin rose 1.5% as U.S. Core Personal Consumption Expenditure Price Index for Oct. 2022 came in 0.1% lower than analysts' estimates of 0.3%.
The PCE Price Index, which measures changes in consumer spending and is released monthly by the U.S. Bureau of Economic Analysis, revealed that prices for goods and services rose 0.2% month-on-month in Oct. 2022. The so-called core PCE Price Index excludes food and energy prices.
PCE Price Index of 0.2% Causes Bitcoin to Rally
Shortly after the release of the core PCE Price Index, Bitcoin was up 1.5% in the previous 24 hours to cross the psychological $17,000 mark before falling to $16,988.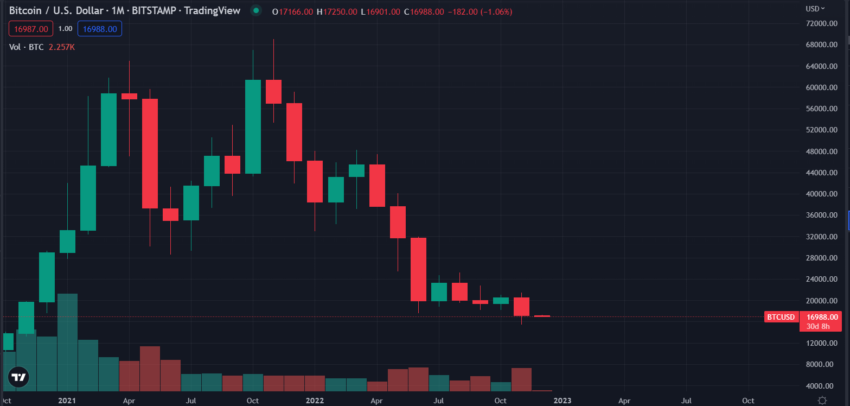 The world's largest cryptocurrency continued a rally that started after Fed chair Jerome Powell hinted in a Nov. 30, 2022, speech that the central bank could slow down its interest rate hikes at the next meeting of the Federal Open Markets Committee in Dec. 2022.
"It makes sense to moderate the pace of our rate increases as we approach the level of restraint that will be sufficient to bring inflation down," Powell said.
Ethereum was also up roughly 0.3% to trade at $1,268.49 at press time, with Solana racking gains of 1.2% before falling back to 0.5%.

The S&P 500 increased by 5.38%, and the Dow Jones Industrial Average rose by 5.67%. The Dow later fell by 400 points in anticipation of U.S. employment data, due for release on Dec. 2, 2022.
PCE Price Index paints a broader picture of macroeconomic conditions
The latest PCE data also revealed that the core PCE Price Index was up 5% from a year ago, compared to a year-on-year increase of 5.2% in Sep. 2022.

The Federal Reserve began using the PCE Price Index as the headline indicator of U.S. inflation levels in 2012. Unlike its predecessor, the Consumer Price Index, the PCE Price Index tracks a broader range of goods and services that fall under the categories of durable goods and non-durable goods. It is, however, unable to capture minor fluctuations in the prices of everyday items like cereal and clothing.
Despite CPI not being the Fed's leading indicator of inflation for the last ten years, investors are still happy to mine monthly CPI numbers for nuggets of optimism, which is often reflected in stock market behavior. Bitcoin rallied in tandem with S&P 500 and Dow Jones futures on Nov. 10, 2022, as the so-called core CPI for Oct. 2022 came 0.3% below market expectations at 0.3%.
PCE Price Index rally could mark a short-term upside for Bitcoin
Bitcoin's rally in tandem with the stock market could be a sign that the cryptocurrency may be more susceptible to macroeconomic movements in the medium to short term, even as the industry grapples with the fallout from the collapse of major crypto exchange FTX.
Its rally to $17,000 plus in early trading on Dec. 1, 2022, was its highest level since the Bahamian exchange collapsed under the weight of mass withdrawals in early Nov. 2022.
"The risk relief rally is coming at just the right time for Bitcoin," said Craig Erlam of Oanda. 
Eight CEO and technical analyst Michaël van de Poppe noted that the news was positive.
But some experts still believe that Bitcoin is unlikely to take off on a major rally soon and will face resistance from the June 2022 price of $17,600.
Before the collapse of FTX, Bitcoin tracked the stock markets closely, as investors in both stocks and crypto danced to the tune of the Federal Reserve's tightening monetary policy. The central bank has increased interest rates six times in 2022 in response to a booming U.S. economy, fueled partly by excess pandemic-era stimulus money.
For Be[In]Crypto's latest Bitcoin (BTC) analysis, click here.
Disclaimer
All the information contained on our website is published in good faith and for general information purposes only. Any action the reader takes upon the information found on our website is strictly at their own risk.
Bitcoin and Ethereum Struggle While XRP Whales Accumulate 
Bitcoin (BTC), Ethereum (ETH) and XRP prices struggled to all move above their next key resistance levels despite short-term bullish momentum in play. 
Bitcoin price action has been in a larger downtrend while Ethereum and XRP prices struggle to gain some bullish momentum. However, short-term bullish price action pushed BTC price to $17,094 at press time. ETH gained a mere 1% on the daily, while XRP price was down by 0.57%. 
Price-wise, ETH and XRP followed the top crypto. However, on-chain data presented some peculiar trends for these three coins. 
Bitcoin Price Can Witness More Losses
The BTC short-term on-chain participants continued to sell at a loss with a short-term Spent Output Profit Ratio (SOPR) below one. This signaled a lack of faith among traders making the $18,000 mark a strong resistance for the BTC price. The $18,000 mark would be the rough average cost of entry for short-term participants, according to a CryptoQuant analyst. 
Furthermore, the analyst highlighted that traders should be careful since the yield curve inversions often precede recessions, and the current 10-year Treasury rate (3.75%) was below the three-month rate (4.22%).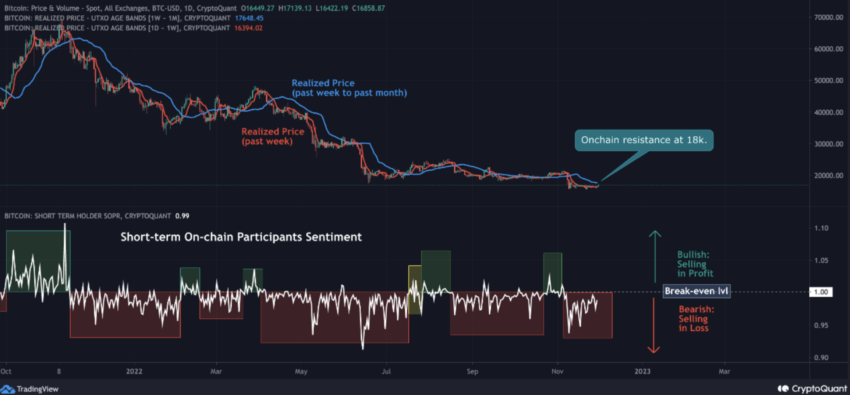 Since the investors who bought BTC after Dec. 2020 were now in loss, long-term holder SOPR would take some time to turn positive. Thus, short-term SOPR is a better indicator of the current market trend. 
One negative trend that the BTC price had was positive net flows, presenting more exchange inflows than outflows on Dec. 1. Bitcoin net flows stood at $16.80 million. 
Another recent analysis from CryptoQuant suggested that while the BTC price was going up, the Network Value to Transactions (NVT) sell area was triggered. The same could lead to Bitcoin price dropping in the next ten days.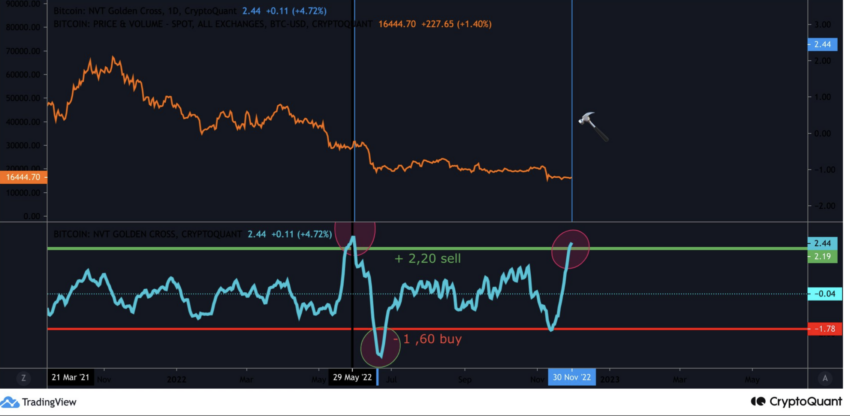 The NVT golden cross flashes a warning signal when it crosses above the 2.20 level. Currently, it is at 2.44, and it can still go to 2.77 (last value), which could lead to some short-term price drops. 
Ethereum Outflows Continue 
At the time of writing, the Ethereum price gained a mere 0.40% on the daily window as ETH traded at $1,269.05. 
The Nov. losses weren't as grave for ETH as Bitcoin and some other altcoins since Ethereum held above the $1,000 psychological support. Daily on-chain exchange flow suggested that net flows were negative for ETH, with around $6.7 million in outflows on Dec. 1. 
ETH NVT was at monthly highs, meaning investors were pricing ETH at a premium as market cap growth outpaced utilization of on-chain transactions. That said, the futures market data presented some short-term bullishness for ETH, with Open Interest appreciating by 5.44%, standing at $4.80 billion at press time. 
ETH funding rates were also positive at +0.0099%, according to data from Coinalyze. Some bullish statistics came from Okex, where short liquidation reached a one-month high, which could aid some short-term bullish momentum for ETH.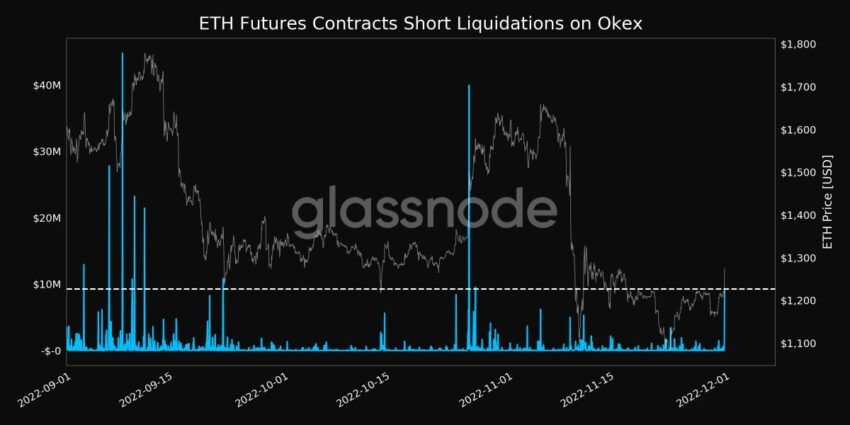 However, ETH median transaction volume (7d-MA) reached a one-month low which meant network vibrancy was relatively low.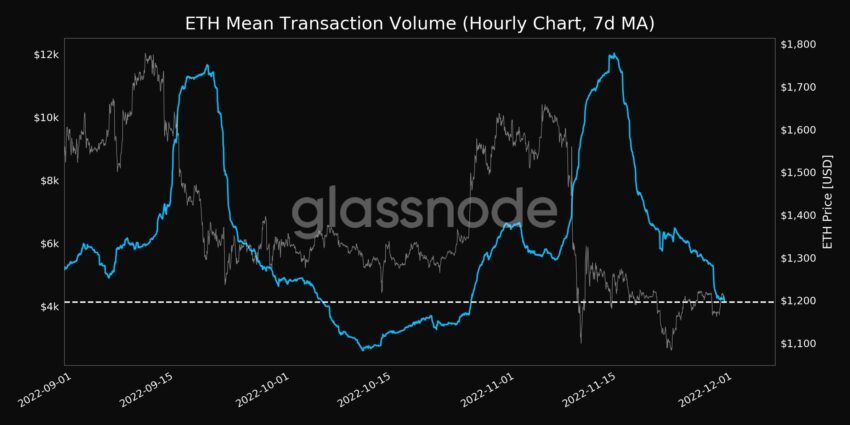 For ETH bulls, the next target can be the $1,350 resistance/support. However, the Bitcoin price pullback could further extend losses for ETH and the rest of the market. 
XRP Whales on the Move
XRP price traded at  $0.3971 at the time of writing, losing 0.99% on the daily chart but up by over 2%  on the weekly.
Age consumed metric for XRP showed that over 580 billion XRP was moved on Dec. 1. 

A lot of old XRP coins have been on the move lately, which could point toward possible redistribution. However, there was a major uptick in XRP whale holdings. Notably, the largest XRP whale cohort with 10 million to infinity coins added over one billion coins in the last day 

While whales adding XRP can push prices in the positive direction, XRP price still has a long way to go with the ongoing regulatory battle. 
Disclaimer: BeInCrypto strives to provide accurate and up-to-date information, but it will not be responsible for any missing facts or inaccurate information. You comply and understand that you should use any of this information at your own risk. Cryptocurrencies are highly volatile financial assets, so research and make your own financial decisions.
Disclaimer
All the information contained on our website is published in good faith and for general information purposes only. Any action the reader takes upon the information found on our website is strictly at their own risk.
US Senate committee hearing on FTX fail brings gaps in regulatory authority to light
CFTC Chairman Rostin Behnam appeared before the Senate Agriculture Committee to talk about how FTX's collapse occurred and how it could have been prevented.
3847 Total views
12 Total shares
Own this piece of crypto history
United States Commodity Futures Trading Commission Chairman Rostin Behnam told a Senate Agriculture, Nutrition and Forestry Committee meeting Dec. 1 that his agency's regulations contain "core elements that have served the markets for decades." But as the fallout from the FTX collapse gets sorted out, notable gaps in current legislation have come to light, Behnam and the senators agreed.
Senator Tina Smith called FTX's collapse "shocking, not surprising," and said that future crises will continue to occur as long as regulatory gaps remain. Behnam pointed out that the Securities and Exchange Commission has the authority to mandate basic safeguards, such as separation of house and customer money and best execution of investment trades.
We know how to do this," Behnam said, trying to explain how the collapse occurred nonetheless:
"Invariably, the questions we are all obligated to answer as regulators are: 'How did you let this happen?' and 'How will you prevent this from happening again?' […] Without new authority for the CFTC, there will remain gaps in a federal regulatory framework, even if other regulators act within their existing authority."
Behnam has lobbied for greater authority for his agency for months. He alluded to alleged conflicts between the CFTC and SEC when he dismissed talk of a "power grab." Interagency cooperation is not new and will continue, Behnam said. Extending CFTC authority is "about filling a gap."
"I think the responsibilities would be the same," between the SEC and CFTC with comprehensive regulation, and CFTC regulation works well when it is applicable.
Behnam pointed to crypto derivatives and clearing platform and FTX subsidiary LedgerX as an example of successful CFTC regulation. But, "We at the CFTC do not have the legal authority to ask about an unregulated entity," without a whistleblower, Behnam told Senator Tommy Tuberville, adding:
"We simply do not have the authority to register cash market exchanges […] This is the gap."
Tuberville also pointed out that FTX had high governance marks from ratings agencies and asked if they can be sued. Oversight of ratings agencies is another "potential gap," Behnam replied.
CFTC Chairman Behnam says DCCPA wouldve prevented the FTX collapse.

DCCPA would apply to a Bahamian exchange? https://t.co/5RTpBZravM

— Miller (@millercwl) December 1, 2022
Senator Kristen Gillibrand, co-author of the Responsible Financial Innovation Act with Senator Cynthia Lummis, told Behnam that there were "a couple of areas where I still see risks that are coming ahead." Mergers and acquisitions were one such area. The CFTC paperwork for FTX to acquire LedgerX amounted to "a notice filing" at best, Behnam conceded.
There is also a question of how much influence overseas companies have over the United States and U.S. companies trading offshore, Gillibrand added.