Crypto services company Blockchain.com opens waitlist for new Visa debit card
Today, crypto services company Blockchain.com, announced the launch of its new Visa debit card.
With the Blockchain.com Visa card, users can spend any crypto in their Blockchain.com Wallet without fees while earning 1% back in crypto on all purchases.
Key Features:
Works like a debit card – Pay from crypto or cash balances anywhere Visa debit cards are accepted.
Practical – There are no signup fees, card issuance fees, annual fees, or transaction fees.
Earn crypto back – Users receive 1% back in crypto whenever they make a purchase.
"Starting today, US customers can join the waitlist for the Blockchain.com Visa Card. The first customers will be able to order your card soon and immediately use it for online purchases, with your physical card to be delivered in the mail shortly after."

– The Blockchain.com Team
Those interested in this card can join the waitlist here.
Bitcoin (BTC) Price Slips as US Labor Market Figures Hotter Than Expected
Bitcoin fell 2% to around $16,800 after the Nov. 2022 U.S. jobs report revealed a strong labor market, despite the Federal Reserve's six consecutive interest rate hikes in 2022.
Nonfarm payrolls increased by 263,000, beating the Dow Jones estimate of 200,000, while the unemployment rate matched expectations at 3.7%.
Jobs Report Signals Fed Hikes Are Likely to Persist
The gain in nonfarm payrolls came in slightly lower than the revised Oct. 2022 increase of 284,000, while average hourly earnings rose 0.6% compared to estimates of 0.3%.
The U.S. Bureau of Labor Statistics releases the nonfarm payroll and average hourly earnings at 8:30 E.T. on the first Friday of every month as part of the Employment Situation report.
While rising employment rates and wages generally point to a healthy economy, wages that grow too fast, especially in the presence of record levels of inflation, encourage the Fed to continue raising interest rates to ensure that the economy doesn't run red-hot. 
"To have 263,000 jobs added even after policy rates have been raised by some [375] basis points is no joke," noted Seema Shah of Principal Asset Management. "The labor market is hot, hot, hot, heaping pressure on the Fed to continue raising policy rates."
Raising policy or interest rates cools economic expansion, but if done too aggressively, it could significantly curtail employment and pitch the economy into a recession. Recession fears generally create selling pressure on risky assets like cryptos and equities, driving prices into bear territory.
Cryptos ceded gains accrued earlier this week around a lower-than-expected Personal Consumption Expenditure Price Index of 0.2% for Nov. 2022. 
At press time, XRP was down about 2.5%, while DOGE fell 3.78%. Solana also declined by 1.1%. Equities markets also tanked, with the Dow Jones Industrial Average falling 0.9%, the S&P 500 1.2%, and the tech-heavy Nasdaq slid 1.5%. 

Elsewhere, gold is outshining Bitcoin as an inflation hedge and trading back at its price at the beginning of the year, $1,800 per ounce. By comparison, Bitcoin has fallen 63% in the same period.
Jobs Report and Inflation Still Likely to Influence Crypto Prices
The higher-than-expected Nov. 2022 nonfarm payroll number is the lowest jobs gain since April 2021, coming after a revised increase of 284,000 new jobs in Oct. 2022.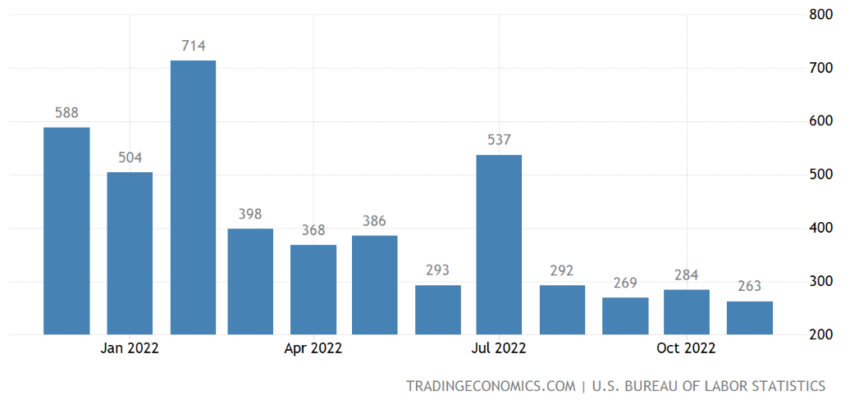 The most significant adjusted increases in the nonfarm payroll were noted in the Feb. 2022 and July 2022 jobs report. The Feb. 2022 report revealed that nonfarm payrolls increased by 714,000 in Jan. 2022, prompting the Fed to step in with a 25 basis-point hike in March. 
The following four reports pointed to a cooling down of the labor market, which then picked up again in June 2022, when the Fed introduced its first 75 basis point hike of 2022.
On Nov. 30, Fed chair Jerome Powell noted that less aggressive rate hikes might be a distinct possibility at the next Fed meeting, although most analysts do not expect a drastic fall off from the last four increases of 0.75%. 
They predict that the Fed will increase interest rates by 50 basis points at the next Federal Open Markets Committee meeting in mid-Dec. 2022, taking the federal funds rate above the 4% mark. 
The Fed meeting will likely spark a rally in both cryptos and stocks if analysts' estimates prove accurate.
For Be[In] Crypto's latest Bitcoin (BTC) analysis, click here.
Disclaimer
All the information contained on our website is published in good faith and for general information purposes only. Any action the reader takes upon the information found on our website is strictly at their own risk.
FTX's Sam Bankman-Fried Knew More About Alameda Research Finances Than Let On: Forbes Report
A report by Forbes reveals that Sam Bankman-Fried knew about Alameda Research's financial dealings.
SBF previously denied being "deeply aware" of Alameda's finances. 
The former FTX chief regularly shared documents related to Alameda with Forbes over the past 2 years. 
The report indicates that SBF was well aware of Alameda's business activities. 
An exclusive report published by Forbes has shed light on information that is in contradiction with recent claims made by Sam Bankman-Fried, the man behind the bankrupt crypto exchange FTX. 
Sam Bankman-Fried was aware of Alameda's finances
In an interview at the DealBook Summit, SBF claimed that he was surprised by how big Alameda's position was, referring to the risky trades made by his quantitative trading firm. The disgraced CEO tried to avoid accountability for Alameda's actions by claiming that he was not involved in its day-to-day operations. "Alameda's finances I was not deeply aware of. I was only surface-level aware of Alameda's finances" he claimed. 
However, the report by Forbes provides an insight into the discussions they had with SBF in order to calculate his net worth for their annual World's Billionaires list. During these discussions, Bankman-Fried shared several details that indicated that he was in fact well aware of Alameda Research's finances. 
In order to prove his net worth, SBF detailed some of Alameda's major holdings and several transactions involving Solana and Serum tokens as well as the notorious FTT. Some of these details were shared as recently as August 2022. The level of information found in the documents shared by Sam Bankman-Fried suggested that he knew more about Alameda than he revealed during his controversial interview. The former FTX CEO included details about his quant trading firm's funds along with its token holdings, which at the time included 53 million SOL, 176 million FTT, and more than 3 billion SRM. According to this, the value of his share of Alameda's funds under management was $8.6 billion. 
While it is still unclear as to how involved Sam Bankman-Fried was in the day-to-day operations at Alameda Research, the detailed description of the trading firm's finances shared by him suggests that he knew more than he let on. 
Mike Novogratz's Galaxy Digital might buy crypto custodian GK8 from Celsius
Summary:
Galaxy Digital won a bid to buy one of Celsius's assets as part of bankruptcy proceedings for the crypto lender.
Mike Novogratz's company will buy GK8, a custodial business that Celsius acquired over a year ago in November 2021.
The custodian plans to launch crypto trading and lending for institutional investors.
Galaxy Digital submitted a successful bid for GK8, a crypto custodial service listed as an asset by Celsius during the lender's bankruptcy proceedings. Both entity did not disclose the acquisition sum at press time. 
GK8 was acquired by Celsius in November 2021 when the bull run was near its peak. Months after, the lender was crippled by slumped crypto prices and Terra exposure. Celsius paused withdrawals shortly after LUNA and UST imploded in May, before declaring bankruptcy in July,
CEO Mike Novogratz said in a statement that adding GK8 to Galaxy Digital's businesses offers a key ingredient for growth. Novogratz also addressed concerns regarding possible conflict of interest from the deal, ensuring that "clients will have the option to store their digital assets at or separate from Galaxy".
Adding GK8 to our prime offering at this pivotal moment for our industry also highlights our continued willingness to take advantage of strategic opportunities to grow Galaxy in a sustainable manner.
Galaxy will also expand its workforce by some 40 employees as part of the deal. The firm hopes to onboard blockchain developers and cryptographers to name a few.
Galaxy Digital scoops Celsius asset after $76.8 million FTX exposure 
The digital asset firm reported losses in Q3 earnings after weathering contagion from Terra's $40 billion crash. Galaxy's earning report also revealed exposure to the bankrupt crypto exchange FTX. 
EWN reported that Novogratz's firm tried to withdraw $47.5 million of the total sum from FTX before Sam Bankman-Fried's exchange froze withdrawals.  The company