Firefighters say they're swamped by calls for routine care from senior homes
Senior care home operators all over Oregon are increasingly calling on emergency responders to handle routine tasks. A resident needs a bandage changed? An IV line inserted? A catheter replaced? A prescription refilled? Call 911.
And that won't end anytime soon, despite the protests of some fire department officials. In a sweeping victory over the summer, the industry secured a new state law that prohibits cities or fire districts from doing much of anything about it, at least for the next few years.
But across the state, firefighters, ambulance crews and hospital emergency room staff say they're being taken advantage of, and potentially taken out of action when a real disaster strikes.
"We are subsidizing their operations," said Ryan Gillespie, division chief of emergency operations at Portland Fire & Rescue. "These are private businesses. They should be providing that service."
The senior care calls are increasing just as local paramedics are already straining to deal with the pandemic and an exploding number of people seriously ill with other problems. Hospital ERs are jammed to capacity, forcing ambulance crews to look elsewhere.
"Our crews have never been busier," said Steve Boughey, emergency services division chief at Tualatin Fire & Rescue. "The ERs are filling up. These calls from the senior living facilities just contribute to the overcrowding."
Clackamas Fire District #1, another of the state's largest fire departments, answered 2,110 calls to senior care centers in 2020, about 13% of the total. Josh Santos, Clackamas division chief of medical services, said the department has met repeatedly with assisted living managers to try to reduce the number. But the message never sticks, he said, in part because turnover in the assisted living operations is so high.
Phil Bentley, president and CEO of the Oregon Health Care Association, a care homes industry group, said senior care operators are only concerned with the safety of their residents. And, he said, it shouldn't surprise anyone that senior care centers make a disproportionate number of 911 calls: "Of course they do. The residents are 80-90 years old."
"The last thing I think anyone wants is a system that discourages a 911 call when a senior needs help," he said.
Bentley also conceded that there must be a smarter, more efficient way. The newly passed state law creates a board to find that alternative. The bill, originally drafted by OHCA, specifies that a majority of the board members must be from the senior care industry or its allies.
But critics say the industry's reliance on publicly funded emergency medical responders is about profit margins more than protecting residents.
"It's just part of the business model," said Fred Steele, Oregon's long-term care ombudsman. "They don't want to have to pay for the staff on hand to handle the basic needs."
OHCA is a sophisticated operator in the Oregon Capitol, known for its deep pockets and encyclopedic knowledge of Medicaid, a key funder of senior care facilities. Bentley for years worked as Senate President Peter Courtney's top lieutenant. He is married to Gina Zejdlik, Gov. Kate Brown's chief of staff.
The political clash has taken place largely under the radar. The whole issue has been overshadowed by the pandemic, which poses an existential threat to the senior care industry. OHCA's ability to drive public policy in this case is all the more impressive as it was a back-burner issue.
Power play
McMinnville Fire Chief Rich Leipfert thought he had seen it all. Local senior care centers routinely called his department for help with what he considered routine medical tasks. But refilling a prescription?
As Leipfert tells it, a center's employees had forgotten about the needed refill and explained to McMinnville dispatchers that the pharmacy was now closed. The assisted living center's solution: Call 911 and get their resident transported by ambulance to the nearest hospital, where the needed medicine would be in ample supply.
Leipfert and Jeff Towery, McMinnville city manager, decided enough was enough. There were 15 senior care centers in the city limits, housing about 3% of the city's population. Yet, they were placing about 38% of the 911 calls, most of them nonemergency situations.
They determined those calls were costing the city $750,000 a year.
They devised a new care home licensing system that would help defray the costs of the emergency calls. The new ordinance also allowed the city to levy fines against facilities deemed to be making frivolous or excessive emergency calls.
The same dynamic was unfolding all over the state as fire departments began demanding some compensation for their time.
In January 2018, Clackamas Fire District #1 adopted a "nonemergency facility response fee" to levy against senior care centers that repeatedly requested assistance for routine tasks.
Portland Fire & Rescue tackled the issue in 2019. It was getting 350-400 calls a year just for so-called "lift-assists." As the name implies, lift-assists involve picking up a care home resident who has tripped or fallen. It is among the most common reasons senior living centers make 911 calls.
"These were not cases where a resident took a serious fall," said Gillespie, the Portland Fire division chief of operations. "These were more like noninjury cases of a senior falling out of bed or tripping."
Gillespie wanted to bill $500 every time his crews were called out for a nonemergency lift-assist. Jim Carlson, Bentley's predecessor as head of OHCA, intervened. He conceded the lift-assists have become a problem but he convinced Gillespie and the Portland City Council to adopt a graduated system of fines rather than the flat $500.
When McMinnville lined up to do something similar, the industry vowed to stop it. Leipfert and Towery had no idea what was in store.
Feelings ran hot from the beginning. Negotiations were a nonstarter. Instead, the industry group hit the bricks of the Yamhill County wine town. The group hired signature gatherers and circulated a petition to repeal the care home ordinance that the city council had passed the year before. OHCA crafted an initiative that would amend the city charter not only to repeal the ordinance but also to forbid the city from ever trying a similar move in the future.
The group lobbied local leaders and convinced the McMinnville Chamber of Commerce to come out against what it called the "unfair senior tax."
OHCA spent $160,000 on the campaign, a huge amount of money for a small-town election.
Towery said the city was precluded by law from putting any money into the campaign.
"I've never seen a private-sector group come in and pre-empt the authority of a city government like that," said Scott Winkels, lobbyist for the League of Oregon Cities.
The city got greedy, Bentley now says. Under its system, it could charge $1,500 fines. The licensing fees could reach $200 per bed.
"They were trying to print money for their budget," Bentley said. "It was about raising revenue to fill a budget hole."
Tragedy in Seattle
Oregon officials say their nightmare scenario unfolded 11 years ago in Seattle.
The city's trendy Fremont neighborhood, known for its quality craft brewers, is home to the Seattle Fire Department's Station 9. On a June night in 2010, Station 9′s crew got the summons from dispatch. A resident of an assisted living center needed some routine medical assistance.
Seattle dispatch classified it as "aid response code yellow" — a non-life-threatening situation that doesn't require a response with lights and sirens. Firefighters were familiar with the place. Fire department records show the department was called to the assisted living center 133 times the year before.
Twenty minutes later, a fast-moving fire broke out at a nearby townhouse, trapping several members of an extended family of Ethiopian immigrants.
The townhouse was just three-tenths of a mile from Station 9 — about eight minutes away. Its crews should have been among the first at the scene. But they were busy attending to the code-yellow issue at the assisted living center, and the next engine on the scene — an older reserve truck — suffered an equipment malfunction.
Five people, including three children, died in the townhouse fire.
Dacia Grayber, a career firefighter and paramedic, is well aware of the Seattle disaster. It has become a cautionary tale about the risks of the growing assisted living burden.
Grayber works for Tualatin Valley Fire & Rescue, which is feeling the squeeze from the mounting number of assisted living calls. She is also a state legislator representing Southwest Portland. Last winter, she got a call from Rachel Prusak, one of her Democratic allies in the Oregon House, who said she had a bill on this very issue.
Prusak asked Grayber if she might be willing to serve as primary sponsor. One more thing, Prusak added: The measure had come from OHCA.
Grayber gulped. All she could think of was that awful night in Seattle.
But the more she read, the better she liked it. House Bill 2397 would create a task force to devise ways to improve the current system. The panel's job would be formidable — ensure emergency medical services are available to the growing populations of frail elderly in a way that is efficient and appropriate for paramedics. And it needs to reduce costs as well.
"I really wanted assurances," Grayber said. "I needed to know that everyone had skin in the game. I really want to see innovation."
The bill also contained a bombshell. It would prohibit any attempt by local government to regulate or impose fees on senior care facilities. Portland's lift-assist penalty will live on — the bill carved out lift-assists as a separate category that could be billed to the care homes. But otherwise, it would require every city and fire department in the state to continue to answer the senior care industry's calls, no matter how minor, regardless of volume.
Grayber points out that the bill sunsets in 2027, which she views as some protection for cities and fire districts like hers.
Not a single fire department opposed the bill. The Oregon Department of Human Resources, which regulates the senior care industry, did not offer any testimony. The only opponents were the city of McMinnville and the League of Oregon Cities.
The measure was approved by the Legislature with just three no votes. Brown signed it into law on July 27.
Bentley vows to find a workable solution, even as he said the whole issue was overblown.
"There clearly are a percentage of calls to 911 that should be handled differently," he said, "but I'd be surprised if it's more than 10-15% of the total."
OHCA is a prodigious donor to Oregon lawmakers. It contributed $3,500 to Grayber's campaign and $14,000 to Prusak's over the years, as well as $150,000 since 2018 to Brown.
Prusak bristled at the implication that there was a link between OHCA's money and her sponsorship of its emergency services bill. "The way I have survived in this place is to not focus on that," she said of the OHCA money. "I just try to focus on the well-being of seniors."
Steele, the industry ombudsman, said the industry's reliance on local fire department paramedics raises important questions about the adequacy of their services. Under Oregon administrative rules, assisted living centers and long-term care facilities "must have qualified awake direct care staff, sufficient in number to meet the 24-hour scheduled and unscheduled needs of each resident."
The rules go on to say the facilities "must assure an adequate number of nursing hours relevant to census and acuity of the resident population."
The position of state regulators on this topic is unclear. The Aging and People with Disabilities division of the Oregon Department of Human Services, the unit charged with protecting the elderly customers of the assisted living industry, has been almost entirely absent from the debate.
A division spokeswoman confirmed that no one in the agency is monitoring the issue of emergency calls. The one time the division has engaged with an emergency responder came when the division "facilitated" a meeting between OHCA and Tualatin Valley Fire & Rescue about five years ago.
The new law will force the division to be involved through funding and staffing the effort to devise alternatives.
Officials at the division declined requests for interviews.
Firefighters and paramedics, meanwhile, will continue to answer the nonemergency calls. With these facilities charging thousands of dollars a month, you'd think they could afford some qualified medical personnel, said Merrill Gonterman, assistant fire chief in Roseburg.
"The people in these facilities are paying big money and expect someone to help," Gonterman said. "And they call us. The workers there, they tell us, 'Hey, I don't want to try to lift them. I might hurt my back. Then we have a workplace injury.' And we say, 'Yeah, what about us?'"
Note to readers: if you purchase something through one of our affiliate links we may earn a commission.
Pick up this RTX 3070 Alienware laptop at a staggering $530 off
Dell
Finding a decent graphics card for your desktop PC may be nigh-impossible, but gaming laptops have never been hotter. (Literally—they need some serious active cooling systems.) Take this Alienware M15, for example: Packed inside are a Core i7 processor, an RTX 3070 GPU, and a bunch of other great features. And right now, Dell's online shop has slashed its price, taking an eye-popping $530 off the normal price.
There's a lot to like about this machine: 512GB of speedy M.2 SSD storage, 16GB of memory for generous multitasking, and a 144Hz G-sync panel to make that 15.6-inch screen and that graphics card shine. The only real downsides are that said screen is a 1080p, non-touch panel, and that Core i7 is a little older than some other laptops: a 10th-gen model from 2020. But those sacrifices are more than worth it for such a deep discount. A laptop that retails for $2,129 is now just $1,600, and it should be able to run the latest games for years to come.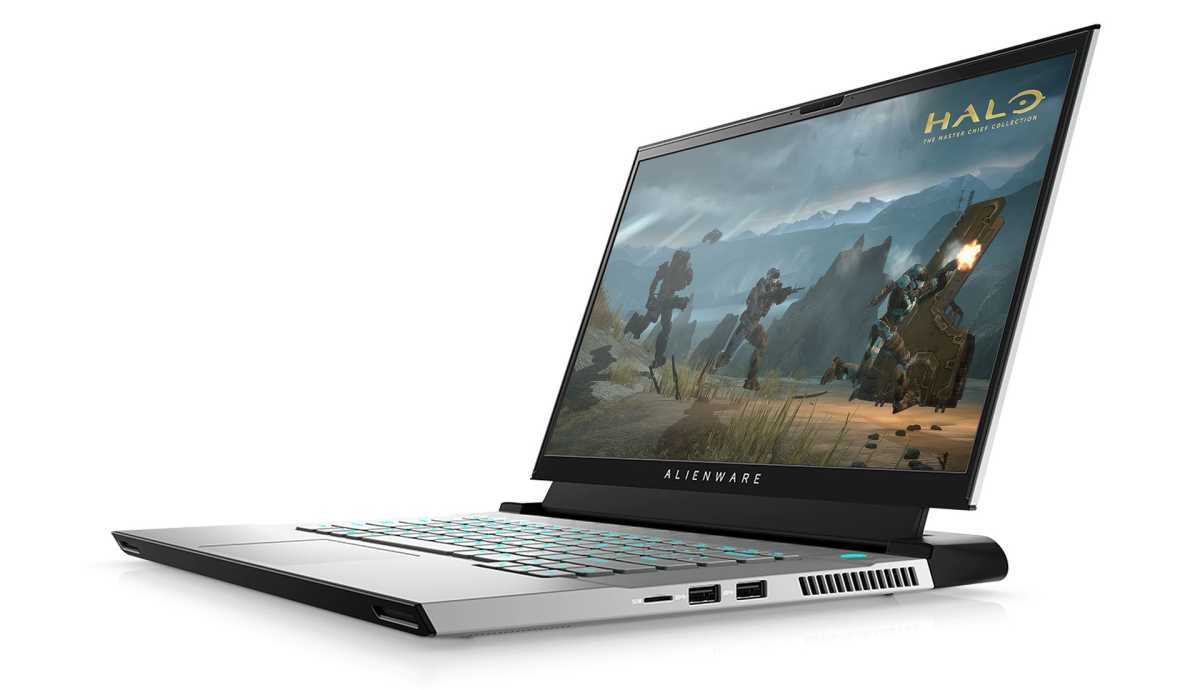 Dell
The fourth revision of the Alienware M15 comes with an impressive array of ports: triple USB-A, fold-out Ethernet, headphone jack, and MicroSD card on the side, and HDMI, mini-DisplayPort and USB-C on the back. That Type-C port can handle power input if you have enough juice, but the laptop also includes a standard barrel power port. And if that RTX 3070 ever becomes not beefy enough for you, you can add on an external graphics card via the proprietary Alienware Graphics Amplifier port.
Dell says that this deal is limited in terms of availability, and with those specs it isn't likely to last long. Get an order in quickly if you've made a decision.
[Today's deal: Alienware M15 with RTX 3070 for $1,600 at Dell.com.]
Note: When you purchase something after clicking links in our articles, we may earn a small commission. Read our affiliate link policy for more details.
Michael is a former graphic designer who's been building and tweaking desktop computers for longer than he cares to admit. His interests include folk music, football, science fiction, and salsa verde, in no particular order.
What to look for in a cheap Chromebook
Is a cheap Chromebook good enough for distance learning and homework? Definitely—depending on what's inside.
As a parent or a student, you may already have weighed the pros and cons of Windows laptops vs Chromebooks. One of the appeals of a Chromebook is cost, especially if a family has to buy several. But some of the cheapest Chromebooks we've seen come with some big caveats. We'll go over the key factors to consider before you buy. Consider these while you check out our best Chromebook deals for Black Friday.
Check the Auto Update Expiration
The first thing you should do when considering any Chromebook, especially one that's enticingly cheap, is to check it against Google's Auto Update Expiration list. While Microsoft supports Windows PCs for a long time, Google sets a limit—currently about six years from the product's original ship date for most consumer models, though some (especially education and enterprise models) get a few years more. 
When a Chromebook goes off support, Google won't upgrade the Chromebook's ChromeOS any further, which means no new features and no security patches. If you buy an older Chromebook, it's already a few years closer to its expiration than a brand-new model would be. Retailers do not publicize this, so it's worth checking out.
My son spent most of last school year doing schoolwork on an original Chromebook Pixel from 2013, which was way out of date, with no problems whatsoever—but there are no guarantees.
Display quality: Resolution and brightness
A classic feature of cheaper Chromebooks is a lower-quality display. Whether you're young or old, looking at a small, low-res screen for hours at a time can be fatiguing at best and detrimental at worst. That's why you should buy a Chromebook with a Full HD (1920×1080) display if at all possible. An HD (1366×768) screen—often found on the cheapest Chromebooks—can be tolerated on smaller 11.6-inch displays, but we don't recommend it. Eye fatigue can affect kids as well as adults.
The displays on cheaper Chromebooks can also be on the dim side. They may suffice for indoor use, but outdoor light will wash out the screen. If you can find a brightness spec, look for something 250 nits or higher.
Memory matters more than storage
While Chromebooks can store data locally, the vast majority of schoolwork is performed online. To my knowledge, neither of my children have ever saved something on to a Chromebook directly, so the size of the onboard storage rarely matters. PC enthusiasts may also prefer faster SSDs over an eMMC flash drive—but for a Chromebook? It really makes no difference, and you shouldn't even really pay attention to how much storage a Chromebook has if your work is mostly or always done online.
Memory plays a bigger role, because that's where your browser data is loaded. More memory means you can have more available browser tabs for surfing the Web.
Most Chromebooks come with at least 4GB of memory. Anything less than that (such as 2GB) may have a detrimental effect—in fact, Zoom recommends 4GB of memory. A child in elementary school might not be using a Chromebook for more than Google Classroom, Zoom, and some other app. An older child might need to have multiple tabs open for research. With older students, teens, and adults, consider a Chromebook with a bit more memory. (Unfortunately, Chromebooks aren't usually designed to be upgradeable.) 
Connectivity
As with any laptop, smaller and thinner models tend to skimp on ports. Think about what you need to connect—such as a USB drive, a headset, or a display. In general, look for an HDMI port (for an external display option), a microSD or SD card slot for loading photos, and a USB-A port (ideally more than one) to plug in peripherals. You'll also see USB-C ports on some Chromebooks, but usually not the cheaper ones. (We see a lot of discounted Chromebooks ignoring HDMI ports entirely, especially the ones being sold for Black Friday or the holidays.)
Choosing an older, cheaper Chromebook might mean suffering with an older Wi-Fi radio. Generally, however, 802.11a/b/g/n Wi-Fi or better, plus Bluetooth, should work, even for Zoom's bandwidth requirements of 2.5 Mbps for group video chats at 1080p resolution. 
Webcam: Just make sure there is one
No well-meaning teacher is going to care about the quality of a child's webcam as long as there is one. A better webcam can make it easier to see your child, or make their work more visible if they're holding it up for inspection, but a well-lit room can probably offset any shortcomings.
Processor performance: Zoom requires more
Chromebooks designed for browser-based schoolwork traditionally haven't required much processor power—and often saved cost with lower-end chips. Now, however, both Zoom and YouTube play a more significant role.
YouTube shouldn't give even old, cheap Chromebooks much of a workout, especially as YouTube automatically scales the resolution to deliver a good experience. But with Zoom becoming more prevalent, it might be worth leaning toward a Chromebook with an Intel processor, either a Celeron a full-fledged Core chip. Zoom's system requirements call for a "1 GHz" processor for Zoom calls. 
You'll typically find Chromebooks offering Core chips (far more horsepower than necessary), Celeron or modern Pentium chips (probably sufficient) and Arm chips from Qualcomm and Mediatek. We'd typically agree that even an Arm chip can run a Chromebook just fine (after all, there's one in your smartphone) but a quick web search of the processor can't hurt. If the chip was manufactured more than five years ago, you may want to consider a newer model.
This story was updated with additional information on November 25.
Note: When you purchase something after clicking links in our articles, we may earn a small commission. Read our affiliate link policy for more details.
As PCWorld's senior editor, Mark focuses on Microsoft news and chip technology, among other beats. He has formerly written for PCMag, BYTE, Slashdot, eWEEK, and ReadWrite.
Arturia's V Collection instruments now have native M1 Mac support
It's now that much easier to use Arturia's softsynths on your brand new MacBook. Arturia has released a free V Collection 8.2 update that adds native support to the (currently discounted) suite for Macs with M1 processors. That should improve performance, as you might guess, but it could also help with battery life if you need to play unplugged.
Other speed updates are in store. The update boosts the performance of 4K interfaces through a new framework, and presets from the V Collection factory libraries now load up to twice as quickly. You'll also find ODDSound MTS-ESP microtuning compatibility for the Clavinet V, DX7 V, Piano V and Stage-73 V.
This might be an important update if you use softsynths for music-making. Arturia has a reputation for virtual instruments that are both meticulous and relatively accessible. This both makes V Collection more viable on M1 Macs and gives you more incentive to rely on digital synths instead of hunting down their costlier real-world counterparts.
All products recommended by Engadget are selected by our editorial team, independent of our parent company. Some of our stories include affiliate links. If you buy something through one of these links, we may earn an affiliate commission.