Future of TV Briefing: How search stands to play a bigger part in digital video strategies
This week's Future of TV Briefing looks at how platforms like TikTok and Pinterest are providing opportunities for search-oriented video approaches.
In search of views
The key hits:
Gen Z audiences are increasingly using TikTok as a search engine.
Pinterest's video platform caters to search-driven viewership.
Publishers like Refinery29 and Tastemade are taking advantage of search-based video behavior.
YouTube is not only the biggest digital video platform on the market but also the second biggest search engine. And yet search does not play an outsized role in creators' and publishers' video strategies beyond YouTube. But maybe that's about to change.
Famed for its content recommendation algorithm, TikTok's search functionality took the spotlight recently. Nearly 40% of 18- to 24-year-olds in the U.S. turn to TikTok and Instagram for search queries instead of Google Search and Google Maps, a Google executive said at a conference earlier this month.
Meanwhile Pinterest — as much a visual search engine as a scrapbooking site — remains committed to establishing itself as a digital video destination. Last week the platform hired YouTube's global head of original programming Nadine Zylstra to be Pinterest's global head of programming and originals. 
The spread of search-driven video viewership beyond YouTube would appear to be welcome news for video publishers like Vice Media Group's Refinery29 and Tastemade that produce the types of utility-based videos — such as shopping guides and cooking how-tos — that people are likely to seek out through search queries rather than rely on platforms' recommendation engines to surface.
"Refinery29 are experts at service content. We want to deliver actionable content to our audience, which really aligns with Pinterest's direction of what they want to achieve as well," said Tamar Riley, vp of audience and content strategy for Refinery29 and i-D. In June, Refinery29's audience on Pinterest spanned 61 million people, according to a VMG spokesperson.
Of course, not all videos cater to being queried through search. But that doesn't mean search-related tactics do not apply to videos in general entertainment categories like comedy. Adding captions and text to videos, for example, is considered by industry experts to be a potential way to give platforms' algorithms more information about a video to boost its appearance in search results. "We know for Facebook that has always been important in terms of uploading the caption file for that reason," said an executive at a media company that produces general entertainment videos.
Video viewers on Pinterest, in particular, have shown a penchant for seeking out videos through search. Having posted more than 40,000 videos to Pinterest and with 15 million followers on the platform, food-and-travel publisher Tastemade has seen that audiences' behavior on the platform is "very search-oriented," said Lauren Arso, head of content for social at Tastemade. A Tastemade spokesperson declined to share its monthly viewership figures for Pinterest but said that, on average, 17.5% of Pinterest's global monthly active user base watched a Tastemade video each month in the first quarter of 2022; Pinterest had 433 million global monthly active users in Q1, per the company's quarterly earnings report.
The search-driven viewership on Pinterest not only lends itself to Tastemade's video approach, which is largely oriented around practical programming like recipe videos, but it can also provide a lens for how to program for other platforms. "It's always interesting for us to see what content, themes and categories are performing on Pinterest because it could give us a glimpse into the future of what's going to perform in a couple of weeks on a different platform," Arso said.
The inverse may also be true. Publishers with established search engine optimization strategies could use their existing insights around how to drive search traffic to their sites' text-based content and apply them to their video strategies across the likes of YouTube, Pinterest and TikTok.
"Seeing that Gen Z are using TikTok as a search engine, there's just a real opportunity actually internally for teams to collaborate more on using the insights around search data to not just sit across dot-com content but to sit across social too," Riley said.
What we've heard
"As a buyer, I'm wildly scared of what they're going to come out with. They're going to overprice themselves."

— Agency executive on how much money Netflix will look to charge advertisers at launch
Netflix losing a million subscribers in the second quarter stands in stark contrast to streaming services, including Netflix, stealing more share of overall TV viewership from traditional TV networks.
In June, streamers notched their largest share of minutes people in the U.S. spent watching TV to date, while broadcast and cable TV networks ceded share, according to Nielsen's The Gauge viewership report for the month.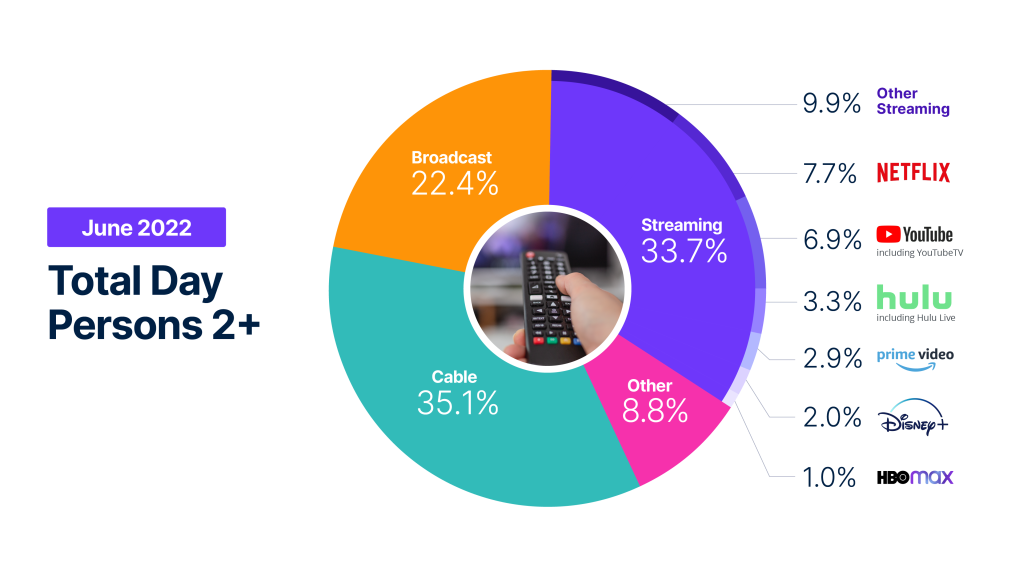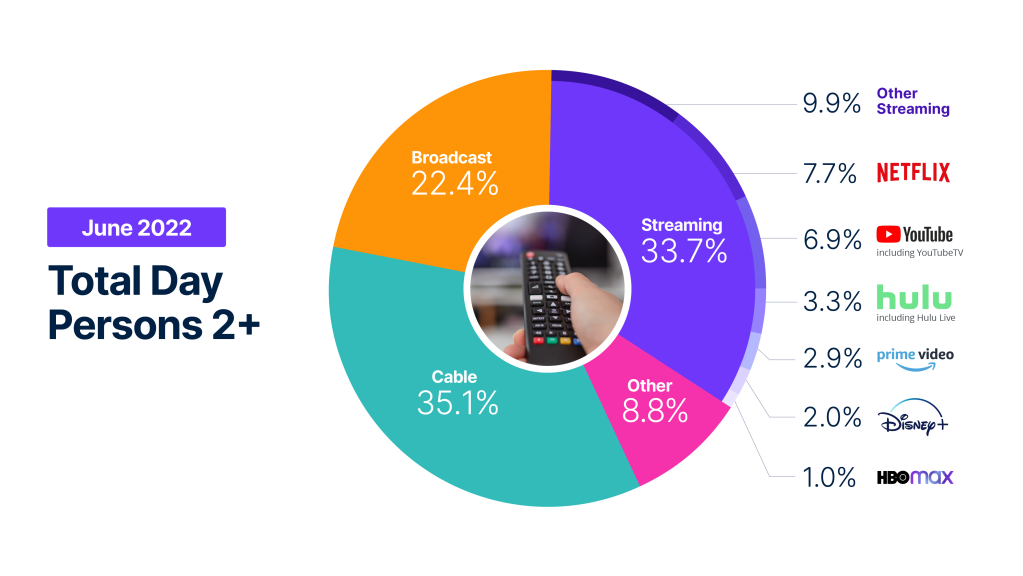 For what it's worth, June is typically a down month for traditional TV viewership, considering that broadcast TV's primetime shows have typically ended their seasons by May. The NBA and NHL aired their respective finals on TV in June, which increased TV sports viewership by 44% from May. But still, streaming stole the show in June.
"TV viewing is seasonally lower in the summer months, but total TV usage increased by 1.9% on a month-over-month basis, bolstered by a 7.7% increase in streaming," Nielsen wrote in a company blog post announcing the June numbers.
Notably, Netflix saw the biggest spike in share of watch time in June, rising by 0.9 percentage points from May, likely thanks to the release of "Stranger Things" season four at the end of May. Amazon Prime Video, Disney+ and YouTube followed with roughly 0.2 percentage point increases month over month, respectively, per Nielsen. (The chart below suggests Amazon's share increased by 0.3 percentage points, but Nielsen put the gain at 0.2 percentage points, likely due to rounding).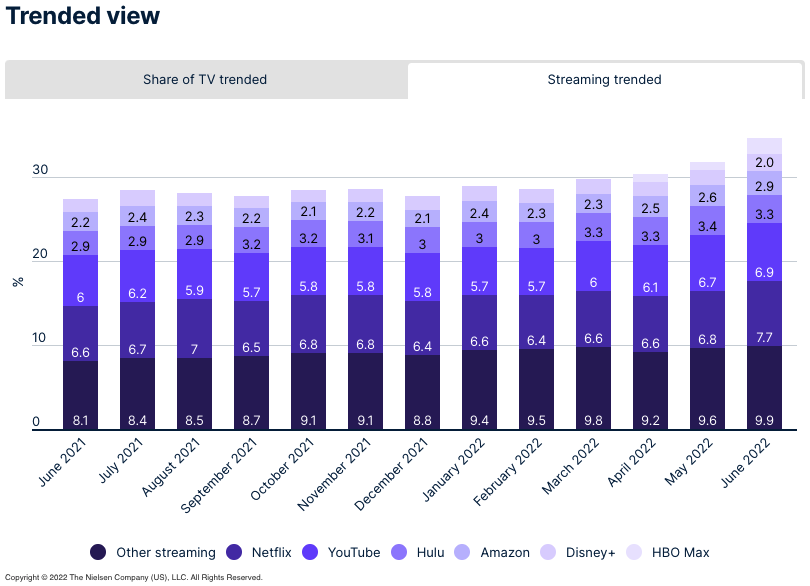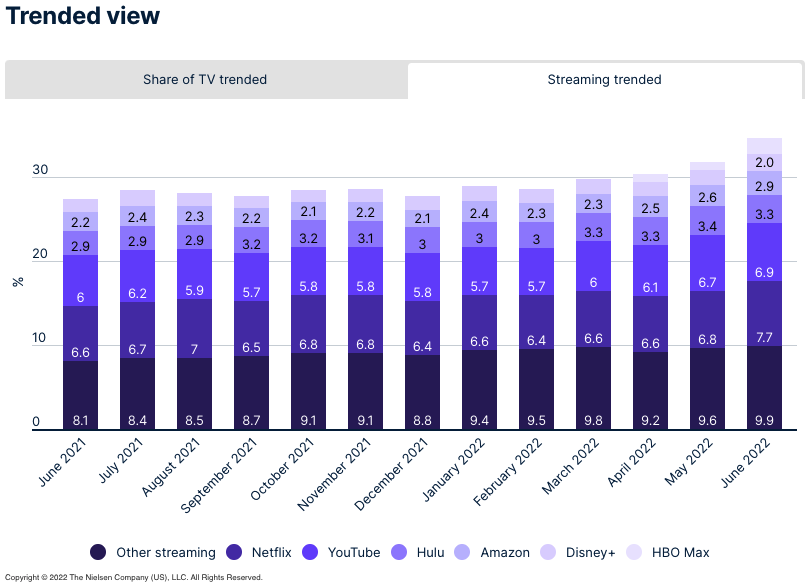 Streaming's rising tide did not lift all boats, however. Hulu's watch time share dipped by 0.1 percentage points. Considering that traditional TV programming continues to make up a major part of the Disney-owned streamer's library, Hulu's downtick seems to correspond with the drop-off in traditional TV viewership.
Numbers to know
$7.34 billion: How much ad revenue YouTube generated in the second quarter of 2022.
$4.99: Monthly price for a subscription to the NFL's NFL+ streaming service.
15: Maximum length, in minutes, that a video on Instagram can be to qualify for a Reel (i.e. the short-form video product is no longer limited to short-form video).
$17 billion: How much money Netflix expects to spend on programming this year.
347 million: Number of people who use Snapchat, on average, each day.
104: Number of minutes that the average person spends using Comcast-owned free, ad-supported streaming TV service Xumo per session.
WTF is the Video Privacy Protection Act?
A law passed in the Blockbuster era is posing a potential threat to today's streaming ad market.
Watch the video above to learn more about the Video Privacy Protection Act, and then click here to read an article explaining how the 34-year-old law could be used to rein in targeted advertising.
What we've covered
Talent management firm Dulcedo prioritizes relationships with mid-sized esports orgs:
The management firm has acquired gaming and esports startup C4G Agency.
The agency has specialized in connecting non-endemic brands with esports organizations.
Read more about Dulcedo here.
How FaZe Clan's SPAC merger shows the challenges of public ownership in esports:
On the day the esports org went public, its stock priced closed down nearly 25% from its initial price.
Other esports companies that have gone public are currently valued far beneath their initial offering price.
Read more about FaZe Clan here.
As social commerce grows, not all marketers see the appeal of live shopping:
While platforms like YouTube, Facebook, Instagram and Pinterest pitch live shopping opportunities, agency executives said some clients aren't buying.
Part of the problem is a skepticism among brands that people in the U.S. are willing to shop while watching live streams.
Read more about live shopping here.
What we're reading
Amazon, Apple and Google vie for sports streaming rights:
The three tech giants have each submitted bids for the rights to the NFL's Sunday Ticket Package, according to The New York Times. The bids help to explain why TV network owners ponied up last year to lock up the league's traditional TV and streaming rights, considering that the NFL remains traditional TV's biggest, most reliable audience magnet.
Hollywood's production level looks to return to normal:
The number of movies, TV shows and other projects in production in the Los Angeles area will return to the pre-pandemic amount in the next year, according to Variety, citing estimates from the official Los Angeles area film office FilmLA.
TikTok is overcrowded with creators:
TikTok has lowered the barrier to entry for people to become creators beyond the threshold already set by YouTube, and that has created an inflated influencer market on the platform, in which success can be much less reliable over the long run, according to The Information.
Meta turns TikTok mimic:
Facebook's and Instagram's parent company is remaking the two platforms in the image of TikTok, such as by pushing posts to people from accounts they don't follow, a reversal of Facebook's "friends and family" push in 2018, according to Insider.
The best wireless gaming headsets: Top picks for audio quality, comfort, and more
The arrival of 2.4GHz wireless technology has made wireless gaming headsets more reliable than ever before, the best of which can now rival their wired counterparts when it comes to connection latency and sound quality. But no two wireless gaming headsets are made the same. Manufacturers cater to all tastes and budgets, so there are myriad different styles, designs, and hardware inclusions that can vary how they look, feel, and sound.
To hardcore gamers, gaming headsets have become another tool that helps them get an edge over competitors, hence personalization is a big consideration. Here players look for headsets with the best spatial audio, and software support to fine tune audio settings like EQ and to tailor-make presets for specific games.
Suffice to say, considering all the ins and outs of a particular headset can be a little daunting. To simplify things, our PCWorld reviewers have done the legwork by getting hands-on with each device. While we review everything that comes our way—the good, the bad, and the ugly—only those that have excelled in our testing make it into our list below. These headsets strike a balance between performance and usability, placing them in a league above the rest.
For a rundown on how we test wireless gaming headsets and for buying advice, read on below our recommendations.
How we test wireless gaming headsets
To find the best of the best, we put every wireless gaming headset through a legion of tests. We examine everything from design and styling to the integrity of their Wi-Fi and/or Bluetooth signals. Since these headsets are tailor-made for gaming, we spend many hours trying them out in games, listening closely to their sound quality, and testing extra features like Active Noise Cancellation (ANC) or spatial audio technologies. Our testing criteria mainly falls under these categories:
Design and ergonomics
When it comes to gaming headsets, design is crucial for your overall comfort. It's also crucial for maximizing your gaming experience. To that end we consider factors like the overall shape and fit of the headband and earcups, their clamping force, and crucially what they're made of—which affects how they feel. We also examine things like whether they have boom microphones, if the microphones are detachable, and whether there's onboard storage for the dongle.
Connectivity
Wireless gaming headsets transmit sound to and from your PC via a wireless signal. However, the way they do this can vary. Key connectivity considerations are whether the headset connects via a Wi-Fi or a Bluetooth signal or provides a choice of both of these options. We also look at the Wi-Fi band the headset uses, all the while mindful that the 2.4GHz band is the current best-in-class standard for a low-latency connection.
Audio quality
This will make or break your gaming experience, and while there are lots of factors that determine audio quality, it can quite simply be determined by listening closely to the fidelity of the sound and the tonal range available. We also listen keenly for any audio distortion, such as rattling or hissing sounds that can be red flags for sound quality.
How to choose a wireless gaming headset
Connectivity: Wi-Fi versus Bluetooth
A low-latency connection can make a world of difference, allowing you to hear the best quality sound while also minimizing the likelihood of signal dropout or interference. As a general rule the lowest latency wireless connection you can get these days comes courtesy of a 2.4GHz Wi-Fi connection. A Wi-Fi connection will also give you the best wireless range, allowing you to wander anywhere up to 20 feet away from your device without losing your audio. However, to take advantage of Wi-Fi you'll need to plug a dongle into your devices.
Some headsets also offer Bluetooth connectivity, which still does a decent job transmitting your audio signal but somewhat lowers the fidelity of the sound quality. Another downside is it can also suffer latency issues. And, while it's granted that most gamers wouldn't choose Bluetooth over Wi-Fi for these reasons, one benefit of Bluetooth is that if you plan on using your gaming headset with multiple devices, it allows you to conveniently and quickly switch between them without needing a dongle.
Compatibility: Why checking is important
It pays to research which of your devices work with a new gaming headset since compatibility can vary widely. By that we mean checking to see if it works with any consoles you might have, such as Nintendo Switch, PlayStation 4 or 5, or XBox X/S, and your smartphone. Doing so can save you the cost and inconvenience of having to purchase multiple headsets.
You'll also want to check that the headset's software-dependent features like 3D spatial audio are supported by not only the devices, but also the games you want to use it with, since that is not a given and you may be sorely disappointed if you can't take advantage of the full breadth of your headset's capabilities.
What design traits are the most comfortable?
Beyond just being pleasant to wear, comfortable headsets help prevent pain and injury to your ears and head. What constitutes a comfortable headset can come down to personal preference, but as a general rule, these points will help guide you in choosing one that'll keep you feeling snug:
Lightweight design: Lighter headsets are generally more comfy over prolonged periods, and can prevent you feeling too much pressure on the top of your head. Designs that incorporate plastic tend to be lighter than those that have more metal in them.
Soft materials and padding: The padding and coverings in headsets can be made from a broad spectrum of materials, including PVC, rubber, memory foam, artificial leather and plastic. Ideally the padding in the earcups should gently melt into the sides of your head with minimal force, while the earcup coverings should feel smooth rather than coarse. Many manufacturers opt for a combination of memory foam padding with a leatherette coverings that we think gives you the most luxurious and comfortable feeling you can get these days.
Extendable and flexible headband: A headband that extends vertically to cover your ears will prevent soreness in the parts of your ears not cupped, while one that is flexible and opens easily will reduce unwanted clamp force hurting your ears and the sides of your head.
Rotating earcups: These allow your head a degree of horizontal movement (left and right) without the headset's earcups pulling your ears in the other direction.
What makes a headset durable?
As is the case with most other tech devices, wireless gaming headsets that eschew plastic for metal in their designs are a lot tougher and tend to last longer than those that don't. That's especially important for the arc of the headband which will quite often snap in two when made entirely from plastic.
When it comes to the durability of earcups, genuine leather tends to reign supreme over other materials, being a little more resistant to wear and tear than leatherette, plastic, or polyester cloth. On the flipside, leather tends not to circulate as much air to your ears and thus can make you sweat more, so any durability concerns you have will need to be weighed up against your personal comfort needs.
Spatial audio or no?
Most wireless gaming headsets will offer stereo sound from both earcups, but an increasing number now offer 3D spatial audio. This feature mimics the kind of sound experience you'd expect to get from having multiple speakers, thereby delivering sound through a 360-degree sound-scape in your headset.
Headsets like the Razer Barracuda Pro Wireless, SteelSeries Arctis Nova Pro Wireless, and HyperX Cloud Core Wireless, all offer their own spatial audio technologies, so the chances are good that a new-to-market mid-range or premium headset will support this technology.
While there are some differences between the spatial audio technologies used by different headsets, on the whole most work reasonably well, allowing you to clearly hear the directionality of sounds in games. Suffice to say, if you're a competitive gamer this feature can give you a big advantage over your competitors, allowing you to better pinpoint sounds like your opponents' foot-falls, explosions, or enemy fire a little easier than you otherwise would.
Noise Isolation: What to look for
Noise isolation refers to how well your headset can isolate the sound coming from your own gaming headset while simultaneously blocking out any external sound from outside. Apart from just being plain annoying, sound leaking into your headset can be a strategic disadvantage in tightly contested games, especially in shooters like Overwatch or Counter-Strike: Global Offensive that rely on directional audio prompts.
At the very least, you will want to ensure your gaming headset has decent passive noise isolation, which is a measure of how well its overall physical design is effective at stopping external sound entering your ears. However, if only the strongest noise-blocking power will do, look for a headset with Active Noise Cancellation. This technology actively detects and analyzes the sound pattern of incoming noise and then generates a mirror anti-noise to cancel it out.
The microphone: Key considerations
From a design perspective a good microphone should be either detachable or fold back into the headset's body to be virtually undetectable when you're not using it. This allows you to more discreetly use your wireless gaming headset as a pair of headphones when you're not gaming, making it a little more versatile than a purely wired set.
Although you'll mainly be using your headset's microphone for casual voice chats in gaming sessions, you'll also want to check that it has noise-cancelling technology and that the sound it picks up is clear and free of distortion—after all, your gaming friends won't want to listen to your voice for very long if it's muffled or full of static.
Desktop CPU shipments plunge to lowest total in nearly 30 years
Remember about two years ago, when absolutely everyone wanted to either upgrade their existing PC or buy a new one? Yeah, that doesn't appear to be the case anymore, according to the latest market report from Mercury Research. The report states that x86 chip shipments have dropped by the largest percentage year-over-year since the report began way back in 1994. Analyst Dean McCarron says it's probably the largest decline since the precipitous downturn of 1984.
"Desktop and mobile client CPU shipments were down significantly compared to a year ago, with desktop CPU unit shipments falling to the lowest level in nearly three decades," McCarron said in an emailed statement. "Total CPU shipments had the largest on-year decline in the history of our report, which spans 28 years."
Even so, the news is good if your name is AMD. Across desktops, laptops, and servers, AMD has gained ground on Intel in every segment, totaling 3.7 percent market improvement and nearly 9 percent gain year over year. That measurement from Mercury is broadly in line with the quarterly reports from Intel and AMD — awful and rosy, respectively.
Even while gaining on its industry rival, AMD is showing a downturn in laptop CPU shipments, despite glowing reviews for its Ryzen 5000 and 6000 lines. But in desktop and server shipments the company is well up on its position a year ago. Mercury assigns inventory issues — a symptom of the ongoing global supply chain problems — as the primary culprit for Intel's loss in all three segments.
Mercury estimates that ARM CPUs like those in Apple's latest Mac designs, the least expensive Chromebooks, and a few Snapdragon-powered Windows machines make up approximately 9.4 percent of the market. That's down from the last quarter (assigned to a large drop in Mac sales) but gaining 1.7 percent year-over-year.
Razer's DeathAdder V3 Pro is ludicrously lightweight, long-lasting, and fast
Razer
Razer's DeathAdder design is a minor legend among PC gamers, first appearing in 2006 and a favorite ever since for its ergonomic, grippy body shape. The company is giving the design a huge and pricey update today, christening the latest model the DeathAdder V3 Pro. In addition to lightning-fast wireless powers and insane DPI, Razer is highlighting an incredibly lightweight 64-gram (2.22 ounce) body. While far from the world record, it cuts down the weight from the DeathAdder V2 X Hyperspeed by about 25 percent.
In terms of raw hardware, the DeathAdder V3 Pro is…what's a polite way of saying "deranged?" With a 30,000 DPI optical sensor, at the highest setting you can move a cursor into the next time zone with a twitch, even if you're tracking on glass. On top of that are Razer's third-gen optical switches for zero delay and elimination of unintentional double-clicking on the primary two buttons. The button layout is the familiar "shooter" configuration, two thumb buttons, and a single DPI switch on the bottom.
In addition to handy USB-C charging and an impressive 90 hours of battery life, Razer has put a lot of work into the mouse's wireless connection. On its own the DeathAdder V3 Pro can handle a 1000Hz polling rate, already fairly superhuman and far more than necessary to overcome even the tiniest amount of online multiplayer lag. But for truly insane responsiveness, you can add on the specialized "HyperPolling" dongle (sold separately or in a bundle) for a jaw-dropping 4000Hz.
Razer
The design is so dedicated to saving weight and increasing battery life that Razer didn't even put any decorative LEDs on it. It even includes "grip tape" in the box, little add-on stickers for the primary buttons and thumb rest. If that doesn't say "pro gamer," I don't know what does. The DeathAdder V3 Pro is on sale now in black or white for an eye-popping $150, and the HyperPolling dongle is an additional $30. You can get them both in a $165 bundle exclusively from Razer's online store.