Gannett's Q3 earnings were bleak, but CEO Mike Reed expects the worst is behind the publisher
Gannett is optimistic the worst is behind it in terms of the economic downturn's adverse effects on the company, a unique perspective in the industry considering several other publishers have stated that the fourth quarter has been off to as difficult a start as Q2 and Q3.
"We believe that peak decline… from a year-over-year perspective, is now behind us," said Michael Reed, CEO and chairman of Gannett during the company's third quarter earnings call on Thursday. Nonetheless, the company's fourth-quarter forecast signals it expects a 4% to 10% drop in total revenue year over year.
The key numbers: 
Total revenue hit $717.9 million, a 10.3% decrease from Q3 2021. 
Total digital revenue was $256.4 million, 35.7% of the company's total revenue, down 2.3% year-over-year.
Digital-only paid subscribers grew by 28.5% year-over-year to 1.98 million, representing $34.5 million, a 34.5% increase from Q3 2021.
Digital marketing solutions core platform revenues reached $118.7 million. 
To no one's surprise, advertising is down
About 36% of Gannett's total revenue in Q3 – representing $256.4 million – came from its digital businesses, including advertising, subscriptions, affiliate, licensing and the company's Digital Marketing Solutions platform. But that number was down 2.3% from Q3 2021, largely due to declines in digital media (AKA advertising), which was down 24.8% year-over-year. The scapegoat was "a softer programmatic advertising market" this quarter, according to Doug Horne, Gannett's chief financial officer.
"That [digital ad revenue decline] was pretty significant," said Justin Eisenband, managing director of the Telecom, Media & Technology industry group at FTI Consulting, even compared to other news publisher clients that his team works with. "I had seen it being not as exacerbated [by the current economic downturn] and not quite as deep as their declines."
A unique struggle of news publishers has historically been the brand safety issues of running ads next to controversial or emotional topics. So while programmatic advertising has been a benefactor of many advertisers shifting their advertising budgets away from CTV during this midterm election period, according to Seth Hargrave, CEO of media buying agency Media Two Interactive, news publishers have not been included with the media companies that are on the receiving end of that influx. 
"There seems to be no positive news. It's all negative news. So brands are extremely tentative to be in that spectrum right now," Hargrave said. 
Meanwhile, Gannett's Digital Marketing Solutions platform — a major focus for the company since June — earned $119 million in Q3, up 5.3% year-over-year. A majority of the business's revenue is "recurring and structured on evergreen contracts, with monthly customer budget retention rates of 95%," according to Reed, as it acts as a digital marketing agency for advertisers looking to reach local audiences.
Digital subscriptions: marginal but mighty  
In October, the company surpassed 2 million digital-only subscribers, marking a third of its way to its goal of having 6 million digital-only subscribers by 2025. 
Despite USA Today's audience representing 126 million of Gannett's 178 million average unique monthly visitors, Reed said that the company's digital subscriber growth is still primarily in the company's local markets. What's more, only 3% of all local news readers are paid digital subscribers.  
From the beginning of the year, digital-only subscriptions are still growing, but only by single digit percentages, which have shrunk since the beginning of the year. From Q2 to Q3 2022, digital-only subscriptions increased by 5.9% to 1.98 million total. From Q1 to Q2 2022, they grew by 6.9%, and by 7.4% from Q4 2021 to Q1 2022. 
Print circulation revenue on the other hand was down 18.1% year-over-year and print advertising revenue was down 16.2% year-over-year.
"They might be ahead of other newspapers in terms of their revenue mix being more towards digital, but unless [they] reduce [their] dependency on print, I have to imagine it's hard to get to growth that soon … again, unless their plan would be to sell some of these declining assets," said Eisenband.
One bright spot, according to Reed, is that the number of registered users and newsletter subscribers increased year over year by 49% and 30%, respectively, totaling 5.4 million registered users and 8.3 million newsletter subscribers. 
Trimming the fat
The third quarter was all about reducing two of the top overhead costs for publishers: personnel and real estate.
Gannett is on a mission to cut $200 million to $240 million from its operational budget in 2022. As of October, the cuts add up to a potential savings of $115 million, if all goes as planned, according to Horne. This included laying off 468 employees, 3.5% of the workforce, as well as eliminating about 400 open positions. The company also sold 12 properties, totaling $34.6 million in real estate sales this quarter and is hoping to earn about $30 million more before the end of the year, he added. 
Gannett reported a net loss of $54.1 million in the third quarter. In Q3 2021, the company had recorded a net income gain of $14.5 million. Meanwhile, its operating expenses totaled $743.0 million, a 3% decrease year over year.
In October, the company also temporarily suspended 401(k) matches, offered voluntary buyouts, asked for voluntary reduction of employees' work hours, reflecting a 20% pay cut, and mandated that all employees take five days of unpaid leave in December.
"We've also identified initiatives that represent an additional $85 million of run rate benefit," Horne added during the call, but didn't go into much more detail about what those cost-cutting measures would look like, other than vaguely hinting at outsourced administrative and business support functions, like finance, accounting, sales and technology.
"Their focus seems to be on variablizing the cost structure, which is the right approach, in my perspective," said Eisenband. "Whenever you have falling revenues, the more variables you can have in the cost structure, the more you can react and maintain profitability." 
One example of this – looking at the silver linings of declining print circulation revenue – is that there are fewer production facilities that need to be operated and maintained, leading to reduced overhead. 
Future looking 
Gannett expects to end the year with $2.95 billion to $3 billion in total annual revenue, which would mark a 6% to 8% decline year over year. Given that Gannett has recorded 2.21 billion in total revenue through the first three quarters of 2022, that would mean the company is projecting $740 million to $790 million in total revenue for the fourth quarter, a 4% to 10% drop year over year. The company is also forecasting a $60 million to $70 million net loss for 2022.
Reed said that his team is targeting 2024 as the inflection point for revenue growth, after being on a streak of revenue loss.
"It's not lost on us that this remains a challenging environment, but we are encouraged by a number of key wins in the third quarter and some of the stabilization we've seen," said Reed. 
The best VPN for streaming Netflix
One of the most popular uses for VPNs nowadays is to bypass region locks to access streaming content in different countries. However, in 2016 Netflix expanded into 130 new territories and promised to get tough by preventing people from streaming Netflix content over a VPN. Since then it's been a cat-and-mouse game between Netflix and VPN providers to continually provide U.S. Netflix access to their customers. That's why choosing the right VPN is essential in order to stream U.S. Netflix when outside the country.
As a rule, regardless of what your home billing address is, you always get access to the Netflix catalog of the country you're currently in. If you live in Idaho, but you and your laptop are in Japan, you get the catalog available in Japan. Sometimes that can be great and you get to see a movie or TV show that isn't available at home. Often, however, you just want to keep watching your stuff remotely.
Given Netflix's restrictions towards VPNs, you need to choose a service that has active compatibility with Netflix. This provides some assurance that the service is committed to adapting its strategies in accordance with Netflix' moves.
If you're looking to use your VPN for more than streaming Netflix, be sure to check out our comprehensive roundup of the best VPNs in all categories.
Updated 12/1/2022: Check out our latest review of Windscribe Pro. It just missed out on this list, but it's still a great service with a ton of useful features and an affordable price, which makes it a good value VPN option.
1. NordVPN – Best overall for Netflix
Pros
Excellent speeds
Enough features to appeal to power users and novices
No-logs policy
Diskless servers
For our money, the best option for streaming Netflix is NordVPN. This company has been challenging the Netflix VPN ban from the start. It's also had a goal of making all of its servers work with the streaming service. As of this writing, this is the case. No matter which Netflix catalog you want, NordVPN promises to deliver it.
NordVPN has more than 5,000 servers and offers locations in 60 countries around the world. It also allows you to choose your specific server so that you can switch around if you need to when Netflix's ban hammer comes down.
In addition to top-notch speeds, and Netflix compatibility, NordVPN offers double-hop connections, and VPN over TOR. NordVPN also uses the WireGuard protocol by default, though it has made some modifications to make WireGuard friendlier and more private for commercial VPN services and thus calls its protocol NordLynx.
NordVPN is inside our top 10 for best speeds overall, and it should have no trouble streaming Netflix anywhere in the world.
Read our full
Review NordVPN
2. ExpressVPN – Best runner-up for Netflix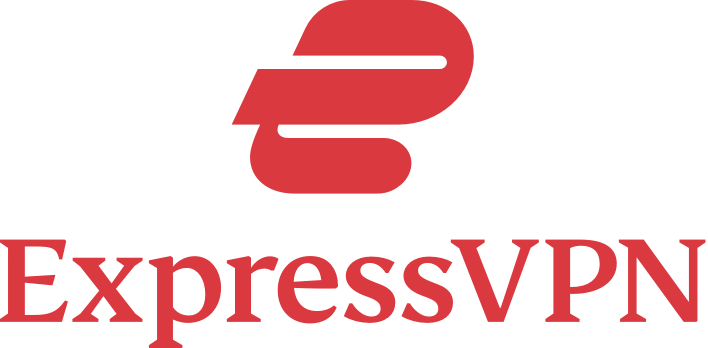 Pros
Consistently good speeds
Easy-to-use desktop program
Broad device support
Cons
Logs data transfer amounts
More expensive than many competitors
If NordVPN isn't your style, our top VPN overall, ExpressVPN, is also an excellent choice. ExpressVPN offers more than 3,000 servers in 95 countries. It also promises that Netflix will work with every server it has, and ExpressVPN offers good speeds. Express is on the pricier side at nearly $100 per year, compared to $60 for Nord. But the app is easy to use, the speeds are excellent, and it offers some nice extras such as a private DNS service that lets you set up an Apple TV or console for watching U.S. streaming services overseas.
Read our full
Review ExpressVPN
3. ProtonVPN – Best for watching Netflix on a Mac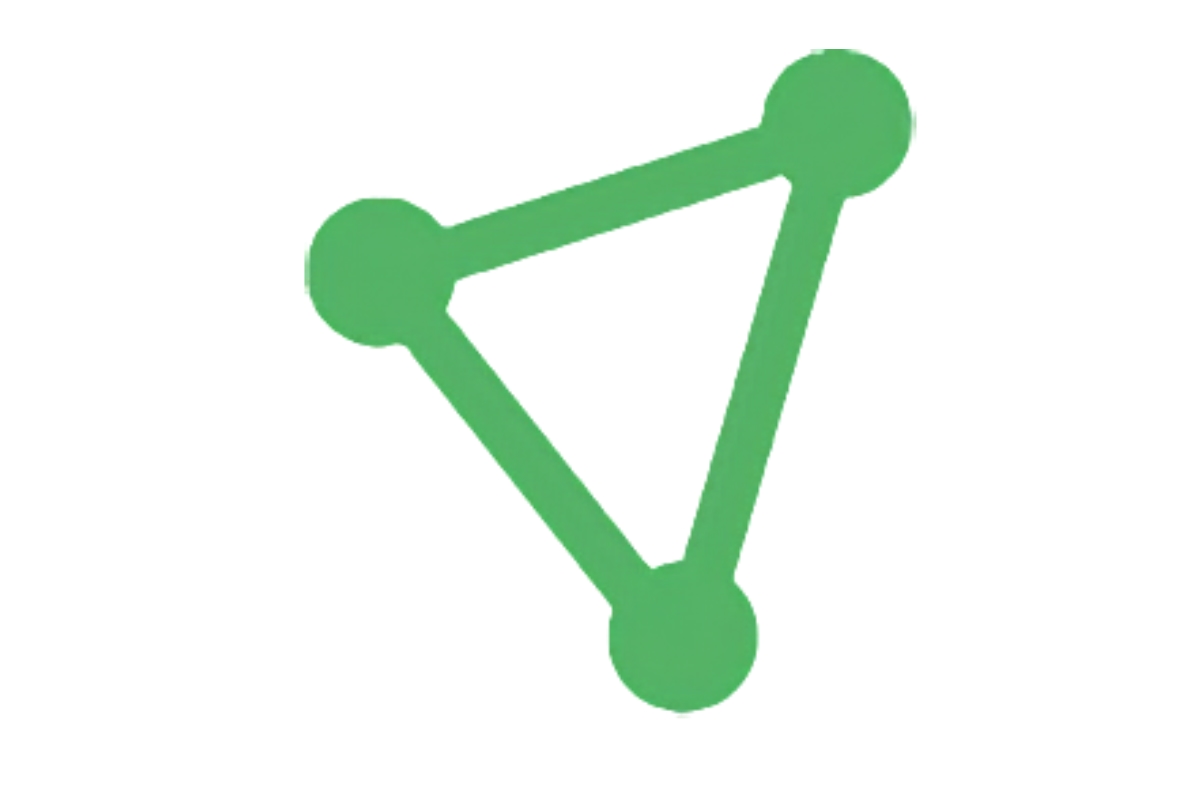 Pros
Easy-to-use software interface
Secure Core helps hide your location
Built-in malware and tracker blocker
One of the fastest we've tested on a Mac
Cons
No options for WireGuard protocol
A few occasions where Netflix didn't work
Another good recommendation is ProtonVPN, which is available at a similar price to ExpressVPN. Unlike NordVPN, however, Netflix doesn't work on every single Netflix server. It works on a lot of the more than 1,500 servers, but not every single one. The one issue with Proton is that it can have trouble from time to time, where a stream will suddenly stop, especially if you're watching while you work on the same PC.
4. Surfshark – Best for access with multiple devices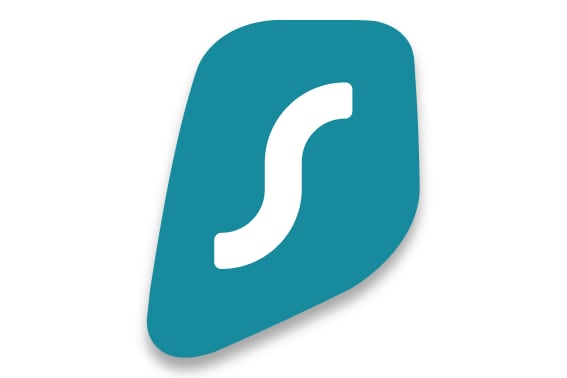 Pros
Unlimited simultaneous device connections
Works with Netflix in 11 countries
Labels virtual server locations
Built-in ad, tracker, and malware blocking
Cons
Exotic business address
No ping or server load indicators
Surfshark is another VPN that hits our top 10 for speeds, and while the speeds aren't outstanding—just 35 percent of the base speed in our last tests—Surfshark is plenty fast enough for Netflix streaming. This service is compatible with Netflix, it has ad- and malware-blocking features, double-hop connections, and, surprisingly, it offers unlimited simultaneous device connections as opposed to the usual five-device limit with most VPNs. The Surfshark app for Windows is also pretty easy to use.
Read our full
Review Surfshark
Why does Netflix block VPNs?
As we mentioned earlier, Netflix's big expansion into pretty much every country on earth back in 2016 meant it had to get tough on VPNs. While Netflix produces a lot of its own content that it can make available worldwide, the company also licenses a ton of content from traditional entertainment studios.
These third parties are still working on a system of global territory licensing. Under this system, Netflix gets a package of movies and TV shows from these companies that it can show in the U.S., but that aren't licensed to be shown by Netflix in, say, Europe. To keep those companies and their other international licensees happy, Netflix must enforce a block on VPNs to prevent people from getting content made available to Netflix subscribers in the UK, but not the U.S.
"We are making progress in licensing content across the world," Netflix said in a 2016 blog post. "But we have a ways to go before we can offer people the same films and TV series everywhere."
Netflix isn't the only company that has to enforce these restrictions. Amazon Prime Video, Hulu, and others do it too. However, Netflix along with Hulu are easily the most active and effective at it.
Buying VPN access for Netflix streaming
We've already covered this in brief, but let's quickly deal with what you should be looking for in a Netflix VPN. First, most people should not make speed the top consideration. The minimum recommended bandwidth for a 1080p Netflix stream is 5 megabits per second (Mbps). If you're streaming in 4K it's 15Mbps. That's nothing, and nearly all the top VPNs hit those speeds quite easily in most places.
Instead, the first consideration should be the basic promise of Netflix compatibility from a reputable company. That's the rub. Any old VPN can promise Netflix compatibility, but if there aren't a lot of reviews about the service it may not be the real deal. Stick to well-known VPN services if you can.
Next, you need to consider how many servers are available for the service–especially the number in your target country. If you want Netflix Australia and the VPN only has two Australian servers, that could be a problem. Most of the popular VPN services list their server networks online that show you how many servers are in each country.
Finally, make sure the VPN's desktop app (and don't forget about mobile) allows you to choose specific servers. Since this is a cat-and-mouse game you need a service with a number of servers in your desired Netflix country. That way if one server has been discovered by Netflix, it's possible the others are still working. Often, just switching servers is enough to keep watching, and sometimes even simply reconnecting to the same server is enough to fix streaming issues. That's the one word of warning we'd offer to anyone looking to play the international Netflix game. You will have to get used to occasional interruptions. Sometimes this can mean access to U.S. Netflix from overseas is blocked on a particular VPN entirely, though this often only lasts a day or two. Slightly more frequent interruptions may happen, where the stream will just stop. The fix for this is often just switching servers.
Finally, after all of that, consider speeds. Speeds for countries in North America and Europe are usually solid in the major VPN services. Australia and Asia can vary wildly, however. Any of our recommendations in this article will give you the speeds you need in those areas of the world.
How we tested
We only test on days that the wired internet connection hits 80Mbps or more. During the daily test we measure the speeds of five different locations around the world, running the test three times in each location and taking the average speed of each country for the day, and then we average those speeds again to get an overall daily average. Our countries are typically, but not always, the U.S., UK, Germany, Australia, and Japan.
The daily test is run on three different days at three different times of the day. We then take each daily average, and then average them again to get an overall average. We then determine that overall average as a percentage of the original daily speed.
The reason we don't bother with printing hard numbers as a rule is that experiences in hard numbers can vary wildly. It all depends on the speed of your internet connection, the time of day, and even device types can have an impact. For that reason we feel that percentages, which can show how much speed you can expect to lose on a given service, is a more useful indicator.
Netflix is an excellent service, and while the company doesn't like you to use VPNs, we've never heard of anyone being penalized because of it. Just choose your preferred VPN service wisely and you'll be good to go.
FAQ
---
1.
What is a VPN?
A VPN (Virtual private network) encrypts your internet traffic and disguises your identity while browsing the internet. When used for streaming Netflix, a VPN will reroute your traffic from your location outside the U.S. to their own server within the country masking your true location and allowing you to bypass Netflix's region locks.
Additionally, VPNs anonymize your internet traffic and keep your ISP from potentially snooping on your browsing.
2.
Are VPNs legal?
Yes! In most countries, including the United States, using a VPN is legal. Some websites such as Netflix might try to block VPN connections due to their own personal restrictions, but they are still perfectly fine to use. Please note, while using a VPN is legal, some of the activities done while using a VPN might be illegal. Activities such as downloading pirated copyrighted content or accessing dark web markets are both illegal with and without a VPN.
3.
Will a VPN affect my internet speeds?
In short, yes, a VPN can have an effect on your internet speeds. But nowadays it's the exception rather than the norm.
While connected to a VPN, your traffic is rerouted through the VPN provider's own servers. Depending on where these servers are located, it can add extra distance for your traffic to travel to and from, slowing your speeds down a bit. Also, VPNs encrypt your data which can lead to slower download and upload speeds due to the time it takes to encrypt and decrypt your data. This can have a more significant impact on speeds and it can affect everything from page load times to video buffering speeds. Thankfully, modern VPN providers have taken advantage of advances in encryption technology and server optimization to drastically reduce these impacts.
4.
Do VPNs track my browsing or store my data?
This is entirely up to the VPN provider you choose to use. There have been instances in the past of VPN providers collecting data on their users. However, these were mainly free VPN services with no explicit "no-logging" policies. 
When searching for a VPN, be careful to check the company's website for a "no-logging" policy, third-party trust verification, and trustworthy user reviews. Thankfully, most of the major paid VPNs have clearly stated "no-logging" policies, so it's typically best to stick with one of them if you have concerns.
Interested in using your VPN for more than just streaming Netflix, check out some of our other best VPN roundups to learn more:
Best monitor deals: Gaming monitors, 4K workstations, and more
Mike Jennings / Foundry
When it comes to finding the right monitor deal, there's a lot to consider. From screen size and resolution to refresh rate and connectivity options, it's easy to get lost. That's where the team at PCWorld comes in. Whether you're on the hunt for a monitor for the home office or a 4K workstation for photo editing, there's a wide array of options for you to choose from. The monitor deals highlighted below hit a number of different price points as well as screen sizes and resolutions.
Gaming monitor deals
There's nothing more annoying than playing a competitive game on a monitor that lags. When every second matters, you need something that can keep up with the flow. That's where gaming monitors come in. Their high refresh rates are designed to make your game look as smooth as possible.
The Lenovo Legion Y25g-30's 360Hz refresh rate is just plain ridiculous, and I mean that in the best way possible. This monitor will surely provide the ultimate gaming experience.
For more options, check out PCWorld's best gaming monitors roundup.
4K workstation monitor deals
Are you a content creator? If so, you should consider picking up a 4K monitor. These monitors are perfect for video editing thanks to their high resolution displays. They're also a good pick for movie buffs. There's nothing quite like watching your favorite flick on a 4K display, where the details are ultra-sharp.
The ThinkVision P32p-20 is a solid deal because of its resolution, screen size, and response time. In other words, you're getting the best bang for your buck.
For more options, check out PCWorld's best 4K monitors roundup.
FAQ
---
1.
Which retailers offer good monitor deals?
Online retailers like Best Buy and Walmart have good discounts, that's for sure. However, we'd recommend widening your net and buying directly from the manufacturers. Lenovo, for example, is currently having a Cyber Week sale. You can pick up a monitor or laptop for up to 78% off, which is nothing to sneeze at. Dell's offering a similar sale in which you can save up to 60% and get free shipping.
2.
What should I look for in a good gaming monitor?
When it comes to gaming monitors, refresh rate is important. The refresh rate is how fast a monitor can pull up an image on screen. The faster the fresh rate, the smoother your game will look. For competitive first-person shooters, where every second counts, we'd recommend 144Hz as the minimum rate. Anything higher is good enough for the eSports realm.
Resolution is another important feature to consider. Much like the refresh rate, the higher the number, the better. The resolution has a direct impact on image and video quality. 1080p is the best resolution for 24 inch monitors. For 27 inch monitors, 1440p is ideal.
Response time is a big one, too. Response time is how long it takes for a pixel to change color. A monitor with a 1ms (millisecond) response time, for example, is going to be faster than a monitor with a 5ms response time. This directly impacts how a monitor handles motion.
What about the size? Well, it depends on the distance from the screen. 24 inches is a good option if you're about three feet from the screen, as it's small enough to see everything without having to move your head around. 27 inches is better if you're further than three feet away from the screen.
3.
What should I look for in a good workstation monitor?
4K monitors produce ultra-sharp sharp images and video, so bigger is better in this case. In order to see all those tiny details, we'd suggest springing for a 31 inch monitor (at the very least). You need room for all those delicious pixels. That's why 4K monitors are perfect for photo or video editors. Watching movies on these monitors is a delightful experience as well.
4.
What size monitor should I buy?
In terms of monitor size, 27-inches is the most common. That's a good size for a home office. For gaming monitors, 24 or 27 inches is best. You don't want to be swinging your head around too much in the middle of a fast-paced match. Plus, a larger screen may cause eye strain if you're sitting too close so it's better to go smaller. For 4K monitors, go with a 31 inch. 4K resolution brings next-level visuals, so you definitely want to go bigger.
Ashley is a professional writer and editor with a strong background in tech and pop culture. She has written for high traffic websites such as Polygon, Kotaku, StarWars.com, and Nerdist. In her off time, she enjoys playing video games, reading science fiction novels, and hanging out with her rescue greyhound.
Asus Zenbook Pro 14 Duo OLED review: Perfecting the dual display laptop
At a glance
Expert's Rating
Pros
Stunning primary display and easy to see secondary display
Excellent I/O options and wireless connectivity
CPU / GPU power meets the needs of content creators
Cons
The battery life is lacking for a productivity laptop
The trackpad is small and awkwardly placed
Rear orientated ports can be hard to reach
Our Verdict
With stunning and ergonomic dual displays and a capable CPU/GPU combination, the Asus Zenbook Pro 14 Duo OLED is an ideal companion for content creators that like to work unencumbered.
Price When Reviewed
$2,000
Best Prices Today: Asus Zenbook Pro 14 Duo OLED
$1,849.00
$1946.99
Asus' dual screen Zenbook Duo laptops are like pandora's boxes for content creators, offering a whole new productivity experience for those brave enough to give their unique two-display configurations a try. We've seen some good ones since they debuted at CES back in 2019, but none that quite offer the balance of power and ergonomics available in this newly minted 14-inch Zenbook Duo model.
It wins the day because of its powerful new 12th-generation processor, a more visible ScreenPad Plus, and a taller, brighter 120Hz OLED primary display that offers superlative visuals from every angle. To cap it off, a spate of thoughtful software upgrades optimizes the ScreenPad Plus operation, making workflow more seamless than before.
Asus Zenbook Pro 14 Duo OLED specifications:
The Asus Zenbook Pro 14 Duo OLED is available in configurations up to Intel Core i9-12900H and Nvidia GeForce RTX 3050 Ti GPU. Our review unit has the following specifications:
CPU: Intel Core i7-12700H
RAM: 16GB DDR5 / 4800 MHz
GPU: Intel Iris Xe graphics and Nvidia GeForce RTX 3050 Ti
Displays: Primary: 14.5-inch, 2.8K (2880 x 1800) touch-sensitive OLED, 120 Hz refresh rate, 100% DCI-P3 color gamut; Secondary: 12.7-inch (2880 x 864) touch-sensitive, IPS-level, 120Hz panel, 100% DCI-p3 color gamut
Storage: 1TB SSD PCIe Gen 4
Ports: 2 x Thunderbolt 4 (USB-C), USB-A 3.2 Gen2, HDMI 2.1, 3.5mm audio port, microSD Express 7.0 reader
Networking: Dual-band Wi-Fi 6E (802.11ax), Bluetooth 5.2
Dimensions: 12.74 x 8.85 x 0.70 inches
Weight: 3.86 lbs (1.75kg)
Color: Tech Black
Battery capacity: 76Wh
Price: $2,000
Design and build
The Asus Zenbook Pro 14 Duo, like last year's 14-inch Zenbook Duo features not one but two displays – a 14.5 primary display and a 12.7-inch secondary (ScreenPad Plus) display that's planted neatly above the keyboard. Measuring 12.74 x 8.85 x 0.70 inches, its proportions are reasonably compact and thin. That said, its 0.70-inch-thick chassis and 3.86 pound weight doesn't quite qualify it as an Ultrabook.
There are some year-on-year design upgrades which make the 2022 Zenbook Pro 14 Duo better than its predecessor. The most obvious is that the secondary display now tilts up at 12 degrees from the laptop's base instead of just 7 degrees before. Ergonomically, that makes it a lot easier to see, as you won't have to crane your neck in an unnatural way to get work done.
Such a tall tilt is achieved by replacing the 2021 Zenbook Duo's Ergolift hinges with new AAS Ultra hinge mechanisms – a process that required a rejig of some of the internal components. Going to all that trouble has provided a thermal payoff too. Asus say, the internal hardware gets a 38 percent increased airflow – hence the moniker, AAS, which stands for: Active Aerodynamic System.
Newly placed air vents also work to cool the laptop. Gone are the vents that force hot air upwards onto the primary display. They're replaced by a neat row that blow hot air out the left-hand side. Asus has camouflaged these to look like USB-A ports, so unless hands are placed in front of them, they will go unnoticed.
There are upgrades to primary display too. It benefits from a larger 92 percent screen-to-body ratio and a taller 16:10 aspect ratio, which replaces the 16:9 aspect ratio we saw last year. It's also notably brighter and by all accounts looks superb from any angle you view it from.
For the style conscious, this year's 14-inch Zenbook Duo makes an ideal work accessory. It appears sleek and sophisticated no matter what kind of lighting you're sitting under, and its Tech Black magnesium-aluminum alloy finish blends it seamlessly into just about any kind of work environment.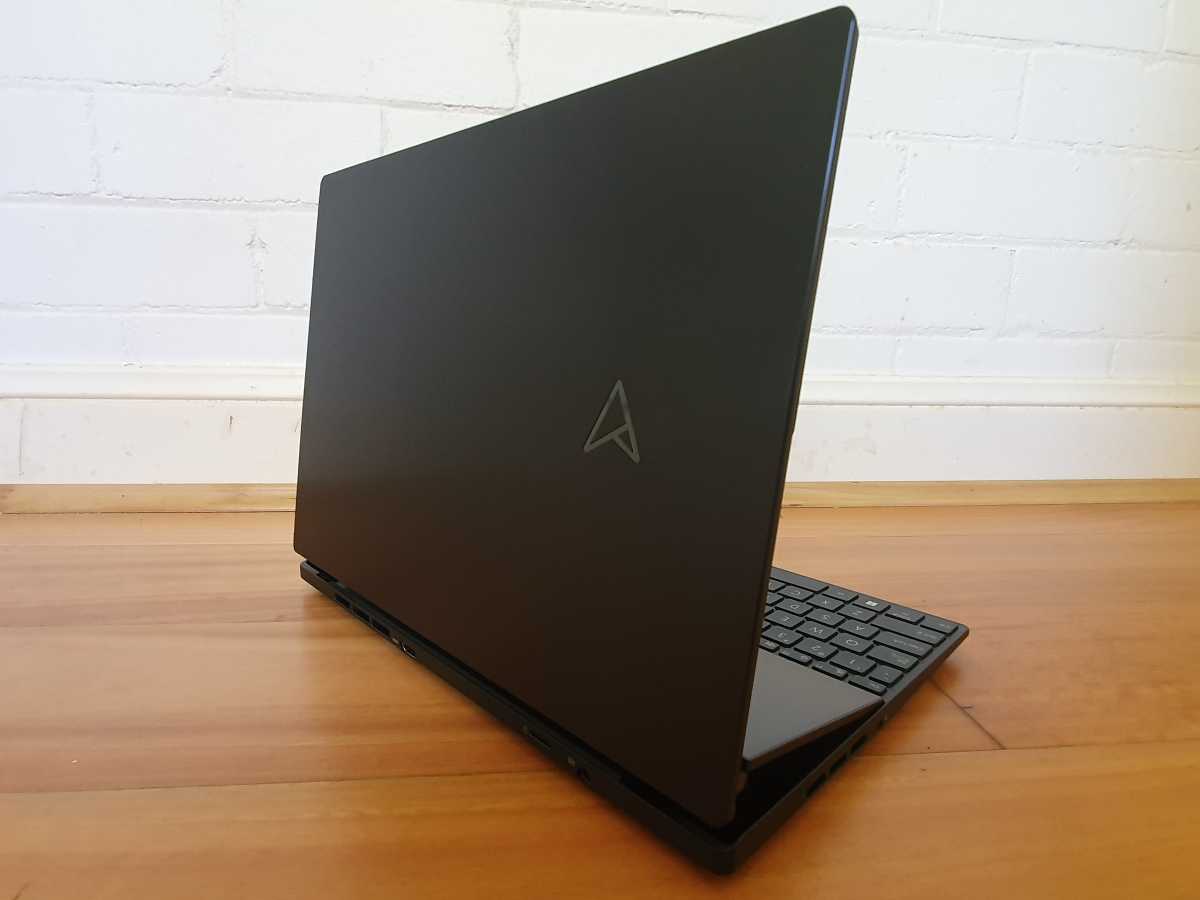 Dominic Bayley / IDG
Additionally, flipping the lid down reveals a simple but compelling Asus 'A' logo that reflects just about every color back at you under bright lights, so expect your Zenbook Duo to get plenty of envious looks in boardroom meetings.
Keyboard and trackpad
Although once again quite slim, the Zenbook Duo's keyboard feels balanced and comfortable. It does a decent job of making use of all the available space in the chassis. The keys also feel large, and they have a generous 18.5 mm pitch between them.
They have convenient dish-shaped depressions to prevent your fingertips slipping off. The dish-shaped depressions plus the 1.4 mm vertical travel allowed me to achieve a high level of accuracy while writing my reviews.
The standout keys are in the very top row. These include the Fn keys and some extra productivity shortcuts. Useful examples include a key to turn the ScreenPad Plus on and off, one to take instant screenshots and another to switch the webcam on or off.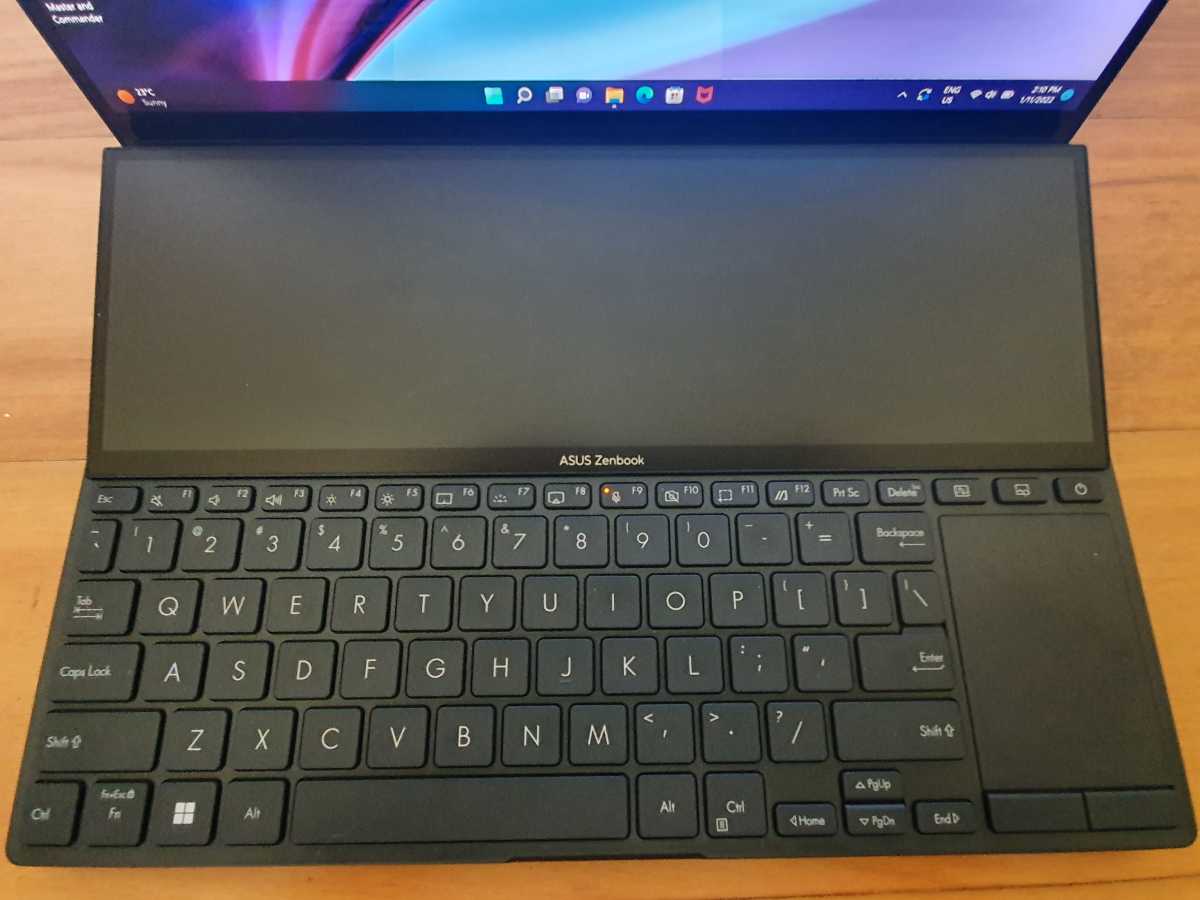 Dominic Bayley / IDG
I found the ErgoSense trackpad wasn't as user friendly as the keyboard. It felt a little cramped, being just a small rectangle to work on. Its right hand-side positioning also makes it awkward for lefties.
On the other hand, its surface felt comfortable, thanks to a smooth hydrophobic PVD coating. The trackpad also supports multitouch gesturing in Windows, which was useful for accessing my desktop through the piles of windows that I always have open.
Primary display
As well as being taller and brighter (I measured 547-nits brightness by my Lux meter) than before, the primary 14.5-inch OLED HDR touchscreen produces vibrant, richly saturated color images, and deep blacks that seemingly sink into the display. That's thanks to the panel's 100 percent DCI-P3 color gamut and VESA DisplayHDR True Black rating that enables a 1 million to 1 contrast ratio.
I was particularly impressed by the color accuracy in photos I clicked on. Incidentally, Asus say the OLED panel is Pantone validated, which is a big win for designers and graphic artists that need that deep level color accuracy.
As a new addition this year, you can also customize the color gamut for different tasks via the Splendid page in the MyASUS software app. The various color modes include, an sRGB mode for creating web content and browsing, a DCI-P3 mode for cinema content and a Display P3 mode for movie grade color. However, switching between them didn't show up that much difference.
More obvious was how glaringly smooth the 120Hz OLED panel appeared while playing videos. Micro stuttering was absent. Frames were also incredibly sharp when compared to a number of new release gaming laptops in the office. Consequently, if you're wondering whether this laptop's primary display is superior to a 165 Hz IPS-level panel with a comparative resolution, the answer is a resounding yes.
Connectivity
The addition of the AAS hinges has allowed the power input, HDMI and MicroSD card reader to be moved to the back side this year – a placement that does require you to uncomfortably lean over the laptop at times. The I/O options are top-notch, however. In addition to the above, you also get two Thunderbolt 4 ports, a USB-A 3.2 Gen2 port and a 3.5 mm audio port.

Dominic Bayley / IDG
Power users that want to speed up productivity will undoubtedly put the Thunderbolt 4 ports to good use. Each port allows you to transfer files at up to 40Gb/s, or to provide output to up to two 4K displays or a single 8K display.
The Zenbook Duo also sports Bluetooth 5.2, and dual band Wi-Fi 6E. The latter is made even better by a few sweetener technologies – Wi-Fi Stabilizer acts to prevent electromagnetic signal interference, while a technology called SmartConnect works to provide the best possible Wi-Fi signal in your environment.

Dominic Bayley / IDG
Although difficult to qualitatively measure, just anecdotally my wi-fi signal seemed a little more reliable than my work laptop, so kudos to Asus for adding these extra wi-fi improvements.
Webcam and audio
The Zenbook Duo packs a HD Webcam with Windows Hello compatibility. Testing it out revealed reasonably crisp images, but occasionally the AI did tend to overcook faces, which appeared a little plastic. On the plus side, pictures look exceptionally bright in low light conditions, which saves you the hassle of always having to turn on overhead lights.
The laptop's dual speakers with Dolby Atmos support do a decent job of keeping the audio sounding clear and crisp and noticeably louder than some laptops of a similar size. I was also impressed by how little distortion they produced at the laptop's higher volume levels.
Performance
Considering my review unit's Intel Core-i7-12700H CPU and Nvidia GeForce RTX 3050 Ti GPU configuration, I pulled comparisons from the PCWorld stable of productivity laptops as well our list of gaming rigs. One notebook in particular, the MSI Katana GF76, featured the same GPU/CPU combination as my review unit.
I began by running the PCMark 10 Overall benchmark, which is good indicator of a laptop's suitability for the modern office environment; as it runs this benchmark simulates a range of tasks like word processing and video chats and then calculates an overall score based on the outcomes. Here, two AMD Ryzen powered productivity laptops had a slight edge on the Zenbook Duo that was otherwise a strong performer in this test.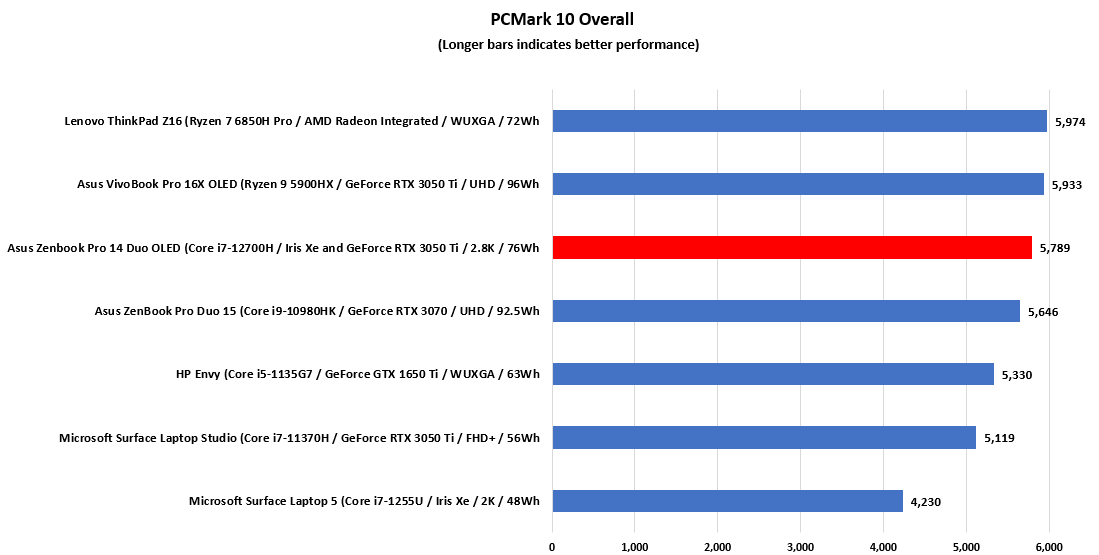 Dominic Bayley / IDG
Next, I examined the competency of the laptop's CPU with Maxon's Cinebench R20 Single-Threaded benchmark that targets just a single Core of our laptop's CPU. In this benchmark the Zenbook Duo excelled, hitting a high score of 692. This proves it has ample power for everyday tasks like running apps and programs.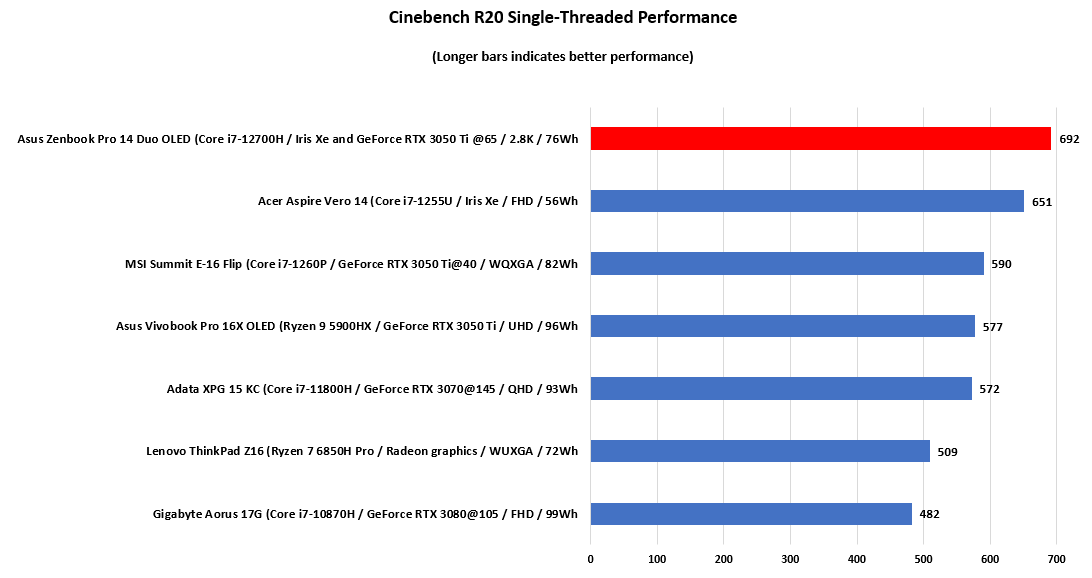 Dominic Bayley / IDG
Still in Maxon's Cinebench R20 app, I ran the Multi-Threaded benchmark, which flexes all cores of a laptop's processor. Again, the Zenbook Duo topped our list of comparisons, fielding a score of 5,585. CPU-intensive tasks like video editing and encoding require a laptop to utilize multiple CPU cores, therefore this result shows the Zenbook Duo is well suited to these tasks.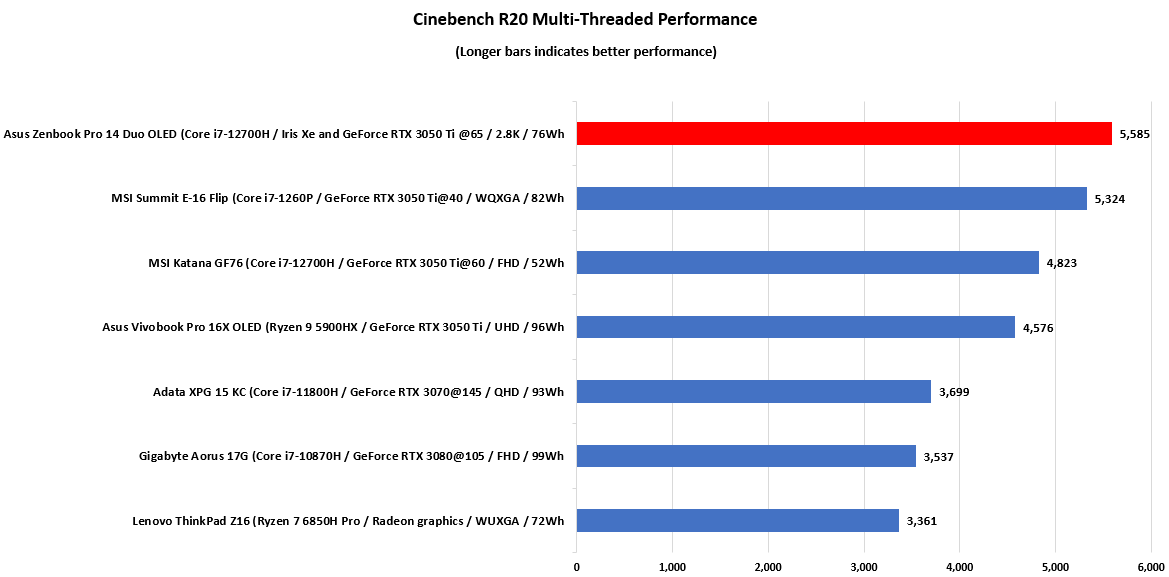 Dominic Bayley / IDG
In the free HandBrake utility, I set the Zenbook Duo to encode a 30GB MKV file to MP4 using the Android Tablet preset. This test measured its ability to perform a CPU-intensive task before it became too hot and had to throttle performance. In the results, note how the Asus Zenbook Pro 14 Duo OLED finishes quicker than the MSI Katana GF76.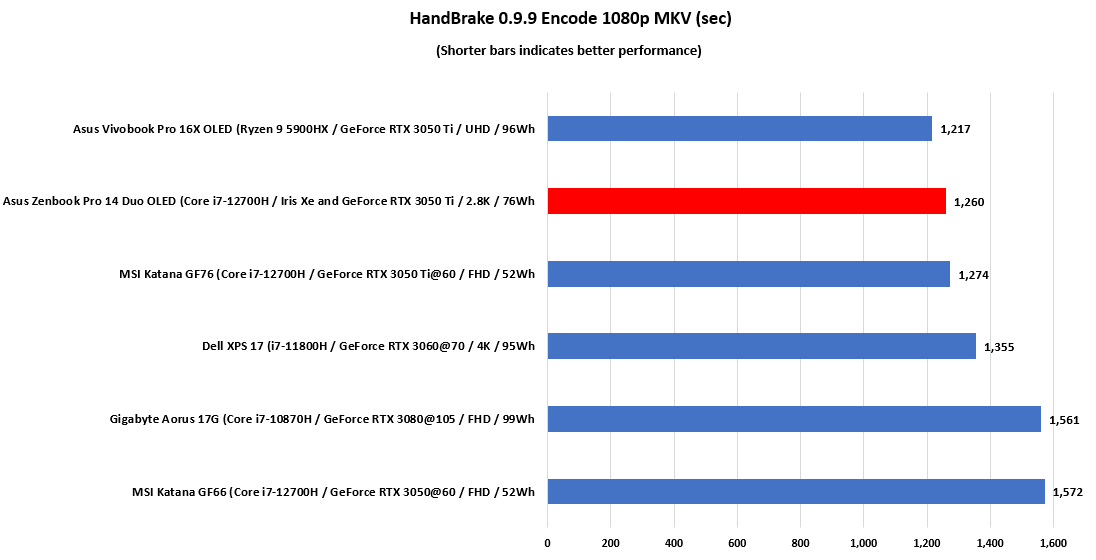 Dominic Bayley / IDG
What do all these results mean? Looking them over, it's clear that the Asus Zenbook Pro 14 Duo OLED provides adequate processing power for content creators working in programs like Adobe Premiere Pro and Adobe Photoshop. Its upper end score in PCMark 10 Overall also means it will be quick and snappy in productivity apps like Microsoft Excel and Word.
The HandBrake result, however, is particularly encouraging. This suggests the Zenbook Duo's innovate AAS facilitated aerodynamic design could in fact provide thermal advantages over some larger laptops with comparable Intel or Ryzen processors, like the MSI Katana GF76, in CPU-intensive tasks. That makes it a rarity among 14-inch productivity laptops.
3D performance
Since their launch, Asus's Zenbook Duo laptops have occupied a middle ground for graphics performance, carving out a niche above most productivity laptops, but slightly below high-end gaming laptops. That feels about where the latest model sits too, based on the results of my benchmarking.
Regardless, the results that play out below show that the Zenbook Duo is equipped with enough grunt to perform capably in applications that involve 3D rendering, and although not a gaming laptop, it can even produce decent frame rates in moderately demanding 3D games.
To gauge the general graphics performance of my Zenbook's RTX 3050 Ti GPU I used the 3DMark Time Spy benchmark. As you can see in the graph below, the Zenbook Duo placed second only to the MSI Katana GF76, outperforming most comparisons, including some with RTX 3050 Ti discrete graphics cards.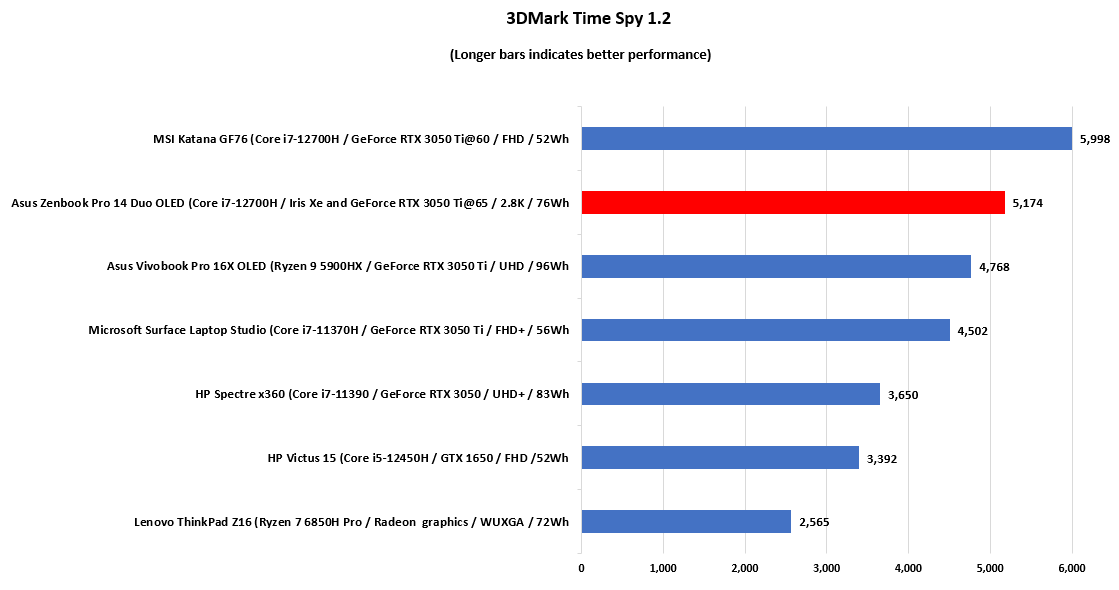 Dominic Bayley / IDG
For the Rise of the Tomb Raider game benchmark comparison chart, I chose to pit the Zenbook Duo against gaming laptops. It proved only slightly off the pace of that comparison list.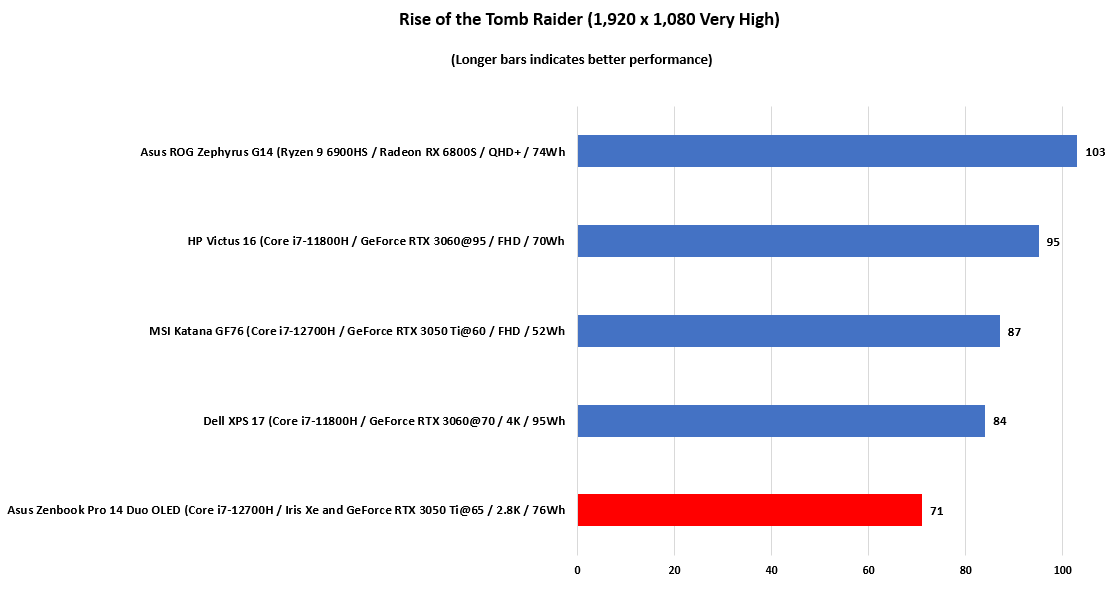 Dominic Bayley / IDG
Battery life
While the Zenbook Duo's hardware and graphics performance more closely resembles a gaming laptop than a productivity laptop, so too does its battery life, which proved to be somewhat lacking.
To test the battery life, I ran the laptop down from 100 percent charge to standby by playing a 4K Hollywood movie on repeat. In this test, I commonly find productivity laptops with 76Wh batteries can last between nine to 13 hours, but the Zenbook Duo only lasted seven hours, which means you can only expect it to last approximately four hours for battery-taxing tasks like 3D rendering or gaming.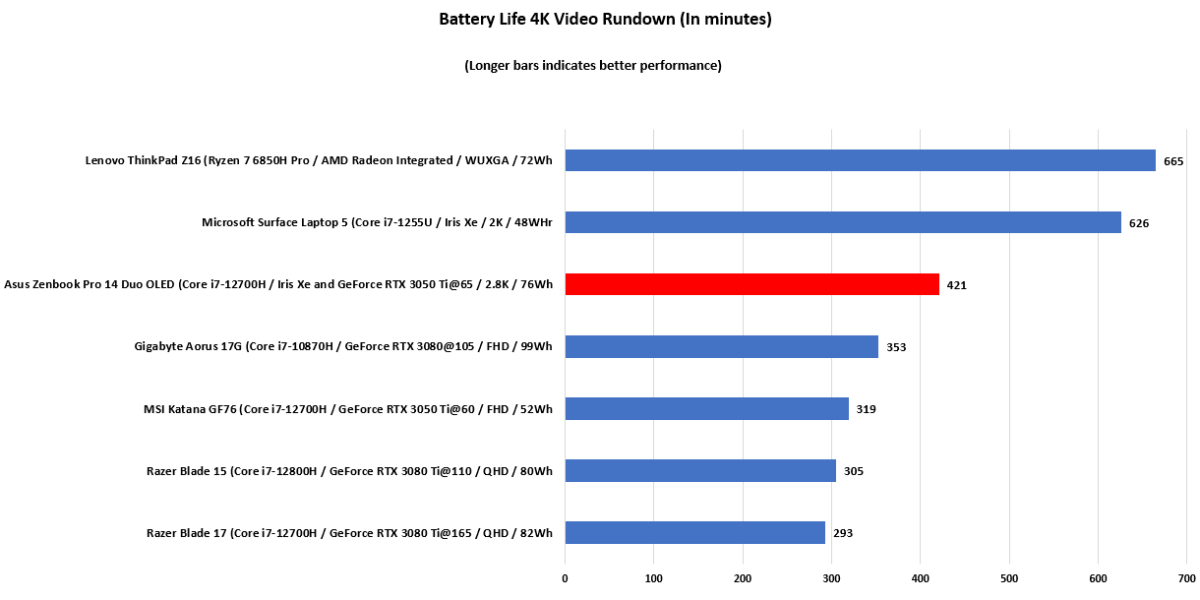 Dominic Bayley / IDG
Consequently, you'll want to be around an outlet after your morning coffee break if you want to keep it powered up for a full working day.
Should you buy it?
The Zenbook Pro 14 Duo OLED is a well-tuned instrument for content creators, excelling at a range of general office tasks as well as tasks that require a little more grunt like encoding and 3D rendering. The big attraction is the laptop's dual displays. They're the best ones we've used in an Asus Zenbook Duo laptop to date with a spate of year-on-year improvements that make the visuals more striking and the cross-screen integration easier than ever before.