Google and Coinbase strike a deal, BNY Mellon begins crypto custody and WisdomTree's Bitcoin ETF gets denied: Hodler's Digest, Oct. 9-15
Coming every Saturday, Hodler's Digest will help you track every single important news story that happened this week. The best (and worst) quotes, adoption and regulation highlights, leading coins, predictions and much more — a week on Cointelegraph in one link.
Top Stories This Week
Starting in early 2023, Coinbase's payment service, Coinbase Commerce, will facilitate crypto payments for customers purchasing Google's cloud services thanks to a deal between the two companies. Google will only allow certain crypto assets for payment, including Bitcoin. Initially limited to certain participants, the option to pay with crypto will eventually be expanded to other customers, an executive at Google Cloud told CNBC. Google Cloud has taken several other steps toward crypto and blockchain industry involvement in 2022. 
Banking giant BNY Mellon has entered the crypto custody field, offering certain customers Bitcoin and Ether custody services via a new platform. The 238-year-old bank will provide bookkeeping for clients' crypto in a similar fashion as it does for traditional assets, while also handling clients' private keys. BNY Mellon's CEO of securities services and digital, Roman Regelman, said: "With Digital Asset Custody, we continue our journey of trust and innovation into the evolving digital assets space, while embracing leading technology and collaborating with fintechs."
Following multiple delays, the United States Securities and Exchange Commission (SEC) has denied WisdomTree's spot Bitcoin exchange-traded fund (ETF) proposal, which the firm filed in January. The SEC cited fears of market manipulation and fraud as the rationale for its decision, which is consistent with its previous rationale for denying spot Bitcoin ETFs. The SEC also denied a spot Bitcoin ETF proposal from WisdomTree in 2021.
PayPal's Acceptable Use Policy was set to change in early November to include a $2,500 fine for any platform users that promote, post, send or publicize so-called "misinformation." PayPal has since claimed that the policy provision was added in error. "PayPal is not fining people for misinformation and this language was never intended to be inserted in our policy," said PayPal. The fiasco has reignited concerns about centralized platforms among crypto users who view self-custody as an important pillar of self-sovereignty and financial inclusion.
Data from DappRadar revealed that $1.3 billion worth of venture capital flowed into metaverse projects and blockchain games in Q3 — a bright spot amid crypto bear market darkness. While venture capital funding for these sectors was down 48% compared with Q2, the Q3 figure was still more than double the amount invested in all of 2021.
Winners and Losers
At the end of the week, Bitcoin (BTC) is at $19,665, Ether (ETH) at $1,329 and XRP at $0.50. The total market cap is at $938.70 billion, according to CoinMarketCap.
Among the biggest 100 cryptocurrencies, the top three altcoin gainers of the week are Huobi Token (HT) at 87.06%, TerraClassicUSD (USTC) at 63.33% and Quant (QNT) at 22.07%.  
The top three altcoin losers of the week are Klaytn (KLAY) at -20.36%, Internet Computer (ICP) at -15.04% and eCash (XEC) at -14.48%.
For more info on crypto prices, make sure to read Cointelegraph's market analysis.
Most Memorable Quotations
"Ethereum is the 'Hotel California' of cryptocurrencies. You can check in, but you can't check out.
Charles Hoskinson, founder of Cardano
"Elon Musk quotes posts about Dogecoin, you get seven times daily signups.
Alex Harper, co-CEO and co-founder of Swyftx
"If we [the crypto industry] want to achieve internet scale, we need a solution for AML/CTF compliance.
John Henderson, partner at Airtree Ventures
"A bear market is the best time to start working in crypto and find a job.
Raman Shalupau, founder of Crypto Jobs List
"There is protection in gold. But in my opinion, Bitcoin is far superior. It's got math and code. It's defended by a decentralized protocol. You don't mess with math.
Greg Foss, executive director of strategic initiatives at Validus Power Corp
"It's incredibly important not to ever forget that we have an immense responsibility that influencers do not. They have their own risks in terms of their followers' trust, but we have our responsibility to keep our integrity as journalists.
Kristina Cornèr, editor-in-chief of Cointelegraph
Prediction of the Week 
For most of the week, Bitcoin traded sideways, slightly favoring the downside, according to Cointelegraph's BTC price index. The asset sustained a fair bit of price volatility on Oct. 13, however, in line with the release of September's U.S. inflation data. Bitcoin's price dropped down near $18,200 following the news but subsequently rebounded above $19,000.  
In an Oct. 13 post, pseudonymous Twitter user il Capo of Crypto tweeted about the possibility of Bitcoin's drop being a bear trap, noting a potential subsequent rally to $21,000, followed by a stark drop.
FUD of the Week
Crypto exchange Bittrex faces charges from two different United States regulators: the Department of the Treasury's Office of Foreign Assets Control (OFAC) and the Financial Crimes Enforcement Network (FinCEN). The regulatory authorities have essentially alleged that Bittrex did not conduct proper due diligence on its customers and transactions between 2014 and 2018, which allowed users from sanctioned regions to use the platform. Bittrex confirmed it would settle with OFAC for around $24 million, which may also be applied as a credit toward its $29 million settlement owed to FinCEN. Looking to move forward from the situation, Bittrex stated that it has been up to date with expected standards since 2018.
Mango Markets, a decentralized finance platform running on the Solana blockchain, reportedly bled around $100 million from its treasury thanks to an exploit. Someone manipulated price data for the platform's native MNGO asset, letting them borrow crypto worth far more than the value of the MNGO they put up as collateral. MNGO suffered a roughly 50% price drop following news of the event. Later reporting saw the hacker coming forward, demanding a $70 million bug reward and other terms to return exploited funds.
After about four months, media outlet CNN has decided to discontinue its nonfungible token (NFT) endeavor, seemingly another bear market casualty. The media company's NFT project, known as Vault by CNN, essentially offered tokenized memories of historical news events spanning multiple decades through CNN's history. The project's roadmap projected six months of development, although the media outlet has since claimed the project was a "6-week experiment," according to an announcement from the Vault by CNN Twitter account. NFT buyers will get a 20% reimbursement of the price they paid to mint their NFTs, according to a CNN staffer on Discord.
Best Cointelegraph Features
zkEVMs are launching this month and offer a path to infinite scaling for Ethereum. But who will win the race between Polygon, zkSync, Scroll and StarkWare?
From reversible transactions to increased regulation and a rising tide of censorship, mass adoption is going to make crypto look more like the systems we're trying to escape.
The global economic downturn should not have a long-term negative effect on cryptocurrency prices, even if it is influencing crypto in the short term.
Subscribe
The most engaging reads in blockchain. Delivered once a
week.
Editorial Staff
Cointelegraph Magazine writers and reporters contributed to this article.
Bitcoin (BTC) Price Slips as US Labor Market Figures Hotter Than Expected
Bitcoin fell 2% to around $16,800 after the Nov. 2022 U.S. jobs report revealed a strong labor market, despite the Federal Reserve's six consecutive interest rate hikes in 2022.
Nonfarm payrolls increased by 263,000, beating the Dow Jones estimate of 200,000, while the unemployment rate matched expectations at 3.7%.
Jobs Report Signals Fed Hikes Are Likely to Persist
The gain in nonfarm payrolls came in slightly lower than the revised Oct. 2022 increase of 284,000, while average hourly earnings rose 0.6% compared to estimates of 0.3%.
The U.S. Bureau of Labor Statistics releases the nonfarm payroll and average hourly earnings at 8:30 E.T. on the first Friday of every month as part of the Employment Situation report.
While rising employment rates and wages generally point to a healthy economy, wages that grow too fast, especially in the presence of record levels of inflation, encourage the Fed to continue raising interest rates to ensure that the economy doesn't run red-hot. 
"To have 263,000 jobs added even after policy rates have been raised by some [375] basis points is no joke," noted Seema Shah of Principal Asset Management. "The labor market is hot, hot, hot, heaping pressure on the Fed to continue raising policy rates."
Raising policy or interest rates cools economic expansion, but if done too aggressively, it could significantly curtail employment and pitch the economy into a recession. Recession fears generally create selling pressure on risky assets like cryptos and equities, driving prices into bear territory.
Cryptos ceded gains accrued earlier this week around a lower-than-expected Personal Consumption Expenditure Price Index of 0.2% for Nov. 2022. 
At press time, XRP was down about 2.5%, while DOGE fell 3.78%. Solana also declined by 1.1%. Equities markets also tanked, with the Dow Jones Industrial Average falling 0.9%, the S&P 500 1.2%, and the tech-heavy Nasdaq slid 1.5%. 

Elsewhere, gold is outshining Bitcoin as an inflation hedge and trading back at its price at the beginning of the year, $1,800 per ounce. By comparison, Bitcoin has fallen 63% in the same period.
Jobs Report and Inflation Still Likely to Influence Crypto Prices
The higher-than-expected Nov. 2022 nonfarm payroll number is the lowest jobs gain since April 2021, coming after a revised increase of 284,000 new jobs in Oct. 2022.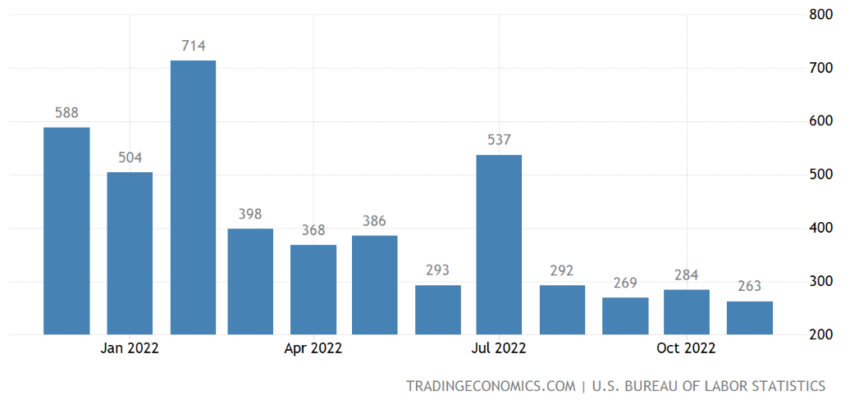 The most significant adjusted increases in the nonfarm payroll were noted in the Feb. 2022 and July 2022 jobs report. The Feb. 2022 report revealed that nonfarm payrolls increased by 714,000 in Jan. 2022, prompting the Fed to step in with a 25 basis-point hike in March. 
The following four reports pointed to a cooling down of the labor market, which then picked up again in June 2022, when the Fed introduced its first 75 basis point hike of 2022.
On Nov. 30, Fed chair Jerome Powell noted that less aggressive rate hikes might be a distinct possibility at the next Fed meeting, although most analysts do not expect a drastic fall off from the last four increases of 0.75%. 
They predict that the Fed will increase interest rates by 50 basis points at the next Federal Open Markets Committee meeting in mid-Dec. 2022, taking the federal funds rate above the 4% mark. 
The Fed meeting will likely spark a rally in both cryptos and stocks if analysts' estimates prove accurate.
For Be[In] Crypto's latest Bitcoin (BTC) analysis, click here.
Disclaimer
All the information contained on our website is published in good faith and for general information purposes only. Any action the reader takes upon the information found on our website is strictly at their own risk.
EU Parliament to 'Vote on Adopting the Regulation on MiCA' — Expert Says Industry Needs Legal Clarity
In a recent statement, the European Parliament said its members would shortly "vote on adopting the regulation on markets in crypto-assets (MiCA)." According to the parliamentary body's think tank, the envisaged regulations are expected to provide "legal certainty for crypto-assets not covered by existing EU legislation." A crypto counselor, Paulius Vaitkevicius, said any regulation of crypto is likely to result in more capital and talent coming into the space.
'Harmonized Rules' for Crypto-Assets at EU Level
After months of discussions and negotiations which culminated in the June 30 preliminary agreement, the European Parliament (EP) is now set to "vote on adopting the regulation on markets in crypto-assets (MiCA)." The vote is set to take place during the legislative body's plenary session. European leaders assert that the adoption of MiCA will lead to the creation of "harmonized rules for crypto-assets at [the] E.U. level."
According to a Nov. 29 briefing by the parliament's think tank, the harmonized crypto rules are expected to provide "legal certainty for crypto-assets not covered by existing EU legislation." In the briefing, the EP also argues that the rules will not only enhance the protection of consumers and investors but will also "promote innovation and use of crypto-assets."
Through MICA, European authorities also hope "to regulate [the] issuance and trading of crypto-assets as well as the management of the underlying assets."
While European leaders like European Central Bank president Christine Largade are pushing for tougher regulation — MiCA II — some critics of the proposed legislation argue that the envisaged regulations in their current form may stifle innovation.
Legal Clarity Attracts Mature Players
Commenting on the European Union's drive to regulate cryptocurrencies, Paulius Vaitkevicius, founder and crypto counselor at the law firm VILP Solutions, said the prevailing "Wild West environment" is not helpful to all parties. He also told Bitcoin.com News that without guidelines or regulatory frameworks "and with a number of situations where industry players collapse, we might end up in a situation where we will have only a handful of investors left in the industry."
Therefore, to stop this from happening the crypto industry needs legal clarity, which according to Vaitkevicius, "bring[s] in more mature players to the industry from both project and investor sides." Explaining why he is in favor of regulating the industry, Vaitkevicius said:
From my personal experience, such players have been seeking regulations and clarity already for some time and waiting for the right moment to step in properly. With regulations, we will see these firm steps and as a result additional capital and talent coming to the industry space.
Meanwhile, some crypto opponents have said if appropriate regulatory frameworks were already in place, Sam Bankman-Fried's shenanigans would have been exposed much earlier. However, when asked about the validity of this argument, Vaitkevicius said the opinion that on paper FTX itself was "one of the most regulated players in the industry" undermines this theory. He added:
"Regulation is a good step forward, but [this] needs to be followed by other elements to be functional in real-life situations and achieve the pursued goals."
Tags in this story

What are your thoughts on this story? Let us know what you think in the comments section below.
Terence Zimwara
Terence Zimwara is a Zimbabwe award-winning journalist, author and writer. He has written extensively about the economic troubles of some African countries as well as how digital currencies can provide Africans with an escape route.

Image Credits: Shutterstock, Pixabay, Wiki Commons
Disclaimer: This article is for informational purposes only. It is not a direct offer or solicitation of an offer to buy or sell, or a recommendation or endorsement of any products, services, or companies. Bitcoin.com does not provide investment, tax, legal, or accounting advice. Neither the company nor the author is responsible, directly or indirectly, for any damage or loss caused or alleged to be caused by or in connection with the use of or reliance on any content, goods or services mentioned in this article.
Uzbekistan Approves Rules for Issuance and Circulation of Crypto Assets
The authority responsible for crypto oversight in Uzbekistan has determined the order of issuing and circulating digital assets in the country. The main reason behind the move is to establish a mechanism that would allow local companies to attract capital through coins and tokens.
Uzbekistan Government Sets Out to Regulate Digital Asset Investments
The National Agency of Perspective Projects (NAPP), under the President of Uzbekistan, has released a new regulation on the procedures for the issue, registration, and release in circulation of crypto assets in the Central Asian Nation.
The document provides basic legal definitions for crypto assets and makes distinction between the different types. It introduces requirements for crypto issuers, depositaries and custodians and determines their obligations, including those concerning relations with customers.
The authority has also approved rules for the establishment and maintaining of an electronic register of crypto assets and adopted accounting standards for the rights associated with them and those of their holders.
Crypto depositories will be responsible for providing services for the issuance, registration, circulation, and storage of crypto assets. Issuers can use them or other electronic platforms, the NAPP said, pointing out that the nominal value of the coins must be expressed only in the national fiat, the Uzbekistani som.
The agency emphasized that the issuance of unsecured tokens is prohibited. Using words such as "state," "state-secured," "state-supported," "Uzbekistan," "Uzbek," "national," and "som" in the names of the cryptos is banned. The regulator also clarified:
The main purpose of the adoption of this document is to create a new mechanism for business entities to attract investments and develop their activities by issuing and registering the issue of secured tokens.
The NAPP further warned against any unauthorized activities related to the circulation of crypto assets in the country or the use of services by providers that have not obtained a license to offer them. The same applies to firms involved in the mining of cryptocurrency.
Uzbekistan has been taking steps towards the comprehensive regulation of its crypto sector with several decrees signed by President Shavkat Mirziyoyev and resolutions by the National Agency of Perspective Projects. The country recently licensed two companies to provide exchange services.
Tags in this story

Do you think Uzbekistanis will benefit from the new regulations adopted by the country's crypto watchdog? Tell us in the comments section below.
Lubomir Tassev
Lubomir Tassev is a journalist from tech-savvy Eastern Europe who likes Hitchens's quote: "Being a writer is what I am, rather than what I do." Besides crypto, blockchain and fintech, international politics and economics are two other sources of inspiration.

Image Credits: Shutterstock, Pixabay, Wiki Commons
Disclaimer: This article is for informational purposes only. It is not a direct offer or solicitation of an offer to buy or sell, or a recommendation or endorsement of any products, services, or companies. Bitcoin.com does not provide investment, tax, legal, or accounting advice. Neither the company nor the author is responsible, directly or indirectly, for any damage or loss caused or alleged to be caused by or in connection with the use of or reliance on any content, goods or services mentioned in this article.