How to buy a budget laptop without getting screwed
PC brands love to tout expensive, high-end laptops, but history has shown most people buy a budget laptop. And why not? A $500 laptop can be a capable machine that will serve you well for years.
There's just one problem: the brands are on to you. They've flooded the market with hundreds of slightly tweaked configurations designed to maximum profit. Choosing the right budget laptop is difficult if you don't know what to look for. It can get especially tricky with sale models, as you'll often find retailers trying to offload less desirable older or poorly configured models amongst all the deals.
Our guide can help you buy a budget laptop without getting screwed by its specifications. For more concrete buying recommendations across a mix of budgets, our roundup of the best laptop deals can also help.
This breakdown is a companion to our ongoing roundup of the best laptops. Go there for information on competing products and how we tested them.
Operating system: Windows or ChromeOS?
The most important choice you must make is the operating system. Budget laptops run Microsoft Windows or Google ChromeOS. The latter is often less expensive, with budget Chromebooks sold for as little as $125.
ChromeOS is a fast, smooth, simple operating system ideal for people with a good Internet connection, a preference for Google services, and basic expectations. You will access most apps and services online and have a more limited selection of apps and services to choose from.
Windows is versatile, powerful, and functional. You have access to hundreds of thousands of applications to handle any task. Most keyboards, mice, and displays are designed for Windows first, though they may also work with ChromeOS. Windows isn't as as smooth as ChromeOS and requires a more powerful laptop to run well.
Can't make a decision? Stick with Windows. Its broad app support means it's never a bad option.
Processor: Stick with Intel Core i3 or AMD Ryzen 3 (or better)
Budget laptops are sold with a variety of low-end processors you'd never see in more expensive PCs. You'll encounter not only budget-tier Intel Celeron and AMD Athlon processors, but also processors from MediaTek and Samsung.
Avoid them. These processors are based on old designs and performance can significantly lag more recent options.
One best-selling laptop on Amazon, Lenovo's Chromebook C330, has a MediaTek MT8173, which, according to Geekbench 5's benchmark database, is lucky to score 750 in the benchmark's multi-core test. Intel's Core i3-10110U can exceed a score of 1,900 in the same test. AMD's Ryzen 3 3350U is even better, scoring up to 2,500. That's over three times faster!
Intel's Celeron and AMD's Athlon processors are not much better than MediaTek. Laptops with these processors can hit prices below $200, but quicker machines remain affordable. You can find Intel Core i3 and AMD Ryzen 3 in laptops that start at $300. That's a better value.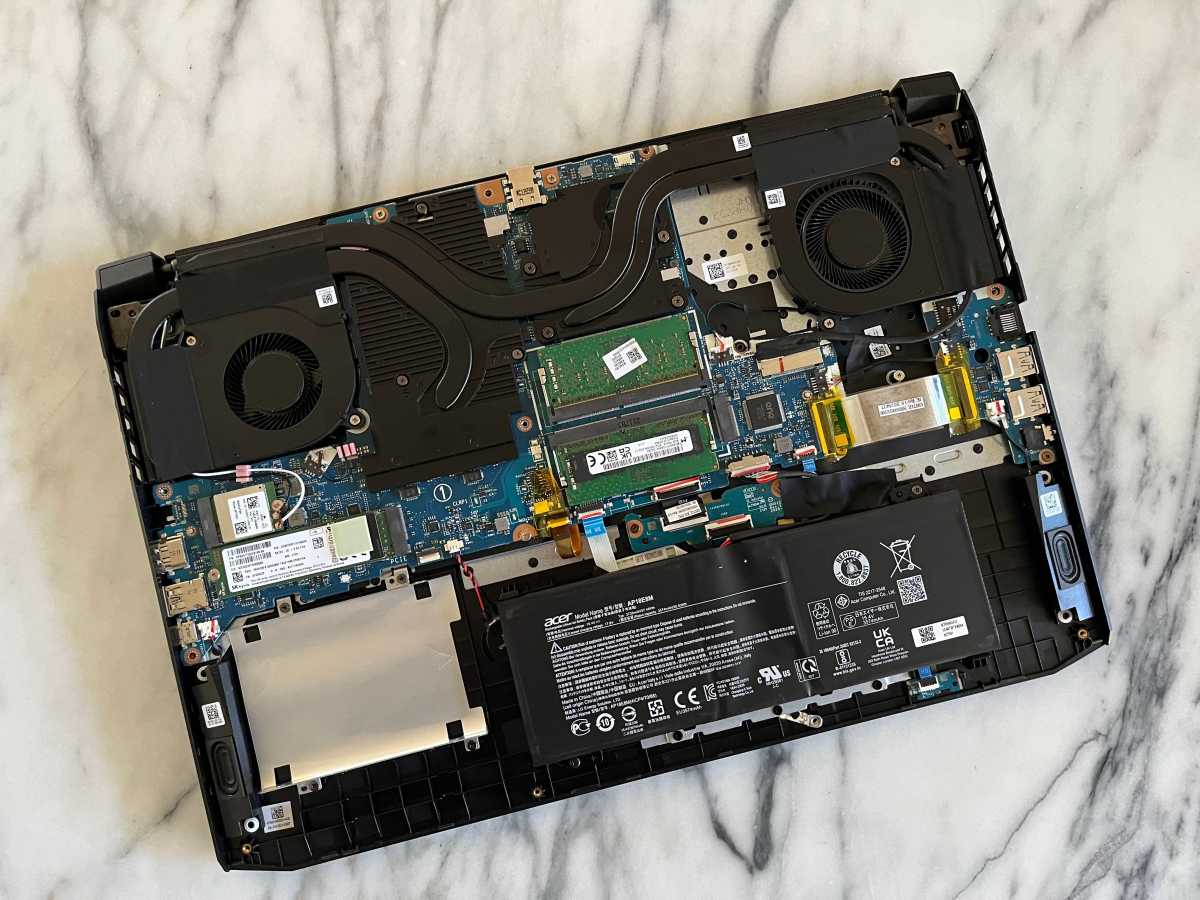 Matt Elliott/IDG
RAM: Aim for 8GB, but you can get by with less
RAM, also known as memory, is important for multitasking and more demanding applications. 8GB is the sweet spot for a budget laptop. Apps that require more RAM won't perform well on a budget laptop for other reasons, anyway.
8GB of RAM will push on the upper end of a $500 budget. I recommend leaning towards a machine with 8GB of RAM when you have the choice, but you might have to settle for less. Many budget laptops have 4GB or, less often, 6GB.
That's fine. Really. Even 4GB of RAM is fine for web browsing, writing a term paper, online shopping, personal accounting, and hundreds of other computing tasks. Just don't pick up photography or video editing as a hobby.
Hard drive: Aim for a 128GB SSD or better
Budget laptops typically offer a solid state hard drive instead of an old-fashioned hard disk drive. That's a good thing. A solid state drive slashes app load times. It's a huge improvement.
Look for a hard drive with at least 128GB of storage. This is still tight, but it's manageable if you stick with cloud storage for large files and use apps larger than 10GB in size. 256GB of storage is a better bet, but you'll have a hard time snagging that for under $500.
You'll find that some budget laptops, most of them Chromebooks, list a small 32GB or 64GB "eMMC" hard drive instead of a solid state drive. This is budget solid state storage that delivers poor performance. Though I recommend a larger solid state drive, eMMC storage is fine for a Chromebook. Never buy a Windows laptop with eMMC storage.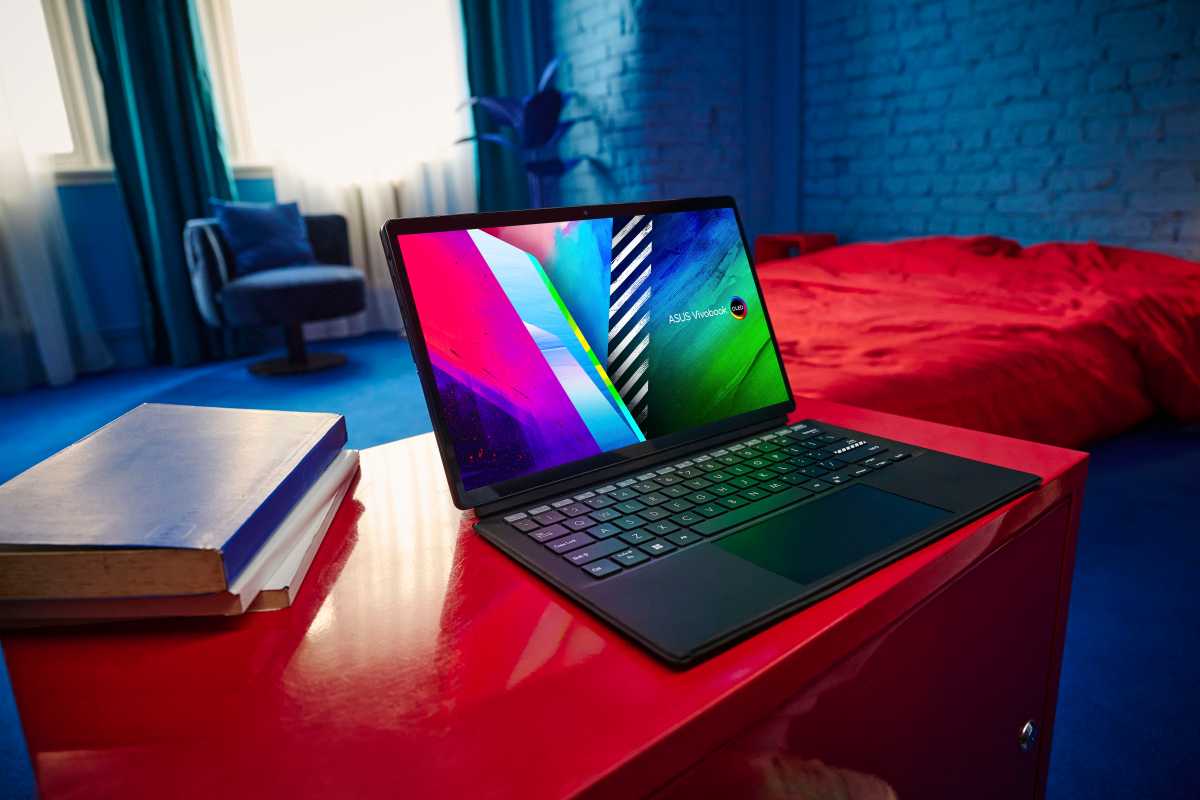 Asus
Display: 1080p or bust
Every budget laptop has an edge-lit LCD screen. It won't look as nice as the screens on an iPhone or most Android phones, but budget laptop displays look fine. There's one specification to be wary of, however, and that's the resolution.
Most laptops have a 1080p display (aka 1920 x 1080 resolution). However, some budget laptops shave costs with a display resolution of 1366 x 768. If they're tricky, they'll advertise this as an "HD" resolution without specifying the pixel count.
I recommend not buying a laptop with 1366 x 768 or HD resolution. The display will look grainy and pixelated, and it won't be able to show as much content at once. HD displays are often dimmer and less colorful than Full HD displays, too.
What about display size? Most people should spring for a 14- or 15-inch laptop. This is a good compromise between portability and display size. A 13-inch is a good option if you plan on taking the laptop with you while traveling or commuting. I don't recommend a display smaller than 13 inches, though.
Graphics: 3D gaming is (mostly) out of reach
Want to play PC games on your budget laptop? You can! But you'll have to stick to older games and 2D titles.
Budget laptops don't have graphics hardware separate from the processor. That's a big hit to game performance. You can play some 3D games like Counter-Strike or League of Legends on a budget laptop, but more visually demanding titles are usually out of reach.
Want the best $500 can buy? Go for AMD's Ryzen processor. Ryzen has integrated Radeon graphics hardware. A laptop with AMD's Ryzen 5 5500U can handle some modern games like Grand Theft Auto V at low detail settings.
What about everything else?
The specifications I've covered are the key decisions you'll face. Battery life, Wi-Fi performance, Bluetooth, and weight may be a factor, but differ less between laptops than those I've covered. You can expect a budget laptop to have four to six hours of battery life. It will have passable Wi-Fi and Bluetooth, and it will weigh around four or five pounds.
These figures are a fair shake behind a $2,000 Apple MacBook, Dell XPS, or HP Envy, but you may be surprised by what budget laptops can do. A good budget laptop can handle a huge variety of tasks and remain useful for years. It won't beat a luxury laptop on performance, but it can beat it on value. Once again, for more concrete buying recommendations, our roundup of the best laptop deals can also help.
Note: When you purchase something after clicking links in our articles, we may earn a small commission. Read our affiliate link policy for more details.
Intel tips plans for a Bitcoin mining 'Bonanza' chip
Metamorworks/Nature/Getty Images
Intel has signaled that the next generation of Bitcoin mining rigs may ship with "Intel Inside" stickers, as the company has announced plans to at least discuss a "Bonanza Mine" chip for mining Bitcoin at an upcoming conference.
The upcoming program (PDF link) for the International Solid-State Circuits Conference includes a listing for "Bonanza Mine," an "ultra-low-voltage energy-efficient Bitcoin mining ASIC," a paper authored by three Intel employees. The listing was unearthed by Tom's Hardware.
So far, the program doesn't indicate whether or not Intel actually plans to ship Bonanza Mine as a finished product or as a research project. The listing, however, implies the latter. The lead author, Vikam Suresh, is described as a research scientist at Intel Labs, focusing on "high-performance and energy-efficient micro-architecture and circuit design for data encryption and authentication, design of cryptographic primitives for random number and key generation, and block-chain technologies and high-performance data compression."
In December, Raja Koduri, senior vice president and general manager of the Accelerated Computing Systems and Graphics (AXG) Group at Intel, hinted at the company's plans for blockchain and that they would not include general-purpose CPUs or GPUs. That's probably not a surprise given that effective Bitcoin mining moved into ASICs long ago. It's because of this that some of the smaller coins have become popular, as general-purpose PCs can still somewhat compete with more specialized, well-funded mining organizations.
Koduri told streamer DrLupo that he wants to get a solid install base of its new Arc GPUs, enough so that the company can attract attention from software developers. If those Arc GPUs are simply sitting in a mining farm, Koduri said, that goal isn't accomplished. The conversation then turned to specialized Bitcoin hardware. You can tune in to their conversation below:
Intel hasn't indicated what the hash rate will be, the estimated power, and whether the ASIC would be optimized for Bitcoin only. In any event, we'll know more on Feb. 23 at 7:00 AM when Bonanza Mine is scheduled to be unveiled at ISSCC. The conference is all virtual, given the pandemic.
Note: When you purchase something after clicking links in our articles, we may earn a small commission. Read our affiliate link policy for more details.
CPUs and Processors

Cryptocurrency
As PCWorld's senior editor, Mark focuses on Microsoft news and chip technology, among other beats. He has formerly written for PCMag, BYTE, Slashdot, eWEEK, and ReadWrite.
Xbox Game Pass adds Death's Door, Danganronpa in second half of January
Join gaming leaders, alongside GamesBeat and Facebook Gaming, for their 2nd Annual GamesBeat & Facebook Gaming Summit | GamesBeat: Into the Metaverse 2 this upcoming January 25-27, 2022. Learn more about the event. 
---
Xbox announced today the second batch of games coming to Game Pass in January. It's not as exciting as the news that Microsoft is buying Activision Blizzard, but hopefully it's an indicator of more Game Pass additions to come. January's games include Death's Door, Danganronpa: Trigger Happy Havoc, and Pupperazi. Subscribers will also get The Hitman Trilogy and Rainbow Six Extraction this month.
Danganronpa: Trigger Happy Havoc and Nobody Saves the World launched today for Game Pass subscribers. The former is a murder mystery visual novel game, while the latter is a cartoony RPG. Nobody Saves the World is a day-one launch on Game Pass.
Most of the other games launching on Game Pass this month will launch on January 20. These include Death's Door, the indie action-adventure title, and dog photography game Pupperazzi. Another January 20 launch is Windjammers 2, a disc-throwing game with hand-drawn graphics. Microsoft previously revealed that Rainbow Six Extraction would be a day-one release on Game Pass. The Hitman Trilogy will also launch on Game Pass. Yes, both of those will launch on January 20.
The final Game Pass launch of the month is Taiko no Tatsujin: The Drum Master. This drum-based rhythm game is also the only game in this batch that's not available for all of Game Pass's platforms. It'll be available for console and cloud but not PC.
Event
The 2nd Annual GamesBeat and Facebook Gaming Summit and GamesBeat: Into the Metaverse 2
January 25 – 27, 2022
Game Pass is having a banner day today. Microsoft revealed in the announcement of its Activision-Blizzard that Game Pass had surpassed 25 million subscribers. It also added that it would bring "as many Activision Blizzard games as we can within Xbox Game Pass and PC Game Pass, both new titles and games from Activision Blizzard's incredible catalog."
The games leaving Game Pass to make way for this batch are Cyber Shadow, Nowhere Prophet, Prison Architect, and Xeno Crisis. They'll leave the service on January 31.
GamesBeat
GamesBeat's creed when covering the game industry is "where passion meets business." What does this mean? We want to tell you how the news matters to you — not just as a decision-maker at a game studio, but also as a fan of games. Whether you read our articles, listen to our podcasts, or watch our videos, GamesBeat will help you learn about the industry and enjoy engaging with it.
How will you do that? Membership includes access to:
Newsletters, such as DeanBeat

The wonderful, educational, and fun speakers at our events

Networking opportunities

Special members-only interviews, chats, and "open office" events with GamesBeat staff

Chatting with community members, GamesBeat staff, and other guests in our Discord

And maybe even a fun prize or two

Introductions to like-minded parties
Samsung's newest mobile processor has an AMD GPU with ray tracing
Alex Walker-Todd/IDG
Did you know that Samsung makes its own processors? You'd be forgiven for glossing over that — the flagship Galaxy S series of phones technically uses Samsung's home-grown Exynos system-on-a-chip, but almost never in the United States, where Samsung uses Qualcomm's Snapdragon chips. But you might want to track down an all-Samsung machine for your next Android phone, as the newest Exynos processor will pack some serious graphical punch via a partnership with AMD.
The Exynos 2200 series of chips was announced this morning and is presumably slated for the upcoming Galaxy S22, Galaxy Z Fold3, and Flip3 phone lines. In addition to the usual incremental improvements in ARM-based SoC designs, Samsung is letting AMD handle the design of the new Xclipse GPU series. It's a "hybrid graphics processor" using RDNA 2 architecture.
What does that mean? Not a lot in terms that matter to end users, but Samsung does say that the Exynos 2200 platform will use "the industry's first hardware-accelerated ray tracing on mobile." Ray tracing is an advanced graphics lighting technique that, while possible on more or less any hardware, really requires custom-designed chips in order to effectively run during active gameplay. Ray tracing has only become widespread recently for desktop and mobile gaming, starting with new GPU designs in 2018.
Samsung also said that the Xclipse GPU can handle variable-rate shading and will come with a multi-IP governor system to enhance efficiency. And,, lest you think this is a one-off promo deal, the press release states that there are "multiple planned generations" of AMD-powered Exynos GPUs in the works. Expect to see the first fruits of this union in the first quarter of 2022, when Mobile World Congress (or its pandemic-era digital equivalent) occurs.
Note: When you purchase something after clicking links in our articles, we may earn a small commission. Read our affiliate link policy for more details.
Michael is a former graphic designer who's been building and tweaking desktop computers for longer than he cares to admit. His interests include folk music, football, science fiction, and salsa verde, in no particular order.