Inside ESPN's campaign to get fantasy football players to sign up for its upcoming season
ESPN has teamed up with long-standing agency partner Butler, Shine, Stern & Partners (BSSP) for a new campaign to attract fantasy football players to sign up for its upcoming season.
It's the first live-action collaboration between BSSP and the brand in a continuation of a partnership that began in 2019.
"ESPN has always been successful at using humor to attract people to their brand. It's part of who they are as a brand. They don't take themselves too seriously," said Leslie North, evp, head of strategy at Swift. "However, they know that sports is serious but it should also be fun and entertaining."
ESPN's three-part series of comedic vignettes focuses on how fantasy football plays a big part in everyday life and how it affects relationships in the real world.
"It's an important part of our business. We know that these fans are very valuable to us. And there are some of our most avid fans," said John Lobo, associate director, brand marketing at ESPN.
As part of the campaign, the spots will run across linear and online video as well as a variety of media types, including radio, podcasts, digital ads and out-of-home advertising. In the coming weeks, additional spots will be released as part of the campaign.
This campaign was inspired by a connection and sense of community, and what fantasy football does for people. "I think some of our earlier ideas were more tighter into who the kinds of people that come together to play it. So more about the bringing of different people and friend groups and strangers and like unlikely pairings and all of those kinds of things," said Robyn Tenenbaum, creative director at BSSP.
It is unclear how much of ESPN's advertising budget is allocated to the video spots and social media advertising, as Lobo would not share overall budget specifics. According to Pathmatics, ESPN spent close to $45 million so far in 2022 on advertising efforts. Lobo noted that the ad spend for these spots were on linear TV, online video, radio podcasts, and digital out-of-home displays. Additionally, the spots will run during ESPN programming.
Throughout the campaign, fantasy league problems are overshadowed by everyday problems as the campaign emphasizes the possibility of unlikely relationships. Because of this, the BSSP intentionally incorporated unlikely situations, such as a couple arguing over fantasy football disagreements in therapy over what they should name their married couple, and a coworker referring to their partner by the fantasy team name that they refer to each other as in fantasy football, which could only happen in fantasy football.
"Brands have to listen to the communities and the conversations that surround them in order to maintain relevance but also to breakthrough and resonate with their audience," North said. "Consumers expect more than advertising from brands and if that value is entertainment and humor."
The brand is trying to showcase what makes the game so special, after their record-breaking season in 2021, and is highlighting the things that make the game so unique: the sense of community, the camaraderie, and the constants that only exist in fantasy football. "As a first priority, we want to get as many people who played in the past year back into the game as possible," said Lobo as the retention strategy is to keep these fans, who they call league managers or commissioners.
Tenenbaum concluded, "I do feel like it's going to bring in a lot of other types of players and fans who maybe didn't consider playing before. But now that they see the campaign, it is a place for anyone who you don't have to know everything there is to know about football, to be a part of the world."
NASA Says Hurricane Didn't Hurt Artemis I Hardware, Sets New Launch Window
NASA's Artemis I moon mission launch, stalled by Hurricane Ian, has a new target for takeoff. The launch window for step one of NASA's bold plan to return humans to the lunar surface now opens Nov. 12 and closes Nov. 27, the space agency said Friday. 
The news comes after the pending storm caused NASA to scrub the latest Artemis I Iaunch, which had been scheduled for Sunday, Oct. 2. As Hurricane Ian threatened to travel north across Cuba and into Florida, bringing rain and extreme winds to the launch pad's vicinity, NASA on Monday rolled its monster Space Launch System rocket, and the Orion spacecraft it'll propel, back indoors to the Vehicle Assembly Building at Florida's Kennedy Space Center. 
The hurricane made landfall in Florida on Wednesday, bringing with it a catastrophic storm surge, winds and flooding that left dozens of people dead, caused widespread power outages and ripped buildings from their foundations. Hurricane Ian is "likely to rank among the worst in the nation's history," US President Joe Biden said on Friday, adding that it will take "months, years, to rebuild."
Initial inspections Friday to assess potential impacts of the devastating storm to Artemis I flight hardware showed no damage, NASA said. "Facilities are in good shape with only minor water intrusion identified in a few locations," the agency said in a statement. 
Next up, teams will complete post-storm recovery operations, which will include further inspections and retests of the flight termination system before a more specific launch date can be set. The new November launch window, NASA said, will also give Kennedy employees time to address what their families and homes need post-storm. 
Artemis I is set to send instruments to lunar orbit to gather vital information for Artemis II, a crewed mission targeted for 2024 that will carry astronauts around the moon and hopefully pave the way for Artemis III in 2025. Astronauts on that high-stakes mission will, if all goes according to plan, put boots on the lunar ground, collect samples and study the water ice that's been confirmed at the moon's South Pole. 
The hurricane-related Artemis I rollback follows two other launch delays, the first due to an engine problem and the second because of a hydrogen leak.
Hurricane Ian has been downgraded to a post-tropical cyclone but is still bringing heavy rains and gusty winds to the Mid-Atlantic region and the New England coast.
What You Get in McDonalds' New Happy-Meal-Inspired Box for Adults
You've pulled up to McDonald's as a full-on adult. You absolutely do not need a toy with your meal, right? Joking. Of course you do.
The fast-food chain will soon sell boxed meals geared toward adults, and each one has a cool, odd-looking figurine inside. 
The meal has an odd name — the Cactus Plant Flea Market Box — that's based on the fashion brand collaborating with McDonald's on this promotion. 
According to McDonald's, the box is inspired by the memory of enjoying a Happy Meal as a kid. The outside of the box is multicolored and features the chain's familiar golden arches. 
The first day you can get a Cactus Plant Flea Market Box will be Monday, Oct. 3. Pricing is set by individual restaurants and may vary, according to McDonald's. It'll be available in the drive-thru, in-restaurant, by delivery or on the McDonald's app, while supplies last.
You can choose between a Big Mac or 10-piece Chicken McNuggets. It will also come with fries and a drink.
Now about those toys. The boxes will pack in one of four figurines. Three of the four appear to be artsy takes on the classic McDonald's characters Grimace, Hamburglar and Birdie the Early Bird, while the fourth is a little yellow guy sporting a McDonald's shirt called Cactus Buddy.
In other McD news, Halloween buckets could be returning to the chain this fall. So leave some room in your stomach for a return trip.
Why companies like iHeartMedia, NBCU rely on homegrown IP to build metaverse engagements
To avoid potential blowback from a skeptical audience, retailers as well as media and entertainment companies are learning to invest in their homegrown intellectual properties while building virtual brand activations inside Roblox or Fortnite.
Take, for instance, when they get it wrong.
Earlier this week, Walmart launched its own Roblox world — called Walmart Land — and was roundly mocked for it across social media given the announcement's disjointed brand message and apparent lack of life. In one viral tweet, a Twitter user described a clip of Walmart CMO William White introducing the Roblox space as "one of the saddest videos ever created."
To some extent, this sort of criticism is to be expected during the early days of the metaverse.
"Walmart is an iconic brand; when you see them coming into a platform like Roblox, people are going to be 10 times more critical of what is being launched," said Yonatan Raz-Fridman, CEO of the Roblox developer studio Supersocial.
But Walmart's size is not its only disadvantage as it dips its toes into Roblox. Although Walmart has a widely recognizable brand, it owns few intellectual properties that users are actually interested in experiencing virtually — a shortcoming reflected by the somewhat cavernous emptiness of Roblox's Walmart Land.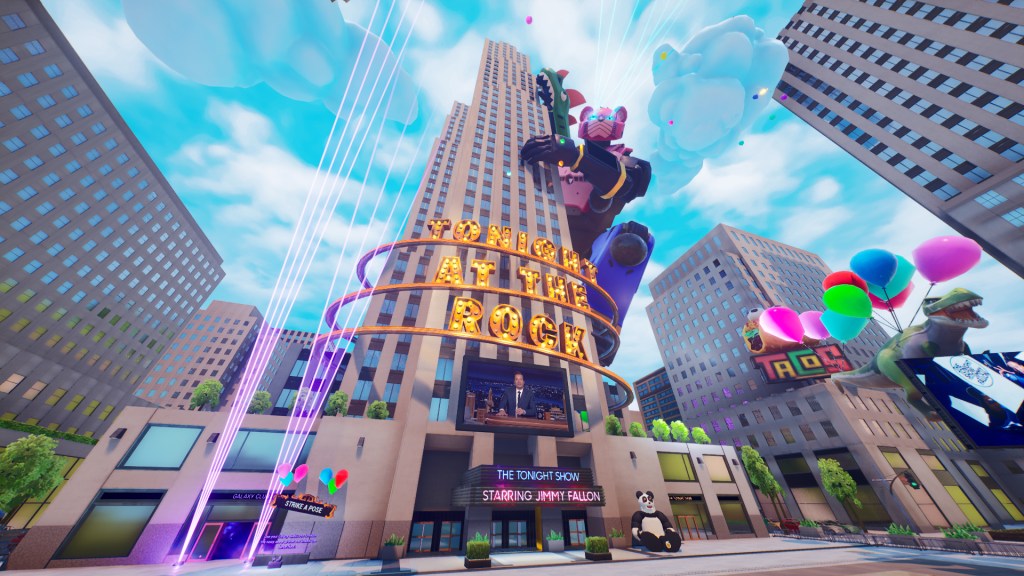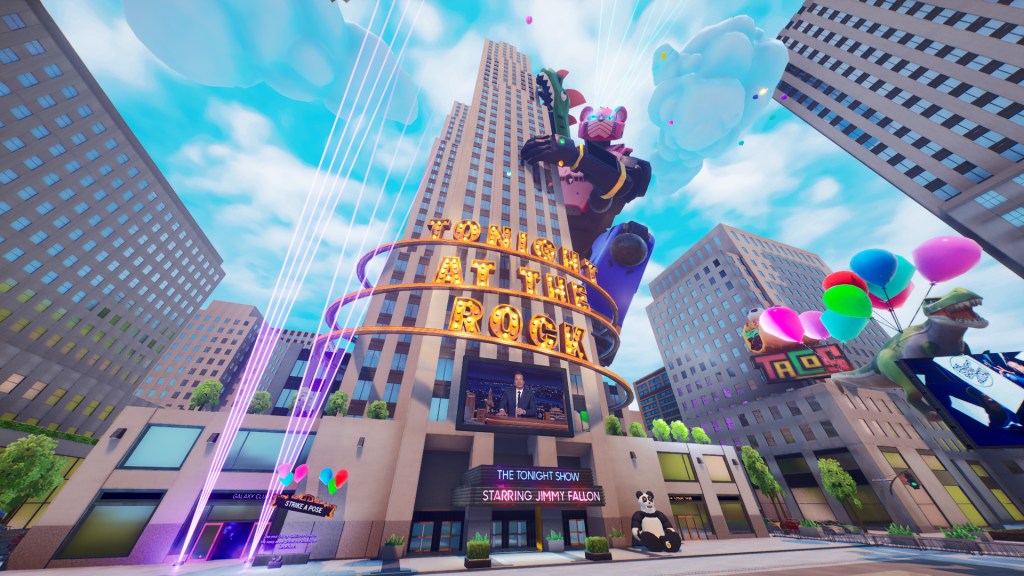 The success of other recent brand activations is evidence that media and entertainment brands are better equipped to build metaverse spaces that can dodge online skepticism, thanks to their wealth of owned IP.
"They are having to reinvent themselves, to a certain degree, but that is in their DNA," said Jesse Streb, global svp of technology and engineering at the agency DEPT. "So they have a unique advantage over, say, some kludgy company that sells lumber, or a construction company."
For example, iHeartMedia's Roblox and Fortnite spaces were inspired by the mass media corporation's wealth of popular real-life events, such as the Jingle Ball Tour and iHeartRadio Music Festival, with virtual versions of musicians like Charlie Puth performing pre-recorded concerts that allow real-time audience interaction.
"There's a strong brand association with the IP, down to a station level — you're in the New York area, you probably know Z100," said iHeartMedia evp of business development and partnerships Jess Jerrick. "The same is true for the event IP, or the IP that we now have in the podcasting space, and of course our radio broadcast talent. So there's no shortage of really strong IP we can bring into these spaces."
Translating real-life properties into the metaverse is also an enticing prospect for brands that view metaverse platforms as an experimental marketing channel, allowing them to bring tried-and-true IP into their virtual activations instead of designing them from the ground level. This was part of the strategy behind the recent Tonight Show activation in Fortnite Creative, which was designed in collaboration between NBCUniversal and Samsung. "We're looking at it holistically — how do we find fans in new ways, and use IP that fans love in new ways?" said NBCU president of advertising and client partnerships Mark Markshall.
Since opening on Sept. 14, iHeartLand has already enticed over 1.5 million Roblox users to visit. The company aims to retain that attention with a schedule of virtual programming featuring popular musicians and personalities.
"At our core, we are essentially an influencer network; our broadcast talent are some of the most connected, most engaging influencers at work in media today," said Conal Byrne, CEO of iHeart Digital Audio Group. "That gives us this sort of superpower, to be able to go into new-ish platforms, like Roblox or Fortnite, because we talk to our listeners through those influencers."