iOttie Aivo View dash cam review: Phone-centric, easy setup, good captures
At a glance
Expert's Rating
Pros
Easy to set up and use
Very good day and night captures
Magnetic mount
Minimalist styling and operation
Cons
Requires iOttie account to set up and use
Our Verdict
Though we'd prefer not having to create an account to use it, the Aivo View ticks all the boxes (good captures, ease of use, GPS) for a top-notch modern dash cam.
Price When Reviewed
iOttie Aivo View dash cam : $149.95
Best Prices Today – iOttie Aivo View dash cam
$119.95
Free
If you want a dash cam with minimalist looks, the eye-catching iOttie Aivo View, with nary a button in sight, might be your best bet. Setup requires a phone app, but that's a small hassle in a phone-centric world. What's not necessarily kosher is having to create an account before you can use said app.
Otherwise, the Aivo View is an excellent 1600p front dash cam with integrated GPS, as well as above-average day and night captures and Alexa support.
This review is part of our ongoing roundup of the best dash cams. Go there for more reviews and buying advice. 
iOttie Aivo View: Design and features
The Aivo View body is a simple rounded square shape that looks and feels solidly built. It uses a magnetic coupled mount whose base plate attaches to your front window using semi-permanent adhesive. There's a micro USB connector on the right side, and an SD card slot on the left protected when not in use by a rubber plug. That's it, other than the power light on the cabin side. (See below)
While the camera is capable of 1600p/30 frames-per-second captures, it takes 1440p video at 30fps by default. Lesser resolutions down to 720p are also available, should you need to save space or reduce wear on your SD cards. The field of view is 140 degrees, which captures quite a bit of action to the sides.
iOttie also includes a Bluetooth remote button that you can affix to a convenient location in order to instantly capture important moments with a touch. These videos are saved and won't be overwritten as with normal looped video. Videos are also saved if the g-sensor senses impact, as with all dash cams.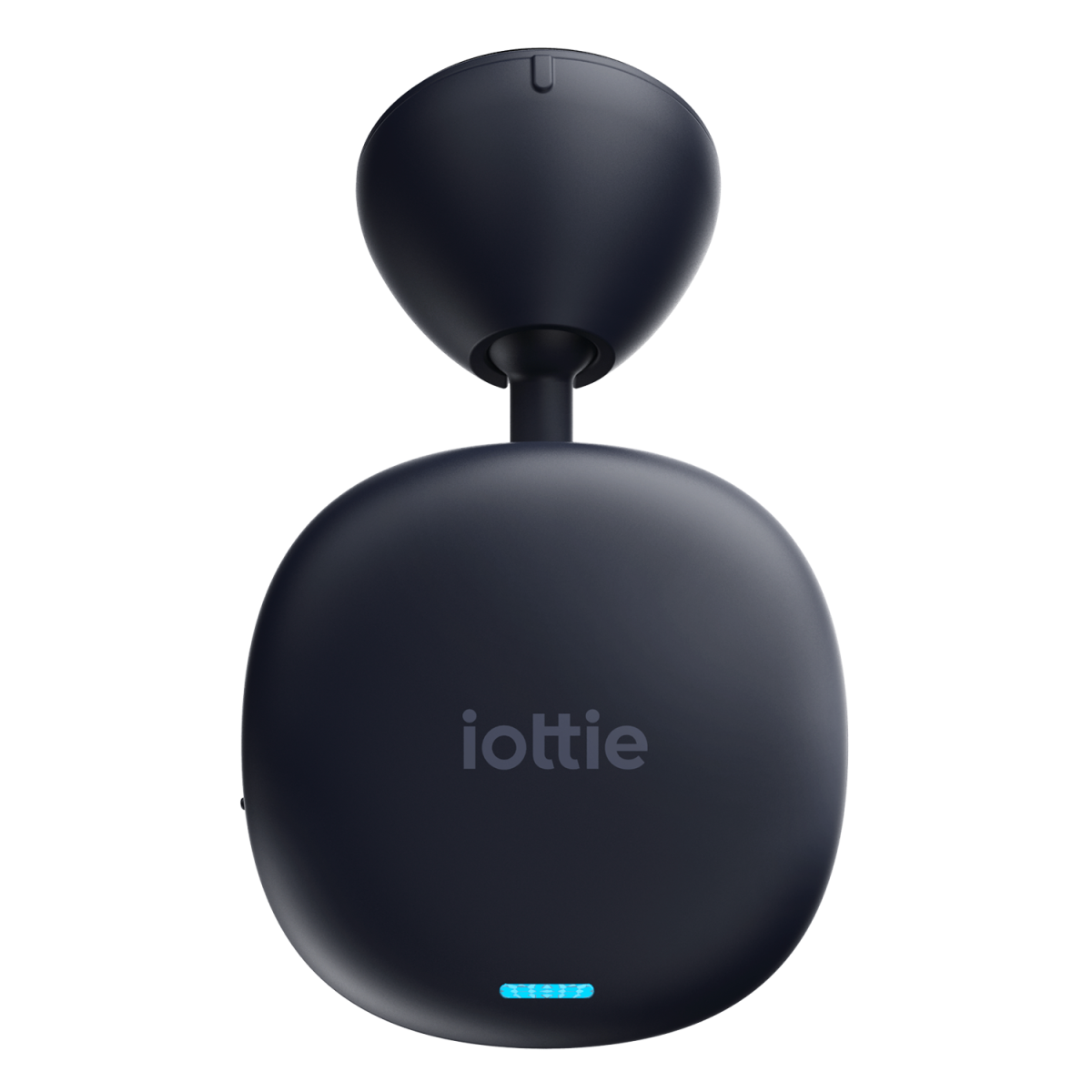 The camera connects to your phone via Wi-Fi and the app is used both for a live view and for configuring the camera. As noted, you must create an account before that can happen. There's no internet while connected so you'll generally want to use the app sparingly. Unless of course you want to use Alexa to control the Aivo View, whose commands the camera fully supports.
Above you can see some of the settings, including the 1600p video option.
As to the account, iOttie says it allows multiple devices to be registered and logged, as well as allowing the company to notify customers of firmware updates. I'm not saying an account can't be useful, but none of that "requires" an account. Only online storage "requires" an account and with GPS data in play, one might be concerned about telemetry and privacy. The company says they don't use the former, and never market GPS data.
iOttie Aivo View: Performance
Below you'll see the Aivo View's front capture on a partly cloudy day in San Francisco. The fish-eye effect of the 140 degree FOV lens is apparent in the telephone wires, but the overall effect in the horizontal plane is minimal. Note that the Aivo View is yet another dash cam that can't seem to extrapolate a time zone from GPS coordinates, though it got the date correct.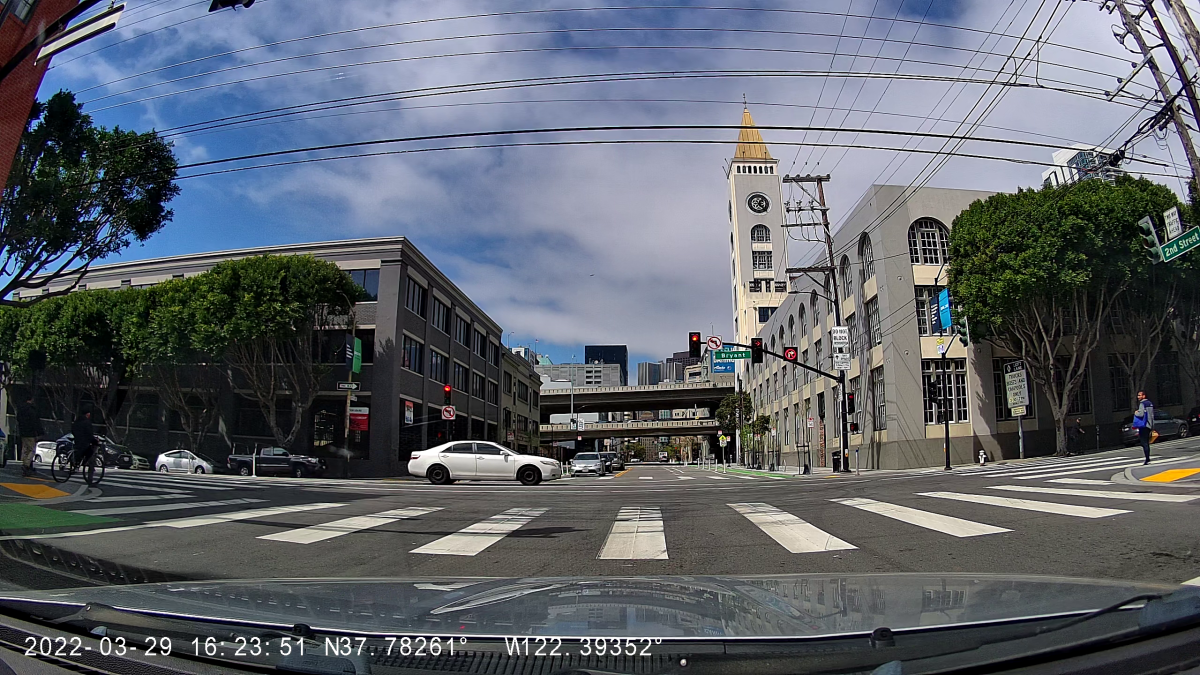 Night captures were very good; however, they don't reveal too much extra detail when processed post facto. Regardless, they're colorful, easy on the eyes, and grab enough detail for legal purposes and casual viewing.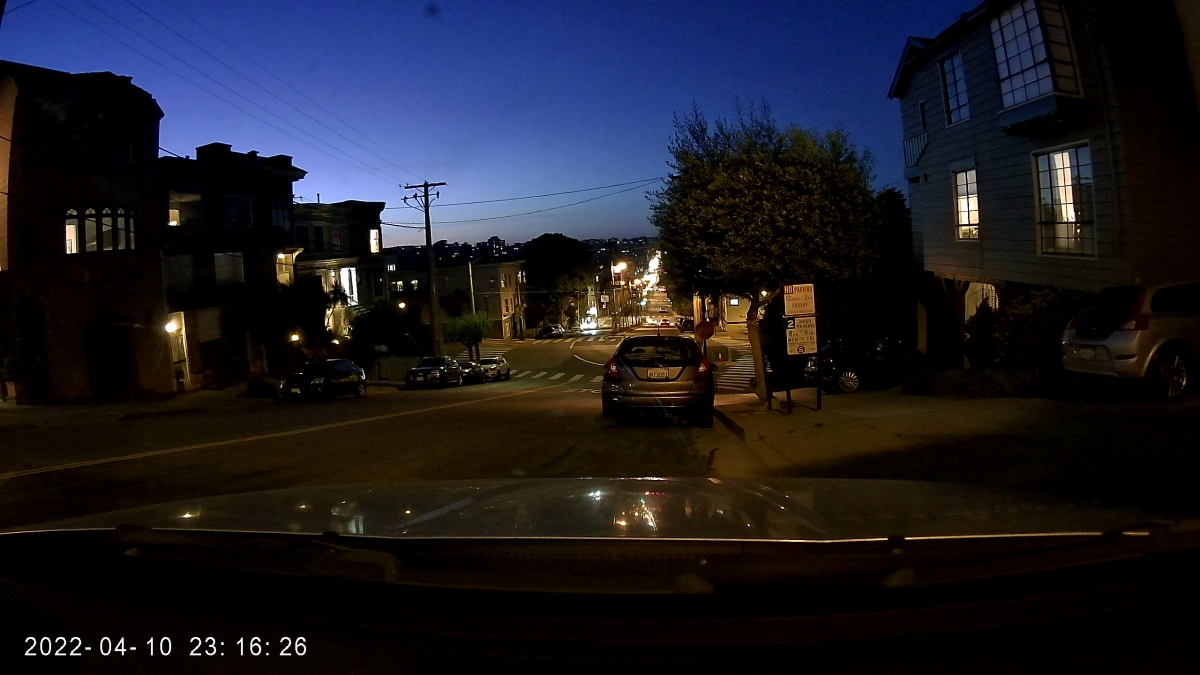 The capture below is with my headlights on. You can see that the extra light blows out the numbers on the license plate in front. This is basically a worst-case scenario with no movement so don't take it too seriously. That said, other dash cams have handled the same scenario better.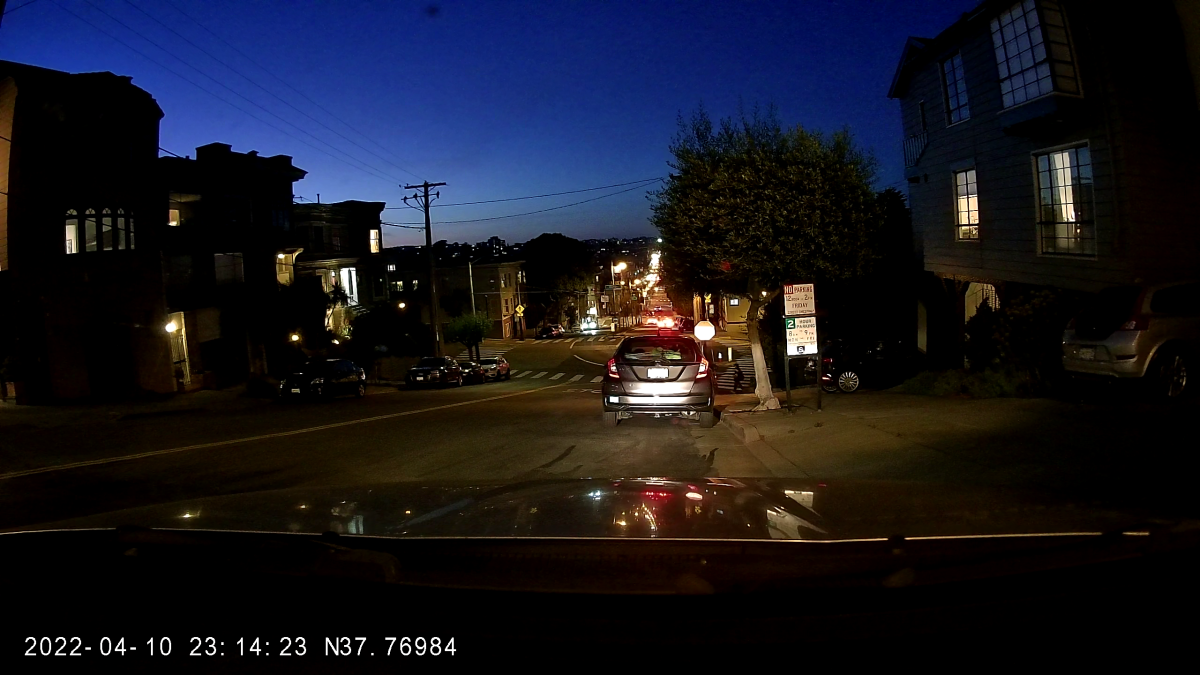 While I wouldn't put the Aivo View's captures at the top of the heap, they're certainly in the realm of top-tier status and very good for the price.
iOttie Aivo View: Bottom line
The Aivo View is a very good dash cam that looks good in the cabin, and is a perfect match for today's phone-centric users. It's also affordable as far as GPS-enabled cameras are concerned. If it weren't for the account requirement, I'd have zero complaints.
Best Prices Today – iOttie Aivo View dash cam
$119.95
Free
Note: When you purchase something after clicking links in our articles, we may earn a small commission. Read our affiliate link policy for more details.
The Rundown: As e-commerce grows, the eCommFronts address data and communication issues
Does the red-hot world of e-commerce — estimated to be in the neighborhood of $100 billion according to Boston Consulting Group — even need its own "upfront"? Horizon Media's topical Night Market unit certainly thinks so.
Night Market, which specializes in guiding clients through e-commerce and retail media offerings and inventory, hosted its third annual eCommFronts beginning Tuesday through today. The virtual event examines the changing and growing world of e-commerce and shoppable media, focusing more intensely on the collapsing funnel (the coming together of brand gain with performance results) and the melding of data sets, said Randy Browning, president of Night Market. The event had 539 registered users.
The companies presenting cut across the growing swath of retailers that have opened up new revenue opportunities by selling ad inventory on their own digital presences and weaponizing their data to help other media hungry for insights on consumer behavior.
"The opportunity is that you have an ability to create a collapsed funnel in a purchase journey that is starting online,' said Browning.
Here are some takeaways from the event:
Among the companies presenting are retailers Walmart and Kroger, both of which have committed deeply to building out an e-commerce and retail media revenue stream, but are now also generating data that has its own revenue value.
"People assume retail media is just sponsored product listings in e-commerce," said Jill Smith, director of agency partnerships with Kroger Precision Marketing, which now operates within a data science division called 84.51°. "But we've entered a new phase of retail media. Now brands are using Kroger Precision Marketing's first-party sales data to target and optimize programmatic ad campaigns on the open web."
That said, retail media is still fighting for a greater share of media buyers' attention, even if it's caught on pretty well with marketers. A recent Digiday+ Research survey of 59 agency and marketer executives found that the bigger retail players haven't yet seen a significant uptick in media investment. That could have something to do with why the eCommFronts are taking place.
New channels
Of course, ad-tech and platform players are also part of the eCommFronts, including Meta, GoPuff, Instacart, Criteo, Roku and The Trade Desk. Now that the retailers have established their media channels, next steps include setting some of the inventory for sale programmatically, as well as other offline opportunities. "Think about it from a branding perspective where we move from awareness through to consideration," said Browning, "And all of this with a closed-loop approach to attribution without the need of cookies. We are very bullish on where this opportunity goes."
Streaming, a seemingly omnipresent element in any media plan, is winding its way into the e-commerce equation as well. "Streaming TV is the next frontier of commerce," said Kroger's Smith. "Roku CPG advertisers can now use our sales data to identify the households they want to reach — like people who are lapsed buyers of a particular salsa or toothpaste brand — and then measure the incremental impact of that advertising."
Uncertain near-term future?
The road ahead isn't just paved with gold, acknowledged Browning, who sees the still-unresolved disconnect between shopper marketing budgets and media planning as an obstacle to seamless progress. He added that better alignment of data between client and retailer is another area that needs to see improvement — an area where the use of clean room technology might help.
Still, the revenue potential remains higher than most other media, even at this time of darkening economic clouds. "Retail Media is foundationally built on the premise that the best opportunity to speak to a customer is at the point of purchase, or when they are in the closest proximity to conversion — pushing a physical shopping cart or adding to a digital one," said Albert Thompson, managing director of digital innovation at Walton Isaacson. "Given its high correlation for directly impacting sales, it is the revenue return solution in marketing. What gives it even more power is that it possesses supply-chain acumen, meaning it's oriented around the volume of product available in real-time so spending is adjusted in direct correlation with supply and demand."
One major commerce expert added that agency budgets in tight economic times tend to go down, but rarely are e-commerce budgets affected since they are directly tied to sales, which companies need when market conditions worsen.
Future of TV Briefing: How Amazon, Roku and YouTube are figuring into this year's TV upfront market
This week's Future of TV Briefing looks at how Amazon, Roku and YouTube stand to play a bigger role in this year's upfront market after leveling up in the last couple years.
Upstream TV
The key hits:
The upfront gap between traditional TV networks and streaming-only sellers has closed.
This year some agencies may strike their first upfront deals with Amazon, Roku and YouTube.
The streaming-only sellers' flexible upfront deals models also factor in, though those models may be changing this year.
In last year's TV advertising upfront market, TV networks were willing to turn away linear TV ad dollars to move money to their respective streaming and digital properties. In this year's upfront market, that move may come back to bite the networks. Some of that money did end up moving to streaming and digital, but it moved to other companies' streaming and digital inventory and may not return to the TV networks given Amazon's, Roku's and YouTube's rising roles in the upfront market, according to agency executives.
"We warned [the TV networks] last year: 'Don't overplay your hand because all your going to do is you're going to force clients to shift money into some of these digital platforms that have great audiences, data, great measurement, great ability to prove that they're reaching incremental audiences that you're not reaching on TV. And once the money goes over, they're not coming back,'" said one agency executive.
"People thought they could push money away, and it would just come back, and it doesn't," concurred a second agency executive.
This migration of money to companies including Amazon, Roku and YouTube is creating the conditions for the playing field to further level between traditional TV network owners and streaming-only sellers in this year's upfront. "NBCU, Disney, Fox, Warner Bros. Discovery, Paramount, Amazon, Google, Roku — that's where 80% of the marketplace gets spent," said a third agency executive.
Historically, the streaming-only sellers took a backseat to the TV networks in the upfront negotiations. Advertisers and agencies struck their deals with the TV networks first and then moved on to haggling with Amazon, Roku and YouTube. But over the past two years, that gap has effectively closed to the point where, in some cases, the streaming-only sellers are securing the first deals.
"YouTube's been one of our first deals a couple of years in a row, as has Roku," said Stacey Stewart, U.S. chief marketplace officer at UM Worldwide. "Whether they will be this year, time will tell. We look at them all at the same time. We don't have windows anymore."
"You're going to see more agencies and clients push for broader deals or bigger deals across YouTube, Roku, Amazon, for sure," said the second agency executive.
Agency executives were leery of discussing, on record or anonymously, what share of upfront dollars they expect will go to the streaming-only sellers versus the TV networks this year, but they did say that they expect at least 30% but no more than 40% of the total volume of dollars committed in this year's upfront to be earmarked for streaming overall.
Some agency executives who have continued to haggle first with the TV networks seem to be holding a bit of a grudge against the TV networks for their handling of last year's negotiations and are now eyeing opportunities to overhaul their deal-making hierarchy. "We're going to do our first upfront deals — the first in market that usually set the tone of the market — it could very well be with YouTube or Amazon," said the first agency executive.
In short, after last year's upfront market heavily favored sellers and particularly traditional TV sellers, buyers are heading into this year's negotiations looking to even the balance and see the streaming-only sellers as a big bargaining chip that can now be used in the same way that the buyers play the major TV network groups against one another. "If Disney tells me that their pricing is plus-20[%], I can say, 'Go screw yourself. I'm going to Paramount, and I'm going to YouTube,'" said the third agency executive.
Further favoring the streaming-only sellers is the relatively lax terms of their commitments. Unlike the TV networks that require advertisers to commit ahead of time to spend a set amount of money with fairly limited cancelation options, the streaming-only sellers typically strike so-called "endeavor" or "enterprise" deals, in which an ad deal is done at the agency level so the agency can spread it across its client portfolio and unlock certain inventory and/or pricing tiers as they spend more money with a CTV platform or streaming service throughout the year. These deals' flexibility — further buoyed by adhering to the Interactive Advertising Bureau's 15-day, 100% cancelation clause — may be especially in demand in this year's upfront market given the macroeconomic conditions affecting advertisers' businesses.
"Do you want to put your money somewhere where you're committed — at least a large percentage of it — 14, 15 months out? Or do you want to work with somebody to get out in two weeks in terms of endeavors?" said the first agency executive.
Of course, capitalism being capitalism, agency executives have to be careful about the downsides of rebalancing the upfront market too heavily toward the streaming-only sellers. For example, rising upfront demand being directed toward Amazon, Roku and YouTube could put those companies in position to make greater demands of advertisers and agencies in the upfront — potentially as soon as this year's upfront.
"I believe Roku has been out talking about trying to have more specific deals tied to clients and less about the enterprise. It's the same for YouTube," said the second agency executive.
What we've heard
"The mid-sized or smaller TV players can't afford to subscribe to Nielsen plus three others. It's a really big issue. You've already got a lot of cost in the system from programmatic fees. Then as we get into more data-driven linear and advanced TV, that has its own set of fees. Here's another set."

— TV network executive on the additional costs introduced by supporting multiple measurement currencies
Streaming viewership hits highwater mark
Despite the timing of Netflix's glum first-quarter earnings report, April wasn't an entirely gloomy month for streaming. The dominant subscription-based streamer may have hit a low, having lost subscribers, but streaming overall gained share of total TV watch time to reach a new high, according to Nielsen's The Gauge report for April 2022.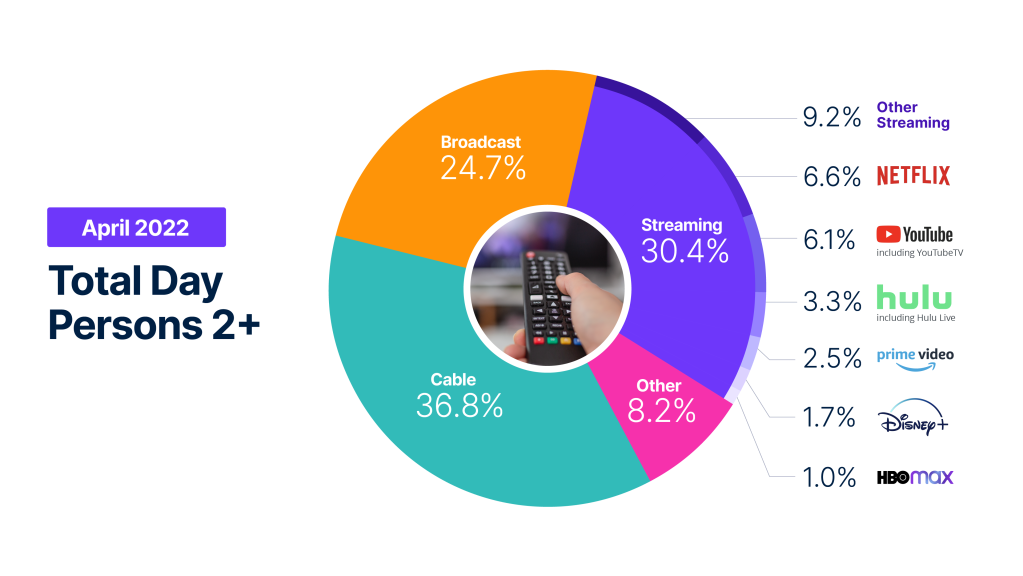 Aside from streaming's overall uptick, the viewership share breakdown by major streamers didn't change all that much — with one exception. Warner Bros. Discovery's HBO Max earned a callout for the first time by accounting for 1% of total TV watch time in April.
Splitting HBO Max from the "Other streaming" bucket would help to explain that bucket shedding 0.6 percentage points month over month. More to the point, it's notable that the fact that "Other streaming" only dipped by 0.6 percentage points despite losing the 1 percentage point that HBO Max would have contributed if it hadn't been broken out. Excluding the HBO Max impact, the "Other streaming" category appears to have gained share by 0.4 percentage points. That's not a lot, but it would represent the biggest month-over-month gain in watch time among the listed streamers. Combined with HBO Max reaching Nielsen's reporting threshold, these two developments evince how streaming viewership continues to spread beyond the historical who's who, though the category still appears to be pretty top-heavy.
Speaking of slightly waning dominance, traditional TV still accounted for 61.5% of TV watch time in April, though broadcast TV's share dipped by 0.2 percentage points and cable TV's share slipped by 0.1 percentage point.
Numbers to know
21%: Estimated annual U.S. revenue bump that Netflix could receive by adding an ad-supported tier.
17.4%: Percentage share of Snap's U.S. employees who are members of underrepresented racial and ethnic groups.
$2.99: Monthly subscription price for non-pay-TV subscribers to stream The Weather Channel's live broadcast.
1.95 million: Number of subscribers that major U.S. pay-TV providers lost in the first quarter of 2022, slightly more than they shed in Q1 2021 but slightly less than in Q1 2020.
What we've covered
Disney's Disney+ ad pitch reflects how streaming ad prices are set to rise in this year's upfront:
Disney is seeking CPMs for Disney+ around $50.
Hulu, Amazon and Fox's Tubi are also looking to press upfront advertisers to pay up.
Read more about streaming ad prices here.
Four takeaways on Upfront Week from a buyer's perspective:
The upfront market will start quickly but may stay open a while.
TV networks' presentations lacked the usual fall programming schedules.
Read more about Upfront Week here.
Why TV advertising's measurement currency change won't happen in this year's upfront cycle:
The inclusion of alternative measurement providers in this year's upfront deals will be largely limited to tests.
There remain discrepancies among measurement providers and other complications that need sorting.
Read more about TV advertising's measurement currency change here.
As economic uncertainty grows, senior media buyers expect decent upfront pricing options across linear and digital:
One ad buyer said they expect TV networks to secure single-digit-percentage CPM increases.
Warner Bros. Discovery is looking for up to 40% increases in the amount of money advertisers commit with the company in this year's upfront.
Read more about upfront buyers' pricing expectations here.
Flexibility will be a focal point again in this year's upfront negotiations:
Ad buyers want to maintain the looser cancelation options secured in the last two years, while TV networks want to return to firmer terms.
As likely as anything, the two sides will agree to maintain the current terms.
Read more about upfront flexibility talk here.
What we're reading
Streaming's belt-tightening era:
Netflix, Disney and Warner Bros. Discovery are taking steps to rein in their content costs, reflecting the end of streaming's free-spending era, according to Bloomberg.
Netflix's long-term subscriber loss:
While newer subscribers continue to account for a bulk of the customers Netflix loses each quarter, the share is increasing among those who have been subscribers for more than three years, according to The Information.
Warner Bros. Discovery's disruptor in chief:
Former WarnerMedia CEO Jason Kilar may have been described as a disruptor, but the label appears to apply to Warner Bros. Discoveyr COE David Zaslav, who has quickly shaken up the new conglomerate by cutting costs and canceling projects like CNN+, according to The Wall Street Journal.
TikTok's live subscriptions test:
This month TikTok will start testing an option for creators to sell paid subscriptions for people tuning into their live streams, according to TechCrunch.
Candle Media's Spanish-language studio:
A week after Candle Media acquired digital video publisher ATTN:, former Disney executives Kevin Mayer's and Tom Staggs' media company announced it is acquiring Spanish-language TV and film producer Exile Content Studio, according to The New York Times.
Can contextual provide a better solution than cookie-replacement options, asks the MMA
That's what a recent report from marketing industry organization MMA Global and Boston Consulting Group determined as it works to examine the use of modern contextual advertising solutions that obviate the need for third-party alternatives that are being touted by other key industry players.
"The lack of maturity among the solutions, combined with a lack of understanding how to assess the impact by marketers, puts the industry in a real quagmire," said Greg Stuart, CEO of MMA Global. "The solutions just aren't fully established or completely understood yet."
To wit, MMA hosted a series of webinars last year that allowed each cookie solution provider the chance to explain their offering — but industry response to the presentations was that none of them felt fully baked, Stuart acknowledged. That reality, he added, is hindering marketers' ability to back one or the other, be it LiveRamp, ID5, Google Topics or others.
"Most marketers and publishers aren't moving fast enough," said Jeff Green, CEO of The Trade Desk, which has its own ID2.0 solution that it's testing with the IAB. "Many are moving, but there's just so much more to do."
Findings by the MMA/BCG report, which surveyed 150 senior and mid-level marketers and digital executives, include stats that seem to both instill fear in marketers that a substantial amount of work still needs to be done to determine the right solutions — but also reassure them they're not alone. For example:
While nine out of 10 marketers who participated in the report said they are experimenting with cookie replacements, only 12 percent reported feeling fully prepared for a post-cookie future.
Half of the respondents said they plan to stick with cookie-based solutions in the next two years shift to new identifiers.
Among mid-level marketers that took part in the survey, 50 percent said they don't have faith that their CMOs fully grasp the problem and its implications to compliance, targeting and measurement solutions currently in market.
And 40 percent said they plan to increase their spending in search and social media, and not through programmatic options.
The ramping up of first-party data, for now, seems to be the patchwork solution, said Derek Rodenhausen, a partner with BCG. "Marketers know first-party data will be key and they know they will need new solutions when it comes to identity," he said. "The problem is, it's not clear exactly when cookies are going away, what the alternatives will be, or how to best tackle Identity in a post-cookie world."
Thats's perhaps why Stuart said MMA is looking for a completely different solution than either probabilistic or deterministic cookie-replacement tools. The organization is in the process of talking with brands about assessing the value of modern contextual marketing.
"We think the answer to these marketer challenges may lie somewhere else," he said, adding that he's lining up 10 marketers to participate in developing what he called a "consortium initiative for the industry."
A February IAB report on the state of data also found marketers unprepared for the cookie-pocalypse, citing a possible $10 billion hit in annual sales if the industry remains in its current state of mind. The report was said to be more stern than usual in its criticism of its members for dragging their collective heels on finding solutions.
"I don't recall a time when the IAB took such a direct approach to calling out its members," said Insider Intelligence senior analyst Paul Verna, in a report analyzing the IAB's findings. "Whether or not the report results in concrete action is an open question, but there's no doubt the chaotic state of ad targeting and measurement is going to be a priority for ad buyers and sellers in 2022."