Masters of uncertainty: Pandemic's unpredictability is making us adaptable, stronger and more creative, say experts
It feels like the long awaited "freedom" summer, which promised a return to some semblance of normality in the U.S. and U.K., has not resulted in the certainty we all expected. Are we being forced to become masters of uncertainty, and if so, will it make us more resilient? 
From states in the U.S. and Australia to a number of European countries, the virulent delta variant has forced many places to tighten restrictions once more. Meanwhile, vaccination and mask wearing are both proving to be increasingly divisive issues. 
In August, U.S. broadcaster CNN fired three people who arrived at work unvaccinated, while Facebook, Google and Microsoft have also said they require staff to be double-jabbed before returning to their U.S. offices. In England, a number of major retailers, including Tesco and Sainsbury's, are encouraging customers to continue wearing masks in their stores, despite the government having lifted the rule on face coverings in shops. 
It seems one kind of uncertainty has simply been replaced with another. As Keith Bellizzi, professor of Human Development and Family Sciences, at the University of Connecticut said: "The convergence of the public health crisis, polarized politics and cultural reckoning is a perfect storm that, unfortunately, is occurring amidst the backdrop of everyday personal life challenges, such as illness, loss and trauma. If ever a moment called for understanding resilience, this is it."  
Indeed, resilience — the ability to adapt to adversity — is key. As Bellizzi added: "Research has shown that when faced with adversity and uncertainty, resilient people engage with controllable aspects of their lives, they maintain healthy social support systems, they are able to regulate their emotions to help blunt the stressor and they look for the good amid the stress." 
Bellizzi added that people in the U.S. and U.K. have proven capacity to survive tough times. "In fact, survival and resilience is the norm, not the exception. Stories of resilience and thriving has a rich history and we need to remind ourselves that our track record as individuals for getting through rough times is better than we might think."  
Thomas Vosper is a case in point, showing how adversity can breed opportunity. As the first lockdown hit, the 40 year-old U.K.-based retail director found himself staring at a WhatsApp message on his phone saying his employer had gone into administration. He no longer had a job. "My income, my security, gone and a young family to feed. It was the scariest time in my career."
Vosper's sudden change in circumstance prompted him to take control, pursuing a long-held dream of starting his own business. He launched his first company, leveraging 14 years of industry experience — including time at Amazon and Tesco — to found "the wikipedia of product search", a price comparison site called aisle 3.
"Launching a startup in the midst of a pandemic is arguably the most extreme way of becoming a master of uncertainty, but I feel the resilience I needed to develop as a result of this experience will make everything else pale into insignificance," he said. Vosper has already raised more than £500,000 ($684,000) in pre-seed funding, and aisle 3 is serving 2,000 shoppers a day. The company employs 20 people globally.
Others have drawn strength from both personal and professional uncertainty brought about by the pandemic. Elle McAtamney, senior press officer at U.K. money-saving website TopCashback, said her resilience as a manager has been tested while working from home, making her realize that resilience is an ongoing process. "I'm also a people pleaser and a people person. Not having immediate feedback (facially or in person) or having the ability to simply soundboard off others in a moment, has also been testing for me. There have been occasions where I sweated over small things (usually from conversations on Slack) and questioned my abilities," she said.  
Personally, McAtamney has also had to navigate her wedding being postponed twice due to the pandemic. "When it was postponed the first time, it felt strange but manageable. The second time, although stressful, it was anticipated. Therefore, although I was disappointed, I was able to quickly adapt to a can-do attitude – and basically just got on with it." 
Uncertainty has the power to fuel positive change, and even inspire creativity, but only if individuals are able to adapt. As Dr. Michael Bloomfield, anthropologist and co-founder of the Creative Being app said, being resilient is all about adopting an attitudinal stance of consistency and repetition in the face of doubt and failure. While not apparently closely related to creativity, which is about change and disruption, he added that uncertainty is a product of, and a generator of, randomness – which is a core pillar of creative practice. 
"[Uncertainty] ensures the introduction of counterintuitive or surprising information into the creative process," said Bloomfield. "Without a degree of random change and variation, ideas are destined to remain familiar and even conservative. If you look upon uncertainty as an opportunity for discovery of novel things or ways of looking at things, as a driver of randomized divergence, you can reframe uncertainty as a positive and constructive form of fuel for creativity."
It's been a tough year for journalists covering the pandemic, how have you tried to alleviate tensions since you joined in April?
The last 18 months have been extremely tough for everyone and I am extremely impressed by the resilience and creativity the team at JOE have shown. I instigated regular check-ins with my heads of department, restructured our all-team weekly meeting, brought us together for brainstorms and have taken time to get to know each member of the team. Management is taking steps to mitigate Zoom fatigue and make sure teams don't feel the pressure to turn their cameras on. We also hold a company-wide monthly meeting to celebrate success across departments and send out meal kits to every team member so they can enjoy restaurant-quality food at home. We've introduced the Headspace app for all employees, sent out a wellbeing pack, offered free online exercise classes and have plans to do more including mental health first aid classes. By October, we will offer staff the opportunity to return to the office a minimum of three days a week, with two days of home working if they choose.
Has the current state of mental health in the media industry reinforced why news publishers need a diverse range of women from all backgrounds in its top jobs? 
100%. The mental health crisis in our industry is inextricably linked to systemic racism, gender and income inequality that are endemic at all levels. While I'm aware of my white privilege, the macho culture that abounds in newsrooms is something I have experienced throughout my career. I was once told that the only excuse in a newsroom for not filing my copy was death. The comment was dressed-up as a joke, but when I later took leave to attend a family funeral, I found the reality was this extended only to my own death, as I was still expected to file from the wake. I was told to just ignore inappropriate remarks and that the only way to deal with sexism was to scream silently in the toilet. And that if I wanted a pay rise, I should avoid the 'women's mistake' of sharing details of my personal life with colleagues. I'm not sharing those stories to elicit sympathy, but rather to highlight the responsibility those of us in the top jobs have to create a work environment that is an empowering and safe space for all.
Has your view on the qualities a leader needs changed through COVID?
I am committed now more than ever to empowering my team to speak up, make their voices heard and to know it's ok not to be ok. That we will work together to support them, whatever it takes. The pandemic has placed huge stresses on journalists, but it has also given us an opportunity to reflect and re-imagine our working lives. Now, my goal is to build a more inclusive culture that fosters greater awareness of the pressures inherent in doing this job. We have a chance to really ask ourselves what good journalism looks like, and to interrogate the stereotypes around who is capable of achieving that and the attitudes they need to display. The next stage is to scrutinize how much those preconceptions pivot around gender, race and socio-economic background. — Seb Joseph
By the numbers
85% of 3,500 U.S. workers prefer to apply for jobs that offer remote flexibility, 70% of American workers would forfeit benefits to keep remote working status and 61% would take a paycut to do so.
[Source of data: GoodHire report.]

1 in 3 of 509 U.S. parents polled believe schools are reopening too quickly.
[Source of data: Morning Consult's Tracking the Return to School poll.]

9 in 10 out of 752 c-suite executives surveyed said they are seeing more staff quitting than they ever have previously.
[Source of data: PwC Next in Work report.]
What else we've covered
Even before the pandemic, many bosses were eliminating private office spaces, opting to work among employees as if to signal that the CEO role was approachable and collaborative. But as office layouts are being overhauled, any remaining big-cheese offices are getting the chop.

Facing the Great Resignation, hiring managers have worked overtime to figure out how to attract and retain workers. Increasingly, they are finding that providing childcare is a potent selling point.

Management at some media companies want employees back at their desks as soon as possible, yet with productivity levels proven to be high after a year and a half working remotely, employees are questioning why they should return this fall.

This newsletter is edited by Jessica Davies, managing editor, Future of Work.
The 2021 Digiday Awards Shortlist
New audiences, inclusivity and reemergence from quarantine became the backbeat of this year's Digiday Awards shortlist
In what is still a time of uncertainty, with some parts of the world navigating a great reopening and other parts grappling with COVID-19 variants and limited vaccine access (or adoption), the nature of consumer behavior is constantly changing. However, digital media and marketing persist, and the nature of the ecosystems in which they work is now a part of the everyday fabric of the job. As always, the creative teams that drive campaigns for publishers and advertisers adapt. 
The latest installment of the Digiday Awards acknowledges the evolution of an industry, one that has not only transformed because of the pandemic and quarantines but one that has shifted in other profound ways as well. The sweeping calls for advocacy and inclusion have also shaped what the Digiday Awards judges have before them, in October 2021, as does an ongoing industry-wide shift to represent — and reach — younger demographics in the developing spaces they work and play (specifically, mobile and online games). 
Finalists found their gamers in 2021 campaigns
Take, for example, Excedrin, a double Digiday Awards finalist for Best Multi-Platform campaign and Best Strategy Pivot. Working with Weber Shandwick, the pain reliever's program in 2021—  "Game Over for Headaches" — broke through to a new audience by leveraging influential streamers in the gaming space. Excedrin partnered with Twitch to create original content that spoke authentically to gamers. The outcome for the campaign was heightened earned coverage and positive consumer attention, and ultimately "Game Over" became the start of meaningful business results. 
To be sure, Mtn Dew is no stranger to gamers, with its "Game Fuel" slogan securely a part of console culture. As the PepsiCo brand worked with OMD, the media agency fused the caffeinated beverage with game influencer messaging that foregrounded authenticity and premium content. John Cena, professional wrestler and actor, helmed the launch of Mtn Dew Major Melon, the brand's first new flavor in more than a decade, driving interest in the runup to the 2021 Super Bowl and highlighting in-game sweepstakes across every major social media channel. The campaign drove significant sales in Q1 and garnered OMD triple-finalist status in the Digiday Awards — Best Use of Influencer Marketing, Best Product Launch Campaign and Most Innovative Media Agency. 
Brands and media companies maintained the inclusivity beat
From deodorants to swimwear, from soft drinks to cinema, advertisers, media companies and their partners continued to push for expanded representation in their 2021 campaigns.
Degree showcased inclusive design that made its deodorant product accessible to people with different upper-limb abilities and differently sighted individuals. Their campaign told truthful and courageous stories and highlighted how other brands and companies could successfully implement similar changes to their product designs. The 'Degree Inclusive' campaign is shortlisted for Best Product Launch Campaign.
Amazon Studios connected with Imprint Projects and put voter suppression in the spotlight in 2021. 'All In for Voting' included documentary films, an experiential roadshow, and a multi-platform awareness campaign. It touched down at 55 brand-hosted voter registration events and 21 outdoor film screenings in disenfranchised communities. The effort earned Amazon and Imprint a spot among the finalists for Best Multi-Platform campaign.
Body inclusivity and alternatives to hyper-sexualized swimwear were the driving themes behind Summersalt's 'Every Body is a Summersalt Body' campaign. Featuring two dozen accomplished women, the messaging showcased a spectrum of sizes, different sizes, backgrounds, ethnicities, ages, and sexualities to demonstrate that every single body belongs in a suit of its choosing. Summersalt is shortlisted for best Branding Campaign B2C in the Digiday Awards.
Finally, The Coca-Cola Company activated its Sprite brand to make a statement supporting social justice and Black Lives Matter. Partnering with Havas Atlanta, Moxi, and industry influencers, the program gave $50,000 to influencers to give to the causes of their choice. The brand also hosted a series of virtual performances by artists called "Sprite Way" — the shows also gave back, donating funds to independent performance venues via Save Our Stages. The campaign stands among finalists for Best Strategy Pivot.
As cities and travel reopened, campaigns centralized support and safety
With storefront businesses deeply impacted during quarantines, as HBO Max brought on-site film productions back online, they did so with an eye on helping local vendors benefit from having their locales featured on audiences' screens. Dropping giant purple pins with QR codes near the stores filmed on and around locations for its film "In the Heights," customers could scan the codes and redeem rewards from the local businesses. Complete with a micro-site to help people find the pins, the campaign wrapped with a spot on the Digiday Awards shortlist for Best Multi-Platform Campaign.
Expedia knows travel, and as the world cautiously returns to the roads, the air and destinations, the full-service travel site provided inspiration and tips to give travelers confidence in their plans. They also replicated superstar Joe Jonas's hand and distributed 500 of the exact replicas for those who might need a little actual hand-holding on their first trip after quarantine. The campaign, in turn, handed Expedia a finalist spot for Best PR Campaign.
Check out the full shortlist below as we wait for the judges' decisions on all the Digiday Awards finalists.
Best Creative
Tapjoy and Bully Pulpit Interactive – The Biden/Harris 2020 Presidential Campaign
Comedy Central
Verizon and Madwell – The Reset
Land Rover and Outside
twelvenote
Known and Shift4 – Inspiration4
Best Collaboration
SHISEIDO and Dentsu Inc. – "Camellia" The brand film we didn't shoot
Pepsi, NFL and Roc Nation – Super Bowl LV Halftime Show
Genero and Nespresso – Nespresso Talents
Fox News Media and Tunnel to Towers Foundation – Memorial Day Special Branded Content
INNOCEAN USA and Hyundai Motor America – The Un-Adventurers
Digital Dominance and ResMed – Changing lives with every breath
Best Use of Social
Nomadic Agency – Capcom Resident Evil Village Alternate Reality Game
Courageous Studio – AT&T Forces of Change
Initiative – Gen Z chooses Rexona
eos products and Mischief @ No Fixed Address – Cooch Blessings Campaign
Febreze and M Booth – Bedazzling Millennials with a Kardashian Brand Fan
Campfire and The INKEY List – #AskINKEY Campaign
Best Use of Mobile
Buzzer
Tapjoy and Bully Pulpit Interactive – The Biden/Harris 2020 Presidential Campaign
Aki Technologies and Family Dollar
Insider – Rebranding with New Mobile App Launch
(General Mills) Nature Valley & Mindshare – Sensory Ads by RUMBLE
NTWRK
Best Use of Video
Known and TikTok – It Starts On TikTok
CarMax – "Pinch Me"
TV Land
CONVICTS
XX Artists – Ancestry's Kidsplaining Series
Edelman and TAZO Tea (Unilever)
Best Use of Influencer Marketing – NEW
MG Empower and Bumble – #MyLoveIsBlackLove
Collab, OMD and PepsiCo – Late Night Tastebuds
eos products and Mischief @ No Fixed Address – Cooch Blessings Campaign
Zeno Group and Crest – Crest Whitening's Beauty Breakthrough
MTN DEW GAME FUEL – 2020 Gaming Influencer Campaign
Known and TikTok – It Starts On TikTok
Best Product Launch Campaign
Barbarian and Fenty Beauty –  Fenty Eau De Parfum Ghost Stores
NYX Professional Makeup – Shine Loud High Shine Lip Color Launch
Accompany Creative – Launch of Nespresso Premium Single-Origin Coffee Portfolio
Signia & Griffin360 – Signia Active X hearing aid launch
Degree – Launch of Degree Inclusive
OMD and PepsiCo – Launch of Mountain Dew Major Melon
Best Branding Campaign B2B
Insider and ING – Transforming Business/Changemakers' Playbook campaign
Oracle – Wall Street Journal Brand Advertising Campaign
Lycored – Nourishing connections
IDG and Domo – State of the CIO Data Dashboard
Trelleborg
Wistia – Show Business
Best Branding Campaign B2C
Movement Strategy and Klarna
SEEN Connects and Simply Be – Fit For An Icon
GSG and ASICS
Pepsi – Match Me if You Can
InvestingChannel – IG US CONTENT SERIES AWARD
Summersalt – "Every Body Is A Summersalt Body" Campaign
Best Multi-Platform Campaign
ViacomCBS
HBO Max – On Location
Movement Strategy and Looney Tunes
Evoke and Foundation Consumer Healthcare, Plan B One-Step
Imprint Projects and Amazon Studios – "All In For Voting"
Weber Shandwick & Excedrin (GSK Consumer Healthcare) – Game Over for Headaches
Best Search Campaign
Goodway Group and Anytime Fitness
Investis Digital and Happy Valley
In The Know Glossary
Terakeet and Leading Mortgage/Lending Company
January Digital for David's Bridal
Adtaxi
Best Strategy Pivot – NEW
American Century Investments – #ACCFantasyGolf
Weber Shandwick & Excedrin (GSK Consumer Healthcare) – Game Over for Headaches
Havas Atlanta, Social Center (The Coca-Cola Company – North America), Moxie
Warm Street
Atlassian
Hubilo
Best Audio Campaign
Edelman & Good Humor (Unilever)
Velocity, ViacomCBS and LEGO® – Lego Friends Podcast
Nickelodeon and iHeartRadio – Avatar: Braving the Elements podcast
CBS News – My Life Of Crime Podcast
In The Know – We Should Talk
Best PR Campaign
Edelman & Dove (Unilever)
Expedia & Zeno Group – Lend A Helping Hand to Anxious Travelers
Weber Shandwick, Chicago – "Swim Heard Round the World"
Weber Shandwick, Chicago – American Pecans – Super Safe Pecan Debate
Movers+Shakers & e.l.f. Cosmetics – Chipotle Mexican Grill & DayOne Agency
The Martin Agency – UPS and J Balvin #JuntosImparables
Most Innovative Publisher
The Dodo
BDG
WAVE.tv
Dotdash
In The Know
Courageous Studios
Best Gaming/esports Campaign
In The Know Bowl
SHISEIDO, Dentsu Inc. – "Camellia" The brand film we didn't shoot
BEN Group, Electronic Arts, and Velan Studios – Launch of "Knockout City"
Viral Nation – PUBG MOBILE Version Update Launch
Edelman & Edgewell Personal Care (Schick)
Enthusiast Gaming and TikTok – TikTok Gamers Greatest Talent
Most Innovative Media Agency
Known
Kyra Media
Canvas Worldwide
Sela, a PCA Group Company, and OZNaturals
m/SIX
OMD Worldwide
Most Innovative Brand
Pepsi – PepsiCo Beverages North America
Reverb – The Pedal Movie
Lycored – Nourishing Connections
Noom
NTWRK
Known and Shift4 – Inspiration4
Most Innovative Technology Platform
VidMob
Iterable
STN Video
Truthset
Intowow Yieldbooster
Premion
Most Innovative Independent Agency
Movers+Shakers
B-Reel
Imprint Projects
Klick Health
We are Rosie – Welcome To A New Way To Work
SEEN Connects
Leader of the Year
OS Studios – John Higgins, CEO
SEEN Connects – Sedge Beswick, Founder and Managing Director
Bev – Alix Peabody, Founder and CEO
Collectively – Ryan Stern, CEO
PepsiCo Beverages, North America – Greg Lyons, CMO
HUM Nutrition – Walter Faulstroh, Co-founder & CEO
Adobe Photoshop finally comes to the browser, and Chromebooks
Users of Google's Chrome OS have been waiting years — and years, and years, Adobe — for the industry-standard Photoshop image editing tool to become available to them. Today that wait is finally over. Sort of. Adobe announced that subscribers to its Creative Cloud service now have access to a web-based version of Photoshop, which offers a limited selection of tools for editing images and projects stored on Creative Cloud servers.
The system is available to subscribers today in an open beta, with the vector-based Illustrator also available in closed beta testing. The web-based version of Photoshop handles most of the basics of image editing, but power users might find it a bit limited, both in terms of its available tools and its compatibility with long-memorized keyboard commands. (Trying to activate the Free Transform tool with Ctrl-T, for example, merely brings up a new tab.) Adobe calls the tools available on the web "light editing." While genuine Photoshop on the web is a potential game-changer, it's nowhere near as powerful or as flexible as the full version on Windows, Mac, or even iPads.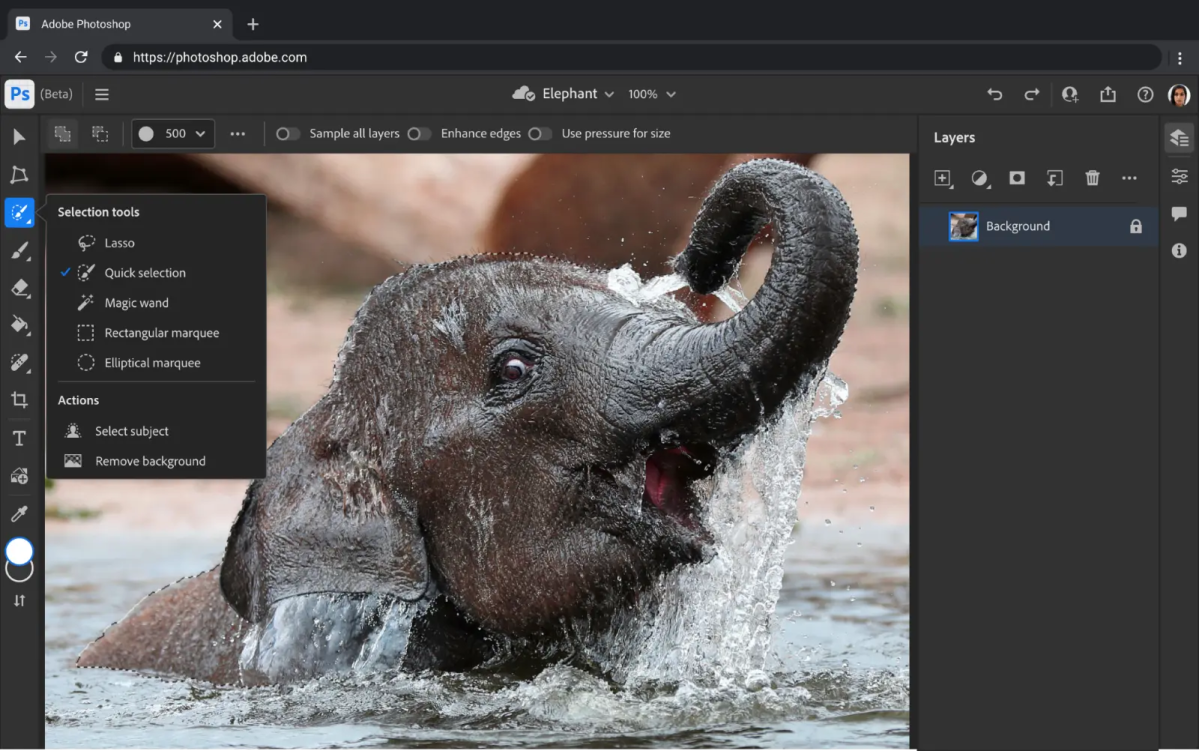 Adobe
Creative Cloud users need to upload editable files to Adobe's cloud-based storage and convert the file before editing it, though the web tool can open basic images from local storage. Sending the files out for viewing and commenting is free, even if you're sending to a user who is not a Creative Cloud subscriber.
Web-based alternatives to Photoshop like Photopea and Pixlr.com have been thriving in Adobe's absence from this market. While an official option will certainly be competitive, free users are likely to remain with these services as long as Adobe charges a subscription fee. It currently costs a hefty $10 a month for the cheapest Creative Cloud plan that includes Photoshop.
In the same post, Adobe announced new products Creative Cloud Spaces and Creative Cloud Canvas. Spaces is a shared repository of files for teams, and Canvas is a sort of digital bulletin board for showing collections of images and documents in the same visual space.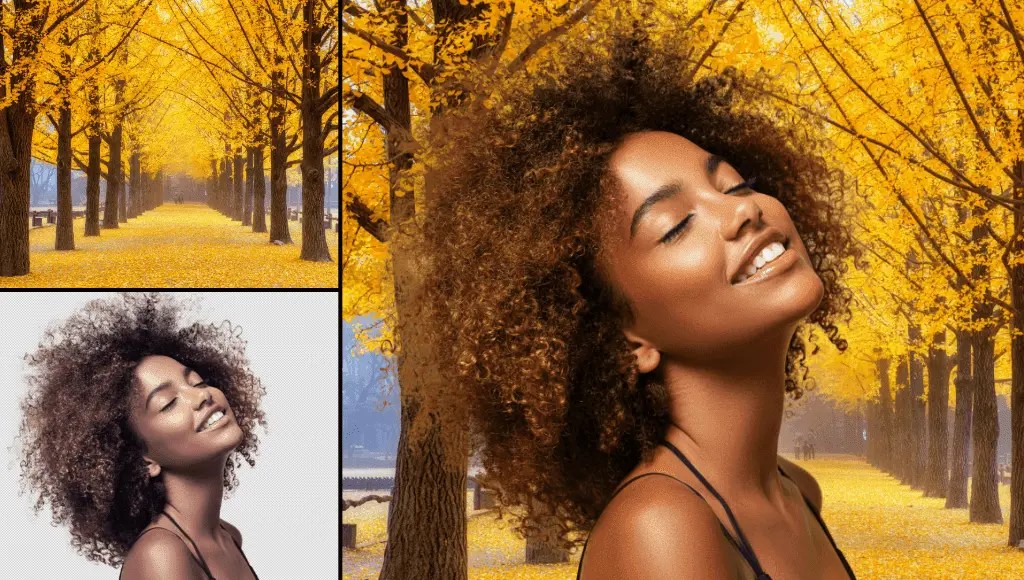 Adobe
Among other product enhancements, Adobe showed off come powerful new upgrades to the desktop version of Photoshop as part of the Adobe MAX demonstration. Object selection tools have become far more powerful, automatically selecting full objects even when there are multiple items in focus on the foreground. Users can also create object masks with a new quick menu tool. A "Landscape Mixer" tool in beta applies a collection of pre-configured filters to any image that can drastically alter the look of lighting and foliage with just one click. Similarly, the "Harmonization" beta tool (above) can match color and tone of backgrounds and foregrounds of any two layers without the need for manual tweaking.
Artists who work in multiple file types will be happy to learn of the new Illustrator Interlop feature. This allows you to copy vector objects from Illustrator into Photoshop while preserving the ability to edit at least some properties, like fill, stroke, blend mode, and opacity. Adobe announced a ton of more subtle upgrades to Photoshop as part of the MAX conference, which you can read about here.
Note: When you purchase something after clicking links in our articles, we may earn a small commission. Read our affiliate link policy for more details.
Michael is a former graphic designer who's been building and tweaking desktop computers for longer than he cares to admit. His interests include folk music, football, science fiction, and salsa verde, in no particular order.
The Rundown: Amazon steps up its courtship of brand advertising dollars at Unboxed
As it continues to hunt for brand advertisers' dollars, Amazon will try to act more like a social network while continuing to think like a marketplace.
The ecommerce giant today announced a clutch of new additions to its advertising ecosystem at Unboxed, the company's third annual advertising conference. Many of the changes seem explicitly aimed at helping advertisers who are focused on driving brand awareness or consideration, rather than strictly sales. 
The key details:
The company launched Brand Metrics, a "self-service measurement solution" that allows advertisers to track how many people are considering their brand and how they stack up to competitors. It also launched a brand lift tool that allows marketers to create studies within Amazon DSP, then send them to a panel of opted-in Amazon shoppers. 
Amazon is also expanding the availability of its marketing cloud to all of its DSP customers. Those customers now have the ability to upload pseudonymized data sets to query alongside Amazon ad campaign data, using either custom queries or by choosing from a library of queries Amazon supplies DSP users.  
The Unboxed announcement included several ad formats that could help performance marketers too, including more interactive ads. For example, customers that hear an ad on Amazon Music through any Alexa-enabled device can ask the assistant software to send them more information about the product advertised; customers that see an ad on IMDBtv through Fire TV can now ask Amazon to send them more information.
Advertisers can now also buy sponsored display ads within Twitch livestreams.
Seeking trust signals
Many of the changes Amazon is making seem designed to boost its customers' engagement with ads and brands.
In addition to the new ad products, Amazon's announcement also included fresh promotion of its "follow" button, which Amazon began testing about six months ago in the U.S. Customers that follow brands within Amazon get notifications when the brand does things like stream live — brands may also have deals for followers surfaced to them on Amazon's homepage. Amazon said there are 20 million follow relationships in place within its ecosystem; as of 2019, there were more than 2 million brands selling on Amazon, according to Marketplace Pulse.
While Amazon will need more people to actually begin following brands, it potentially solves for problems that many kinds of advertisers have long had with Amazon as a marketplace. "What Amazon does really well is drive down customer acquisition cost, but their lifetime value is atrocious," said Ryan Flannagan, the CEO of Nuanced Media, a performance-focused media agency. "Playing with these types of things could improve that."
If follower features and follower counts become more visible within Amazon over time, it should help customers and advertisers begin to think about brands within the platform differently.
"They're layering on these brand metrics because they also want another gauge of credibility," Flannagan said. "Right now, [shopping on] Amazon is a price play. If it becomes a brand play, that changes things."
The store(front) of the future
The addition of the follow button also opens the door for merchants and brands to start treating their storefronts differently. "It'll allow them to treat Amazon stores like their websites," said Peter Vasilakos, director of digital marketplaces at Assembly. "They're going for a social approach."
Amazon's embrace of social sends it back in the direction that large tech platforms are heading, albeit from the opposite direction, with Facebook, Instagram and Pinterest are all adding more native commerce opportunities, and large retailers, including Walmart, looking to do more to grow their advertising ecosystems. "Everything is turning into a marketplace," Vasilakos said.