Netgear reveals the world's first quad-band Wi-Fi 6E router
Netgear
Netgear has announced the first quad-band WiFi 6E router, in the form of the Orbi Quad-Band Mesh WiFi 6E System AXE11000 (RBKE960). Historically, high-performing, hot-rod routers have been tri-band, meaning they have an extra WiFi 5 band to cover the higher channels and offer more throughput for 160 MHz-capable devices. In contrast, every WiFi 6E router broadcasts on the 2.4 GHz, 5 GHz, and 6 GHz frequency bands, hence they are all necessarily tri-band. Unfortunately, this means that you lose that second, higher-throughput 5 GHz band in exchange for a band that very few devices currently use. This doesn't generally matter in any practical sense, but it's worth acknowledging.
Where this new Orbi mesh system diverges from the norm is in adding a fourth band, which will not be used directly by users per se, but will instead be a second 5 GHz band that functions as a dedicated wireless backhaul for the system. In networking parlance, a backhaul is an exclusive data link that functions as a back channel for communication between nodes in a mesh system, preserving throughput for the band used by your devices. Why 5 GHz over 6 GHz for the backhaul? In a briefing, Netgear said it was about range: while the 6 GHz band is currently free from congestion, enabling higher practical throughput, it simply can't be used to transmit as far as devices can on the 5 GHz band.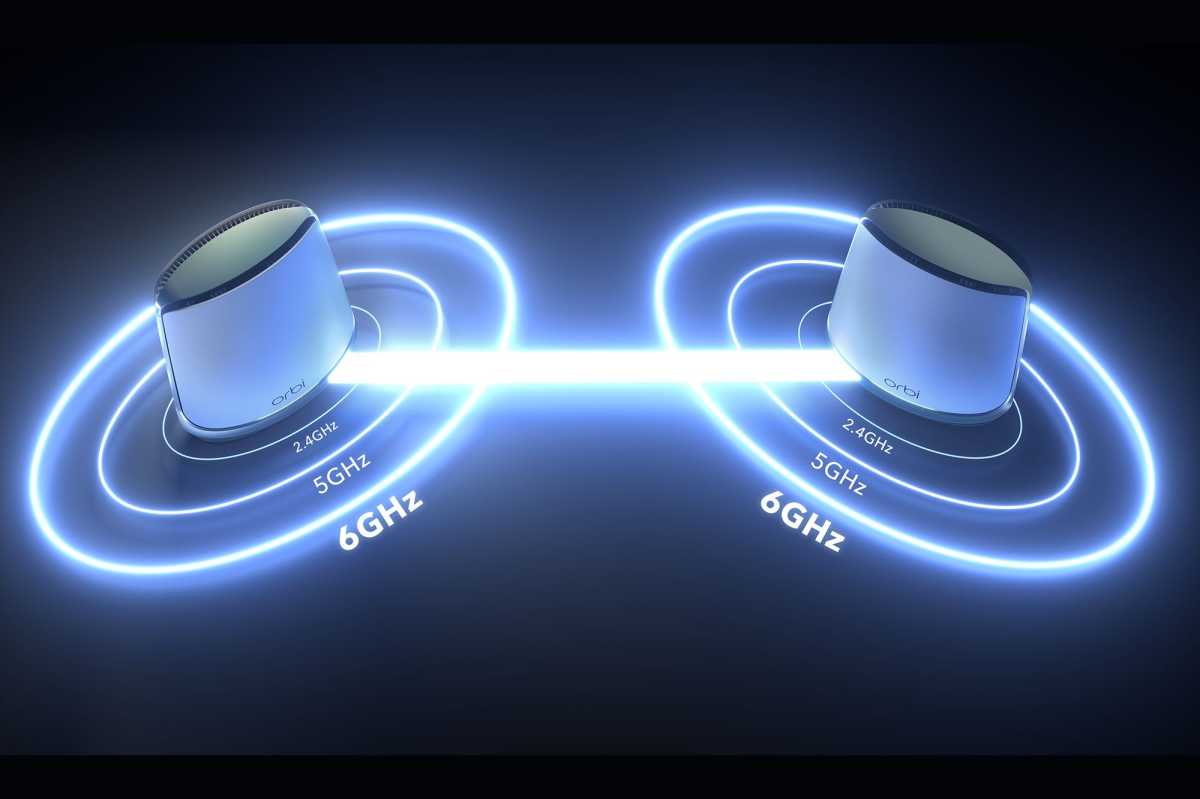 Netgear
This new iteration of the Orbi mesh system is being pitched as a response to the increased upstream throughput needs of today's households. Since the beginning of the pandemic, remote work, digital classrooms, and even socialization via video call have all put much more emphasis on the importance of upload speeds than ever before. Netgear's Orbi also looks quite future-proofed, with a 10Gbps WAN port, a 2.5 Gbps LAN, and three gigabit ethernet ports on the primary gateway and an identical port layout—minus the 10 Gbps WAN port—on each satellite. That's a nice change relative to the previous WiFi 6 version, the RBK853, which has a 2.5 Gbps WAN and four gigabit LAN ports on the gateway router and just four gigabit ports on each satellite unit. That 2.5 Gbps LAN port on each satellite means you can run a very fast wired backhaul—however, doing so will not free up that fourth wireless band for use by your network devices, as Netgear reserves it in the event you'd like to add additional satellite nodes wirelessly to make up a hybrid network.
Netgear
Netgear says their Orbi system is geared toward a good IoT experience as well, offering a separate, WPA2-only IoT network that is unexposed to your home and guest networks for better security and more efficient bandwidth use, and they also claim to have solved issues with fussy IoT devices not rejoining the network after power outages or upgrading router––a pain smart home device enthusiasts know all too well. Beyond a distinct IoT network, you'll also be able to configure a guest network, a combined 2.4 GHz and 5 GHz network for the bulk of your devices, and a 6 GHz network for your fastest devices.
The Orbi system will also use Netgear Armor, Netgear's Bitdefender-powered network security suite, as well as its Smart Parent Controls, which look very much like a network-level version of the iOS Screen Time feature. Additionally, this new Orbi will of course use the updated WPA 3 protocol, which introduces new handshaking protocols and promises to compensate for your bad WiFi passwords by preventing devices on the network from exchanging that password during handshakes, among other important security changes.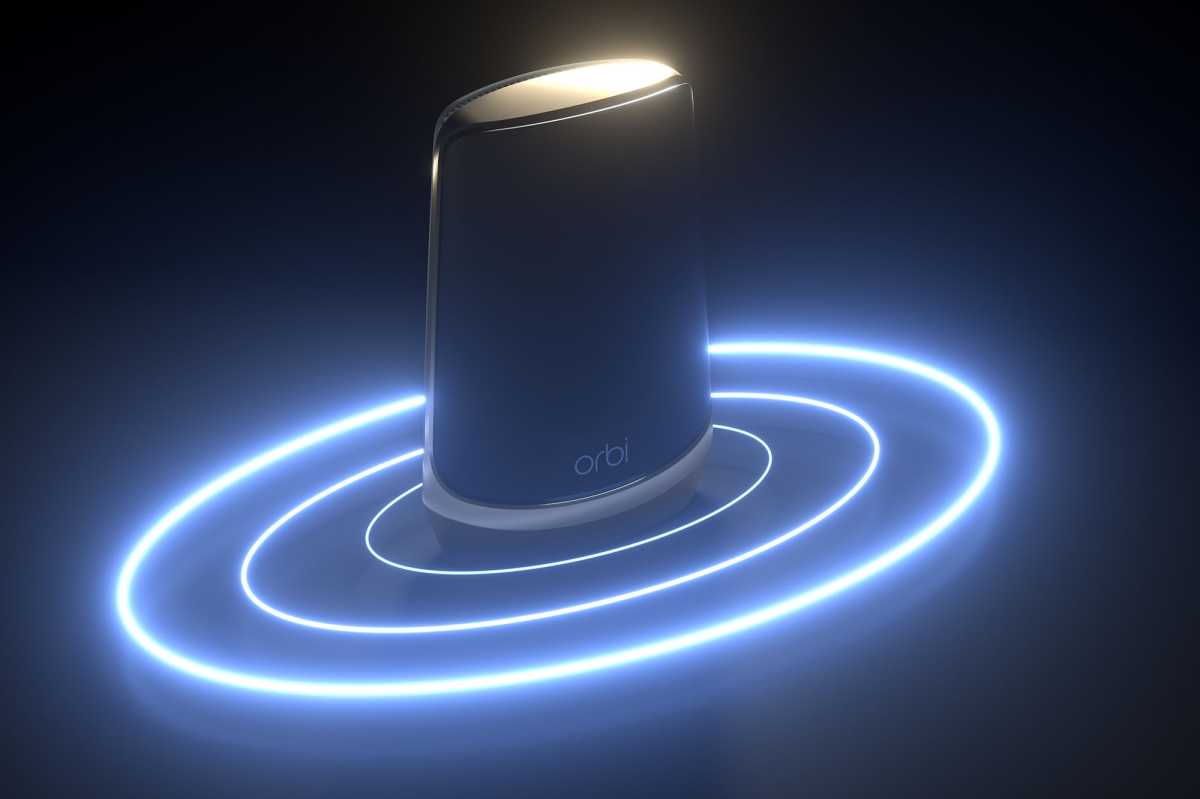 Netgear
Lastly, Netgear is releasing a limited edition black version of the mesh system called—you guessed it—Orbi Black Edition. This version of the routers can only be purchased on Netgear's website. Both variants of the Orbi Quad-Band Mesh WiFi 6E system will be available in three configurations: a single unit, gateway plus one satellite, and gateway plus two satellites, rated to cover 3,000, 6,000, and 9,000 sq. ft., respectively. They are available for pre-order now, with shipments going out later this month, at an eye-popping $1499.99 MSRP for a 3-pack and $599 for each additional satellite. Netgear has not yet announced pricing or availability of a 2-pack configuration.
Note: When you purchase something after clicking links in our articles, we may earn a small commission. Read our affiliate link policy for more details.
Wes Davis is a reformed touring country musician with a longstanding infatuation with technology that began with a Commodore 64, continued with navigating file systems in MS-DOS and writing fantasy novels on a Macintosh Performa 550. Now, his days are occupied with cycling, fatherhood, networking tech, and fixing what ain't broke with smart home gear.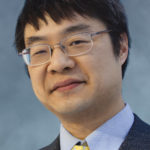 Raymond
In e-mail from Microsoft employees, you may find a stray J like this one at the end of a message from Rico Mariani. Some of you might see it; others might not. What's the deal with the J?
The J started out its life as a smiley-face. The WingDings font puts a smiley face where the letter J goes. Here, let me try: J results in J. As the message travels from machine to machine, the font formatting may get lost or mangled, resulting in the letter J appearing when a smiley face was intended. (Note that this is not the same as the smiling face incorporated into Unicode as U+263A, which looks like this: ☺. Some of you might see it; others might not.)
I recall a story (possibly apocryphal) of somebody who regularly exchanged a lot of e-mail with Microsoft employees and who as a result started signing their own messages with a J, figuring this was some sort of Microsoft slang. The Microsoft employees who got the J-messages scratched their heads until they were able to figure out how their correspondent arrived at this fabulous deduction.
And now, the mysterious J has come full circle, because some people use it ironically, intentionally just writing a J without setting the font, in the same way people making fun of "leet" writing may "accidentally" type "1"s (or even more absurdly, the word "one") into a row of exclamation points.
Transposit unveils CloudOps workflow-building functionality
If someone were to select three terms that represent the frontier of IT in 2021, they might choose: automation, automation, automation.
Others might select user experience (UX), AI, edge computing, CloudOps workflows, or DevOps. They're all legitimate, but the common denominator is automation because each relies to some extent on automated processes.
One would think that next-gen self-service workflows, which are a major enterprise automation IT trend and use the aforementioned functions, would be installed everywhere at the usual-suspect cloud-service providers (AWS, Azure, and Google Cloud Platform) since they themselves are progressive IT consumers. But this isn't the case; a new DevOps player, Transposit, knows it and sees a new niche market.
The San Francisco, California-based startup, which describes itself as a DevOps process orchestration provider, today announced new functionality for its Amazon Web Services (AWS), Google Cloud Platform (GCP), and Azure connectors that it claims to allow engineering and cloud operations teams to move faster and more confidently in enabling self-service infrastructure through automated workflows.
Transposit Actions, as these functions are called, don't have to be used only at a major cloud-service provider. They can be added to any step within an enterprise run book to create automated workflows across diverse stacks so that whichever tools teams are using, the visibility, context, and actionability to use them optimally are right in front of them, Transposit's VP of marketing, Ed Sawma told VentureBeat.
Bringing cloud services into these workflows empowers CloudOps admins to ensure outstanding customer service, UX, and reliability, Sawma said. This is about enabling engineering teams to get immediate access to the services and infrastructure they need to ship software rapidly and safely, he said.
CloudOps workflows get enterprise traction
"First and foremost, the big cloud providers are focused on core infrastructure, storage, compute, and providing those core building blocks," Sawma said. "They've moved up the stack a bit from there, but traditionally they haven't really offered solutions for how you operate the workflow, how you deploy code and run that code.  They know DevOps, they see ICD platforms and continuous delivery platforms, but because it's not the core building blocks of cloud infrastructure, they're not expert in it."
Transposit uses what it calls a "human-in-the-loop" methodology in its specialized platform, Sawma said.
"A lot of what IT and ops teams have to do require a human to think about it and to make some kind of decision, and so we built our platform from the ground up for what we believe should be called intelligence augmentation," Sawma said. "It's like, 'How do we take a human operator and give them superpowers to be able to go and take action across all these hundreds of different tools?'— Which is the complexity of a modern development stack."
Transposit delivers DevOps process orchestration. Its fully integrated, human-in-the-loop approach to automation empowers engineering operations teams to streamline DevOps practices, improve service reliability, and resolve incidents faster. As the glue between tools, data, and people, Transposit claims to codify institutional knowledge to make processes work more efficiently.
Transposit's no-code builder, coupled with developer customization, enables operations to create self-service workflows that let users do everything from provisioning infrastructure to creating new accounts and permissions, Sawma said.
The new functionality for AWS, GCP, and Azure connectors allow engineering and cloud ops teams to immediately access data from cloud services (such as recent deployments, service status across regions, and list instances); to reroute connected cloud services during a disabled server event; and enable service request automation to provision a new EC2 instance, create a new AWS account, or grant new permissions.
VentureBeat
VentureBeat's mission is to be a digital town square for technical decision-makers to gain knowledge about transformative technology and transact.
Our site delivers essential information on data technologies and strategies to guide you as you lead your organizations. We invite you to become a member of our community, to access:
up-to-date information on the subjects of interest to you

our newsletters

gated thought-leader content and discounted access to our prized events, such as Transform 2021: Learn More

networking features, and more
The unsolved mystery of the Earth blobs
Some 2,000 kilometers beneath our feet, there are enormous masses of hot mantle material that have baffled scientists for the last 4 decades.
The blobs, as some scientists have taken to calling them, are the length of continents and stretch 100 times higher than Mount Everest. They sit at the bottom of Earth's rocky mantle above the molten outer core, a place so deep that Earth's elements are squeezed beyond recognition. The blobs are made of rock, just like the rest of the mantle, but they may be hotter and heavier and hold a key to unlocking the story of Earth's past.
Scientists first spotted the blobs in the late 1970s. Researchers had just invented a new way to peer inside Earth: seismic tomography. When an earthquake shakes the planet, it lets out waves of energy in all directions. Scientists track those waves when they reach the surface and calculate where they came from. By looking at the travel times of waves from many earthquakes, taken from thousands of instruments around the globe, scientists can reverse engineer a picture of Earth's interior. The process is similar to a doctor using an ultrasound device to image a fetus in the womb.
"Ultimately, a lot of people believe plate tectonics are one of the reasons why we have life on Earth," said geophysicist Harriet Lau at Harvard University. Scientists believe these blobs play a role in many of the processes of the deep Earth, including plate tectonics and volcanism.
Once researchers began to form a picture of inner Earth, they started to see things they never imagined.
"It was very clear in those models from the get-go that at the bottom of Earth's mantle, nearly halfway to the center, there were these huge zones where the waves traveled more slowly," said Ed Garnero, professor of Earth and space exploration at Arizona State University.
The slow-wave velocity zones are concentrated in two locations: One lies under the Pacific Ocean, and the other sits under Africa and part of the Atlantic Ocean. They appeared like "massive mountains on the core-mantle boundary," said seismologist Sanne Cottaar from the University of Cambridge. Other researchers describe them as conical pits of gravel sitting "all on top of each other" or like giant sand piles. The blobs are so large that if they sat on Earth's surface, the International Space Station would need to navigate around them.
"They're basically unmissable," said seismologist Karin Sigloch at the University of Oxford. "They just show up on everybody's pictures."
There is little doubt that the blobs exist, yet scientists have no idea what they are. A recent paper said the blobs "remain enigmatic." Scientists can't even decide on what to call them. They go by many names, most commonly LLSVP, which stands for large low shear velocity provinces.
Part of the reason for this mystery is what Earth scientists have always struggled with: They will never be able to visit the inside of Earth. "We know less about what's deep below our feet than the surface of the Sun or the Moon or Mars," said University College London researcher Paula Koelemeijer. Scientists are constantly trying to come up with new ways to peek inside Earth indirectly.
Fortunately, technological advancements in sensing miniscule wobbles within Earth, as well as efforts to outfit more locations with instruments, have been propelling the field forward. Several recent studies in cutting-edge techniques are bringing new insights to the table.
Are You Dense or What?
Much of the blobs' mystery hinges on pinpointing what they are made of. Most seismic readings cannot determine the density of the material because changes in wave velocity depend on multiple factors, such as rock composition. Not knowing the density leaves many "doors open," said mineral physicist Dan Shim from Arizona State University.
Shim has seen the debate about the blobs' material raging since he was a graduate student in the 1990s. "I've watched this whole controversy throughout my career," he said. Researchers have argued back and forth about whether the masses are made of dense piles of chemically unique rock or bouncy lava lamp plumes that are headed for the crust above.
Researchers speculate that the blobs may feed hot spot volcanoes, which form ocean island chains like Hawaii. And other scientists wonder if the blobs could have fueled supervolcanoes in the past, potentially contributing to Earth's biggest extinction events. But Shim said that until the density of the blobs is understood, "we cannot go to the next level of questions."
Two recent studies, which found a way to measure density without traditional seismic methods, suggest a more complex view than before.
Earth Doing the Wave
Twice a day, Earth's crust rises and falls with the tides. Although we're more familiar with ocean tides, the solid Earth experiences the same forces as our oceans. As the Sun and the Moon pull on Earth, the entire planet flexes and stretches. In some places, the surface of Earth rises and falls by as much as 40 centimeters.
Scientists can track this movement using highly sensitive GPS measurements. A group of researchers led by Linguo Yuan at Academia Sinica in Taiwan analyzed measurements from GPS stations across the globe over 16 years and found that the Earth tide wasn't what they expected: It seemed to be off-kilter just above where the blobs were located. The tides, they wrote in their 2013 paper, "provide significant information on the solid Earth's deeper interior."
Harriet Lau, a postdoctoral researcher at Harvard University, heard about Yuan's work and saw an opportunity with the global data set. "It just so happens that body tides, or solid Earth tides, are very sensitive to density structure," she said. These tides could fill in the knowledge gap that traveling waves used in seismic tomography could not.
Lau created dozens of models to explain the skewed Earth tides and compared them with Yuan's data. She found that the models that fit the real-world data the best were those with blobs denser than the surrounding mantle. These findings, published in Nature in 2017, argued that the blobs have some sort of "compositional differences" than the rest of the mantle.
Meanwhile, another study suggested the opposite of what Lau's study found.
Paula Koelemeijer began studying normal mode oscillations as a graduate student in 2008. "At the time, not many people were using them," she said, despite the fact that they are a "very powerful way of thinking about the Earth." Normal modes reveal details that more conventional seismic methods miss but are "difficult to develop an intuition for," she said.
Many seismologists analyze waves coming out of Earth, but not all waves act alike. The images that map Earth's interior use what's called body waves. Similar to sound waves that travel through the atmosphere from someone's mouth to another person's ear across the room, these waves travel through Earth from one place to the next.
But there are certain kinds of waves that do not travel as much as they vibrate. This type of wave is called a standing wave, and it's the type that shudders a violin string. "When you're thinking of a standing wave, you're looking at the whole resonating at the same time," said Koelemeijer. "Like, it's a bell that's been hit and it's vibrating as a whole." Earthquakes trigger both types of waves, and seismometers detect them at the surface.
In Koelemeijer's recent study, she picked a type of normal modes called Stoneley modes that vibrate depending on the density of the blobs. Her team analyzed records of ground movement in the days following large-magnitude earthquakes, looking for the low-frequency vibrations of standing waves. Comparing their results with models, they found that the blobs must be less dense than the surrounding mantle to explain several constraints, like the shape of the core.
When asked how the two studies reconcile, the researchers suggested that both papers could be correct.
"One way to perhaps reconcile Harriet Lau and my work is that this dense material is not distributed over a very large depth range," Koelemeijer explained. Perhaps the blobs are densest in a sliver right next to the core, a detail that Koelemeijer could not rule out in her analysis. Lau echoed this suggestion. "I'm not actually worried at all about this seeming contradiction," she said. The results simply help them "fine-tune" their conclusions, she said.
Very 3-D
When seismologist Ed Garnero's wife was pregnant with twins in 2002, he remembers going to the doctor for an ultrasound. Despite the new 3-D imaging technology, he said the low-resolution images on the screen were off-putting. "It looked like the brains were floating off to the side. It was really weird," he said.
In seismic tomography, researchers deal with similar problems. The blobs received their nickname partly because of their soft, lump-like shape in seismic tomography maps. But what if their structure was actually more delicate? And could knowing the shape of the blobs better help researchers constrain their density?
Last December, doctoral student Maria Tsekhmistrenko from the University of Oxford presented some of the most revealing images of the structures to date. At a session at AGU's Fall Meeting, Tsekhmistrenko showed her seismic tomography maps of about half of the blob under Africa. The images come from an extensive seismometer project that deployed sensors on the ocean floor around Madagascar.
Using a collection of different types of waves, Tsekhmistrenko revealed the jagged and angled sides of the blob and its plumes above it, showing very little of the softness suggested by earlier tomography maps. Taken together, the whole structure looks like a tree that branches up to hot spot volcanoes at the surface, said Tsekhmistrenko's adviser, Karin Sigloch.
At first, Tsekhmistrenko said that they didn't believe what they saw. "We worried that something was wrong with my data," she said. Then she realized they were correct, even though "it looks different than expected."
"Very 3-D," she added.
Garnero, who saw the presentation, said that it was "the best Earth interior imaging presentation I've seen at AGU." He added that scientists who study the movement of the inner Earth, called geodynamicists, may be excited to get their hands on Tsekhmistrenko's images.
"The slope of that structure turns out to be hugely important in constraining its density," he said. "That's really important for dynamicists." Tsekhmistrenko has already heard from one geodynamicist planning to simulate the structures in a future model.
Looking Inward
Despite critical advances in seismology, the quest to understand the blobs is "an inherently interdisciplinary problem," said geologist Ved Lekic of the University of Maryland.
Mineral physicists, for example, measure how waves travel through rocks under extraordinary pressures to improve seismology models. Geochemists scour Earth to collect rocks from volcanoes, looking for clues of unique chemical reservoirs that could be linked to the blobs. And modelers construct intricate webs of code to evolve the mantle over billions of years, simulating how the blobs came to form.
Whatever the answer may be, peering under Earth's crust may give researchers a way to contemplate our earliest beginnings. "These questions are very romantic in some ways," said Harriet Lau. "I'm so inspired by questions that go to the root of existence and the universe."
Earth is the only planet known to contain plate tectonics, and recent research has suggested that tectonics may help sustain life by delivering a steady stream of nutrients, like nitrogen and phosphorus, to the surface. And yet researchers aren't sure what causes plate tectonic movement, let alone the blobs.
"I think that their real fundamental and philosophical appeal is their mystery," said Lekic. "They're among the largest things inside the Earth, and yet we literally don't know what they are, where they came from, how long they've been around, or what they do."
Ultimately, the road to uncovering the mysteries may be long, said Garnero. "This is a slow-motion discovery, it's a community thing," said Garnero, who has worked on the blobs for the last 15 years.
Read More
• Evaluating the Resolution of Deep Mantle Plumes in Teleseismic Traveltime Tomography

• Fat Plumes May Reflect the Complex Rheology of the Lower Mantle

• Strongly Anisotropic Magnesiowüstite in Earth's Lower Mantle

Lau, who plans to study the blobs as she begins her professorship at the University of California, Berkeley, later this year, said she isn't fazed by the mystery. "I think science is incremental, and that's why, for example, Paula Koelemeijer's results didn't particularly faze me," she said. "I was actually more excited rather than anything else."
—Jenessa Duncombe (@jrdscience), News Writing and Production Intern
Citation:
Duncombe, J. (2019), The unsolved mystery of the Earth blobs, Eos, 100, https://doi.org/10.1029/2019EO117193. Published on 27 February 2019.
Text © 2019. AGU. CC BY-NC-ND 3.0
Except where otherwise noted, images are subject to copyright. Any reuse without express permission from the copyright owner is prohibited.