Nvidia finally responds to melting RTX 4090 cable controversy
Nvidia finally broke its silence and says improperly seated 12VHPWR connectors are largely to blame for those GeForce RTX 4090 power cable meltdowns.
The company, which thus far has been mum other than to confirm it was investigating the problem, issued a statement to Gamers Nexus that also confirmed how many cases it knows of.
"We are actively investigating the reports. We are aware of about 50 cases globally," a company spokesperson told Gamers Nexus editor-in-chief Stephen Burke, according to a video Gamers Nexus posted to its YouTube channel Friday morning.
"Our findings to date suggest that a common issue is that connectors are not fully plugged into the graphics card," Nvidia told Burke. "To help ensure the connector is secure, we recommend plugging the power dongle into the graphics card first to ensure it's firmly and evenly plugged in, before plugging the graphics card into the motherboard."
Nvidia officials also told Burke that returned cable adapters all appeared to show wear damage indicating they weren't fully seated. The company also posted its statement on its customer help page where it shows what a properly inserted cable looks like.
Nvidia's statement largely seems to back up what Burke and his team discovered yesterday: An excessively loose 12VHPWR connector in the GPU can lead to high temperatures which melts the connector.
In the Gamers Nexus investigation, the failed connectors Burke obtained often had physical damage, indicating the plug had largely backed out of the GPU. Gamers Nexus also largely concluded that debris from manufacturing, as well as debris caused by consumers possibly inserting and removing the connector, could possibly cause the RTX 4090 cables to melt but the most likely cause was a loose connector.
Others, including Techlab.net.br's Ronaldo Buassali and Jon Gerow, Director of Research at Corsair, had done their own testing previously and concluded the connector is well able to handle the current being pushed through it—so long as it is fully connected.
Of course, the lingering question is whether the improper insertions stem from an underlying connector design issue or not. With evidence now clear that the cable is capable supporting the power behind it, many are wondering if the latch could be improved or not.
Nvidia officials did tell Burke that "We are investigating additional ways to ensure that the connector is secure before powering on the graphics card."
Brad Chacos/IDG
Other ideas have been floated, such as having the cards refuse to post if the sense pins on the plugs are not fully seated. The PCI-SIG group, in fact, has been said to be considering design changes to the new plug.
Nvidia also responded to concerns by consumers that it would not honor warranties if a consumer uses a "third-party adapter" 12VHPWR connector, such as the custom and modded right-angle cables people are buying in hopes of avoiding a melted connector. That raised concerns Nvidia and board partners would then not honor a warranty if the native 12VHPWR connector on a new PSU was used.
In a statement released to PCWorld a company spokesman said the concern was unwarranted. "NVIDIA and our partners are committed to supporting our customers, regardless of the cable or power supply used," an Nvidia spokesman said.
Perhaps more importantly, Nvidia also told Gamers Nexus that it and partners would honor RMAs from cards damaged by improper insertion. "Anybody who has an issue [relating to this] will be taken care of," the company told Burke. "We'll expedite an RMA."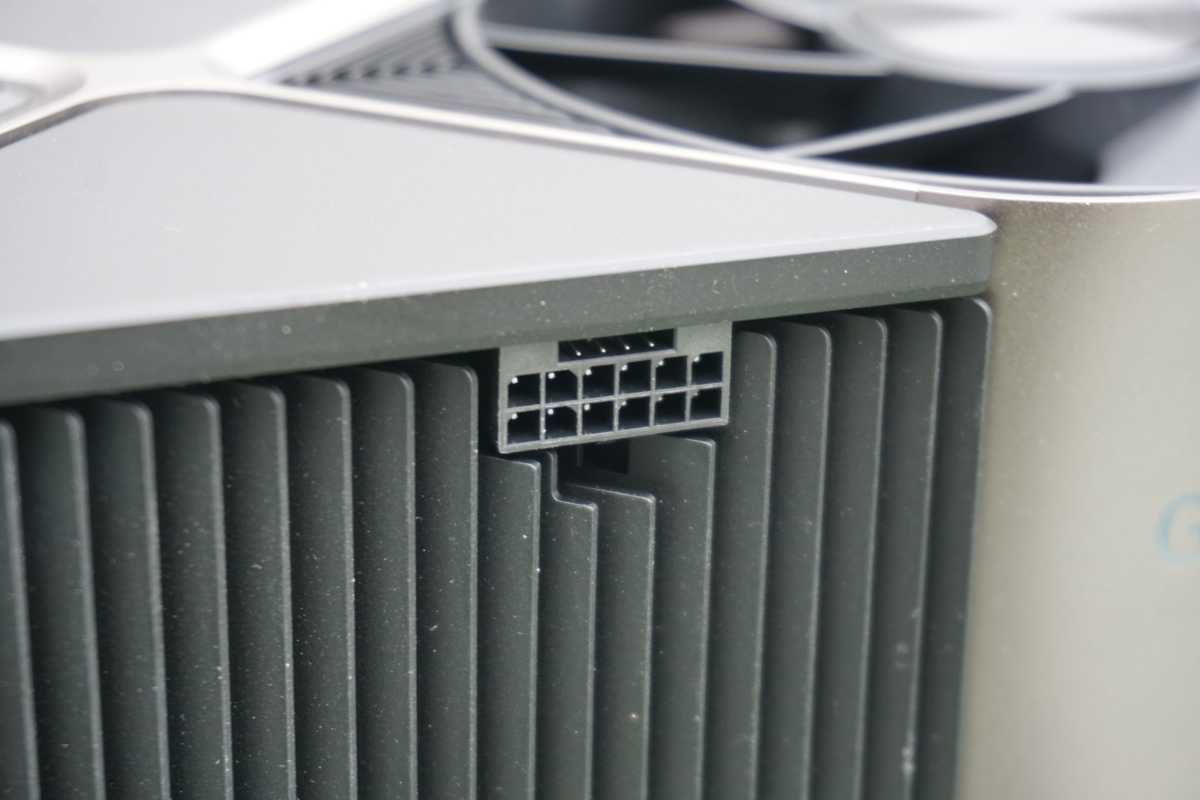 Brad Chacos/IDG
So how many GeForce RTX 4090 cards suffered from melting connectors? Gamers Nexus reports that board partners have told it 125,000 GeForce RTX 4090 cards have been sold, which would put the known failure rate at 0.04 percent, Burke said.
The statement comes a day after a GeForce RTX 4090 owner apparently filed a class-action suit against Nvidia over the melting connectors, according to a report in Tom's Hardware. 
Lucas Genova filed his suit on Nov. 11 and alleges that Nvidia "marketed and sold the RTX 4090 with a defective and dangerous power cable plug and socket, which has rendered consumers' cards inoperable and poses a serious electrical and fire hazard for each and every purchaser." 
Stocking stuffer alert: Get 20% off Roblox gift cards for Cyber Monday
Amazon
Chances are, someone in your life plays Roblox—very likely younger gamers having a blast in the platform's endless player-made games. And if you're feeling generous, you could expand their horizons with an infusion of Robux, the in-game currency that helps the developers to keep the lights on and lets fans enhance their experiences with customized in-game items and abilities. If you want to help fuel your child's budding digital pizza empire, right now at Amazon, select digital Roblox gift cards are 20 percent off.
You'll spend just $20 for $25 in credit, $24 for $30 in credit, or $32 for $40 in credit. You can purchase up to two per amount, meaning that if you need to, you can buy multiples to gift your loved one. Bonus: You also get a free virtual item when you redeem a Roblox gift card. (Hope you like Thanksgiving, because that's the theme you'll be working with here.) These cards cannot be used for Roblox Premium, however.
These digital codes arrive almost immediately (within 5 minutes), so if you need a quick gift, you're easily covered. Not bad as a start to the holiday gift shopping season!
Alaina Yee is PCWorld's resident bargain hunter—when she's not covering PC building, computer components, mini-PCs, and more, she's scouring for the best tech deals. Previously her work has appeared in PC Gamer, IGN, Maximum PC, and Official Xbox Magazine. You can find her on Twitter at @morphingball.
This game-ready 1440p Dell monitor is a cool $150 on Cyber Monday
Dell
Amid the scores of monitor deals (and so-called "deals") during Black Friday and Cyber Monday, only just a few budget models are worth a look. The best of them is a humble 27-inch Dell model, which sports a 1440p resolution and 75Hz refresh rate. Now down to an incredible $150, it's considerably cheaper than its best sale price earlier this year, and 37 percent off its current list price.
This IPS panel is not officially marketed as a gaming monitor, but it's plenty capable of it, thanks to a refresh rate over 60Hz and support for FreeSync. AMD's variable refresh rate tech makes the refresh rate of your display match the frame rate output of your graphics card, making for ultra-smooth gaming. Once you try it, you won't want to go back to a monitor without such a feature.
Another bonus: The thin bezels on the Dell S2721D work well in multi-monitor setups. Not saying you need two (or more…), but if you're an office drone who can make use of more screen real estate, it won't cost as much to upgrade your desktop setup.
Heads-up, though: This deal is a limited time offer, and expires in just six hours or when stock runs out (which ever comes first). If you're tempted, don't delay too long in jumping on this deal, as you could miss out.
Alaina Yee is PCWorld's resident bargain hunter—when she's not covering PC building, computer components, mini-PCs, and more, she's scouring for the best tech deals. Previously her work has appeared in PC Gamer, IGN, Maximum PC, and Official Xbox Magazine. You can find her on Twitter at @morphingball.
Missed out on the Powerball? This puzzle might help, and it's $20 today only.
StackCommerce
It's that time of year again. You were hoping to win the Powerball to show off big at Thanksgiving and rub your new riches in your cousin Darryl's face. Instead, you're out a few bucks, and Darryl got a promotion again. Well, life's not all about constantly upgrading and winning money. But it sure can't hurt.
So, this year, why not take an additional foray with Lady Luck with The 2 Million Dollar Puzzle, a unique prize puzzle? Today only, you can get it for the Black Friday doorbuster price of just $19.99. Prices will return to normal after that, but with limited inventory, we might sell out before the sale ends!
As the name suggests, this puzzle might pay you a lot of cash. Designed by MSCHF, the makers of The One Million Dollar Puzzle, this puzzle doubles down on the original best-seller by offering two grand $1,000,000 prizes. And all you have to do is complete a puzzle. Scan your 500-piece completed puzzle (it's a giant QR code), and you'll find out immediately how much you've won. Prizes can run as low as $1, but with several prize tiers, you might get a nice chunk of change.
Right now is your chance to get The 2 Million Dollar Puzzle at its Black Friday weekend doorbuster price: just $19.99 (reg. $30). But act fast because this deal ends tonight, and we might sell out well before then!
The 2 Million Dollar Puzzle – $19.99
Prices subject to change.