PDF Studio Pro review: Now with new productivity hacks
At a Glance
Expert's Rating
Pros
Time-saving automated actions
Excellent PDF creation and editing features
Cross platform
Our Verdict
With a new session manager, automated actions, and other productivity improvements PDF Studio Pro 2022 holds its own against Acrobat and its strongest alternatives. It also ranks as one of the most affordable PDF editors.
Best Prices Today: PDF Studio Pro
When we last checked in on Qoppa's PDF Studio Pro, it had been given a much-needed cosmetic makeover. The clunky, dated interface of previous versions was replaced with a more modern Office-style interface that made its deep set of PDF editing tools much easier to find and use. The upgrades introduced in PDF Studio Pro 2022 aren't nearly as dramatic, but they will make working with PDF documents simpler and more efficient.
Features
PDF Studio Pro 2022 continues to offer everything you need to manage PDFs. You can create PDFs from scanned paper documents or by converting Microsoft Office files, plain text, and several image files types. It provides a comprehensive set of review and markup tools such as highlighting; sticky notes; text boxes; and graphical, audio, and freehand annotations. And you can secure your documents with passwords, permissions, encryption, and digital and electronic signatures. The ribbon interface also remains largely unchanged, keeping the program's many editing tools intuitively organized among 11 task-based tabs.
Most of the new features Qoppa has introduced with this version are designed to enhance productivity for advanced and professional users. The most significant of these deal with the issues of performing the same actions over and over.
This review is part of our best PDF editors roundup. Go there to learn about our testing and how all the competitors performed.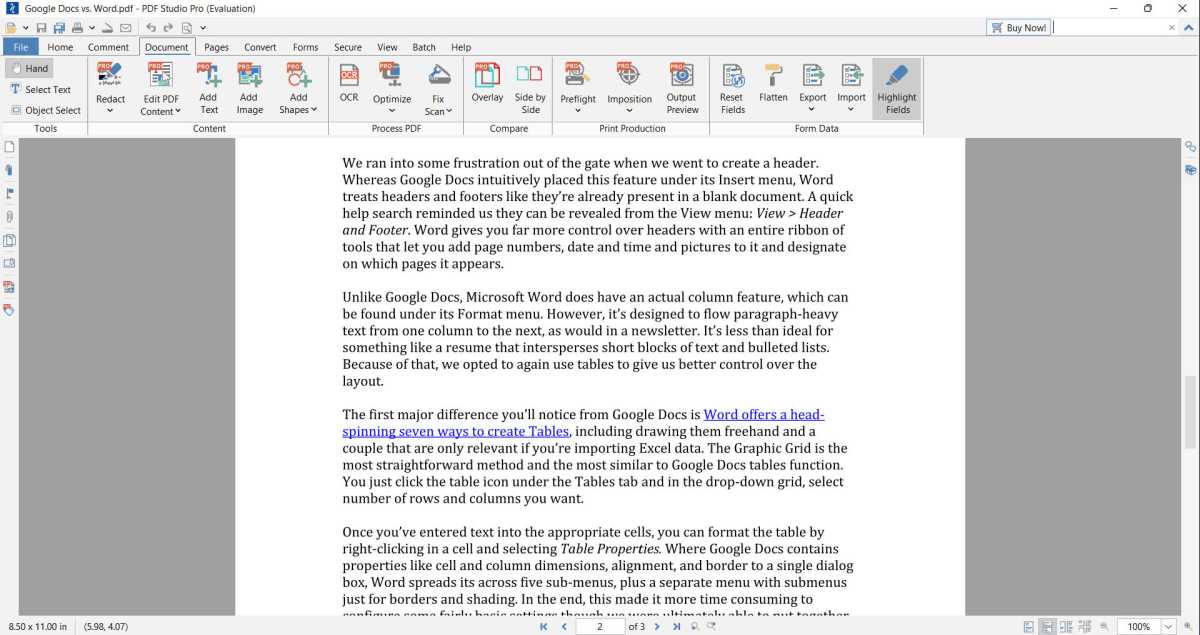 Michael Ansaldo/IDG
A new Action Wizard, for example, allows users to automate repetitive tasks that they need to perform on PDF documents on a regular basis. You can create your own custom actions by selecting however many commands or functions you need and pre-setting them with specific options. To create an action for converting a scanned document into a PDF with searchable text, for example, you would include steps to optimize the file, perform OCR, and save the file as a PDF. The saved action could then be implemented with a single click to apply all the recorded steps to a single document or a set of documents in a fraction of the time it would take to perform each task manually.
The new Session Manager is also a time-saver for PDF power users. It enables you to save all the in-progress documents you currently have opened in the editor as a session and reopen them later with a single click. This restores the various documents within the same frames and in the same document tabs similar to how your favorite web browser can restore your previous browsing session. PDF Studio Pro also automatically saves your last session every time you exit the application. Sessions can be named, searched, and deleted.
If you often work with large, multi-page documents, you'll find the new Automatic Table of Contents Generation a welcome addition. It allows you to build a table of contents directly from a PDF's bookmark tree with a single click. You can customize the table's fonts, format, and margins to your specifications, and page labels are supported when present in the document in lieu of page numbers.
Michael Ansaldo/IDG
PDF Studio Pro 2022 also includes a bevy of less flashy performance and usability enhancements that nonetheless streamline the user experience. PDF's can now be converted to Word on all platforms without the need to have Microsoft Word installed on the device. Improvements to the comments pane make it easier to navigate, review, and respond to annotations and comments. And prepress and print production functions such as color separation in output preview, PDF/X Conversion, and a new option to customize the PDF/A Mode have been added.
PDF Studio Pro is available for Windows, Mac, and Linux for $139 for a single license. A Standard version scales down some advanced features and the price: It's just $99. Bulk discounts and free trials are available for both versions.
Bottom line
PDF Studio Pro 2022 is a strong challenger to Adobe Acrobat Pro and even slightly more pricey alternatives like Nitro Pro. It's also one of the few cross-platform alternatives available. If you're looking for a capable, affordable PDF editor, don't pass up this one.
Best Prices Today: PDF Studio Pro
USB logos finally make sense, thanks to a redesign
For years, USB technologies have been an alphabet soup of terminology—when, really, all consumers care about is how fast the USB connection is. But now, finally, a new USB logo scheme solves this problem.
The USB Implementors Forum unveiled new logos on Friday for laptop ports, chargers, and cables that actually try to communicate what each one does. It's a far cry from the nightmare naming scheme that the USB-IF implemented in 2009. It's worth noting that the names of each specification apparently haven't changed, but the logos have, and that's all that matters.
USB-IF executives said the new logos were established alongside the new 240W USB-C power specification, which can now charge USB-C powered laptops at the levels required by even some gaming laptops. Now, the various USB specifications are defined by their speed. Charging specifications are defined by their wattage, with logos that actually indicate this.
"With the new higher power capabilities enabled by the USB PD 3.1 Specification, which unlocks up to 240W over a USB Type-C cable and connector, USB-IF saw an opportunity to further strengthen and simplify its Certified Logo Program for the end user," said Jeff Ravencraft, USB-IF President and chief operating officer, in a statement. "With our updated logos, consumers can easily identify the USB4 performance and USB Power Delivery capabilities of Certified USB-C cables, which support an ever-expanding ecosystem of consumer electronics from laptops and smartphones to displays and chargers."
Check out the new logos, which will be used on packaging, ports, and device power ports:

About the only drawback? There's no obligation for device makers to actually inscribe the logo on their laptops, which could mean a continuation of the confusion around ports.
The new USB cable logos also feature clear communication of their speed as well as their charging capabilities. The big question is whether these cables will support Thunderbolt, or DisplayPort, or USB4 —any of the protocols, that is.
Finally, there are the charging logos, which again state what the device is capable of.

If nothing else, this is a huge step forward for clarity, communicating to the consumer what they're buying. The only real regret is why this wasn't implemented years ago.
Cheaper OLED monitors might be coming soon
OLED monitors, with their vibrant colors and perfect black levels, are some of the very best screens you can connect to your PC. Unfortunately, they're also crazy expensive: with only a few models on the market, the cheapest is still more than a thousand bucks. That might be changing soon, if a report on OLED mega-manufacturer LG Display is accurate.
OLED-info.com quotes unconfirmed news out of China's manufacturing sector, saying that LG is ready to start manufacturing smaller OLED panels for smaller TVs and computer monitors. Specifically, it's preparing to ramp up smaller displays using the cheaper WOLED panel technology, which can be produced much more economically than the older types of OLED panels seen in high-end televisions.
Despite being ubiquitous on smaller gadgets like phones and smartwatches, and extremely popular in high-end televisions, OLEDs have been slow to come to the PC market. We're just starting to see them become a popular option on more and more laptops, but you can count the number of commercially available desktop OLED monitors on one hand. And, of those, LG's own offerings have been focused on the ultra-high-end professional media market — it's only this year that the company has begun supplying panels for gaming monitors to companies like Alienware and Corsair.
While we can't verify the news without a more conventional source, it makes sense. The high-end television market is currently saturated (no pun intended) with OLED screens since there's been relatively little innovation in the last few years and huge numbers of consumers upgraded their home theaters during the pandemic. OLED manufacturing technology is poised to go bigger (or rather, poised to hit the midrange between small and big) after spending a decade maturing in the mobile electronics market.
If all goes well, we might begin to see more affordable OLED monitors announced at trade shows like CES, E3, and Computex in 2023, with models hitting the market in the summer or fall. Keep your fingers crossed for some display bargains.
NASA Says Hurricane Didn't Hurt Artemis I Hardware, Sets New Launch Window
NASA's Artemis I moon mission launch, stalled by Hurricane Ian, has a new target for takeoff. The launch window for step one of NASA's bold plan to return humans to the lunar surface now opens Nov. 12 and closes Nov. 27, the space agency said Friday. 
The news comes after the pending storm caused NASA to scrub the latest Artemis I Iaunch, which had been scheduled for Sunday, Oct. 2. As Hurricane Ian threatened to travel north across Cuba and into Florida, bringing rain and extreme winds to the launch pad's vicinity, NASA on Monday rolled its monster Space Launch System rocket, and the Orion spacecraft it'll propel, back indoors to the Vehicle Assembly Building at Florida's Kennedy Space Center. 
The hurricane made landfall in Florida on Wednesday, bringing with it a catastrophic storm surge, winds and flooding that left dozens of people dead, caused widespread power outages and ripped buildings from their foundations. Hurricane Ian is "likely to rank among the worst in the nation's history," US President Joe Biden said on Friday, adding that it will take "months, years, to rebuild."
Initial inspections Friday to assess potential impacts of the devastating storm to Artemis I flight hardware showed no damage, NASA said. "Facilities are in good shape with only minor water intrusion identified in a few locations," the agency said in a statement. 
Next up, teams will complete post-storm recovery operations, which will include further inspections and retests of the flight termination system before a more specific launch date can be set. The new November launch window, NASA said, will also give Kennedy employees time to address what their families and homes need post-storm. 
Artemis I is set to send instruments to lunar orbit to gather vital information for Artemis II, a crewed mission targeted for 2024 that will carry astronauts around the moon and hopefully pave the way for Artemis III in 2025. Astronauts on that high-stakes mission will, if all goes according to plan, put boots on the lunar ground, collect samples and study the water ice that's been confirmed at the moon's South Pole. 
The hurricane-related Artemis I rollback follows two other launch delays, the first due to an engine problem and the second because of a hydrogen leak.
Hurricane Ian has been downgraded to a post-tropical cyclone but is still bringing heavy rains and gusty winds to the Mid-Atlantic region and the New England coast.