Qualcomm's Snapdragon 8 Gen 2 chip leans on AI to supercharge smartphones
With AI capabilities — and not just compute power — becoming key features of smartphones and even PCs, Qualcomm's new Snapdragon 8 Gen 2 smartphone chip leans heavily on how AI can improve photos and your other mobile experiences, executives said. Key additions include real-time hardware ray tracing, the ability to sense and optimize different "layers" in your photos, and massive connectivity upgrades whose throughput will likely outpace your home Internet connection.
Specifically, AI will be used to power a number of new experiences in Snapdragon-powered phones, which will debut this fall. Smarter cameras will try to interpret what you're shooting and enhance it before you even take the picture, not afterwards, executives said. What Qualcomm now calls an "always sensing" camera will also remain in low-power mode, scanning the world around it; you'll be able to hold up the phone to scan an QR code even if the phone is in standby mode, they said. The phone will also use its AI capabilities to improve cellular connections, as previous phones have done.
So far, Qualcomm hasn't said much about the Snapdragon 8 Gen 2 Arm chip, though the company promises more details will be added during its Snapdragon Technology Summit, going on now in Maui, Hawaii. Qualcomm launched the Snapdragon 8 Gen 1 last year, and the capabilities of the chip, as well as its name, imply an upgrade rather than a generational refresh.
From an overall performance perspective, Qualcomm claims that the Hexagon DSP, which powers its "Snapdragon Smart" features, will be 4.35 times faster than the Gen 1 chip. Its integrated Kryo CPU cores will be 35 percent faster (and offer 40 percent more power efficiency) while its Adreno GPU will offer up to 25 percent faster performance.
But it's fair to say that the Snapdragon 8 Gen 2 will likely power your next Android smartphone. Qualcomm has relationships with most smartphone suppliers, including Samsung, though the latter was not in a list of names of companies expected to use the new platform. Qualcomm's Snapdragon 8 Gen 2 partners include Asus Republic of Gamers (ROG), Honor, iQoo, Motorola, Nubia, OnePlus, Oppo, Redmagic, Redmi, SHARP, Sony, vivo, Xiaomi, Xingji/Meizu, and ZTE, the company said.
Qualcomm's Snapdragon 8 Gen 2: what's in it?
The design of the Snapdragon 8 Gen 2 slightly differs from Gen 1. Qualcomm didn't break down the details of the individual cores, but executives told reporters that there will be a single 3.19GHz "prime" core, the Arm Cortex-X3, and four performance cores, running at 2.8GHz. Cisco Cheng, the senior director of product marketing for Qualcomm, said that the four performance cores — which have been rumored to be the Cortex-A715 — are made up of "two distinct architectures" that can support both 32-bit and 64-bit applications. Another key difference is that there are only three "efficiency" cores, rather than four, which are designed for low-power, background tasks.
Qualcomm
Rival MediaTek, which is vying to push Qualcomm out of premium smartphones, disclosed its own Dimensity 9200 chip earlier this month. It too, is based on Arm, and its performance core runs slightly slower at 3.05GHz.
AI powers photos, and more
Most smartphone chips share some commonalities between PC processors, namely the inclusion of a CPU or compute core, graphics, and wireless I/O. To underscore the point that AI is a key driver of the chip, however, Qualcomm disclosed that it has included what it calls a "Hexagon direct link," which basically can use the Hexagon core to inject AI into the chip's other capabilities.
Snapdragon chips already include a Sensing Hub, which controls everything from sensors that detect your presence and gaze, gestures, ultrasound and more. Cheng said that the Sensing Hub's AI capabilities have been doubled again, with a second AI core, also providing 50 percent more memory for processing more information.
It's the camera, though, where AI is typically applied, and where you'll see the most benefit from AI. With the Snapdragon 8 Gen 2, the camera's "cognitive" image signal processor (or ISP) will run what Qualcomm calls a "realtime segmentation filter," where it will try and interpret the various "segments" of what the camera is seeing. What this will mean, executives said, is that the camera will try to put a photo of a nature scene in its best light as you're previewing it with the camera, understanding the part of the photo that's the "sky," the part that might be "grass" or a "face," and so on.
"It's trained to understand facial landmarks like face, eyes, and glasses," Cheng said. "It can understand the background and then take these layers and adjust it in real time so that you get these compelling images. This is essentially precise Photoshop edits, in real time."
In the Snapdragon 8 Gen 1, the company referred to the camera connection as an "always on" connection, which had creepy connotations. It doesn't appear that the Snapdragon 8 Gen 2's camera has changed that much — just the terminology. Still, being able to scan a barcode without logging into the camera, loading the camera app, then scanning the code is a plus.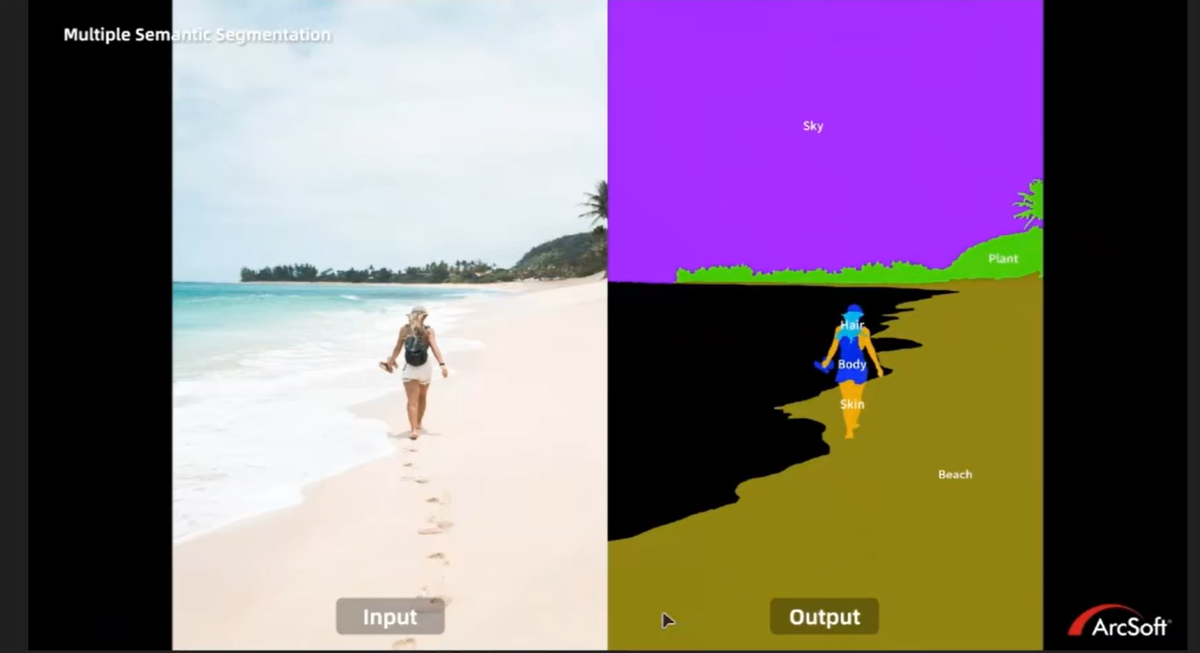 Qualcomm
Otherwise, smartphone cameras powered by the Snapdragon 8 Gen 2 will be capable of capturing up to 108 megapixels from a single camera at 30fps, or up to 36Mpixels from all three cameras. Video capture capabilities will include 8K HDR at 30 fps, and slow-mo 720p video capture at 120 fps.
The Snapdragon 8 Gen 2 also applies AI to the wireless connection, including to extend the wireless range and signal strength. Inside the Snapdragon 8 Gen 2 will be the new X70 5G modem. This is the first Snapdragon phone platform that can support 4X carrier aggregation or even use a pair of 5G SIM cards simultaneously — useful if you're traveling in Taiwan with a dual-SIM phone. In that case, you'd be able to receive a 5G call from a relative while using a second, local SIM to surf the Web using that data plan.
Qualcomm's FastConnect Wi-Fi block will support Wi-Fi 7, including what it calls "simultaneous high band multi-link" — a smart connectivity solution where your phone will link multiple high-bandwidth channels together, offering up to a whopping 5.8Gpbs (if a nearby Wi-Fi router supports it, of course). Cheng said that using the multiple lanes will also reduce latency to as little as 2ms, ideal for cloud gaming.
Just like a PC? Snapdragon ray tracing
While the number of people playing games on mobile phones reaches into the multiple billions, the number of users playing mobile 3D games, or first-person shooters, is somewhat smaller but still sizeable: the mobile version of Player Unknown: Battlegrounds (PUBG) tops 1 billion downloads. (Analyst firm Newzoo says that mobile game revenue will drop by 6 percent this year, however.) That's enough to justify the latest addition to the Snapdragon arsenal: real-time hardware ray tracing. Qualcomm will announce support from several game publishers to build in support for its features, which will include ambient occlusion, reflections, and soft shadows.
The integrated Adreno GPU features both increased performance and power savings of 25 percent, Cheng said. Games that use the Vulcan API (specifically version 1.3), should see a 30 percent performance boost, he said. Cheng said that the graphics upgrades would be paired with dynamic spatial audio, also a first for the Snapdragon platform.
The Adreno chip will also add support for HDR Vivid, a Chinese HDR standard, as well as a technique called OLED aging compensation to prevent burn-in. Snapdragon phones using the new chip will be able to display 4K at 60Hz, or 1440p at 144Hz, the company said.
Qualcomm isn't expected to announce a Snapdragon 7 chip for cheaper smartphones at its Technology Summit, however. Qualcomm typically releases a "Plus" variant for gaming phones in a few months time.
Twitch rival Kick revives revenue split debate, gambling controversy
Did you miss a session from GamesBeat Summit Next 2022? All sessions are now available for viewing in our on-demand library. Click here to start watching.
---
Tyler 'Trainwreck' Niknam, one of Twitch's top streamers, announced he would be moving to a new service called Kick.com and joining as a "non-owner adviser and non-exclusive broadcaster." He explained that the move was driven by Twitch's treatment of streamers. However, later details — like Kick's potential connection to gambling operator Stake.com — suggest that this move was influenced by Twitch's recent ban on streaming slots, roulette, or dice games.
Twitch revenue splits drive wedge
Trainwreck leveled several complaints against Twitch in his exit regarding how the platform treats its creators. "Twitch has built an empire off of our backs and has the audacity to spit in all of our faces by not only giving us no financial security, with its inconsistent policies, but by also cutting our pay in places that they have no right to cut," he argued.
Unlike YouTube and Facebook Gaming which split revenue 70/30 in favor of creators, Twitch's streamers receive a 50/50 cut. While certain streamers used to get this 70/30 cut on Twitch, the platform recently changed its polices where this advantageous split only applied to the first $100,000 earned. Of course, this hit the most popular creators like Trainwreck hardest.
Many others share Trainwreck's view that Twitch losing focus on being creator-first. It's part of the reason why so many streamers are jumping to new platforms and old rivals, particularly YouTube.
Kick.com appears to be drastically undercutting its competition according to Trainwreck's announcement. Kick will reportedly take a 5 percent cut with 95 percent going to the streamer. He also promised that creators would keep 100% of their tips. Additionally, streamers in its creator program would be rewarded for hours watched and viewers, not just subscribers.
Of course, this calls into question how sustainable Kick will be.
"One of the best things any creator-focused company can do is find ways to help its users make money by taking less from them with ad revenue being a good means to achieve this," Gil Hirsch, CEO and cofounder of StreamElements, a top creator tools and sponsorships platform, told GamesBeat.
"According to the announcement, Kick plans to offer creators a bigger revenue share from subscriptions by offsetting this with income from advertisers which has worked well in other parts of the ecosystem. The challenge will be attracting a significant amount of advertisers as Kick scales up in this expensive global medium while heading toward what many are speculating to be a down period in brand spending."
Unpredictable policies
While revenue obviously motivated Trainwreck to move platforms, he also pointed to Twitch's inconsistent policies. The change in Twitch's revenue split occurred just a day after Twitch announced an major overhaul to its gambling polices. While some caveats applied, the policy generally allowed poker and sports betting. However, slots, roulette and dice games could no longer be streamed on the platform.
In 2022, the Slots category was booming on the platform. In a previous statement to TubeFilter, Hirsch explained that from April 2022, "the Slots category on Twitch has grown month-over-month soaring from 31M hours watched to over 50M hours watched in August."
While Twitch's actions likely benefited the long term health of the platform, this policy change negatively impacted streamers like Trainwreck.
According to data from Vindex, Trainwreck averaged over 20,500 viewers in the four weeks before the ban. In the four weeks after, that fell to just shy of 12,000 — a loss of about 42 percent. It makes sense as 80% of pre-ban signed-in viewers watched other Slots content. Additionally, this harmed Trainwreck's retention. Pre-ban, about half of signed-in viewers returned to watch him again within a week. After, that fell to about three in ten signed-in viewers returning.
After the policy went into effect, Trainwreck claimed that his primary sponsor, a Curaçao-based gambling operator Stake.com, paid him a total of $360 million over 16 months to stream Slots to his viewers. Between potentially losing this sponsorship and an advantageous revenue split in a matter of days, it's clear why Trainwreck wanted an alternative to Twitch.
Stake's involvement in Kick
After Trainwreck's announcement, some concerns about Kick began to surface.
Stephen 'Coffeezilla' Findeisen, a popular YouTuber that frequently investigates shady companies and scams, posted evidence that Stake owns Kick. This included shared moderators that operated both Stake and Kick's subreddits and screenshots of job listings from Easygo that explicitly confirm them as the parent company of both Kick and Stake.
While this team up between Kick, Stake, and Trainwreck is not necessarily untoward, it's clear that this was a turn off for many streamers who may have otherwise considered switching for the revenue split. To that end, it partially explains why the service was able to offer such beneficial rates for streamers. Easygo clearly values livestreaming as a way to acquire new users — and now it owns a platform where it controls the rules.
Kick's future as a Twitch challenger
It's not clear if Kick will succeed in the long run. In just one day, the service was busted for embedding Twitch streams and moderation issues (NSFW). These growing pains are to be expected, but it will be difficult to build trust with its potential users if this continues.
Other platforms — most notably Trovo, DLive, Caffeine and the now defunct Mixer — have all attempted to challenge Twitch's dominance. Kick's clear gambling niche (and underlying support from Stake) may help distinguish it from other platforms, supporting early growth. However, this could be a double edged sword, alienating potential users and advertisers — especially after not disclosing these gambling connections from the get go.
Ultimately, this is another sign that Twitch's relationship with its creators is fracturing. Creators are seeking alternatives and its not clear what Twitch is doing to reverse this trend.
GamesBeat's creed when covering the game industry is "where passion meets business." What does this mean? We want to tell you how the news matters to you — not just as a decision-maker at a game studio, but also as a fan of games. Whether you read our articles, listen to our podcasts, or watch our videos, GamesBeat will help you learn about the industry and enjoy engaging with it. Discover our Briefings.
CD Projekt Red scuttles Gwent and Witcher mobile game
Gwent: Crimson Curse.
Image Credit: CD Projekt Red
Did you miss a session from GamesBeat Summit Next 2022? All sessions are now available for viewing in our on-demand library. Click here to start watching.
---
Following the reveal of its Witcher 3 next-gen launch, CD Projekt Red is winding down support for two of its Witcher-related spin-off titles. Support for Gwent, based on the in-universe card game, and The Witcher: Monster Slayer, a mobile title, will taper off through early 2023. By the end of the year, support will end entirely.
Gwent is a popular card game within the world of The Witcher which gamers could play in The Witcher 3. CDPR eventually spun the game off into a standalone title. According to CDPR's 2023 Roadmap video, Gwent will receive 24-card batches in April, July and September. Shortly after that, CDPR will end active support for the game, though it'll still be playable.
Monster Slayer was more of a Pokémon GO-style mobile title, with the player taking on the role of a Witcher hunting monsters. It was developed by Spokko, a CD Projekt affiliate studio. Given that it was a game that involved going outside for large periods of time (to find said monsters), its release during the pandemic was poorly timed. Spokko announced it's shutting the game down on June 30, 2023. Starting February 1, the game will no longer be available to download, and the developers will begin the sunsetting process.
CDPR is otherwise heavily investing in its Witcher-universe titles. It announced three games earlier this year, one being a remake of the first Witcher game. Spokko said in an FAQ that it would be rolling into CDPR, with some of its staff moving to the latter's core projects. Some of its staff will be laid off, though it has not specified how many.
GamesBeat's creed when covering the game industry is "where passion meets business." What does this mean? We want to tell you how the news matters to you — not just as a decision-maker at a game studio, but also as a fan of games. Whether you read our articles, listen to our podcasts, or watch our videos, GamesBeat will help you learn about the industry and enjoy engaging with it. Discover our Briefings.
Media Buying Briefing: The latest media agency estimates for 2023 revenue are out and they remain, well, upbeat
Most economic prognosticators will tell you 2023 is either going to be a tough start with a happy finish, or just a slog all the way through, as parts of the world battle deeper recessionary trends and others still find ways to grow. 
Ask the major holding company media agency analysts — namely, GroupM and Magna — and they continue to hold a more positive, if slightly tempered outlook on 2023 given strong results for 2022 despite the fact that the long-term prognosis isn't great. 
"Despite recent headlines warning of a Big Tech bust and a digital advertising slump, we expect both forms of digital advertising [both pure-play digital and digital iterations of traditional media] to grow double digits in 2022," wrote Kate Scott-Dawkins, global director of business intelligence at GroupM in the network's latest report, out today. 
GroupM revised its 2022 global advertising growth to 6.5% (excluding U.S. political ads), down from 8.4% it had forecast back in June. Scott-Dawkins attributed the drop primarily to tempered growth in China — taking China out of the equation, GroupM expects 2022 to end up at 8.1%. 
As for 2023, GroupM predicts global advertising growth of 5.9%, and Scott-Dawkins attributed that to strength in connected TV, retail media and markets that remain fast-growing like India. Still that represents a drop from 6.4% which it predicted in June. 
At IPG's Magna unit, the revised forecast for global media revenue growth is 6.6% for 2022, down from 9.2% predicted back in June. And the 2023 outlook is also a bit tempered, revised from 6.3% growth globally to 4.8%. As with GroupM, Magna attributes much of the rollback to a reeling China, whose restrictive Covid policies and stringent digital regulations inhibited growth there. 
"Ad spend is slowing slightly, but remains largely in line with our previous expectations," said Luke Stillman, Magna's senior vp and group director of global market intelligence. 
(China factors in largely to the global picture since, together with the U.S. the two countries represent more than 55 percent of all ad spend, according to Scott-Dawkins.)
As would be expected, digital continues to generate the most growth, even after some of the major platforms hit potholes of one sort or another in 2022 — massive layoffs due to softer-than-expected revenue gains, greater scrutiny of TikTok from a governmental point of view and turmoil at Twitter under new ownership. 
Magna predicts 8% growth in digital in 2023, or 65% of total ad revenue, driven by explosions in e-commerce and digital video primarily but with search staying steady and social recovering after some of the above-mentioned stumbles.
Perhaps the biggest surprise among all media is the expected growth rate of out of home media, which continues to enjoy faster growth ahead of all other media besides digital — and that's due in part to its continued transformation to a digital medium. GroupM predicts OOH will grow 18.1% this year (excluding China), which is better than any traditional medium by far.
Likewise, Magna is calling for 12.4% growth this year in OOH, a bump up from 10.4% it had predicted in June. 
That bullishness was echoed by the OOH industry's trade organization, the Out-of-Home Advertising Association of America (OAAA), which released its third quarter 2022 revenue numbers this morning. The data shows the medium grew 25.7% year to date over 2021, and is on par with 2019 YTD revenue of $6.4 billion. 
"Key sectors are increasingly investing more dollars — in particular, political spending in out of home hit record highs," said Anna Bager, OAAA's president/CEO. Other categories that contributed to the medium's growth include: media/advertising and the rather broad public transportation, hotels and resorts. According to the OAAA, nearly a third of the medium's top 100 advertisers doubled their ad spend in OOH. 
Color by numbers
Data company Whip Media recently released consumer survey results on made-for-television holiday movies. More than 160 new holiday movies are slated for 2022, in addition to holiday classics people tend to rewatch during this time — so networks and streamers are battling it out for viewers. More below on Whip Media's findings from the November study on more than 3,000 U.S. adults.
Holiday movie consumers love, well, consuming holiday movies – 53% said they prioritize watching this content during the season. Hallmark, Netflix, Lifetime, Disney+ and Hulu were ranked as the top providers for holiday titles.
Viewers are likely to watch a mix of new and old holiday movies. Just under three-fourths (74%) said they watch both types, while 17% said they watch just the latest holiday TV movies.
It's more of a solo experience than you might think – 71% of respondents noted they regularly watch these movies alone, while 51% saying they watch with their families. About 28% said they watch with their partner.
More than half of viewers said they discovered a new holiday movie through ads or trailers (52%) or recommendations from a streaming service or device (51%). Additionally, 47% said they found new releases through social media. — Antoinette Siu
Takeoff & landing
In the latest sign that there's a movement afoot to rebundle media and creative, Beacon Media Group and creative shop Flint & Steel struck an alliance to jointly go to market with expanded services for clients.  
Independent agency Hanson Dodge hired Maggie Pope as its associate media director, adding to its in-house media capabilities under vp and group director of media and activation Michelle Millar. 
Media Disco is a new platform launched by two ex-Carat strategy execs, James Allen and Joey Medici, that aims to offer a marketplace for media companies and advertisers to connect. The free platform claims to have 70 media partners and 60 advertisers.
Direct quote
"A lot of organizations discount how difficult this business is. Take Netflix and Microsoft. Microsoft is a very poor sales organization [for Netflix to have chosen]. And it's reflective of them trying to jump into this kind of quasi-upfront type of marketplace. They don't have the relationships as deep as Google or NBC [which were rumored to be possible partners with Netflix] would have had. It would have been seamless out of the gate."

— head of investment at an independent media agency.
Speed reading
I wrote about the rise of PMG from a relatively unknown independent media agency to the shop that landed media AOR duties for Nike in North America. 
Digiday's gaming and esports reporter Alexander Lee caught up with Dentsu's new global head of gaming, Brent Koning, who comes to the role with considerable experience in both agencies and the gaming world. 
Digiday's media agency reporter Antoinette Siu looked at the challenges purpose-driven advertising faces as recessionary winds pick up. Could podcasting provide some shelter?