Russia's GDP Decline Less Severe Than Expected, Wall Street Returns to Russian Bonds, Putin Criticizes US 'Hegemony'
While the ongoing war in Ukraine continues, the Ministry of Economic Development of the Russian Federation detailed this week that Russia's economic hardships are less severe than expected. Russia's economic ministry says that the economy's gross domestic product (GDP) is estimated to drop by 4.2% this year and Russia's inflation won't be as elevated as economists once predicted. At the same time, inflation in the U.K. topped 10% and the European Union's inflation rate is expected to be just as high. Russian president Vladimir Putin blames the world's gloomy economy and the ongoing war in Ukraine on the United States, stressing that the U.S. needs "conflicts to retain their hegemony."
Russia's Ministry of Economic Development Forecasts Are Much Better Than Initially Predicted
At the end of June, Bitcoin.com News reported on the Russian ruble hitting a seven-year high against the U.S. dollar, and how one economist said the world should not ignore the ruble's exchange rate. Russia has been sanctioned for the conflict in Ukraine by the United States and a myriad of Western countries. When the war started last February, analysts and economists expected Russia's economy to sink and not recover from the world's tightest financial restrictions in years. However, American economists were baffled by the ruble's resilience after the fiat currency bounced back a couple of months after the initial invasion.
This week, Russia's Ministry of Economic Development detailed that Russia's economy is doing better than expected, and while the GDP will shrink this year, inflation won't be that high. The news follows the rising inflation in Europe and the U.K., and the United Kingdom's consumer price index surpassed 10% this week. U.S. inflation has been high as June saw the consumer price index (CPI) tap 9.1% and in July it cooled down some when it hit 8.5%. At the same time, Russia, China, and BRICS nations are planning to craft a new international reserve currency, and the Bank of Russia aims to launch the digital ruble in 2024. While the ministry once thought the country's GDP would shrink by 12%, data now shows a different story.
Al Jazeera reports: "Russian gross domestic product (GDP) will shrink 4.2 percent this year, and real disposable incomes will fall 2.8 percent compared with 7.8 percent and 6.8 percent declines, respectively, seen three months ago." Al Jazeera says that this much smaller than expected GDP decline comes as Russia has been sanctioned by 46 countries and has seen 9,117 financial sanctions imposed on the Russian Federation. According to the report, the economic ministry does expect 2022's year-end inflation to reach 13.4%. Russian president Vladimir Putin also explained this week that Russia will sell "high-precision weapons and robotics" to friendly nations, according to Al Jazeera reporters.
Vladimir Putin Blasts United States Government — Says Nancy Pelosi's Trip to Taiwan Was a 'Blatant Demonstration of Disrespect'
Putin blames the United States for trying to keep its economic hegemony and during a speech in Moscow this past Tuesday, the Russian president had no issues denouncing the American government's actions. "They need conflicts to retain their hegemony," Putin opined in his speech. "That's why they have turned the Ukrainian people into cannon fodder. The situation in Ukraine shows that the United States is trying to drag the conflict out, and it acts in exactly the same way trying to fuel conflicts in Asia, Africa, and Latin America," the Russian president added.
Putin also blasted Nancy Pelosi for her recent visit to Taiwan and noted that the visit was intentional. "The American adventure in Taiwan wasn't just a trip by an irresponsible politician. It was part of a deliberate and conscious U.S. strategy intended to destabilize the situation and create chaos in the region and the entire world, a blatant demonstration of disrespect for another country's sovereignty and its own international obligations," Putin said during his speech in Moscow on Tuesday. Furthermore, the country's economic ministry left out forecasted oil prices and gave no reason why the data was omitted. Reports note that the Russian Federation's government and the budget committee will review the ministry's predictions.
Reports Claim JPMorgan Chase & Co., Bank of America, Citigroup, Deutsche Bank, Barclays, and Jefferies Financial Have Returned to Russian Bonds
While Al Jazeera sources are considered biased, American reports also confirm that Russia's economy is not doing as bad as once expected. CNBC reported on Tuesday that Russia's economy was "floundering, not drowning." Moreover, Wall Street investors "have cautiously returned to the market for Russian government and corporate bonds," according to Fox News. A report published by The Overshoot highlights that "the squeeze on Russia is loosening." The Overshoot's economics, finance, and history author Matthew C. Klein explains that "exports to Russia from the major manufacturing economies have been rising rapidly since April." Despite these reports, there are a few accounts that give a contrarian perspective and insist that "sanctions [are] devastating [the] Russian economy."
The Record's contributing authors Sean Powers and Will Jarvis explained on Tuesday that despite Russian president Vladimir Putin saying the country's economy "is doing just fine, according to economists — and everyday Russians — that's not the full story." Powers and Jarvis interview a small business owner from Russia who says sanctions have reduced 20% of his revenues. Moreover, The Record's reporters discuss Russia's economy with two members of Yale, Jeffrey Sonnenfeld of the Yale School of Management and Steven Tian of the Yale Chief Executive Leadership Institute. According to the Yale economists, "Russia needs to export energy to save its spiraling economy."
Tags in this story

Al Jazeera, Bank of Russia, BRICS Nations, budget committee, China, cnbc, EU Inflation, Financial Sanctions, Fox News, gdp, GDP Decline, gross domestic product, inflation, Jeffrey Sonnenfeld, Matthew C. Klein, Nancy Pelosi, Russia, Russian Bonds, Russian Federation, Sanctioned Country, Sanctions, Severity, Steven Tian, Taiwan, The Overshoot, The Record, UK inflation, Ukraine, United States, US government, US Inflation, Vladimir Putin, Wall Street, Western countries
What do you think about the forecasted Russian GDP data ending up being better than expected? What do you think about Putin's commentary and Wall Street returning back to Russian bonds? Let us know your thoughts about this subject in the comments section below.
Jamie Redman
Jamie Redman is the News Lead at Bitcoin.com News and a financial tech journalist living in Florida. Redman has been an active member of the cryptocurrency community since 2011. He has a passion for Bitcoin, open-source code, and decentralized applications. Since September 2015, Redman has written more than 5,700 articles for Bitcoin.com News about the disruptive protocols emerging today.

Image Credits: Shutterstock, Pixabay, Wiki Commons
Disclaimer: This article is for informational purposes only. It is not a direct offer or solicitation of an offer to buy or sell, or a recommendation or endorsement of any products, services, or companies. Bitcoin.com does not provide investment, tax, legal, or accounting advice. Neither the company nor the author is responsible, directly or indirectly, for any damage or loss caused or alleged to be caused by or in connection with the use of or reliance on any content, goods or services mentioned in this article.
4 On-Chain Metrics Show the Bitcoin Price Is Primed for Bullish Explosion
Amid recent macroeconomic extremes, Bitcoin has maintained a quiet stance, almost eerie for its HODLers. Nonetheless, its hashrate and accumulation are soaring — what could this mean for its price?
Bitcoin has been consolidating in a narrow range between $18,800 and $20,200 since the mid-Sept price fall. In volatile markets like cryptocurrency, similar quiet periods of consolidation are rare. 
Recent Glassnode findings show that the current BTC price action resembles both pre-crash November 2018 and pre-rally March 2019. Despite price downturns, mining and accumulation statistics are improving. Let's look into what this means for the health of the network.
Bitcoin hashrate makes new ATH 
Last week, the Bitcoin hashrate made a new all-time high of 242 exahashes per second.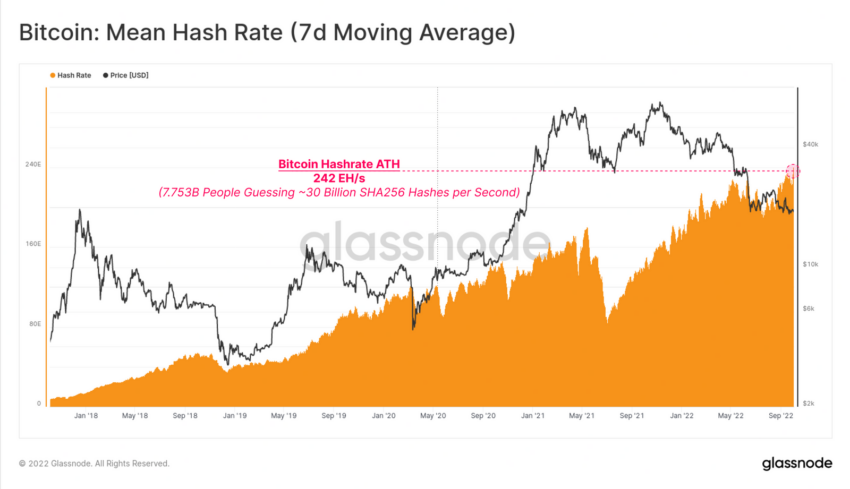 In the chart below, we can see that Bitcoin's longer-term, slower hash ribbon was once again overtaken by the faster ribbon, indicating improved mining conditions in late August. Since the price saw no major uptick during this time, the rise in hashrate was likely due to more efficient mining hardware and more mining rigs working in general.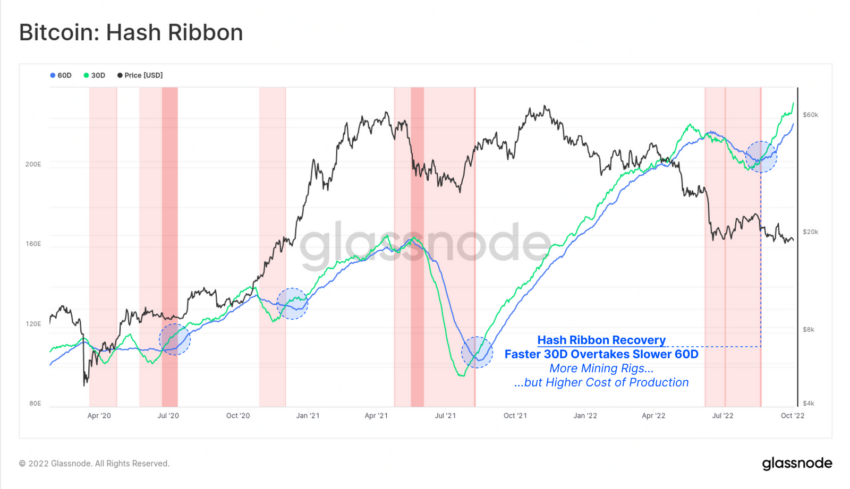 Historically, these hash ribbon moving average swaps precede price gains. Historically, when the hash-rate drops and subsequently recovers, major BTC price bottoms have been made. 
Is a price bottom in?
Apart from the hashrate, Bitcoin accumulation levels also reached a 7-year high. CryptoQuant data shows that 6-month-old and older Bitcoins now make up 74% of the realized cap. During the 2019 and 2015 bottoms, this score sat at 70% and 77%, respectively.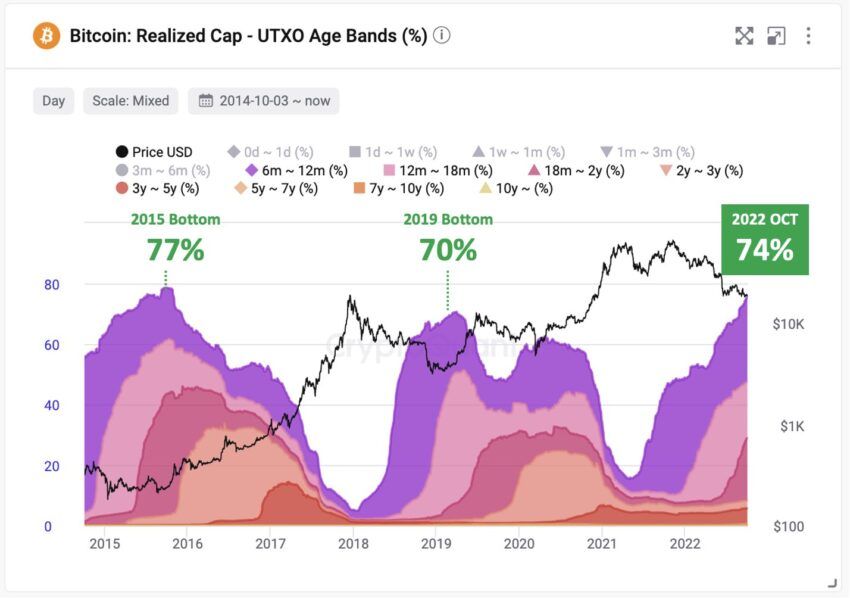 Lastly, for the first time in this cycle, the percentage of supply in loss has reached the 50% level.
CryptoQuant data shows that the price bottoms during previous cycles normally occur when the percentage of supply in loss reaches 50% or more.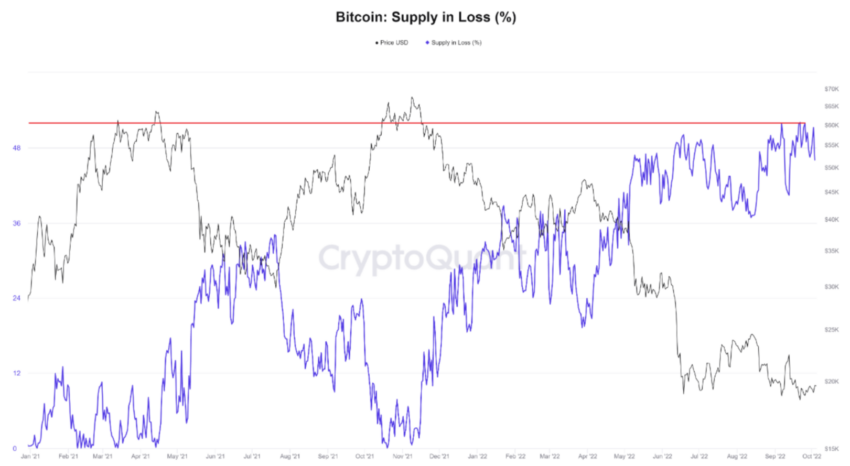 The current data shows the highest percentage of losses at 52% on the daily chart, 50.4% on the weekly (7DMA), and 48% on the monthly (30DMA). 
While quite a few metrics suggest that BTC should be near a bottom, the overall momentum will likely still depend on macroeconomic conditions as well as its correlation with the Nasdaq and S&P 500. 
Disclaimer
All the information contained on our website is published in good faith and for general information purposes only. Any action the reader takes upon the information found on our website is strictly at their own risk.
Bitcoin price sees first October spike above $20K as daily gains hit 5%
BTC price action sees a new October peak amid a declining U.S. dollar and a successful prior day's trading for U.S. equities.
318 Total views
16 Total shares
Bitcoin (BTC) saw its first trip above $20,000 on Oct. 4 as traders expected familiar resistance to cap gains.
Multi-week dollar lows fuel Bitcoin bulls
Data from Cointelegraph Markets Pro and TradingView showed BTC/United States dollar climbing prior to the Wall Street open, up over 5% in 24 hours.
The pair had shaken off macroeconomic concerns at the start of the week, with trouble at Credit Suisse and the escalating Russia-Ukraine conflict failing to slow performance.
Now, the short-term analysis focused on a run potentially topping out closer to $21,000 — as was the case late last month, as sell-side pressure at that level remained significant.
"20500-21000 is a sell zone. If price gets there, which should, don't be too bullish," popular trader Il Capo of Crypto told Twitter followers on the day.
Razzoorn, an analyst at international trade group The Birb Nest, noted that the current charge was Bitcoin's fifth attempt at escaping a major liquidity cloud in several weeks.
Despite the potentially limited upside opportunity, Bitcoin rallied in line with a broader risk asset tide which saw United States equities finish noticeably higher the day prior.
At the same time, the U.S. dollar suffered, the U.S. dollar index (DXY) extending losses to approach 111 points and threaten support in place since mid-September.
"Up the market goes," a more optimistic Michaël van de Poppe, CEO and founder of trading platform Eight, continued:
"Flipping $19,500 for support. Now, if range-high at $19,600 holds for Bitcoin, I assume we'll continue towards $22,400."
Altcoins attempt to change sticky trend
Across major altcoins, it was Ether (ETH) and Ripple (XRP) leading daily performance at the time of writing. 
Related: CoinShares' Butterfill suggests 'continued hesitancy' among investors
ETH/USD traded above $1,350, still yet to break out of its sideways trend in place for several weeks since major losses entered during the post-Merge breakdown.
XRP, on the other hand, faced a more stubborn band of resistance after prior gains, bouncing off multi-week support just below $0.45.
The views and opinions expressed here are solely those of the author and do not necessarily reflect the views of Cointelegraph.com. Every investment and trading move involves risk, you should conduct your own research when making a decision.
McDonald's starts to accept Bitcoin and Tether in Swiss town
The global fast food chain is among the first to participate in a crypto-friendly experiment in the town of Lugano.
740 Total views
41 Total shares
Multinational fast food chain McDonald's started to accept Bitcoin (BTC) as a payment method in the 63,000-populated city of Lugano in Italian Switzerland, which is becoming a hotspot for crypto adoption in Western Europe. 
A one-minute video of ordering food on McDonald's digital kiosk and then paying for it at the regular register with the help of a mobile app was uploaded on Twitter by Bitcoin Magazine on Oct. 3. The Tether (USDT)  logo could be spotted next to the Bitcoin symbol on the credit cash machine, which is not surprising, as in March 2022 the city of Lugano announced it would accept Bitcoin, Tether and the LVGA token as a legal tender.
On March 3, 2022, the city signed a memorandum of understanding with Tether Operations Limited, launching the so-called "Plan B." According to this plan, Tether has created two funds — the first one is a $106 million, or 100 million Swiss francs, investment pool for crypto startups, and the second is around $3 million, or 3 million Swiss francs, attempt to encourage the adoption of crypto for shops and businesses across the city.
In addition to allowing Lugano residents to pay their taxes using crypto, the project will extend payments to parking tickets, public services and tuition fees for students. More than 200 shops and businesses in the area are also expected to accept crypto payments for goods and services.
Related: Swiss Post's banking arm developing in-house crypto custody platform
Speaking to Cointelegraph in June, Paolo Ardoino, chief technology officer of Tether and Bitfinex, claimed that Plan B "is going great," announcing a two-week educational activity on blockchain and cryptocurrencies in the city.
In September 2021 El Salvador became the first country in the world to allow using Bitcoin as a legal tender. Since that time, McDonald's has been accepting Bitcoin at all its 19 outlets in the country.