The Rundown: Podcast production companies and platforms pitch diverse audiences and ad targeting improvements at IAB's Podcast Upfront
Improvements in podcast ad technology, as well as the diverse audiences and creators in the audio space, were the focuses of the Interactive Advertising Bureau's three-day Podcast Upfront this week, which wrapped on May 12.
The IAB forecasted podcast ad revenue to surpass $2 billion in 2022.
The podcast industry is fully embracing dynamically-inserted ads.
On the other hand, some podcast companies touted the benefits of longer-form branded ad segments.
Machine learning can help advertisers target specific content and conversations in podcast episodes.
Upcoming programming being pitched to buyers ranged from true crime to comedy.
Industry execs touted the diversity of content, creators and audiences in podcasting — and the need for advertisers to back them up financially.
Podcast ad spend continues to grow
On Monday, the IAB released its annual U.S. Podcast Advertising Revenue study, which found:
Revenues increased 72% year over year to $1.4 billion in 2021.
The IAB forecasted podcast ad spending to exceed $2 billion in 2022 and almost triple by 2024 to over $4 billion.
Pre-roll advertising increased its share of podcast ad revenue to 32% in 2021, from 22% in 2020.
The share of podcast ad revenue served via dynamic ad insertion (DAI) — i.e. ads inserted at the time a podcast is downloaded or streamed, versus "burned-in" or "baked-in" ads, which are embedded in the podcast file and part of the episode's content — has almost doubled in two years to 84%.
Both host-read and announcer-read ads are largely being served via DAI (84% and 85%, respectively). 
Announcer-read ads grew its share of ad revenue to 40% from 35% in 2020.
The industry fully embraces DAI
With the industry quickly shifting to DAI, more advertisers are moving into the podcast medium because they can use the same data they have to target their desired audiences on social and connected TV, for example, and apply that to their audio strategy, said Andre Swanston, svp of the media and entertainment vertical at credit reporting agency TransUnion, during a panel conversation on Wednesday's event (as opposed to an embedded ad, where every listener hears the same ad regardless of who or where they are). TransUnion, it should be noted, is a provider of that data. Acast, which claims it invested dynamic ad insertion back in 2014, touted its DAI tech and programmatic ad arm during its presentation.
DAI has also helped to open up podcast advertising to more categories, said Eric John, vp of the IAB Media Center, on Tuesday. In the same panel with Swanston, Ken Lagana, evp of digital sales at audio company Audacy, said the flexibility of being able to "put [dynamically-inserted ads] up and take them down in periods that are important" has opened up the podcast medium to advertisers in categories like automotive and for those promoting TV shows or selling tickets (the arts, entertainment & media category in IAB's report grew from 9% to 11% year over year — auto grew from 2% to 4%). 
Longer-form branded ad segments
But, not everyone is behind the rapid adoption of dynamically inserted ads. During Wednesday's panel, Gary Coichy, founder and CEO at multicultural podcast network Pod Digital Media, argued embedded ads allow hosts to share their personal connection to the advertiser's brand, which has led to high brand lift in studies conducted by his company in the past year.
"I personally am really not a fan of the dynamically inserted ads being dropped into podcasts. I'm not there yet, but maybe I'll get there at some point," Coichy said. 
"We're starting to really steer away from pre-recorded assets in the 15-second pre-rolls and the six-second mid-roll," Coichy said. "What we started creating is two to three minute segments within each show, and really creating these custom moments within each episode."
Slate also seemed to double down on more longer-form, custom ad segments, rather than the shorter pre-roll or mid-roll formats. Lily Butler, director of creative strategy at Slate, told advertisers at IAB's Podcast Upfront about the publisher's "branded mini features," which are 60- to 90-second segments she described as "fully custom, highly produced micro-documentaries that run in the middle spots" of Slate's podcasts. A podcast host can also set up a "pre-roll tease spot," which can signal to listeners that the mini-feature from the brand is coming up later in the episode. These longer-form custom segments have "outperformed" typical host-read ads, Butler said, though she did not provide specific stats to prove this during Slate's presentation.
"Spots and dots are done," Coichy said during Pod Digital Media's presentation on Thursday.
Focus on diversity, and international/multi-language podcasts
Much of the latter two days of the Podcast Upfront highlighted the diversity of creators, production companies and programming in the audio space.
Coichy said brands increasingly looking to "allocate [their] dollars toward the minority-owned, minority-operated company" has led to 40% revenue growth at Pod Digital Media year over year.
SXM pointed to recent partnerships with Latino podcast network Pitaya and Spanish-language podcast network Revolver. Wondery said its popular podcast "Dr. Death" has been translated into 11 languages, and its first original podcast series for the U.K., "British Scandal."
On the last day of the event, Uforia, the Spanish-language audio network owned by TelevisaUnivision; Black podcast networks Pod Digital Media and Mocha Podcasts Network; and Asian-American podcast "They Call Us Bruce" presented their existing and upcoming podcast slates for Black, Asian American and Spanish-speaking and Latinx listeners.
A panel discussion on how brands can embrace multicultural podcast creators urged advertisers to form longer-term relationships with diverse communities, rather than around tentpole moments like Black History Month, Women's History Month or Pride, for example.
"Budgets are coming in a bit more… But we are still seeing various situations where folks want to align with a certain endemic month," said Shantae Howell, creative director, Americas at Acast. 
"It sets off the signals of: how are you supporting these communities throughout the year? Is this for you a moment in time? Because these are people's lived experiences. So when we are packaging up different programs we are thinking about making sure that… we can create a long-standing partnership that really sticks with podcasters and grows over time as you're growing that affinity with the audience," she said.
Machine learning in audio
Another area of podcast ad tech development spotlighted during IAB's event was machine learning. Conal Byrne, CEO of iHeartMedia Digital Audio Group, pointed to a deal announced in February with audio intelligence company Sounder. By integrating Sounder's AI and machine learning tools into iHeart's sales platform, advertisers can check content against IAB's brand safety standards as well as more effectively place ads in new and diverse podcasts in iHeart's network, according to the company. Machine learning can process speech to text and keyword tag podcast episodes "to ensure they are brand safe" for marketers' campaigns, Byrne said. 
Digital audio ad tech company AdsWizz talked about its AI transcription targeting tool launched in 2020, which can target ads based on transcripts of the podcasts as well. So far, it's analyzed nearly 5 million podcast show transcriptions, according to the company's presentation.
As for machine learning at podcast analytics and ad platform Backtracks, CTO and co-founder Kevin Wright said the company's tech has indexed all English-language podcasts – over 35 million episodes – to produce transcriptions on what the audio is about and tags them by topics and keywords to provide advertisers with analytics, which can be used for search engine optimization, discovery (for finding podcasts on specific topics) and brand safety, Wright said.
Podcast hosting and monetization platform Acast's presentation touted the launch of its conversational targeting tool, which allows advertisers to target podcast conversations at the episode level. For example, if you're a food home delivery service and want to target podcast listeners, you can target individual episodes of podcasts where a host discusses what they're having for dinner, or their love of cooking – but not necessarily in podcasts that might traditionally fall under the "food" category, according to the presentation. A food home delivery service might appear on a sports, beauty or interview podcast show around a relevant conversation happening in that episode. 
Upcoming programming
NPR pitched its new, short-form weekly comedy show "Everyone & Their Mom," which debuted in February and is hosted by Emma Choi. 
WBUR brought up three new podcasts: "Great Job Everyone," a game-inspired, climate-focused podcast where listeners can influence the outcomes; "Captured," about a plot to take over the EPA; and "Beyond All Repair" about a cold case.
iHeart focused on its deals with the NFL and NBA to create audio content, as well as a deal with Paramount to co-produce a dozen shows together, including "The Daily Show with Trevor Noah: Ears Edition" and the upcoming "RuPaul's Drag Race" podcast. iHeart's presentation also brought up an upcoming slate of shows coming this summer from LGBTQ+ podcast creators and eight new shows coming from young podcasters in underrepresented groups, part of its Next Up program.
Sony spotlighted new seasons from existing franchises, such as "Fringe Network: Alien State" and "Chameleon: Season 4," and upcoming shows like "Defining Diego" and "Hill Crazy."
Vox Media wants to release more episodes of "Criminal" each month this year, as well as more episodes of "This Is Love." "We also have plans for two serialized stories that we hope to be able to announce soon," said Phoebe Judge, host of "Criminal" and "This Is Love," and co-founder of podcast production studio Criminal Productions, which Vox Media acquired last year. Vox also announced NPR alum Sam Sanders will soon release a culture podcast at Vulture.
Locked On, Tenga's sports podcast network, announced a new lineup of daily, home team sports podcasts, called "Hometown Sports."
And Wondery spotlighted a few new shows coming later this year, including "Fed Up," hosted by Casey Wilson; "Daphne," a new true crime series about a small island community; and "Stolen Hearts," a true story about how a female police sergeant fell in love with a British bank robber.
61% off Aura's robust antivirus software for Window, Mac, and Android – Deal Alert
Aura
Aura provides extensive protection from malware, viruses, trojans, ransomware, and more and protects up to 10 devices. Receive real-time threat alerts of malicious files and apps (Windows) and auto-malware quarantine to protect your device & data. All in one protection that includes Antivirus, VPN, Password Manager, Parental Control, and Identity Theft protection. Available on Windows, Android, and Mac. Right now the product is discounted 61% off its regular price. See this deal now on Aura's site.
Note: When you purchase something after clicking links in our articles, we may earn a small commission. Read our affiliate link policy for more details.
Acer Nitro XV272 review: Top-tier gaming on a 1080p monitor
At a glance
Expert's Rating
Pros
Very accurate color  
Great out-of-box image quality 
Good range of image adjustments 
Smooth, clear motion performance 
Cons
Expensive for a 1080p monitor 
Bland, basic design  
Modest SDR brightness 
Our Verdict
Acer's Nitro XV272 costs more than a lot of 1080p monitors, but the IPS, 165Hz screen provides above-average image quality and motion performance, and a full range of monitor-stand adjustments and a generous array of ports make it worth the cost.
Best Prices Today: Acer Nitro XV272
1080p resolution isn't cutting-edge, but it remains the most popular resolution among modern PC displays. This is often because of budget: There are dozens of cheap 1080p monitors. But what happens when a 1080p monitor makes image quality a priority?  
Acer XV272: The specs
The Acer Nitro XV272 (LVbmiiprx) is a 27-inch, 1080p monitor with an IPS panel and a 165Hz refresh rate. This puts it smack-dab in the most crowded segment of the monitor market. Here are the XV272's most noteworthy specs.
Display size: 27-inch 
Native resolution: 1920×1080 
Panel type: IPS 
Refresh rate: Up to 165Hz 
Adaptive sync: AMD FreeSync Premium and G-Sync Compatible 
Ports: 2x HDMI 2.0, 1x DisplayPort, 4x USB 3 
Stand adjustment: Height, tilt, swivel, pivot 
VESA mount: Yes, 100x100mm 
Speakers: Yes 
Price: $349 MSRP, around $279 typical 
A few features help the Nitro XV272 stand out. It has a 165Hz refresh and is compatible with both AMD FreeSync and Nvidia G-Sync. It also has three video inputs, four USB ports, and a stand with numerous ergonomic adjustments. These features signal that the Nitro XV272, though not expensive, is a cut above entry-level 1080p monitors.  
Acer Nitro XV272: Design
The "Nitro" name might sound exciting, but the XV272, like all such monitors from Acer, looks pretty plain. Acer's Nitro sub-brand focuses on performance over design. Essentially all Nitro monitors use a simple, matte black housing paired with a skinny stand with round base. It's dull but inoffensive.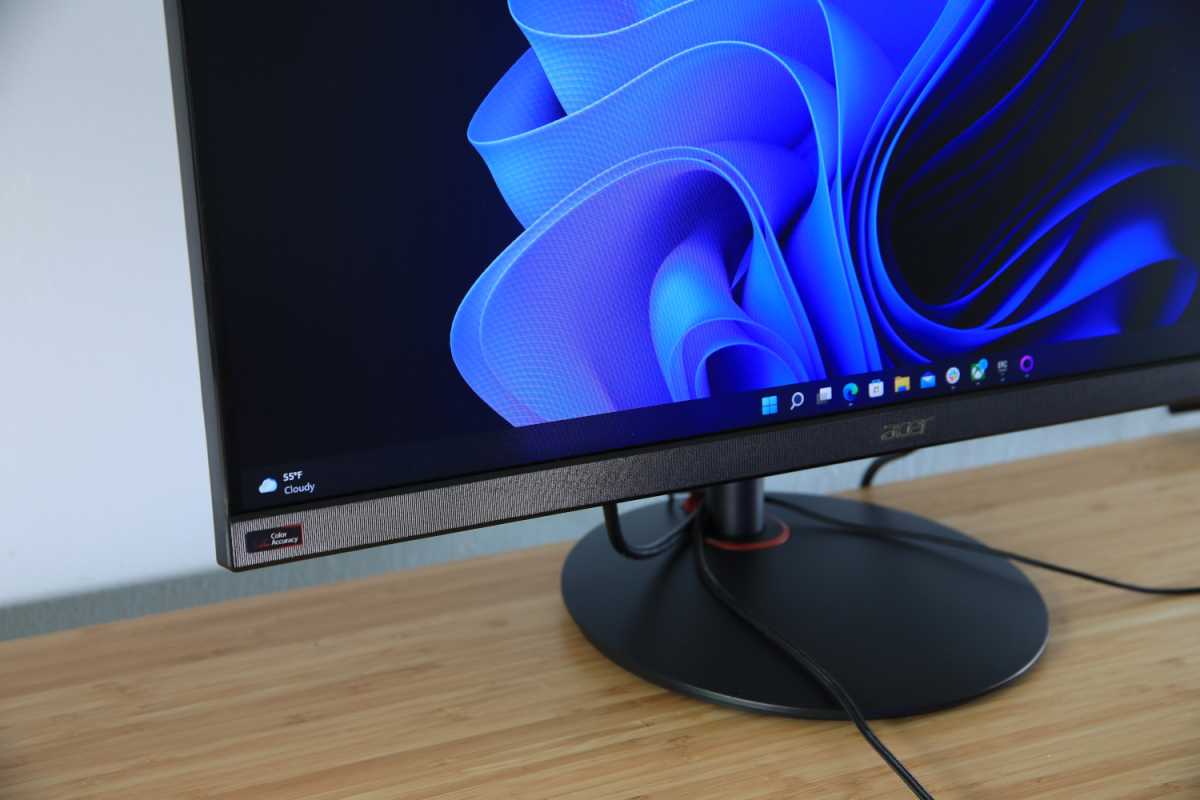 Matt Smith / Foundry
The stand feels cheap when handled but offers plenty of ergonomic adjustment. This includes height, tilt, swivel, and even pivot. Swivel and pivot aren't guaranteed at this price point, so it's good to see them here. There's also a 100x100mm VESA mount for attaching a third-party monitor arm or stand. 
There is one problem with the stand: cable management. You won't find a hole in the stand for routing cables. Instead, Acer uses a tiny clip on the base that does a terrible job of keeping cables bundled.  
Acer XV272: Features and menu 
Connectivity includes two HDMI 2.0 ports, plus one DisplayPort, and a total of four USB-A 3.0 ports for connecting wired peripherals. This makes the monitor a moderately useful USB hub, though it lacks more advanced features like USB-C with Power Delivery. Still, the Acer Nitro XV272 has more ports than most 1080p gaming monitors.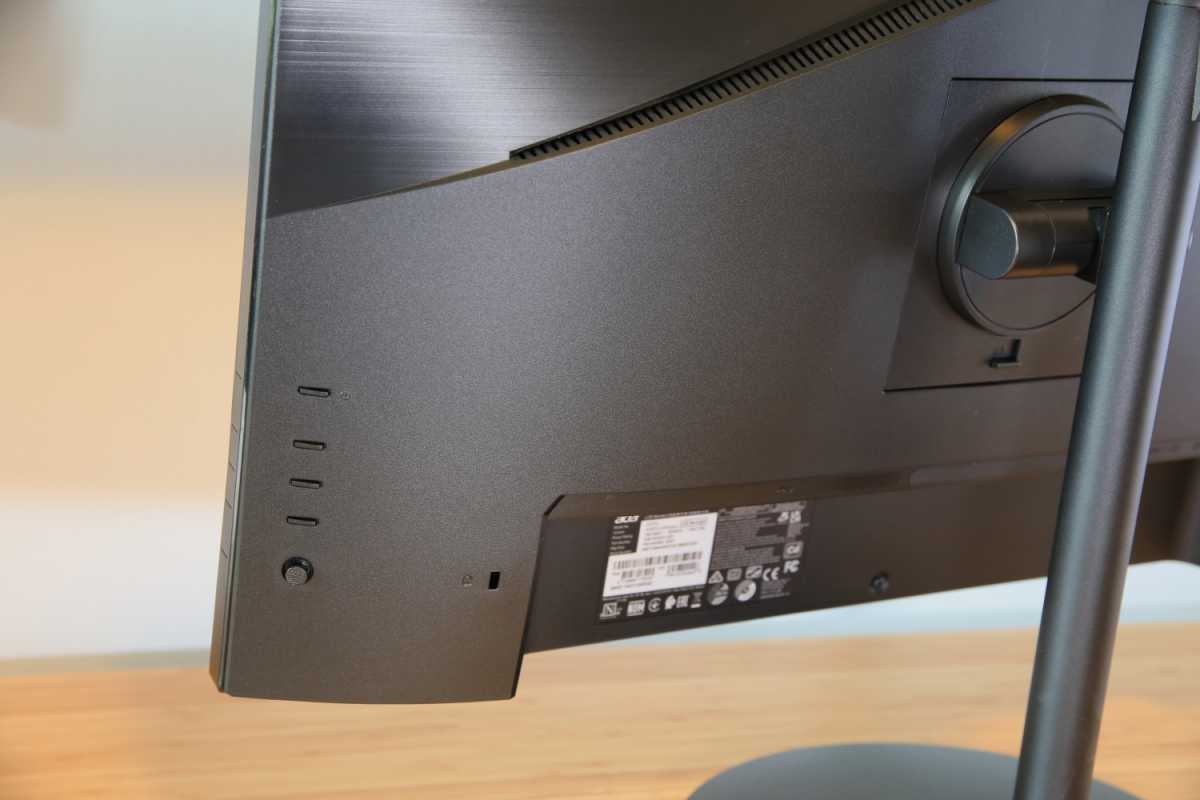 Matt Smith / Foundry
The Nitro XV272's menu system could be better. It looks basic, with simple icons and unattractive fonts, and doesn't feel responsive while using the joystick to scroll through options. The joystick and select buttons are easy to use, but the power button is a bit too close to the select buttons. I accidentally turned off the monitor several times. 
These issues hide a surprisingly robust slate of image-quality options. This includes precise gamma presets, several color temperature modes, and six-way adjustment of color saturation and hue. There's also a few gaming-centric features such as a frames-per-second counter and built-in aim points. The monitor lacks a black equalizer setting for brightening dark areas, however, which might disappoint fans of competitive shooters.  
The monitor includes a pair of two-watt speakers. They're not great but well suited for podcasts, YouTube, or games with less impressive audio. You'll want to put on a headset when sound quality matters. 
Acer XV272: SDR image quality
The Acer Nitro XV272 is towards the high end of pricing for a 27-inch 1080p display. Gamers can snag a 1440p or 4K monitor for about the same price. Acer combats this with a vivid, accurate image.  
SDR brightness comes in at about 250 nits. This is low but, as you'll see when I discuss HDR, it's not the monitor's true maximum brightness. Acer appears to be limiting the monitor's maximum potential in SDR mode. That said, the monitor is still bright enough for use in nearly all situations. It will only appear dim if used opposite a sunlit window.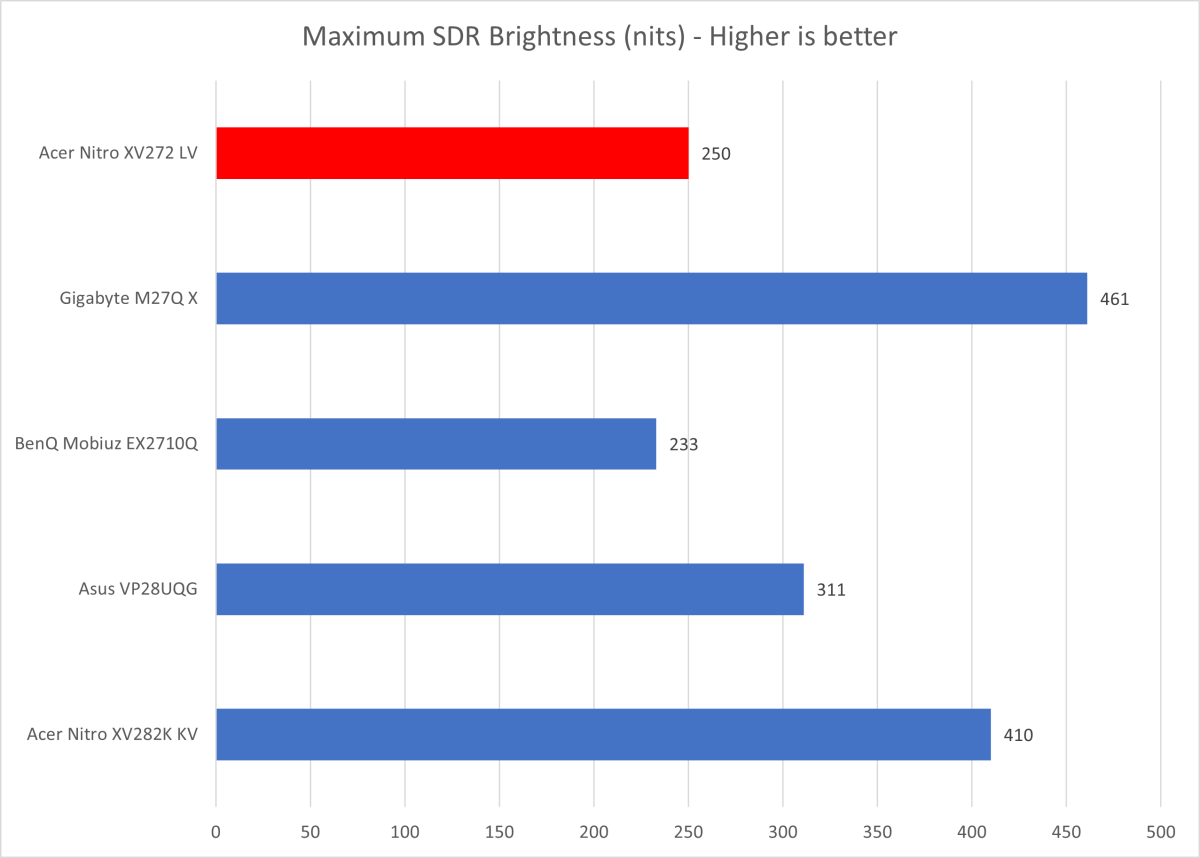 Matt Smith / Foundry
The Nitro XV272's modest contrast ratio is typical for a modern IPS gaming monitor without Mini-LED technology. Like its peers, the XV272 suffers from "IPS glow"—a hazy and blotchy appearance noticeable in dark scenes.  
That said, the monitor's contrast ratio is good for the price. Aside from LG's new IPS Black panel technology, which is currently available in just a couple displays from Dell, no IPS monitor without Mini-LED performs significantly better.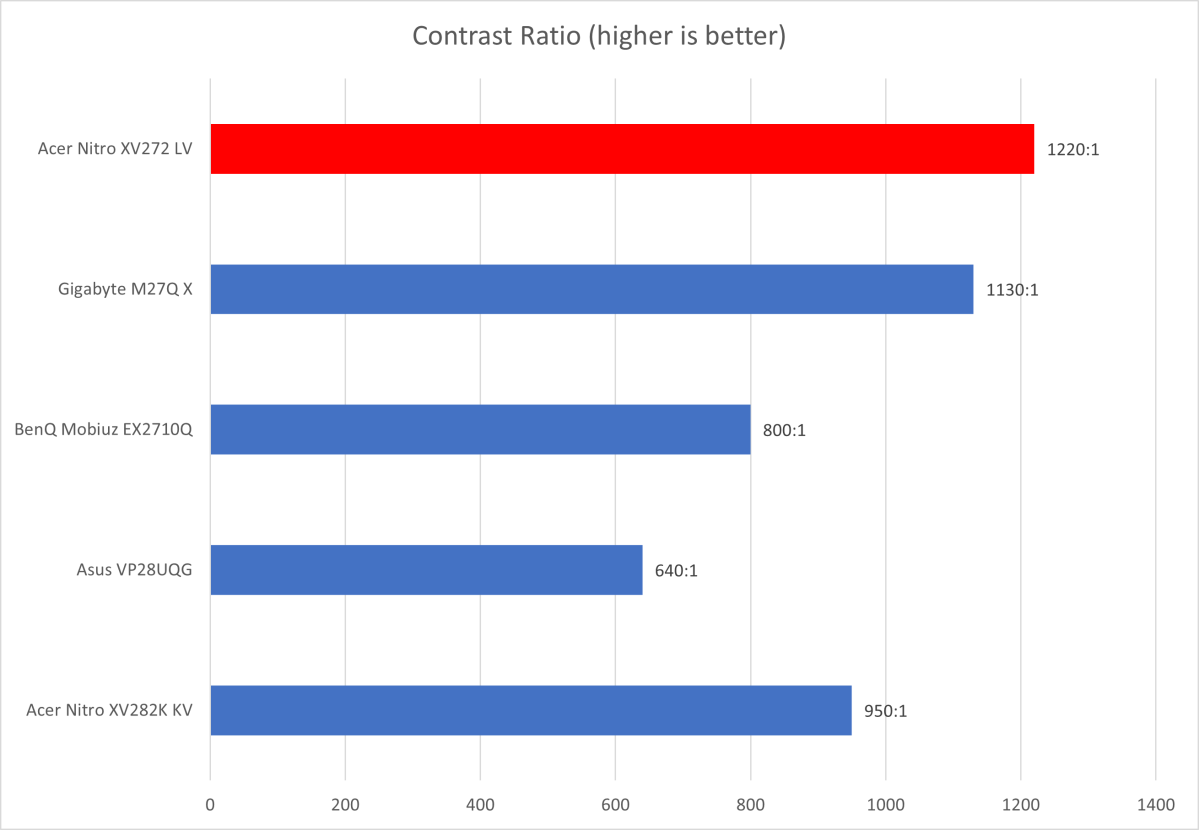 Matt Smith / Foundry
Color gamut is solid, covering the entire sRGB color space plus 88 percent of DCI-P3. The range of colors it can display is great for a mid-range gaming monitor and does provide an advantage over alternatives with a more narrow color space. The added color provides a vivid, saturated look that's attractive in games.  
As for color accuracy, the Nitro XV272 knocks it out of the park, with a default color accuracy more typical of a high-end professional monitor than a mid-range gaming monitor.  
Acer doesn't sell the XV272 as a professional display, and its meager 1080p resolution will take it out of contention for many, but creators who stick to 1080p resolution will find this monitor surprisingly capable when editing photos, video, and digital art.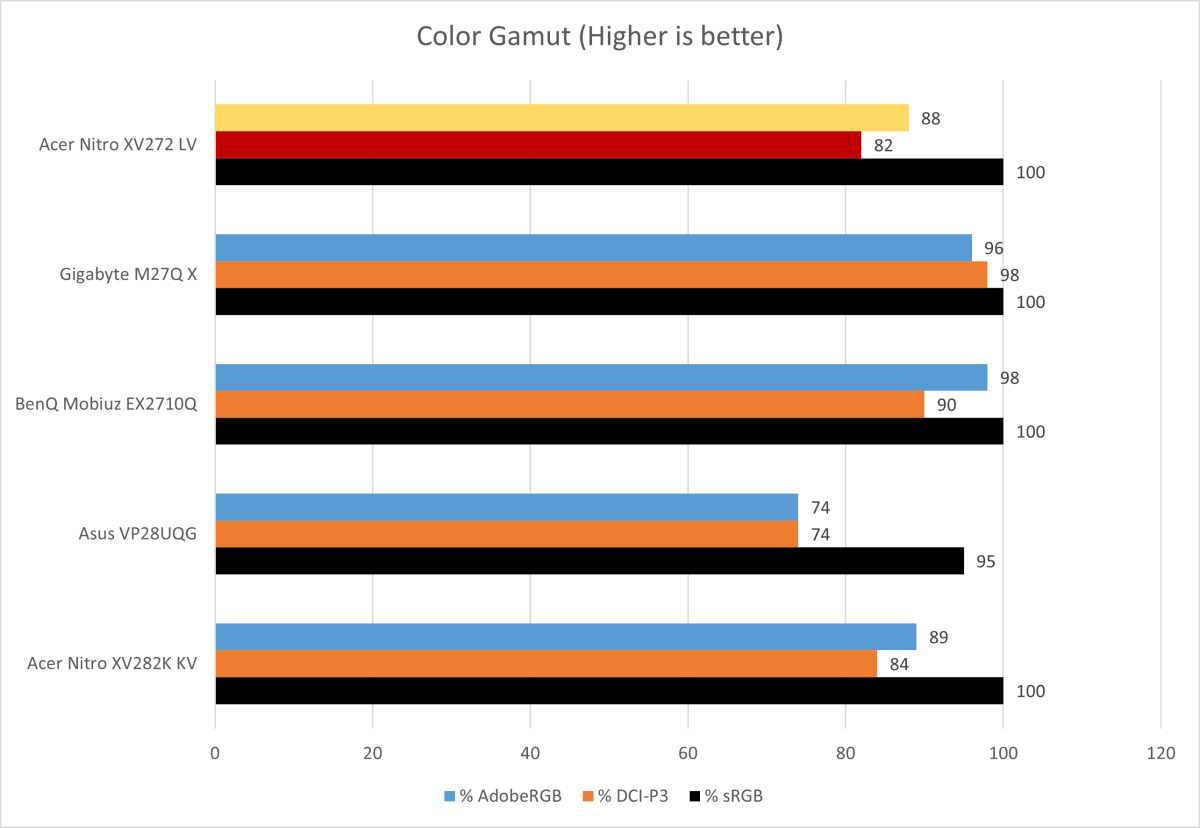 Matt Smith / Foundry
The monitor had an ideal gamma curve of 2.2, which means content looks about as bright as was intended. Default color temperature came in at 6200K, which is slightly warmer and more reddish than the typical temperature of 6500K. As mentioned earlier, the monitor offers multiple gamma and color temperature settings, so there's a lot of room to tweak the image if you want.  
But you don't need to—and that is the monitor's greatest strength. The XV272's decent contrast, accurate color, and lack of noticeable flaws makes for a fantastic out-of-box experience. The SDR image is lively and inviting.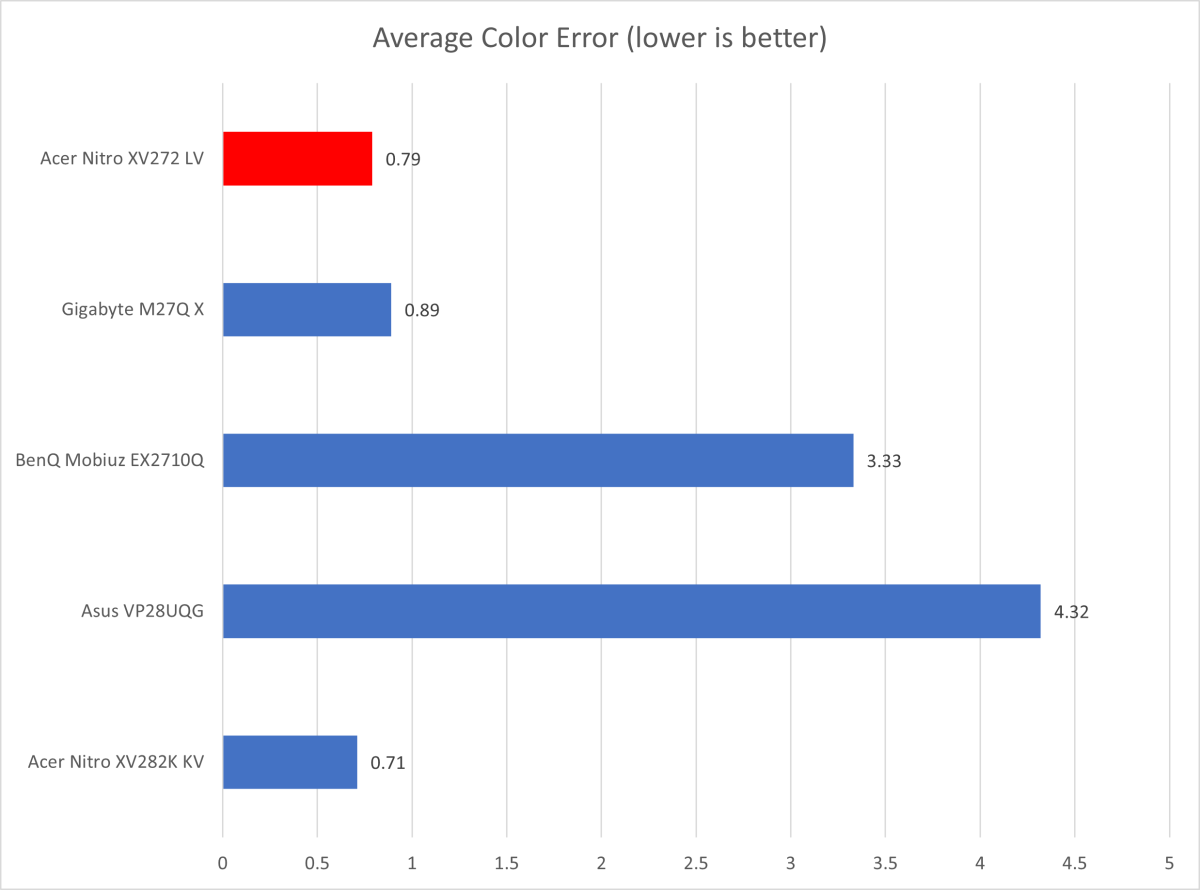 Matt Smith / Foundry
There's one obvious limitation: resolution. This is a 27-inch 1080p monitor, which translates to a meager pixel density of 81 pixels per inch. Fonts are poorly defined, videos lack sharpness, and games show distracting shimmering and pixelation. This isn't a dealbreaker for me, but you should know what you're getting into. A 1440p alternative will look much sharper.  
Acer XV272: HDR performance
The Acer Nitro XV272 supports HDR and is VESA DisplayHDR 400 certified. HDR support is becoming common among gaming displays, but it still feels special at this price point. I measured a maximum HDR brightness of 450 nits, which is solid.  
Though it supports HDR, the Nitro XV272 failed to automatically detect an HDR signal and turn on HDR mode. I had to select it manually. This is a minor annoyance but disappointing, as nearly all monitors I test have no problem detecting HDR automatically.   
The Nitro XV272's HDR performance is better than expected. It delivered performance that was superior to more expensive monitors, such as the Gigabyte M27Q X and Asus ProArt PA279CV, with better color gamut and accuracy in HDR.  
Still, ultimately, this is a budget monitor that can't do HDR justice. HDR content can deliver a bit more detail in bright areas but otherwise isn't necessarily more colorful or rich than in SDR—it just looks slightly different.  
Acer XV272: Motion performance 
Acer's Nitro XV272 has a maximum refresh rate of up to 165Hz. This delivers smooth, fluid motion in games and a quicker, more responsive feel when using the desktop. The monitor officially supports AMD FreeSync Premium and Nvidia G-Sync, so you don't need to worry about whether the monitor will work with your particular video card. 
Shoppers should remember this is a 1080p display, which is less demanding than 1440p or 4K resolution. Achieving a frame rate that fully uses the 165Hz refresh rate is possible in a wide range of titles. This is good news for gamers on a budget. 
Motion clarity is good at the monitor's default response-time setting. The monitor has an OverDrive mode, which can be activated when using several gaming-oriented image-quality presets. This can improve clarity but also causes overshoot, an issue where a pixel moves beyond the intended color, resulting in artifacts around high-contrast objects. Most owners should just leave OverDrive at the default setting of Normal.  
Final thoughts
The Acer Nitro XV272 LVbmiiprx is a good monitor for gamers who want attractive image quality at a mid-range price. Resolution will be an obstacle for some, as it's possible to buy a 1440p monitor on the same budget, but the XV272's accurate image and great motion clarity makes up for the lack of sharpness.  
The XV272 is also a good choice for content creators who want accurate color for less than $300, making it a well-rounded, budget-friendly choice for those who work from home and want one display for both productivity and gaming. 
Note: When you purchase something after clicking links in our articles, we may earn a small commission. Read our affiliate link policy for more details.
Best free PDF editors: Our top picks
While nothing beats a full-featured PDF editor like Adobe's Acrobat Pro DC, sometimes you don't need all the bells and whistles. When you just have to edit a few lines of text, add or reposition an image, or make some review notes, a free PDF editor may be the way to go.
Free PDF editors offer a few advantages over their paid partners. First and most obviously, they don't cost anything. If you don't work regularly with PDF files, a premium editor probably won't be worth the investment and a free editor can get the job done on the occasions you need to make some quick changes to document. Second, free PDF editors generally work in your browser so, unlike paid PDF editors, there are no platform- or device-compatibility issues to worry about. (The exceptions are free trial versions of paid editors, which need to be downloaded to a device.) Finally, because free online PDF editors are used on-the-fly, they generally have much simpler, more-intuitive interfaces and tools than paid editors do.
Of course, you can't expect a free product to have all the sophisticated features of a paid one. Most will let you edit PDF files by adding and modifying text and images and annotating with shapes, freehand drawings, and notes. Fonts and font sizes, colors, and shape options will almost assuredly be more limited than what you'd find in a paid editor, though. Free editors will also let you create PDFs and convert them to other file formats. This is probably all you need for occasional work with PDFs.
You may find features like form filling, e-signatures, and content redaction in some free editors. But capabilities like password protection and bates numbering are almost unheard of. Frankly, if you dive deep enough into PDFs to use any of these features, you're probably better served by one of the desktop editors in our best paid PDF editors buying guide.
1. PDF Candy – Best free PDF editor overall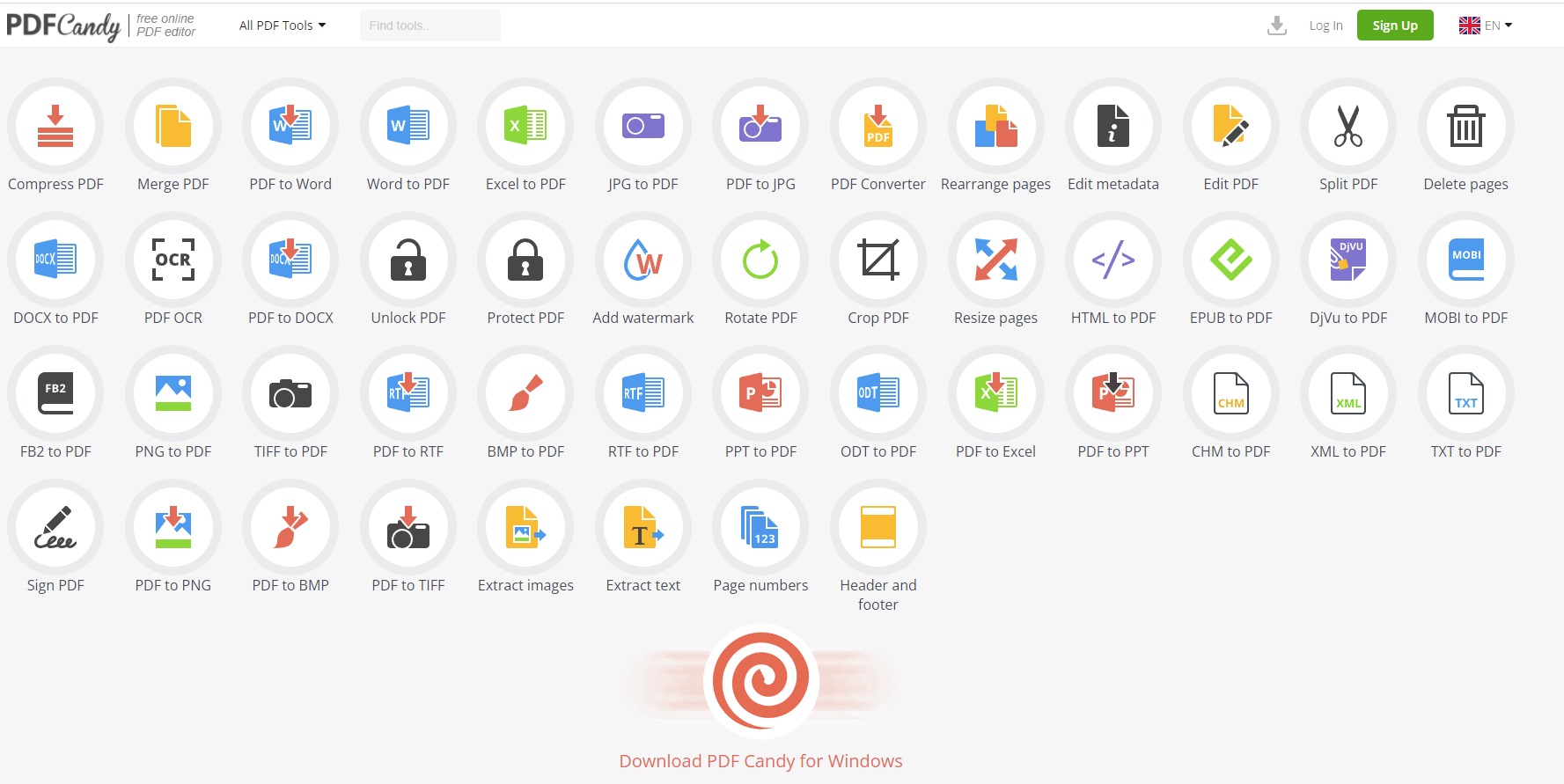 Pros
Many advanced features
OCR capability
Very easy to use
Cons
Lacks a single interface, which some users may not like
Free version limits you to one task per hour
PDF Candy is the rare free PDF editor that offers a lot of the features you'd typically have to pay for. We're talking scanning, multiple file-conversion options, and OCR functionality. While the free version has access to the expansive toolset of the paid version, you're limited to one PDF task per hour. For unfettered access, you need to shell out $6 month.
2. Apple Preview PDF editor – Best free PDF editor for Mac users
Pros
Full set of PDF markup tools
Supports form filling
PDFs can be protected with passwords, encryption, and permission controls
Cons
Limited native sharing options
Only available to Mac users
Mac users have an excellent PDF editor built right into their operating system. Although its ostensibly a photo viewer, macOS's Preview app is rife with PDF-editing capabilities including tools for adding text and shapes, redacting content, making freehand drawings, inserting sticky notes, and capturing your signature using your trackpad, camera, or iPhone.
3. Sejda PDF editor – Most versatile free PDF editor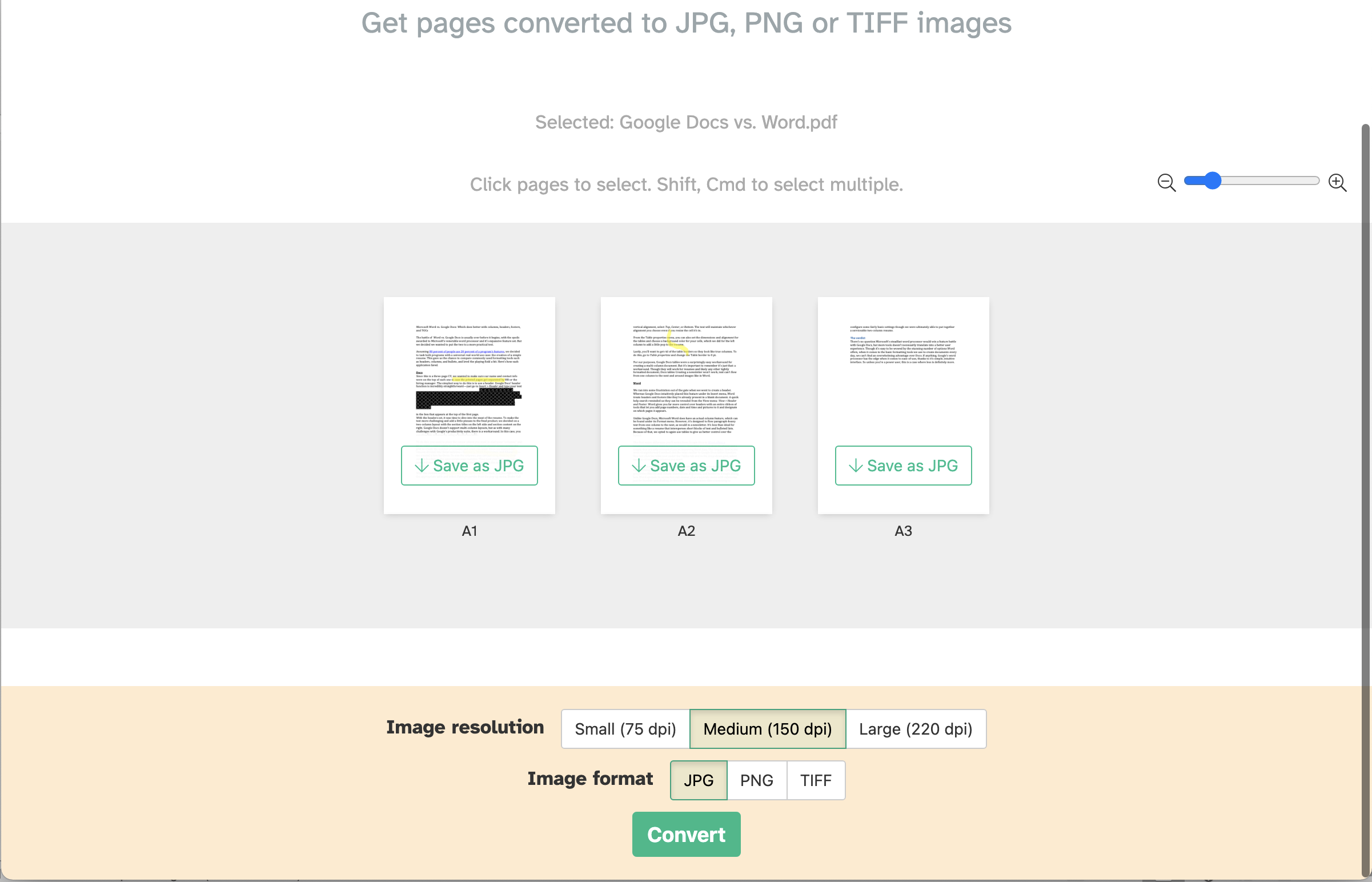 Pros
Online and desktop versions available
Performs dozens of PDF tasks
No frills interface is easy to use
Cons
There are daily usage limits without a subscription
Limited font options
Offered as both an online tool and a desktop editor, Sejda is capable of performing dozens of tasks including editing, form creation and filling, Bates stamping, file encryption, and more. If the daily usage limits are too restrictive for you, you can upgrade to the affordable paid version.
Read our full
Sejda PDF editor review
What to look for in a free PDF editor
Content editing: As its name indicates, a PDF editor's primary function is to enable you to edit a document. That includes the ability to add and modify text; insert, resize, and move images; and reorganize pages in the PDF. Most free PDF editors will let you perform these tasks, though they may impose daily limits on how many you can perform or how many documents you can edit.
Create, convert, and export PDFs: A common need for a PDF editor is to create PDF files from scanned hard copies or by converting digital documents. A good free PDF editor will be able to convert common file formats such as Word, JPG, and HTML to a PDF and preserve the original formatting. It should also be able to export PDFs into other editable formats such as Microsoft Word and PowerPoint, HTML, or plain text, maintaining the original files hyperlinks, images, and other elements.
Review and annotate: Most free PDF editors allow you to add comments and other annotations to PDF files during review. Typical annotation tools include sticky notes, shapes, and drawing markup options.
Signatures: Often all you need a PDF editor for is to sign a document. This used to be a premium feature only available on paid desktop editors, but more free PDF editors are allowing users to create and add electronic signatures to documents.
Note: When you purchase something after clicking links in our articles, we may earn a small commission. Read our affiliate link policy for more details.
Michael Ansaldo is veteran consumer and small-business technology journalist. He contributes regularly to TechHive and PCWorld.