The Rundown: The FTC begins its fact-finding process for potential data privacy rules with its first public forum
The Federal Trade Commission yesterday began the next step in its process of gathering information that will help inform whether to propose new privacy regulations for how companies can collect, use and share consumer data for business purposes.
During the federal agency's first public hearing related to "commercial surveillance and data security," experts and members of the public addressed concerns about data privacy while also suggesting where they thought regulation could be used and the potential impacts on businesses and consumers.
The forum — which follows the FTC's Advanced Notice of Proposed Rulemaking published last month — is part of a lengthy process the FTC will need to adhere to before approving any potential rules. By gathering information, the agency is asking for public input on dozens of questions to inform any potential new data privacy rules regardless of whether a new national law is passed.
It also comes as U.S. lawmakers consider federal legislation around data privacy even as the FTC flexes its muscles through ongoing and settled lawsuits. (Last week, the agency sued the Idaho-based data broker Kochava over its geo-location practices.)
Consumer privacy concerns
Consumer and industry experts expressed concerns about how data is used to discriminate against consumers based on race, income, gender, age and other personal information. According to consumer advocates, that could affect how people are approved for everything from mortgages and credit cards to how they can compete for jobs. Spencer Overton, president of the Joint Center for Political and Economic Studies, cited a June settlement between Meta and the U.S. Justice Department about a housing discrimination case.
"Ads for employment opportunities can be steered toward male users and away from women," Overton said. "Ads for new housing can be steered toward white users, and away from Black and Latin X users."
New privacy laws are needed to address newer formats like email and online search said Caitriona Fitzgerald, deputy director of the Electronic Privacy Information Center (EPIC), who said Google's use of tracking email and search history for ad-targeting would be illegal if applied to older communication formats like mail and telephone calls. Karen Kornbluh, director of Digital Innovation and Democracy Initiative at the German Marshall Fund of the U.S., said the overturning of Roe v. Wade "clarified for many" how vulnerable online activities render their private lives after recent revelations of how tech can track and identify people who search online for and visit abortion clinics. Kornbluh — a former U.S. ambassador — also pointed out that there's also a "national security loophole" without laws banning foreign governments from buying sensitive data about American consumers.
"The current consent framework is insufficient," Kornbluh said. "The companies that we as users deal with online have an asymmetry of information, yet no obligation doctors or lawyers that have strong professional ethical constraints and legal obligations to act in the user's interests with the extensive profiles they have."
Although retailers use data to maintain relationships with consumers and compete in their industry, Paul Martino, vp and senior policy counsel for the National Retail Foundation, said maintaining the brand's reputation gives them the incentive to have stronger data practices in place. However, he said third-party data brokers that are less known by consumers can be a "much greater risk" because consumers don't know what to expect from them or what data they have access to.
"Third-party businesses lack the incentives of customer serving businesses to use data responsibly and in alignment with consumers' interest because they are not in pursuit of long-term customer relationships with the consumers whose data they collect and process," he said.
How to improve data privacy
Panelists also made a number of suggestions for what they've seen companies and laws address for responsibly using data. For example, Jason Kint, CEO of Digital Content Next, said new state laws giving consumers ways to notify businesses of their privacy preferences can be helpful. But Martino cautioned that making regulations too broad could also block data-driven relationships with companies that consumers might actually want.
Rebecca Finlay, CEO of Partnership on AI, said companies that create processes for documenting data collection and usage — such as for machine learning — can help measure the impact systems have. According to Finlay, that creates a "foundation" for accountability and transparency inside and outside of the organization.
"This is not just about creating a checklist of characteristics, or even potential sort of mathematical or technical models," she said. "This is really about creating management systems and processes that stretch right from the design, development and deployment of the machine learning system being considered."
And there should be financial penalties for companies that break the rules, said Marshall Erwin, chief security officer at Mozilla, adding that it's "fundamentally what moves the needle in a meaningful way." However, requiring everyone to play by the same rules is also key, according to Kint, who added that companies with dominance should adhere to even higher standards.
"The digital ad market is a little bit like a water balloon," Kint said. "If any individual actor — a retail site or publisher — moves forward with a higher level of standard, the advertising market will just shift to where they can find those users and target them."
NASA Says Hurricane Didn't Hurt Artemis I Hardware, Sets New Launch Window
NASA's Artemis I moon mission launch, stalled by Hurricane Ian, has a new target for takeoff. The launch window for step one of NASA's bold plan to return humans to the lunar surface now opens Nov. 12 and closes Nov. 27, the space agency said Friday. 
The news comes after the pending storm caused NASA to scrub the latest Artemis I Iaunch, which had been scheduled for Sunday, Oct. 2. As Hurricane Ian threatened to travel north across Cuba and into Florida, bringing rain and extreme winds to the launch pad's vicinity, NASA on Monday rolled its monster Space Launch System rocket, and the Orion spacecraft it'll propel, back indoors to the Vehicle Assembly Building at Florida's Kennedy Space Center. 
The hurricane made landfall in Florida on Wednesday, bringing with it a catastrophic storm surge, winds and flooding that left dozens of people dead, caused widespread power outages and ripped buildings from their foundations. Hurricane Ian is "likely to rank among the worst in the nation's history," US President Joe Biden said on Friday, adding that it will take "months, years, to rebuild."
Initial inspections Friday to assess potential impacts of the devastating storm to Artemis I flight hardware showed no damage, NASA said. "Facilities are in good shape with only minor water intrusion identified in a few locations," the agency said in a statement. 
Next up, teams will complete post-storm recovery operations, which will include further inspections and retests of the flight termination system before a more specific launch date can be set. The new November launch window, NASA said, will also give Kennedy employees time to address what their families and homes need post-storm. 
Artemis I is set to send instruments to lunar orbit to gather vital information for Artemis II, a crewed mission targeted for 2024 that will carry astronauts around the moon and hopefully pave the way for Artemis III in 2025. Astronauts on that high-stakes mission will, if all goes according to plan, put boots on the lunar ground, collect samples and study the water ice that's been confirmed at the moon's South Pole. 
The hurricane-related Artemis I rollback follows two other launch delays, the first due to an engine problem and the second because of a hydrogen leak.
Hurricane Ian has been downgraded to a post-tropical cyclone but is still bringing heavy rains and gusty winds to the Mid-Atlantic region and the New England coast.
What You Get in McDonalds' New Happy-Meal-Inspired Box for Adults
You've pulled up to McDonald's as a full-on adult. You absolutely do not need a toy with your meal, right? Joking. Of course you do.
The fast-food chain will soon sell boxed meals geared toward adults, and each one has a cool, odd-looking figurine inside. 
The meal has an odd name — the Cactus Plant Flea Market Box — that's based on the fashion brand collaborating with McDonald's on this promotion. 
According to McDonald's, the box is inspired by the memory of enjoying a Happy Meal as a kid. The outside of the box is multicolored and features the chain's familiar golden arches. 
The first day you can get a Cactus Plant Flea Market Box will be Monday, Oct. 3. Pricing is set by individual restaurants and may vary, according to McDonald's. It'll be available in the drive-thru, in-restaurant, by delivery or on the McDonald's app, while supplies last.
You can choose between a Big Mac or 10-piece Chicken McNuggets. It will also come with fries and a drink.
Now about those toys. The boxes will pack in one of four figurines. Three of the four appear to be artsy takes on the classic McDonald's characters Grimace, Hamburglar and Birdie the Early Bird, while the fourth is a little yellow guy sporting a McDonald's shirt called Cactus Buddy.
In other McD news, Halloween buckets could be returning to the chain this fall. So leave some room in your stomach for a return trip.
Why companies like iHeartMedia, NBCU rely on homegrown IP to build metaverse engagements
To avoid potential blowback from a skeptical audience, retailers as well as media and entertainment companies are learning to invest in their homegrown intellectual properties while building virtual brand activations inside Roblox or Fortnite.
Take, for instance, when they get it wrong.
Earlier this week, Walmart launched its own Roblox world — called Walmart Land — and was roundly mocked for it across social media given the announcement's disjointed brand message and apparent lack of life. In one viral tweet, a Twitter user described a clip of Walmart CMO William White introducing the Roblox space as "one of the saddest videos ever created."
To some extent, this sort of criticism is to be expected during the early days of the metaverse.
"Walmart is an iconic brand; when you see them coming into a platform like Roblox, people are going to be 10 times more critical of what is being launched," said Yonatan Raz-Fridman, CEO of the Roblox developer studio Supersocial.
But Walmart's size is not its only disadvantage as it dips its toes into Roblox. Although Walmart has a widely recognizable brand, it owns few intellectual properties that users are actually interested in experiencing virtually — a shortcoming reflected by the somewhat cavernous emptiness of Roblox's Walmart Land.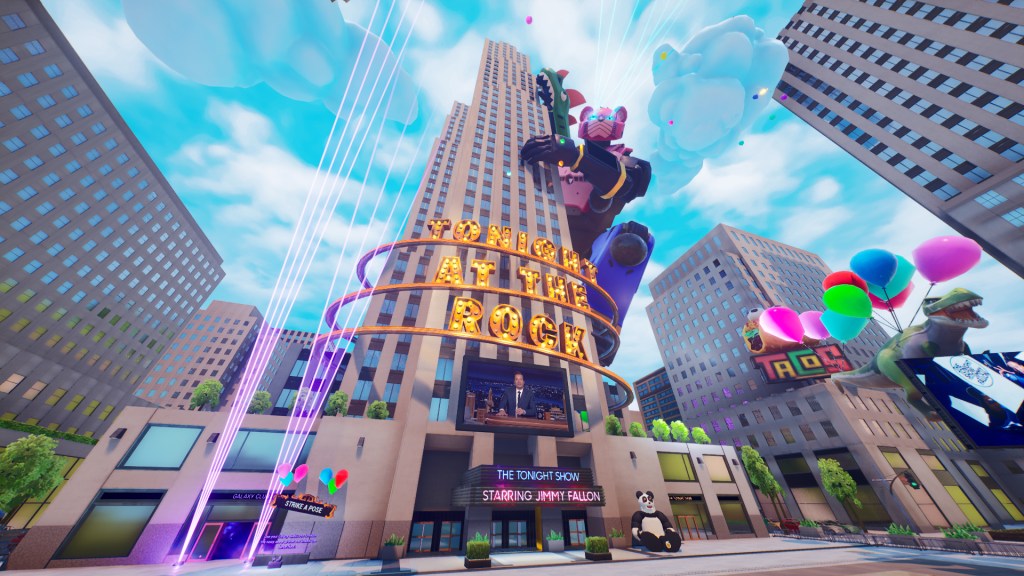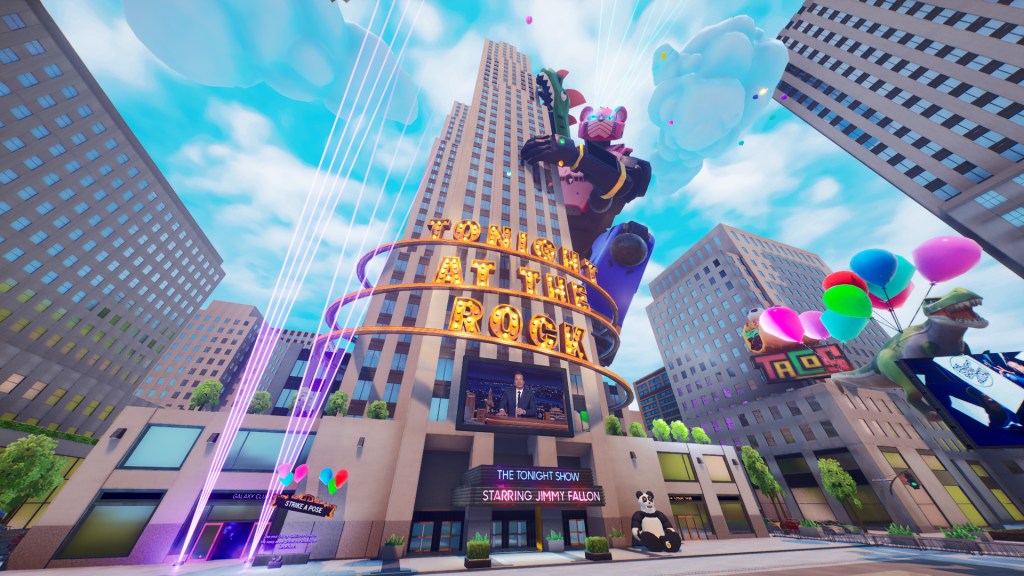 The success of other recent brand activations is evidence that media and entertainment brands are better equipped to build metaverse spaces that can dodge online skepticism, thanks to their wealth of owned IP.
"They are having to reinvent themselves, to a certain degree, but that is in their DNA," said Jesse Streb, global svp of technology and engineering at the agency DEPT. "So they have a unique advantage over, say, some kludgy company that sells lumber, or a construction company."
For example, iHeartMedia's Roblox and Fortnite spaces were inspired by the mass media corporation's wealth of popular real-life events, such as the Jingle Ball Tour and iHeartRadio Music Festival, with virtual versions of musicians like Charlie Puth performing pre-recorded concerts that allow real-time audience interaction.
"There's a strong brand association with the IP, down to a station level — you're in the New York area, you probably know Z100," said iHeartMedia evp of business development and partnerships Jess Jerrick. "The same is true for the event IP, or the IP that we now have in the podcasting space, and of course our radio broadcast talent. So there's no shortage of really strong IP we can bring into these spaces."
Translating real-life properties into the metaverse is also an enticing prospect for brands that view metaverse platforms as an experimental marketing channel, allowing them to bring tried-and-true IP into their virtual activations instead of designing them from the ground level. This was part of the strategy behind the recent Tonight Show activation in Fortnite Creative, which was designed in collaboration between NBCUniversal and Samsung. "We're looking at it holistically — how do we find fans in new ways, and use IP that fans love in new ways?" said NBCU president of advertising and client partnerships Mark Markshall.
Since opening on Sept. 14, iHeartLand has already enticed over 1.5 million Roblox users to visit. The company aims to retain that attention with a schedule of virtual programming featuring popular musicians and personalities.
"At our core, we are essentially an influencer network; our broadcast talent are some of the most connected, most engaging influencers at work in media today," said Conal Byrne, CEO of iHeart Digital Audio Group. "That gives us this sort of superpower, to be able to go into new-ish platforms, like Roblox or Fortnite, because we talk to our listeners through those influencers."