The story of the Windows XP 'Bliss' desktop theme—and what it looks like today
Editor's Note: PCWorld originally published this story in 2014. This year, 2021, marks the 20th anniversary of Charles O'Rear's iconic photo in 1996, which became the basis of the Windows XP desktop wallpaper. Microsoft first published Windows XP on Oct. 25, 2001. The vineyards are still there, greener than ever after the fall rains.
It's not too far-fetched to believe that a billion people have viewed the "Bliss" image that defines the desktop view of Windows XP, the seminal OS that Microsoft is retiring Tuesday. But you'd barely notice the real-world "Bliss" scene if you stepped out of your car and gazed at it today.
Driving anywhere in California's wine country can be treacherous. Roads curve back and forth, well, drunkenly. Bicyclists are common, and the next bend could hide an entrance to one of Napa's finest wineries, a tour group jaywalking across the road, or even a couple on horseback, exploring the area.
In 1998, photographer Charles "Chuck" O'Rear was driving from Sonoma County through Napa on his way to Marin County. His mission was to meet Daphne, the woman who eventually became his wife. In January, as most California natives know, the rains come, and the hills explode into green for a few months before the withering summer heat browns them once again.  
O'Rear, a 25-year veteran of National Geographic, drove down the road, then pulled over. That stretch of Highway 12 is narrow and windy, with only a slender shoulder for stopping one's car. At the bottom of a steep embankment is a barbed-wire fence. And in 1998, when O'Rear took his famous "Bliss" photo, all he could see was an emerald-green hill, a ridge behind it, and a few puffy clouds. 
"I got out, took a couple of pictures, and kept on going," he told PCWorld in an interview on Monday. "And the rest is history."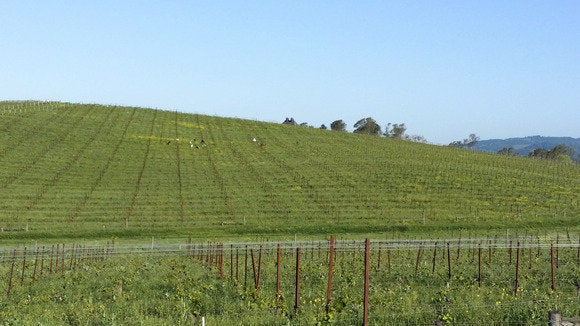 Fast-forward to the year 2000. Microsoft was about to launch Windows XP. The company had designed the new operating system with the stability of its corporate OS, Windows 2000, and the consumer features of Windows 98 and Windows ME. O'Rear was one of the first photographers to use a service called Corbis to digitize and license his photos. And Corbis was owned by Microsoft's chief executive at the time, Bill Gates.
"How many pictures they looked at, I have no idea," O'Rear said. But what he did do was hop on an airplane with the original transparency and accept a hefty check for his work. O'Rear can't disclose the amount, but he said it would be an acceptable amount back then—and remains so today.
How to find the site
Since then, the location of the "Bliss" photo has been disclosed: about here, on Highway 12 (overlapping with Hwy 121) in Sonoma County. If you're driving from Napa to Sonoma, it's little more than a mile or so past the magnificent Domaine Carneros. The safest way to visit the spot is to find a spot in town to park, then hike back. But an alternative is to find a place to turn around, then park next to a call box while driving east to Sonoma. Then carefully walk back a quarter mile or so, crossing the highway only when no cars are coming. It's a busy, busy road. You've been warned.
At the bottom of the hill, you'll need to walk back and forth until you find the right vantage point. As you'll see in my photos, I never quite found a way to eliminate the ridge in the background.
What you'll quickly discover, however, is that the verdant green hills have given way to the region's cash crop: wine. And the grapes used to make them.The only grasses are those at the bottom of a steep embankment, growing next to rosebushes that are being established next to the fence. Unfortunately, the presence of farm equipment—and a house that has been built onto the back side of the hill—robs the new "Bliss" view of its natural beauty. But as you already know from the drive, those green vistas are just a few hundred yards away.
O'Rear swears the original Bliss photo appears as his camera caught it. "Sorry, everybody, it's the real deal," he said. "Nothing was altered."
O'Rear himself has his own, separate technology connections. He helped pioneer National Geographic's technology coverage. It's his hand, he said, holding a Motorola 68000 chip on the cover of the Oct. 1982 cover of the magazine. He shot photos for other stories on advanced materials, as well as a coffee table book on Silicon Valley. But "Bliss" remains his most famous work. And, most likely, "Bliss" will remain his most famous work forever.
"I got an email from someone at Microsoft—I suspect it was the engineering department—saying, 'We have a contest going about that photograph,'" O'Rear said. "'Most of us think it was Photoshopped. Some of us think it was taken out in eastern Washington in the Palouse area. Tell us about it.' I wrote back and said, 'Sorry, it's the real deal. It was all there. The clouds were there, the green grass was there and the blue sky."
"So the next week I got a 100 8-by-10s from them saying 'Please autograph them and send them back."
But as Microsoft continues to rework Windows, so, too, do the owners of the vineyard. Sixteen years later, "Bliss" is almost unrecognizable. O'Rear said he used to know the landowners, but they sold to a new owner a couple of years ago. And time marches on.
Note: When you purchase something after clicking links in our articles, we may earn a small commission. Read our affiliate link policy for more details.
As PCWorld's senior editor, Mark focuses on Microsoft news and chip technology, among other beats. He has formerly written for PCMag, BYTE, Slashdot, eWEEK, and ReadWrite.
Pick up this RTX 3070 Alienware laptop at a staggering $530 off
Dell
Finding a decent graphics card for your desktop PC may be nigh-impossible, but gaming laptops have never been hotter. (Literally—they need some serious active cooling systems.) Take this Alienware M15, for example: Packed inside are a Core i7 processor, an RTX 3070 GPU, and a bunch of other great features. And right now, Dell's online shop has slashed its price, taking an eye-popping $530 off the normal price.
There's a lot to like about this machine: 512GB of speedy M.2 SSD storage, 16GB of memory for generous multitasking, and a 144Hz G-sync panel to make that 15.6-inch screen and that graphics card shine. The only real downsides are that said screen is a 1080p, non-touch panel, and that Core i7 is a little older than some other laptops: a 10th-gen model from 2020. But those sacrifices are more than worth it for such a deep discount. A laptop that retails for $2,129 is now just $1,600, and it should be able to run the latest games for years to come.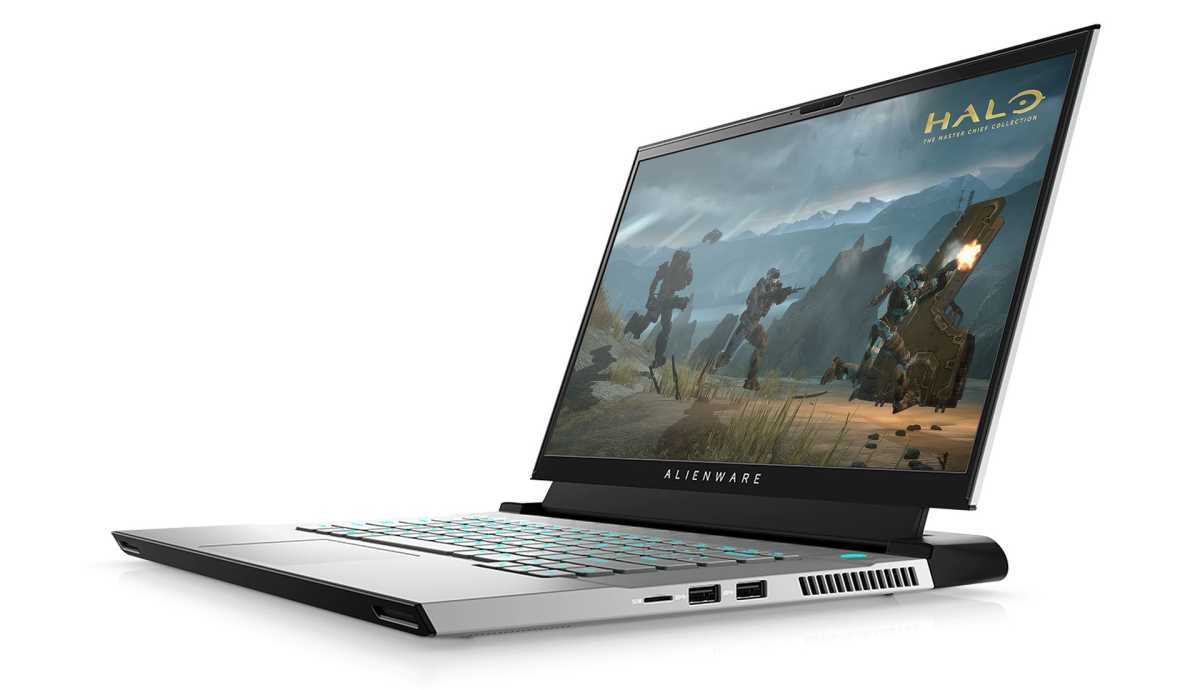 Dell
The fourth revision of the Alienware M15 comes with an impressive array of ports: triple USB-A, fold-out Ethernet, headphone jack, and MicroSD card on the side, and HDMI, mini-DisplayPort and USB-C on the back. That Type-C port can handle power input if you have enough juice, but the laptop also includes a standard barrel power port. And if that RTX 3070 ever becomes not beefy enough for you, you can add on an external graphics card via the proprietary Alienware Graphics Amplifier port.
Dell says that this deal is limited in terms of availability, and with those specs it isn't likely to last long. Get an order in quickly if you've made a decision.
[Today's deal: Alienware M15 with RTX 3070 for $1,600 at Dell.com.]
Note: When you purchase something after clicking links in our articles, we may earn a small commission. Read our affiliate link policy for more details.
Michael is a former graphic designer who's been building and tweaking desktop computers for longer than he cares to admit. His interests include folk music, football, science fiction, and salsa verde, in no particular order.
What to look for in a cheap Chromebook
Is a cheap Chromebook good enough for distance learning and homework? Definitely—depending on what's inside.
As a parent or a student, you may already have weighed the pros and cons of Windows laptops vs Chromebooks. One of the appeals of a Chromebook is cost, especially if a family has to buy several. But some of the cheapest Chromebooks we've seen come with some big caveats. We'll go over the key factors to consider before you buy. Consider these while you check out our best Chromebook deals for Black Friday.
Check the Auto Update Expiration
The first thing you should do when considering any Chromebook, especially one that's enticingly cheap, is to check it against Google's Auto Update Expiration list. While Microsoft supports Windows PCs for a long time, Google sets a limit—currently about six years from the product's original ship date for most consumer models, though some (especially education and enterprise models) get a few years more. 
When a Chromebook goes off support, Google won't upgrade the Chromebook's ChromeOS any further, which means no new features and no security patches. If you buy an older Chromebook, it's already a few years closer to its expiration than a brand-new model would be. Retailers do not publicize this, so it's worth checking out.
My son spent most of last school year doing schoolwork on an original Chromebook Pixel from 2013, which was way out of date, with no problems whatsoever—but there are no guarantees.
Display quality: Resolution and brightness
A classic feature of cheaper Chromebooks is a lower-quality display. Whether you're young or old, looking at a small, low-res screen for hours at a time can be fatiguing at best and detrimental at worst. That's why you should buy a Chromebook with a Full HD (1920×1080) display if at all possible. An HD (1366×768) screen—often found on the cheapest Chromebooks—can be tolerated on smaller 11.6-inch displays, but we don't recommend it. Eye fatigue can affect kids as well as adults.
The displays on cheaper Chromebooks can also be on the dim side. They may suffice for indoor use, but outdoor light will wash out the screen. If you can find a brightness spec, look for something 250 nits or higher.
Memory matters more than storage
While Chromebooks can store data locally, the vast majority of schoolwork is performed online. To my knowledge, neither of my children have ever saved something on to a Chromebook directly, so the size of the onboard storage rarely matters. PC enthusiasts may also prefer faster SSDs over an eMMC flash drive—but for a Chromebook? It really makes no difference, and you shouldn't even really pay attention to how much storage a Chromebook has if your work is mostly or always done online.
Memory plays a bigger role, because that's where your browser data is loaded. More memory means you can have more available browser tabs for surfing the Web.
Most Chromebooks come with at least 4GB of memory. Anything less than that (such as 2GB) may have a detrimental effect—in fact, Zoom recommends 4GB of memory. A child in elementary school might not be using a Chromebook for more than Google Classroom, Zoom, and some other app. An older child might need to have multiple tabs open for research. With older students, teens, and adults, consider a Chromebook with a bit more memory. (Unfortunately, Chromebooks aren't usually designed to be upgradeable.) 
Connectivity
As with any laptop, smaller and thinner models tend to skimp on ports. Think about what you need to connect—such as a USB drive, a headset, or a display. In general, look for an HDMI port (for an external display option), a microSD or SD card slot for loading photos, and a USB-A port (ideally more than one) to plug in peripherals. You'll also see USB-C ports on some Chromebooks, but usually not the cheaper ones. (We see a lot of discounted Chromebooks ignoring HDMI ports entirely, especially the ones being sold for Black Friday or the holidays.)
Choosing an older, cheaper Chromebook might mean suffering with an older Wi-Fi radio. Generally, however, 802.11a/b/g/n Wi-Fi or better, plus Bluetooth, should work, even for Zoom's bandwidth requirements of 2.5 Mbps for group video chats at 1080p resolution. 
Webcam: Just make sure there is one
No well-meaning teacher is going to care about the quality of a child's webcam as long as there is one. A better webcam can make it easier to see your child, or make their work more visible if they're holding it up for inspection, but a well-lit room can probably offset any shortcomings.
Processor performance: Zoom requires more
Chromebooks designed for browser-based schoolwork traditionally haven't required much processor power—and often saved cost with lower-end chips. Now, however, both Zoom and YouTube play a more significant role.
YouTube shouldn't give even old, cheap Chromebooks much of a workout, especially as YouTube automatically scales the resolution to deliver a good experience. But with Zoom becoming more prevalent, it might be worth leaning toward a Chromebook with an Intel processor, either a Celeron a full-fledged Core chip. Zoom's system requirements call for a "1 GHz" processor for Zoom calls. 
You'll typically find Chromebooks offering Core chips (far more horsepower than necessary), Celeron or modern Pentium chips (probably sufficient) and Arm chips from Qualcomm and Mediatek. We'd typically agree that even an Arm chip can run a Chromebook just fine (after all, there's one in your smartphone) but a quick web search of the processor can't hurt. If the chip was manufactured more than five years ago, you may want to consider a newer model.
This story was updated with additional information on November 25.
Note: When you purchase something after clicking links in our articles, we may earn a small commission. Read our affiliate link policy for more details.
As PCWorld's senior editor, Mark focuses on Microsoft news and chip technology, among other beats. He has formerly written for PCMag, BYTE, Slashdot, eWEEK, and ReadWrite.
Arturia's V Collection instruments now have native M1 Mac support
It's now that much easier to use Arturia's softsynths on your brand new MacBook. Arturia has released a free V Collection 8.2 update that adds native support to the (currently discounted) suite for Macs with M1 processors. That should improve performance, as you might guess, but it could also help with battery life if you need to play unplugged.
Other speed updates are in store. The update boosts the performance of 4K interfaces through a new framework, and presets from the V Collection factory libraries now load up to twice as quickly. You'll also find ODDSound MTS-ESP microtuning compatibility for the Clavinet V, DX7 V, Piano V and Stage-73 V.
This might be an important update if you use softsynths for music-making. Arturia has a reputation for virtual instruments that are both meticulous and relatively accessible. This both makes V Collection more viable on M1 Macs and gives you more incentive to rely on digital synths instead of hunting down their costlier real-world counterparts.
All products recommended by Engadget are selected by our editorial team, independent of our parent company. Some of our stories include affiliate links. If you buy something through one of these links, we may earn an affiliate commission.