THORWallet expands DeFi swap functionality with Rango Exchange integration
THORWallet, a non-custodial wallet that allows users to swap native crypto-assets across chains and earn passive income on them, today announced a new partnership with multi-chain DEX, Rango Exchange.
For the first time, THORWallet DEX users can now execute cross-chain swaps on assets beyond those available in THORChain pools, starting with cross-chain swaps compatible with the Ethereum Virtual Machine (EVM), plus more than 40 chains.
"The team at Rango Exchange are renowned specialists in DEX aggregation. Joining forces allows us to collaborate on our shared vision of building a fair and open financial system for the future. Bringing together a multitude of cross-chain swap services into a single wallet application grants immediate access to the entire DeFi universe, including swap pairs not supported by THORChain."

– Marcel Harmann, Founder & CEO of THORWallet DEX
As the gateway to THORChain, THORWallet DEX enables users to access native and cross-chain liquidity plus the full DeFi landscape from a single entry point.
"Collaborating with the team at THORWallet is as exciting as it is significant. Until now, accessing multichain DeFi through multiple applications has been an intimidating experience for the average user. Consolidating our service's features into a single wallet solution allows anyone with a smart device to easily take advantage of all the top chains and DEXs, swapping BTC with ETH or any liquid EVM assets."

– Martin, CMO at Rango Exchange
For Rango Exchange, this integration follows a string of successful partnerships including 1inch, Paraswap, and more.
4 On-Chain Metrics Show the Bitcoin Price Is Primed for Bullish Explosion
Amid recent macroeconomic extremes, Bitcoin has maintained a quiet stance, almost eerie for its HODLers. Nonetheless, its hashrate and accumulation are soaring — what could this mean for its price?
Bitcoin has been consolidating in a narrow range between $18,800 and $20,200 since the mid-Sept price fall. In volatile markets like cryptocurrency, similar quiet periods of consolidation are rare. 
Recent Glassnode findings show that the current BTC price action resembles both pre-crash November 2018 and pre-rally March 2019. Despite price downturns, mining and accumulation statistics are improving. Let's look into what this means for the health of the network.
Bitcoin hashrate makes new ATH 
Last week, the Bitcoin hashrate made a new all-time high of 242 exahashes per second.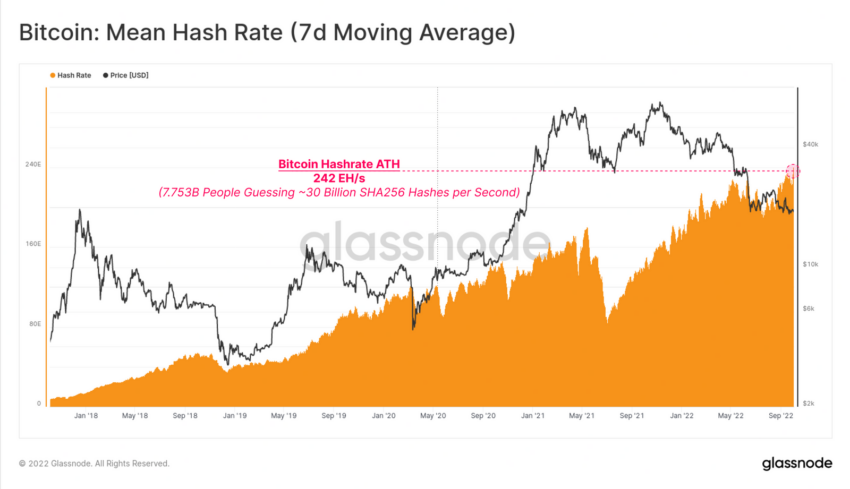 In the chart below, we can see that Bitcoin's longer-term, slower hash ribbon was once again overtaken by the faster ribbon, indicating improved mining conditions in late August. Since the price saw no major uptick during this time, the rise in hashrate was likely due to more efficient mining hardware and more mining rigs working in general.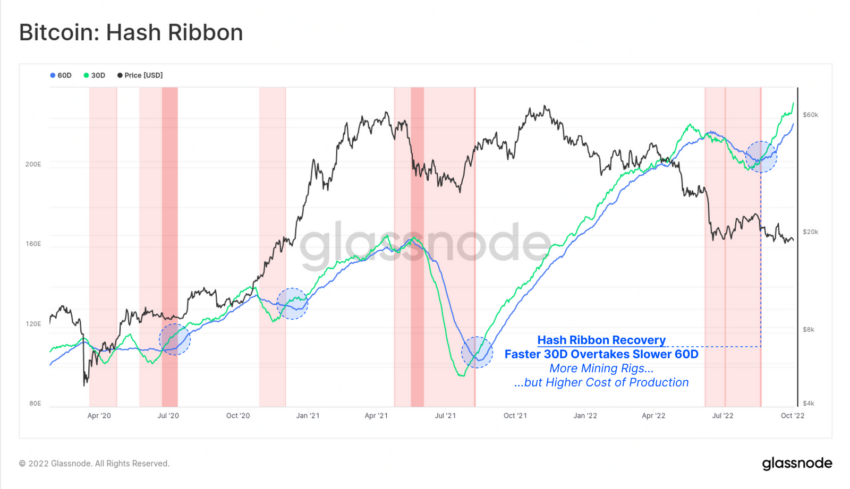 Historically, these hash ribbon moving average swaps precede price gains. Historically, when the hash-rate drops and subsequently recovers, major BTC price bottoms have been made. 
Is a price bottom in?
Apart from the hashrate, Bitcoin accumulation levels also reached a 7-year high. CryptoQuant data shows that 6-month-old and older Bitcoins now make up 74% of the realized cap. During the 2019 and 2015 bottoms, this score sat at 70% and 77%, respectively.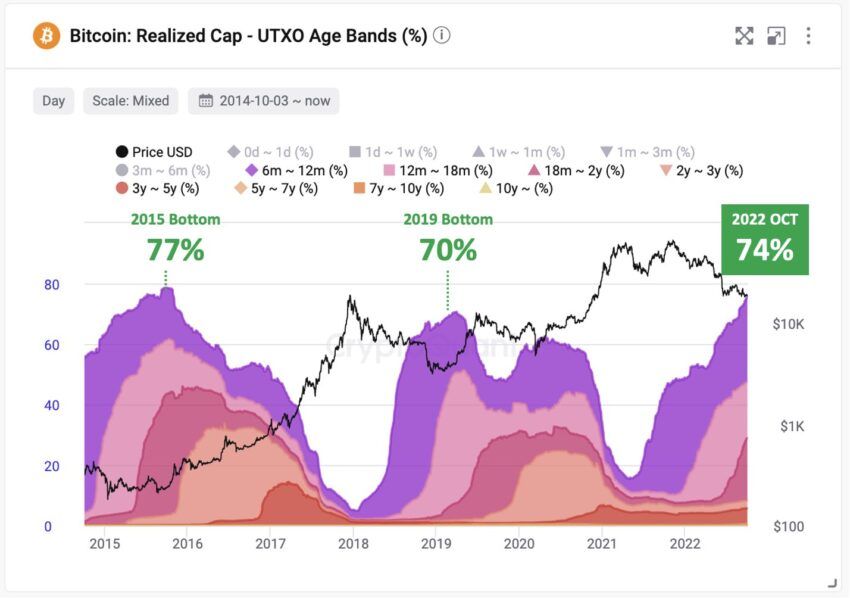 Lastly, for the first time in this cycle, the percentage of supply in loss has reached the 50% level.
CryptoQuant data shows that the price bottoms during previous cycles normally occur when the percentage of supply in loss reaches 50% or more.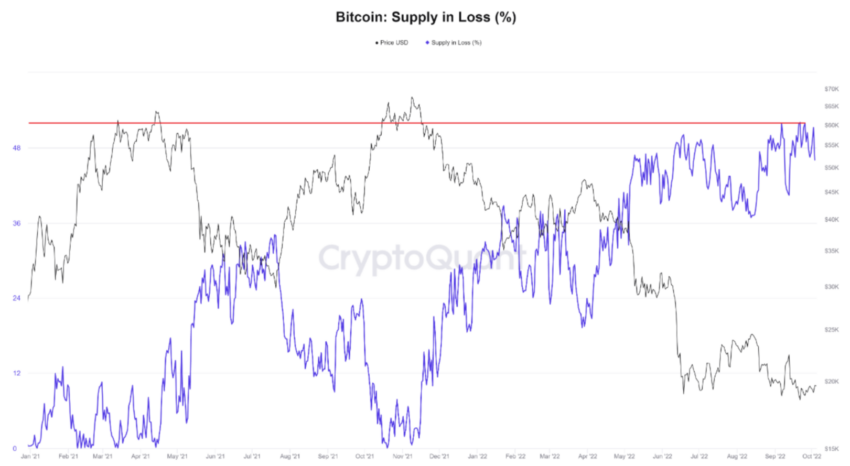 The current data shows the highest percentage of losses at 52% on the daily chart, 50.4% on the weekly (7DMA), and 48% on the monthly (30DMA). 
While quite a few metrics suggest that BTC should be near a bottom, the overall momentum will likely still depend on macroeconomic conditions as well as its correlation with the Nasdaq and S&P 500. 
Disclaimer
All the information contained on our website is published in good faith and for general information purposes only. Any action the reader takes upon the information found on our website is strictly at their own risk.
Celsius Network Will Hold Its Final Asset Auction On This Date 
Celsius Network is set to hold its final asset auction on October 17, 2022 
FTX CEO Sam Bankman-Fried is reportedly mulling over buying Celsius Network assets next week.
A recent court filing filed by Celsius reveals that the embattled crypto lender platform will conduct its final bidding session on October 17, 2022.
Celsius Is All Set to Host Its Final Auction Event 
Celsius Network has revealed a new timeline for its final auction event. The crypto lender platform will now be conducting its final bidding session on October 17, 2022, at 4:00 PM ET, alongside an auction, if necessary, on October 20, at 10:00 Eastern time.
Per the court filing filed with the US bankruptcy court for Southern New York, a sale hearing will be held on November 11, 1:00 PM ET, before chief US bankruptcy Judge Glenn Martin via Zoom.
Celsius Network, a prominent crypto lender platform, landed itself in troubled waters in July when the firm announced its decision to halt its deposits and withdrawals on the platform, citing extreme market conditions. The platform has received heavy criticism from the entire crypto community, which further spiralled out of control when the firm announced a deficit of 2.8 billion on its balance sheet.
In addition to this, Alex Mahinsky, CEO of Celsius Network, has recently submitted his resignation to the board. Mahinsky had reportedly withdrawn $10 million in the weeks before the firm halted deposits and withdrawals on its platform.
The auction, which is scheduled to go live on October 17, is said to be attended by a large number of interested parties. The CEO of FTX crypto platform, Sam Bankman-Fried, is also reportedly interested in purchasing the remaining assets of Celsius Network.
Last week, FTX.US won the first round of the Voyager asset auction by proposing a winning bid of $1.4 billion.
Money Flowing Out Of Crypto Funds Is 666M Less Than Previous Quarter Indicating Bearish Investors Are Already Out: Bloomberg
According to data from Bloomberg, money flowing out of crypto exchange-traded funds has slowed down by 97% in Q3 compared to Q2. 
Investors pulled $17.6 million from crypto ETFs in Q3 in comparison to a record withdrawal of $683.4 million from the ETF in Q2.
The second quarter of 2022 saw record withdrawals from crypto exchange-traded funds with a withdrawal of $683.4 million, which affected the price of Bitcoin and other cryptocurrencies. Bitcoin's price has seen a 60% decrease that quarter, posting a record low of $17,785 on June 17 according to data from Coingecko.
Bloomberg data reports that Q3 of 2022 saw much fewer sales, indicating that capitulation may have occurred and bearish investors are now already out of risky assets such as BTC, Ethereum, and others.
ETF Strategist at Strategas securities stated for Bloomberg:
"I wonder if the second quarter was the 'get me out part of these funds,"
According to Sohn, the third quarter may have been where the "laggards" and investors who had been "keeping the faith mentality" are now out.
Markets have declined in recent months as central banks have increased interest rates to curb inflation.
Bitcoin Witnessed An Increase In Volume This Quarter Against GBP
Bitcoin recently witnessed increased trading volume against GBP as the fiat currencies showed weakness. Bitcoin trading volume recorded an all-time high on Sep 28, 2022, as the UK's fiat currency was threatened.
Bitcoin has been outperforming other major currencies in the past week, with a positive increase of 6.3%. Will this outperformance continue to hold, and are investors getting "orange-pilled" on Bitcoin while losing faith in fiat currency? This is something we will continue monitoring and see how it unfolds.