USDC: Coinbase is involved with 2 stablecoin scams?
Tether and USDT have been a lightning rod for stablecoin criticism. As the longest-surviving, it's by far the largest which also means the question of whether each coin is backed is highly important.
Given there's no evidence that USDT are backed at anything close to a 1:1 rate (and certainly no evidence that the reserves are composed of cash in any significant way), Tether can create USDT, claim that each is worth US$1 and have almost the entire digital asset industry believe them.
Who wouldn't like that power?
While the sheer size of the Tether and USDT scheme makes them lightning rod for stablecoin criticism, they aren't the only stablecoin. The second biggest is USD Coin (USDC), and its $26.59 billion market cap is fast catching up to USDT's $62.09 billion. What this should mean is that the operators of USDC should have $26.59 billion in reserve assets available to support the USDC in circulation; in theory, it's worth US$26.59 billion, but more on that shortly.
If Tether is a concern, then USDC, which is run by Centre and Coinbase's Circle, undoubtedly is, too. With the now-public Coinbase's fate suddenly tied up in both—and with the announcement that Circle will be going public later this year—an enormous amount of other people's money is at stake.
Who owns Centre?
USDC was launched in September 2018 by Centre, a consortium founded by Circle and whose only other member is Coinbase. Circle is a payment technology company which at one point purchased beleaguered exchange Poloniex. The coin was initially marketed as the most transparent stablecoin on the market.
In that spirit, Circle has until recently made a point to publish monthly accountant attestations of its reserves on behalf of USDC, produced by respected accountancy firm Grant Thornton LLP. Like with Tether's early stabs at transparency, the report is most notable for what it isn't: it's not an independent third party audit. At best, it's a statement that on the attested date, the reserves backing USDC were enough to cover the amount in circulation.
Tether has already shown why these attestations are worthless as proof of reserves. The New York Attorney General's investigation found that the company would funnel funds from affiliated companies to Tether's bank account on the day of the attestation before then moving back out the very next day, giving a highly misleading illusion of constant backing.
Also like Tether, Circle has abandoned any claim that USDC is backed entirely by cash. Starting with the attestation report dated March 31, 2020, part of the reserves was allocated as "approved investments." No details are given as to what shape these investments take and most importantly, we aren't told how much of the reserves fall under this category. Conceivably, it could be 99% of them.
Still, next to the low bar set by Tether, the monthly attestations bought USDC some goodwill.
That is, until the attestations started coming late, and then eventually they stopped coming at all. As of the time of publication, the last attested month was for April 2021—and even that is dated June 9, 2021.
If this were happening in a vacuum, it might not be that big a deal. After all, the attestations reveal hardly anything anyway. But the attestations started slowing down almost exactly when the issuance of USDC started to balloon dramatically. Doomberg on Substack noticed that the first report to come substantially late was October 2020. November's was on time, every report since has been released at least 30 days after the end of the month, with reports ceasing entirely after April.
What happened in October? Well, between 2018 and September 2020, the number of USDC in circulation grew from 0 to $1.5 billion. From the start of October 2020 to today, it grew from $2.5 billion to more than $26 billion. If each USDC truly is backed, that means in less than a year, over $23 billion has poured into Centre's coffers from people wanting to purchase USDC.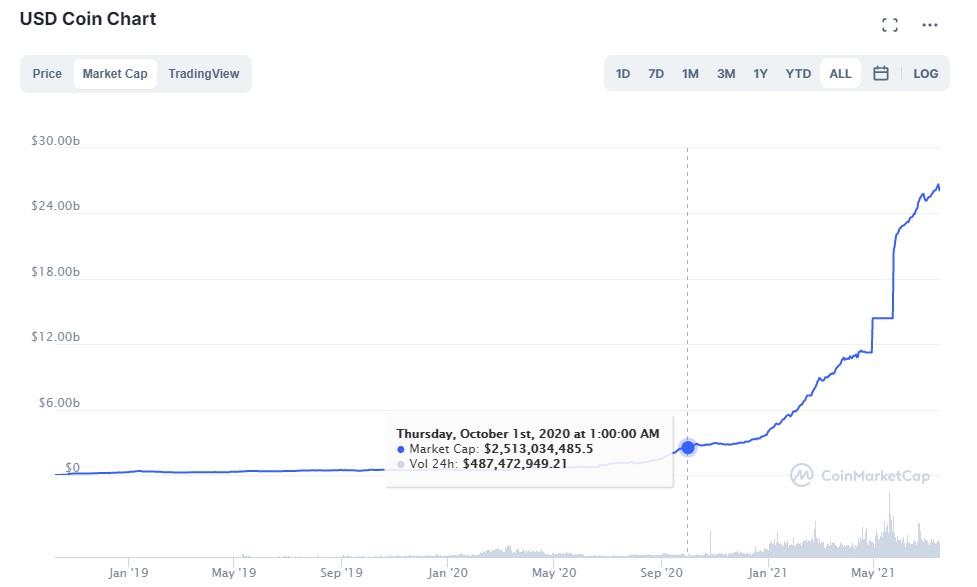 That's a hell of a time for Centre to start ignoring its commitment to being the most transparent stablecoin on the market. It appears that the attestation reports stopped coming more or less exactly at the start of an unprecedented run of USDC printing. Considering that means an added $24 billion worth of potentially worthless USDC is now propagating throughout the digital asset markets being used to pump the price of anything from BTC to ETH, that's cause for significant concern.
Because the attestations are mostly a charade to begin with, it should be alarming that they are struggling to get them signed off in anything but a timely manner. All that needs to happen for the attestation to be genuine is for Grant Thornton LLP to be able to see that Centre holds enough assets—not even just cash—at the date of the attestation. Considering it's unlikely Centre's assets have grown by some $23.5 billion in under a year, it seems obvious what the problem is: there's very little backing the massive new issuance.
It's against this background that Circle will join its partner, Coinbase, in going public. For Circle's current shareholders, there could be no better time: the abandonment of regular attestations is damning, but it only puts USDC on equal footing with USDT in terms of transparency, and that hasn't done Tether any harm. The masses seem content with stablecoins being the rising tides that lift all boats, and as long as that keeps happening, who cares?
The digital asset industry's exposure to Tether is bad enough. With the USDC printer now giving USDT a run for its money, the bubble is only growing. All it will take to pop is for enough people to want to redeem their stablecoin for USD at the same time, and all that will take is the inevitable regulatory crackdown which truly got underway with the NYAG's fine of Tether. When that day comes, the innocent investors who swapped their dollars for USDC will discover there is nothing to redeem, and their money has simply disappeared into the ether. USDT and USDC will go up in smoke, together with every project that has relied on the injection of fake money to sustain themselves.
Coinbase stock will crater, along with the rest of the market—if not right away, then under a sea of law enforcement and private legal action for getting into bed with not one, but two stablecoin scams.
Not that Coinbase's executives care: they've already cashed out. When Circle eventually goes public, you can bet their executives will do the same.
Follow CoinGeek's Crypto Crime Cartel series, which delves into the stream of groups—from BitMEX to Binance, Bitcoin.com, Blockstream, ShapeShift, Coinbase, Ripple and 
Ethereum—who have co-opted the digital asset revolution and turned the industry into a minefield for naïve (and even experienced) players in the market.
New to Bitcoin? Check out CoinGeek's Bitcoin for Beginners section, the ultimate resource guide to learn more about Bitcoin—as originally envisioned by Satoshi Nakamoto—and blockchain.
Tencent limits how long kids can play its flagship game, 'Honor of Kings'
China's regulatory war against its tech giants isn't limited to data. After opening a front in gaming back in 2018, the government is now adding to the restraints the biggest publishers face. Tencent is first on the chopping block. The publisher has been forced to further slash playing time on Honor of Kings for those aged under 18 to one hour during regular days and two hours on weekends. The rules, designed to appease the country's all-powerful censors, come into effect today, according to state media outlet the South China Morning Post. 
Previously, play time in China was capped at 90 minutes per day during the week and three hours per day at weekends and holidays as part of broader rules introduced in 2019. Additional restrictions banned younger gamers from playing between 10 p.m. and 8 a.m. and curbed how much they could spend on downloadable content.
Honor of Kings is a hugely popular multiplayer online battle arena game developed by Tencent subsidiary TiMi Studio Group, also known for Call of Duty: Mobile and Pokémon Unite. As of November, the mobile title boasted 100 million players. But, its success has also brought with it increased scrutiny. In June, Tencent found itself at the center of a lawsuit that accused it of including "inappropriate" content in Honor of Kings, including characters with low-cut clothes and historical inaccuracies.
The latest crackdown comes amid growing fears in China over the addictive nature of video games. On Tuesday, a state-affiliated media outlet described the products produced by the gaming industry as "spiritual opium." The article continued: "No industry or sport should develop at the price of destroying a generation."
Therein lies the broader issue. China is currently grappling with a generational divide that has seen younger citizens reject the competitive lifestyle pressures heaped upon them. This stance is encapsulated by the "tang ping," or "lying flat," philosophy embraced by a growing number of Gen Z Chinese. In a nutshell, it signifies those who choose not to work hard, not to buy property and not to marry and have children. 
Instead of addressing the societal complaints, China is choosing to deflect the blame onto the gaming industry.
All products recommended by Engadget are selected by our editorial team, independent of our parent company. Some of our stories include affiliate links. If you buy something through one of these links, we may earn an affiliate commission.
Vudu and FandangoNow merge into a single streaming service
Fandango has revealed Vudu's fate more than a year after it purchased the streaming platform from Walmart. No, Vudu isn't going away. In fact, it's merging with its parent company's own streaming service, FandangoNow, to form a single platform that'll take on Vudu's name. Fandango told TechCrunch that it decided to retain Vudu's branding, because it has a following that's significantly larger than FandangoNow's. According to data from the NPD Group, Vudu is in over 75 million TV-connected devices in the US and has more than 60 million registered users. 
As a result of the merge, Vudu will replace FandangoNow as Roku's official movie and TV store. Roku devices will automatically update the app, and owners will be able to purchase the media they want using Roku Pay. The new Vudu will offer more than 200,000 movies and TV shows they can purchase, including new releases like F9: The Fast Saga, Pixar's Luca, The Conjuring: The Devil Made Me Do It, Peter Rabbit 2, The Hitman's Wife's Bodyguard, A Quiet Place Part II, Disney's Cruella, Godzilla vs. Kong and In the Heights. Next Tuesday, Black Widow will arrive on the platform. If you'll recall, Scarlett Johansson sued Disney for the movie's simultaneous release in theatres and on Disney+, which reportedly cost the star over $50 million. 
Even though only the Vudu branding will remain, FandangoNow customers won't lose access to their purchased content. They can now transfer their accounts to Vudu, where they'll be able to access their TV and movie libraries like usual. 
All products recommended by Engadget are selected by our editorial team, independent of our parent company. Some of our stories include affiliate links. If you buy something through one of these links, we may earn an affiliate commission.
The Morning After: Is this the end of the selfie camera notch?
When will see the end of the notch or the hole-punch camera? The fight continues to make in-screen smartphone cameras a viable option. Last year's ZTE Axon 20 5G was the first phone to attempt the hidden selfie camera, but it struggled with image quality. It's a predictable issue: The camera has to face out through the screen, affected by whatever the pixels are displaying.
Oppo has announced its third-gen under-screen camera which, based on a sample shot, shows a lot of promise. Even if it's a company's own sample, there's no noticeable haziness nor glare. The company explains this is possible through a combination of electronic engineering and AI smarts. Oppo says it trained its own AI engine "using tens of thousands of photos" to achieve more accurate corrections on diffraction, white balance and HDR.
Then there's the display. Earlier designs lowered the pixel density in the area above the camera to let more light into the sensor. This, however, made a noticeable patch above the camera. But now, Oppo — or whichever company is making its smartphone displays, possibly Samsung — figured out a way to boost light transmittance by shrinking each pixel's geometry. In other words, it keeps the same pixel density, but more light can reach the camera sensor.
Oppo hasn't mentioned a date — or new phone — for the under-screen camera, but ZTE claims to feature an improved version of its under-screen camera in its new , which launched in China last week. The timing is all a little too coincidental.
— Mat Smith
Probably the best you'll get this year.
While it's no , Apple has updated the Mac Pro with new high-end GPU options. AMD's Radeon Pro W6800X, W6800X Duo and W6900X cards tout 50 percent improved performance per watt over their Vega II predecessors. All of them include four Thunderbolt 3 ports and an HDMI 2 connector, with support for Infinity Fabric Link that lets up to four GPUs (such as two W6800X Duo modules) talk to each other five times faster than PCIe.
That performance will, of course, cost you: $2,400 extra to configure a new Mac Pro with the W6800X inside, $4,600 for the W6800X Duo and $5,600 for the W6900X. Go all-out and you can spend $9,600 on two W6800X Duos or $11,600 on two W6900X modules. Continue reading.
Expect an update later today.
Boeing will have to wait yet again to test its Starliner spacecraft. The company and NASA had planned to launch the capsule on Tuesday on top of an Atlas V rocket at 1:20 PM ET yesterday, but the company had to delay the launch due to "unexpected valve position indications in the propulsion system" that engineers spotted during pre-launch preparations. Continue reading.
It doesn't taste like Mountain Dew.
As promised, we bought Krispy Kreme's celebratory Xbox donut, with powdered sugar nexus design. Do we own an Xbox? No. But do we like donuts? Yes. Continue reading.
For a limited time, but probably until 'Halo Infinite' actually arrives.
Microsoft and 343 Industries have partnered with Waze to bring the Master Chief and Escharum, his Banished foil in Infinite's upcoming story campaign, to the navigation app. It's also possible to change your car's live map icon to either a Warthog or Ghost and update your profile "mood" to feature the visage of the Spartan or alien war chief. Continue reading.
The retailer's contactless payments system is available at 53 of its physical stores.
Amazon is offering $10 in promotional credit to get people to sign up to its palm print payments system, according to an offer spotted by TechCrunch. The retailer launched Amazon One last fall as a contactless way of authenticating purchases and allowing entry into stores using a biometric device. The sign-up process is the only part that requires you to touch the device. After that, you just hover your palm over the scanner to enter a store and complete purchases.
Amazon is aware of privacy concerns and promised to secure palm data using encryption and dedicated secure zones with restricted access controls. For those worried their data could be monetized, Amazon also committed to keeping palm data separate from its other customer data. That said, a $10 voucher may not sway those already put off by the horror stories around the company's facial recognition tech and . Continue reading.
But wait, there's more…
All products recommended by Engadget are selected by our editorial team, independent of our parent company. Some of our stories include affiliate links. If you buy something through one of these links, we may earn an affiliate commission.