WD Black SN850X SSD review: Face-meltingly fast
At a glance
Expert's Rating
Pros
Excellent performance
Decently affordable given its speed
Available up to 4TB
Optional heatsink for 1/2TB models
Cons
Pricey per gigabyte
Somewhat parsimonious TBW ratings
Our Verdict
WD's Black SN850X is an excellent, and slightly more affordable alternative to Seagate's might FireCuda 530. It's also especially adept at real-world transfers and random operations.
Price When Reviewed
$160 for 1TB I $290 for 2TB I $700 for 4TB
Best Prices Today: WD Black SN850X NVMe SSD
Not Available
Free
WD's Black SN850X lit up our test meters with outstanding real-world and random performance. It equaled or surpassed the mighty Seagate FireCuda 530 in a couple of tests, and by a rather wide margin in one.
Even if it couldn't quite match its rival's sequential throughput under synthetic benchmarks, the SN850's overall performance makes it a more than viable alternative to Seagate's best. It's also a bit cheaper, though its TBW ratings are also far lower.
This review is part of our ongoing roundup of the best SSDs. Go there for information on competing products and how we tested them.
WD Black SN850X: Price and design
As you might guess given our glowing report on performance, you won't be seeing the WD Black SN850X in the bargain bin. Indeed, while it's less expensive than the FireCuda 530 at the moment, it's still not cheap, with an MSRP of $160 for the 1TB model, $290 for the 2TB, and $700 for the 4TB capacity.
Add $20 if you want a heatsink (most modern motherboards provide their own) for the 1TB/2TB capacities. The 1TB and 2TB (tested) versions are single-sided, and I'm guessing the 4TB is double-sided, hence the lack of a heatsink option.

WD
The SSDs themselves sport the usual 2280 (22x80mm) M.2 form factor and are PCIe 4 x4 NVMe types. The NAND is 112-layer TLC (Triple-Level Cell/3-bit) with what the company claims is a Western Digital designed controller.
WD's solid state expertise comes courtesy of SanDisk, a company it purchased a while back, and that's the name on the controller.
WD provides a generous five-year warranty, but the TBW (terabytes that may be written) ratings, while about average for cheaper drives, are a bit parsimonious for a top-shelf drive. Basically, 600TBW for every 1TB of capacity—less than half of what Seagate provides for the FireCuda 530.
TBW ratings are like the "or 50,000 miles" on automobile warranty. If you exceed them, the warranty is over whether it's been one year or five.
WD Black SN850X: Performance
I've definitely let the cat out of the bag as regards performance, but I'm guessing you'd like some specifics. I get paid to provide them, so here goes. The SN850X was a smidge slower (mostly writing) in CrystalDiskMark 8's sequential test. Not by a lot, mind you.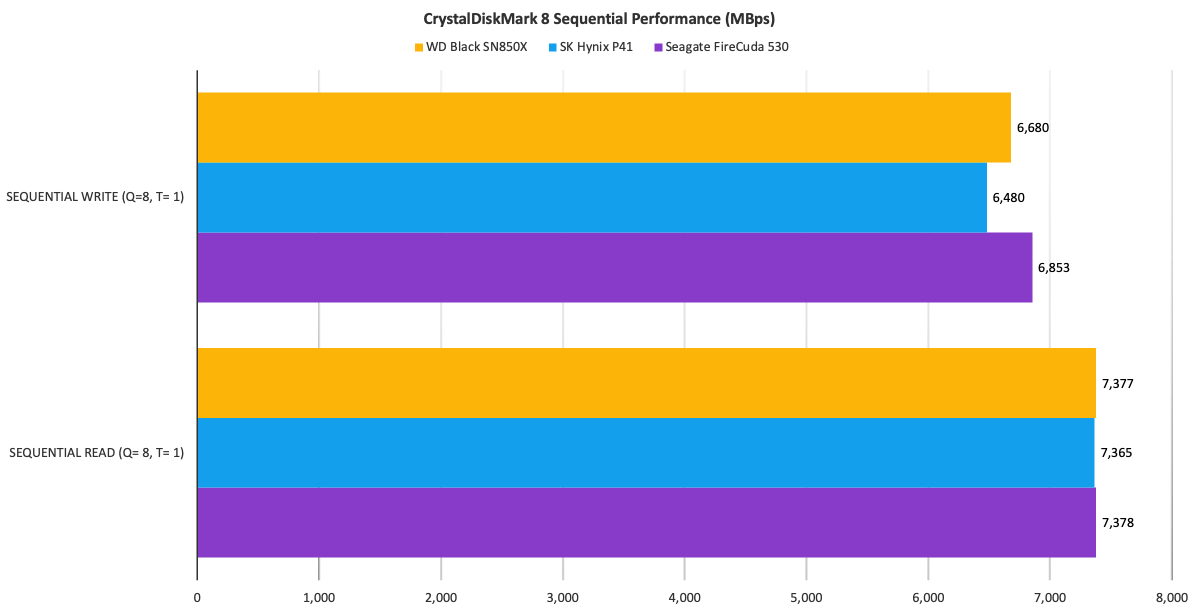 On the other hand, it fairly clobbered its rival in random writes with 32 queues in play. The performance between the two drives (and most others) was very similar with only a single queue, so you can chalk this up to the controller.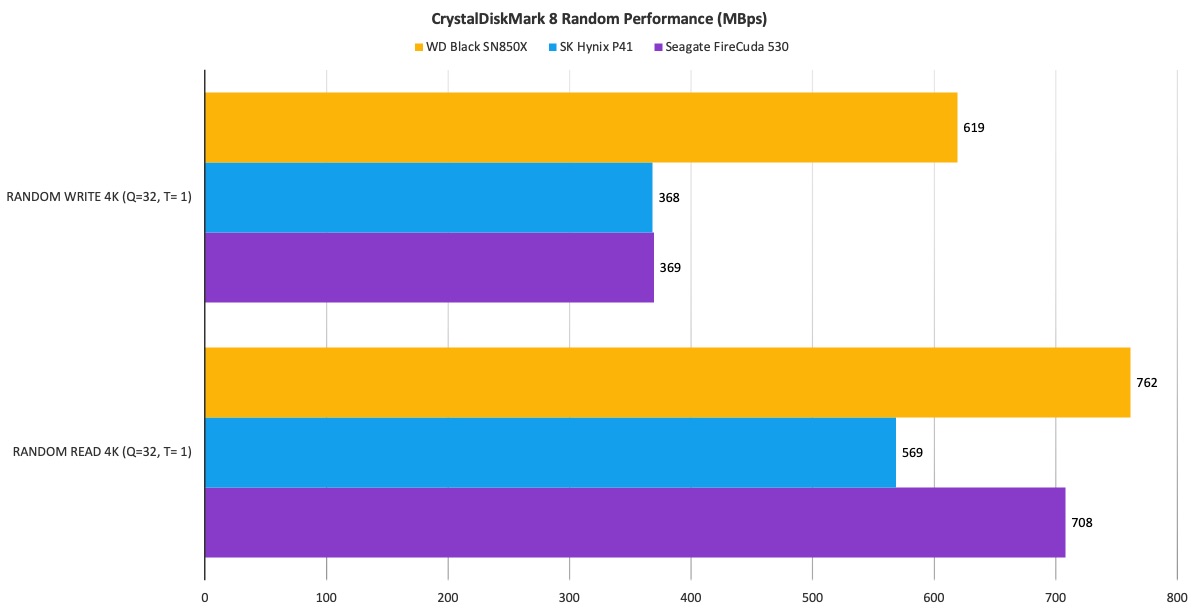 Adding everything together, the rival FireCuda 530 comes out on top, though not by a whole lot. The SN850X's aggregate score is the second-fastest we've seen.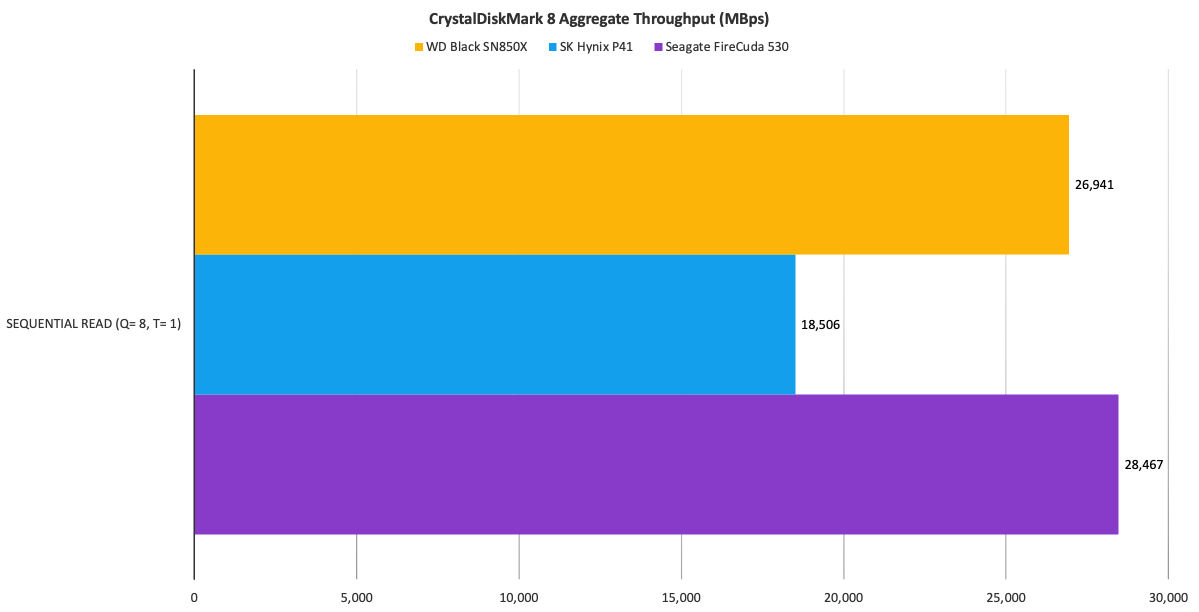 Real-world performance with our 48GB data sets was excellent as well for the SN850X. The aggregate time is the fastest we've seen on our new test bed.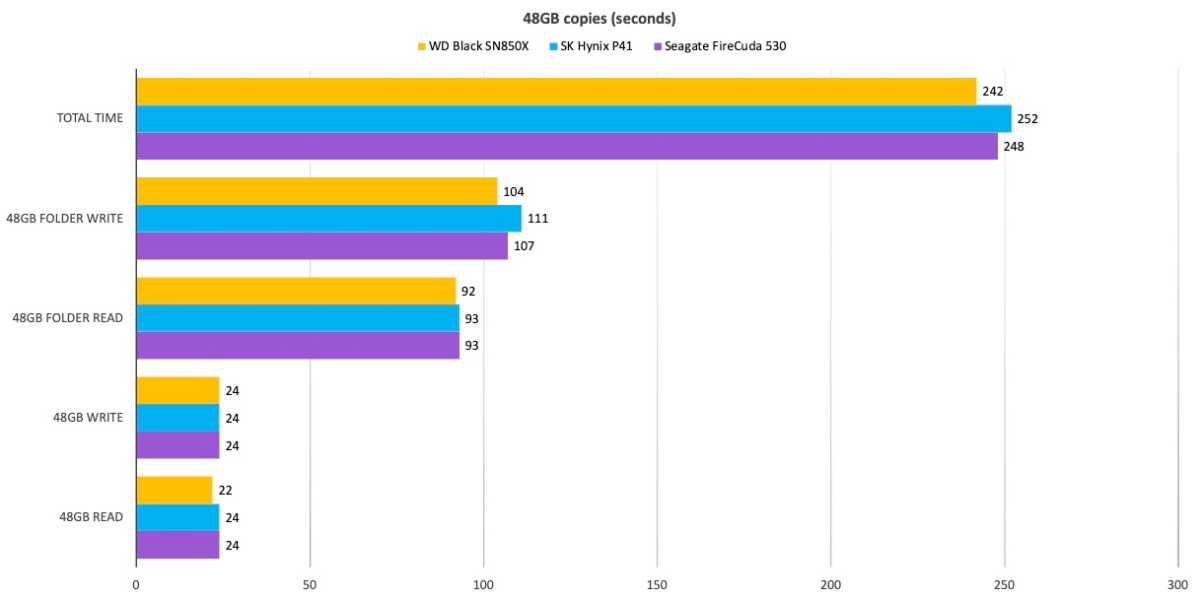 The SN850X once again bested its main rival when writing a single large 450GB file. By a narrow margin to be sure, but a win is a win. The record for a single (non-RAID) drive is 209 seconds by the Teamgroup Cardea A440 Pro—another very fast drive that's only a bit slower overall than the FireCuda 530 and SN850X.
As you can see, the SN850X lacks nothing in performance. What it didn't show in CrystalDiskMark 8 in terms of sequential throughput, it demonstrated in the real world. As we live in the real world…
Internal drive tests currently utilize Windows 11, 64-bit running on an MSI MEG X570/AMD Ryzen 3700X combo with four 16GB Kingston 2666MHz DDR4 modules, a Zotac (Nvidia) GT 710 1GB PCIe x2 graphics card, and an Asmedia ASM3242 USB 3.2×2 card. Copy tests utilize an ImDisk RAM disk employing 58GB of the 64GB total memory.

Each test is performed on a newly formatted and TRIM'd drive so the results are optimal. Over time, as a drive fills up, performance will decrease due to less NAND for caching, and other factors. The performance numbers shown apply only to the drive of the capacity tested. SSD performance can vary by capacity due to more or fewer chips to shotgun reads/writes across and the amount of NAND available for secondary caching.
Bottom line
If I was choosing a drive to anchor a new test bed, it would be the WD Black SN850X. Random performance is what makes operating systems seem quick, and that is where the SN850X shines. Then again, if I were concerned about warranty/TBW or sequential throughput, the FireCuda 530 might get the nod. Half a dozen, one or the other. Nonetheless, an excellent product from WD.
Best Prices Today: WD Black SN850X NVMe SSD
Not Available
Free
USB logos finally make sense, thanks to a redesign
For years, USB technologies have been an alphabet soup of terminology—when, really, all consumers care about is how fast the USB connection is. But now, finally, a new USB logo scheme solves this problem.
The USB Implementors Forum unveiled new logos on Friday for laptop ports, chargers, and cables that actually try to communicate what each one does. It's a far cry from the nightmare naming scheme that the USB-IF implemented in 2009. It's worth noting that the names of each specification apparently haven't changed, but the logos have, and that's all that matters.
USB-IF executives said the new logos were established alongside the new 240W USB-C power specification, which can now charge USB-C powered laptops at the levels required by even some gaming laptops. Now, the various USB specifications are defined by their speed. Charging specifications are defined by their wattage, with logos that actually indicate this.
"With the new higher power capabilities enabled by the USB PD 3.1 Specification, which unlocks up to 240W over a USB Type-C cable and connector, USB-IF saw an opportunity to further strengthen and simplify its Certified Logo Program for the end user," said Jeff Ravencraft, USB-IF President and chief operating officer, in a statement. "With our updated logos, consumers can easily identify the USB4 performance and USB Power Delivery capabilities of Certified USB-C cables, which support an ever-expanding ecosystem of consumer electronics from laptops and smartphones to displays and chargers."
Check out the new logos, which will be used on packaging, ports, and device power ports:

About the only drawback? There's no obligation for device makers to actually inscribe the logo on their laptops, which could mean a continuation of the confusion around ports.
The new USB cable logos also feature clear communication of their speed as well as their charging capabilities. The big question is whether these cables will support Thunderbolt, or DisplayPort, or USB4 —any of the protocols, that is.
Finally, there are the charging logos, which again state what the device is capable of.

If nothing else, this is a huge step forward for clarity, communicating to the consumer what they're buying. The only real regret is why this wasn't implemented years ago.
Cheaper OLED monitors might be coming soon
OLED monitors, with their vibrant colors and perfect black levels, are some of the very best screens you can connect to your PC. Unfortunately, they're also crazy expensive: with only a few models on the market, the cheapest is still more than a thousand bucks. That might be changing soon, if a report on OLED mega-manufacturer LG Display is accurate.
OLED-info.com quotes unconfirmed news out of China's manufacturing sector, saying that LG is ready to start manufacturing smaller OLED panels for smaller TVs and computer monitors. Specifically, it's preparing to ramp up smaller displays using the cheaper WOLED panel technology, which can be produced much more economically than the older types of OLED panels seen in high-end televisions.
Despite being ubiquitous on smaller gadgets like phones and smartwatches, and extremely popular in high-end televisions, OLEDs have been slow to come to the PC market. We're just starting to see them become a popular option on more and more laptops, but you can count the number of commercially available desktop OLED monitors on one hand. And, of those, LG's own offerings have been focused on the ultra-high-end professional media market — it's only this year that the company has begun supplying panels for gaming monitors to companies like Alienware and Corsair.
While we can't verify the news without a more conventional source, it makes sense. The high-end television market is currently saturated (no pun intended) with OLED screens since there's been relatively little innovation in the last few years and huge numbers of consumers upgraded their home theaters during the pandemic. OLED manufacturing technology is poised to go bigger (or rather, poised to hit the midrange between small and big) after spending a decade maturing in the mobile electronics market.
If all goes well, we might begin to see more affordable OLED monitors announced at trade shows like CES, E3, and Computex in 2023, with models hitting the market in the summer or fall. Keep your fingers crossed for some display bargains.
NASA Says Hurricane Didn't Hurt Artemis I Hardware, Sets New Launch Window
NASA's Artemis I moon mission launch, stalled by Hurricane Ian, has a new target for takeoff. The launch window for step one of NASA's bold plan to return humans to the lunar surface now opens Nov. 12 and closes Nov. 27, the space agency said Friday. 
The news comes after the pending storm caused NASA to scrub the latest Artemis I Iaunch, which had been scheduled for Sunday, Oct. 2. As Hurricane Ian threatened to travel north across Cuba and into Florida, bringing rain and extreme winds to the launch pad's vicinity, NASA on Monday rolled its monster Space Launch System rocket, and the Orion spacecraft it'll propel, back indoors to the Vehicle Assembly Building at Florida's Kennedy Space Center. 
The hurricane made landfall in Florida on Wednesday, bringing with it a catastrophic storm surge, winds and flooding that left dozens of people dead, caused widespread power outages and ripped buildings from their foundations. Hurricane Ian is "likely to rank among the worst in the nation's history," US President Joe Biden said on Friday, adding that it will take "months, years, to rebuild."
Initial inspections Friday to assess potential impacts of the devastating storm to Artemis I flight hardware showed no damage, NASA said. "Facilities are in good shape with only minor water intrusion identified in a few locations," the agency said in a statement. 
Next up, teams will complete post-storm recovery operations, which will include further inspections and retests of the flight termination system before a more specific launch date can be set. The new November launch window, NASA said, will also give Kennedy employees time to address what their families and homes need post-storm. 
Artemis I is set to send instruments to lunar orbit to gather vital information for Artemis II, a crewed mission targeted for 2024 that will carry astronauts around the moon and hopefully pave the way for Artemis III in 2025. Astronauts on that high-stakes mission will, if all goes according to plan, put boots on the lunar ground, collect samples and study the water ice that's been confirmed at the moon's South Pole. 
The hurricane-related Artemis I rollback follows two other launch delays, the first due to an engine problem and the second because of a hydrogen leak.
Hurricane Ian has been downgraded to a post-tropical cyclone but is still bringing heavy rains and gusty winds to the Mid-Atlantic region and the New England coast.