What is Chainlink VRF and how does it work?
Blockchain technology has spawned many applications over the past few years, the most popular being cryptocurrencies. It has also facilitated the creation of many decentralized, secure and transparent marketplaces in the digital economy. 
Offering far more trust since all transactions are immutably recorded on the blockchain, this technology has been well supplemented by the smart contract feature popularized by Ethereum. Decentralized applications (DApps) based on blockchains like Ethereum are disrupting traditional businesses such as retail banking and are even introducing use cases never deemed possible.
Expanding the capability of smart contracts with oracles
However, for the Ethereum blockchain to support the development of DApps that go beyond merely facilitating transactions, they must interact with the external or off-chain world and integrate the incoming data into smart contracts, which is where blockchain oracle technology comes into play, bolstering smart contracts by linking them with real-world data, events and transactions. Now, many types of third-party services are available, such as inbound, outbound, software and hardware oracles, which are further expanding the number of real-world applications that blockchain protocols can power.
Consensus-based oracle networks such as the Chainlink protocol provide end-to-end decentralization, which is key to securing the entire blockchain ecosystem in which they operate. Additionally, these oracles enhance smart contracts' performance, functionality and interoperability to offer a higher degree of trust and transparency than on-chain systems.
This transformation will come about through broadening the use of hybrid smart contracts, which fuse blockchains' special properties with the unique capabilities of off-chain systems such as oracle networks, thereby achieving far greater reach and power than on-chain systems in isolation.
What is Chainlink VRF?
Many DApps in the blockchain gaming and nonfungible token (NFT) space require a tamper-proof and verifiable source for random number generation to provide advanced functionalities such as executing an airdrop, running a lottery or developing chance-based games.
Related: A beginner's guide to the GameFi ecosystem
Chainlink's Verifiable Random (VRF) function relies on a decentralized oracle network (DON) to enhance existing blockchains by providing verified off-chain data. It can even facilitate the export of blockchain data to systems beyond the blockchain ecosystem. Chainlink VRF provides cryptographically secured randomness by employing a set of Chainlink nodes that relay data to smart contracts while maintaining a classical-consensus mechanism through a committee of these nodes.
Offering random number generation (RNG) for smart contracts, Chainlink VRF helps developers build better experiences by leveraging random outcomes in their blockchain-powered applications. Moreover, the tamper-proof randomness provided by Chainlink VRF cannot be manipulated by any node operator, the user or even a malicious entity since every oracle in the DON has an associated private and public key pair, where the private key is maintained off-chain while the public key is published on-chain.
How does Chainlink VRF work?
A smart contract can utilize Chainlink VRF to obtain a secure and verifiable random number in four simple steps:
Since Chainlink VRF uses two keys to generate a random but unpredictable value that can be verified through proof of correctness, it offers a far more secure and decentralized storage of individual keys for applications with the capability of generalized computation. Overcoming the drawbacks of insecure RNG solutions that rely on off-chain computing, Chainlink VRF's on-chain cryptographic verification combines on-chain block data that is used as an input to supply unbiased and tamper-proof results that are safe even from compromised oracles in its own network.
As a result of the superior capabilities provided by Chainlink's on-chain RNG solution, use cases of Chainlink VRF include reliable smart contract applications in the decentralized finance (DeFi) space such as PoolTogether, where it allows for fairly gamified personal savings, and Moonbeam where it provides real-time price data for Polkadot (DOT) developers.
It is also helping to distribute nonfungible tokens (NFTs) in a fair manner as in the case of Polychain Monsters and introducing entropy in on-chain gaming by providing verifiable randomness solutions as in the case of Axie Infinity (AXS). Developed as part of the Chainlink 2.0 ecosystem, Chainlink VRF is providing the computational resources and infrastructure needed for smart contracts to be capable of advanced functionalities. Together with other DONs, it is also facilitating a general-purpose framework that developers can use with complete trust.
Related: Axie Infinity (AXS): A beginner's guide to the gaming metaverse project
What is Chainlink VRF v2?
In tune with its vision of constantly upgrading the features provided through its DONs, Chainlink has introduced Chainlink VRF v2 with several improvements revolving around how developers can fund and request randomness for their smart contracts.
This includes the ability to generate multiple random outputs in a single on-chain transaction, reducing the time needed for a response while also reducing transaction costs or gas fees. It also allows for up to 100 smart contract addresses to fund requests for verifiable randomness from a single LINK subscription balance account, that would be managed by the developer or subscription owner.
Additionally, Chainlink VRF v2 introduces a Subscription Manager application that permits developers to pre-fund multiple randomness requests using a single LINK token balance, doing away with the need to transfer tokens for each request and further reducing the applicable chainlink VRF fees considerably.
In fact, it even lets developers adjust the callback gas limit when their smart contract applications receive verified randomness and allows for more complex logic in the callback request function. While the gas limits are higher than that set in Chainlink VRF, they depend on the underlying blockchain being used and are clearly defined on the VRF Contract addresses page.
The benefits of Chainlink VRF v2 also include a greater customization ability since developers can now define how many block confirmations are needed before a random number is generated and delivered onto the blockchain.
With a range of three to 200 blocks, developers can select the optimum number of block passes before randomness is generated, thereby protecting their applications from block re-organizations while still providing a far lower latency time from request to the final response. With Chainlink VRF v2, developers can now access highly scalable, gas-efficient and configurable on-chain randomness, which can unlock even greater functionalities for NFT and gaming DApps.
As a result of the constant introduction of improvements by Chainlink, its VRF application is emerging as the de facto choice for most developers building DApps on the Ethereum network. Delivering on the promise of facilitating the introduction of provably secure blockchain-based applications, Chainlink VRF is enabling developers to create more practical applications that can interface with real-world data reliably.
With blockchains now being able to connect with external data feeds in a trustless manner, Chainlink VRF represents a major step forward in the blockchain technology space as it grants developers the ability to push the frontiers of the Metaverse as we now know it.
4 On-Chain Metrics Show the Bitcoin Price Is Primed for Bullish Explosion
Amid recent macroeconomic extremes, Bitcoin has maintained a quiet stance, almost eerie for its HODLers. Nonetheless, its hashrate and accumulation are soaring — what could this mean for its price?
Bitcoin has been consolidating in a narrow range between $18,800 and $20,200 since the mid-Sept price fall. In volatile markets like cryptocurrency, similar quiet periods of consolidation are rare. 
Recent Glassnode findings show that the current BTC price action resembles both pre-crash November 2018 and pre-rally March 2019. Despite price downturns, mining and accumulation statistics are improving. Let's look into what this means for the health of the network.
Bitcoin hashrate makes new ATH 
Last week, the Bitcoin hashrate made a new all-time high of 242 exahashes per second.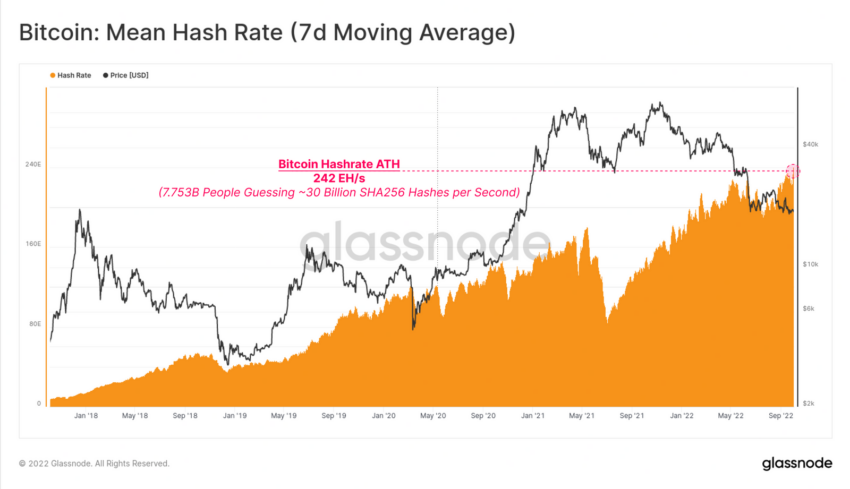 In the chart below, we can see that Bitcoin's longer-term, slower hash ribbon was once again overtaken by the faster ribbon, indicating improved mining conditions in late August. Since the price saw no major uptick during this time, the rise in hashrate was likely due to more efficient mining hardware and more mining rigs working in general.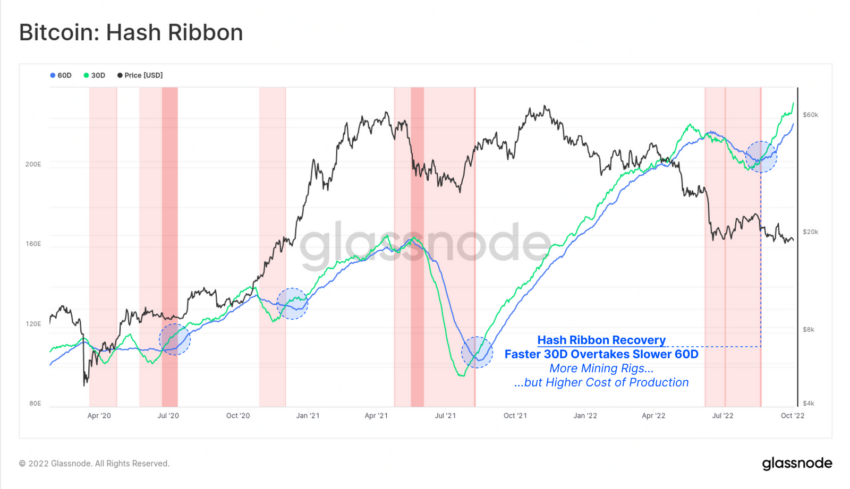 Historically, these hash ribbon moving average swaps precede price gains. Historically, when the hash-rate drops and subsequently recovers, major BTC price bottoms have been made. 
Is a price bottom in?
Apart from the hashrate, Bitcoin accumulation levels also reached a 7-year high. CryptoQuant data shows that 6-month-old and older Bitcoins now make up 74% of the realized cap. During the 2019 and 2015 bottoms, this score sat at 70% and 77%, respectively.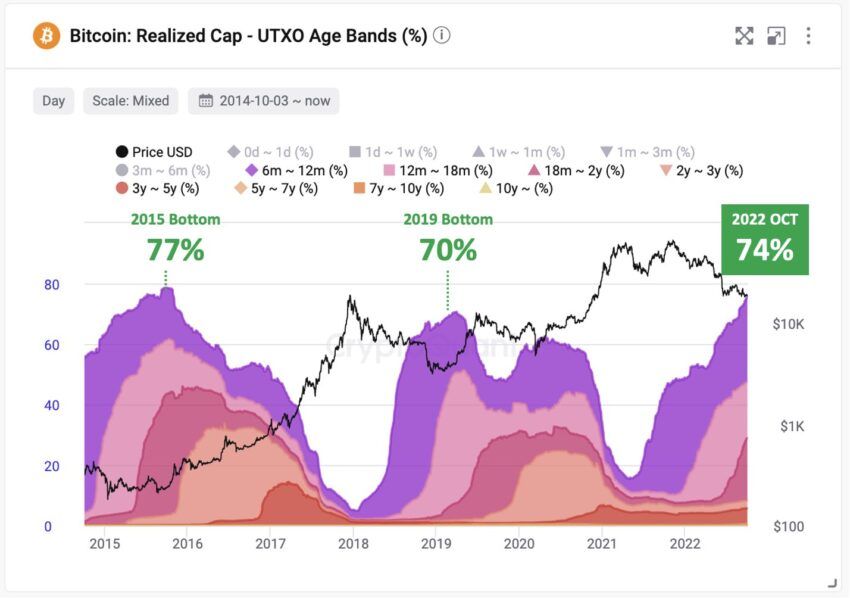 Lastly, for the first time in this cycle, the percentage of supply in loss has reached the 50% level.
CryptoQuant data shows that the price bottoms during previous cycles normally occur when the percentage of supply in loss reaches 50% or more.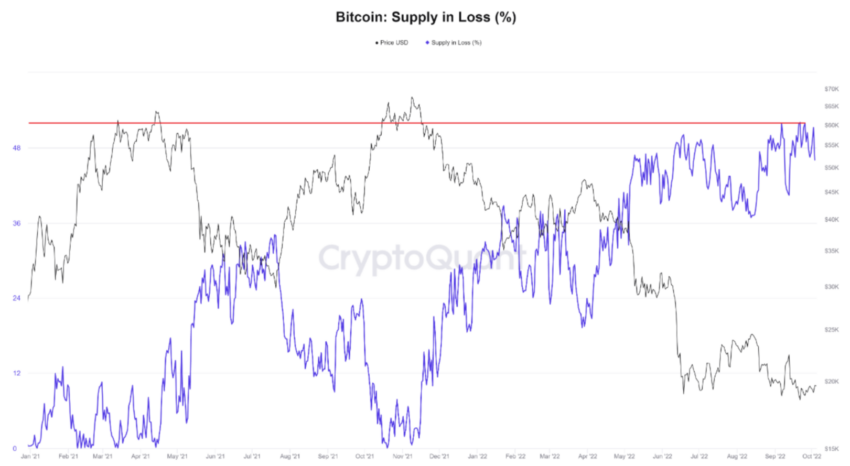 The current data shows the highest percentage of losses at 52% on the daily chart, 50.4% on the weekly (7DMA), and 48% on the monthly (30DMA). 
While quite a few metrics suggest that BTC should be near a bottom, the overall momentum will likely still depend on macroeconomic conditions as well as its correlation with the Nasdaq and S&P 500. 
Disclaimer
All the information contained on our website is published in good faith and for general information purposes only. Any action the reader takes upon the information found on our website is strictly at their own risk.
Bitcoin price sees first October spike above $20K as daily gains hit 5%
BTC price action sees a new October peak amid a declining U.S. dollar and a successful prior day's trading for U.S. equities.
318 Total views
16 Total shares
Bitcoin (BTC) saw its first trip above $20,000 on Oct. 4 as traders expected familiar resistance to cap gains.
Multi-week dollar lows fuel Bitcoin bulls
Data from Cointelegraph Markets Pro and TradingView showed BTC/United States dollar climbing prior to the Wall Street open, up over 5% in 24 hours.
The pair had shaken off macroeconomic concerns at the start of the week, with trouble at Credit Suisse and the escalating Russia-Ukraine conflict failing to slow performance.
Now, the short-term analysis focused on a run potentially topping out closer to $21,000 — as was the case late last month, as sell-side pressure at that level remained significant.
"20500-21000 is a sell zone. If price gets there, which should, don't be too bullish," popular trader Il Capo of Crypto told Twitter followers on the day.
Razzoorn, an analyst at international trade group The Birb Nest, noted that the current charge was Bitcoin's fifth attempt at escaping a major liquidity cloud in several weeks.
Despite the potentially limited upside opportunity, Bitcoin rallied in line with a broader risk asset tide which saw United States equities finish noticeably higher the day prior.
At the same time, the U.S. dollar suffered, the U.S. dollar index (DXY) extending losses to approach 111 points and threaten support in place since mid-September.
"Up the market goes," a more optimistic Michaël van de Poppe, CEO and founder of trading platform Eight, continued:
"Flipping $19,500 for support. Now, if range-high at $19,600 holds for Bitcoin, I assume we'll continue towards $22,400."
Altcoins attempt to change sticky trend
Across major altcoins, it was Ether (ETH) and Ripple (XRP) leading daily performance at the time of writing. 
Related: CoinShares' Butterfill suggests 'continued hesitancy' among investors
ETH/USD traded above $1,350, still yet to break out of its sideways trend in place for several weeks since major losses entered during the post-Merge breakdown.
XRP, on the other hand, faced a more stubborn band of resistance after prior gains, bouncing off multi-week support just below $0.45.
The views and opinions expressed here are solely those of the author and do not necessarily reflect the views of Cointelegraph.com. Every investment and trading move involves risk, you should conduct your own research when making a decision.
McDonald's starts to accept Bitcoin and Tether in Swiss town
The global fast food chain is among the first to participate in a crypto-friendly experiment in the town of Lugano.
740 Total views
41 Total shares
Multinational fast food chain McDonald's started to accept Bitcoin (BTC) as a payment method in the 63,000-populated city of Lugano in Italian Switzerland, which is becoming a hotspot for crypto adoption in Western Europe. 
A one-minute video of ordering food on McDonald's digital kiosk and then paying for it at the regular register with the help of a mobile app was uploaded on Twitter by Bitcoin Magazine on Oct. 3. The Tether (USDT)  logo could be spotted next to the Bitcoin symbol on the credit cash machine, which is not surprising, as in March 2022 the city of Lugano announced it would accept Bitcoin, Tether and the LVGA token as a legal tender.
On March 3, 2022, the city signed a memorandum of understanding with Tether Operations Limited, launching the so-called "Plan B." According to this plan, Tether has created two funds — the first one is a $106 million, or 100 million Swiss francs, investment pool for crypto startups, and the second is around $3 million, or 3 million Swiss francs, attempt to encourage the adoption of crypto for shops and businesses across the city.
In addition to allowing Lugano residents to pay their taxes using crypto, the project will extend payments to parking tickets, public services and tuition fees for students. More than 200 shops and businesses in the area are also expected to accept crypto payments for goods and services.
Related: Swiss Post's banking arm developing in-house crypto custody platform
Speaking to Cointelegraph in June, Paolo Ardoino, chief technology officer of Tether and Bitfinex, claimed that Plan B "is going great," announcing a two-week educational activity on blockchain and cryptocurrencies in the city.
In September 2021 El Salvador became the first country in the world to allow using Bitcoin as a legal tender. Since that time, McDonald's has been accepting Bitcoin at all its 19 outlets in the country.