What Richard Feynman's PhD Thesis Looks Like: A Video Introduction (2020)
in Physics | April 2nd, 2020 1 Comment
Richard Feynman wasn't just an "ordinary genius." He was, according to mathematician Mark Kac "in his taxonomy of the two types of geniuses," a "magician" and "a champion of scientific knowledge so effective and so beloved that he has generated an entire canon of personal mythology," writes Maria Popova at Brain Pickings. Many a Feynman anecdote comes from Feynman himself, who burnished his popular image with two bestselling autobiographies. His stories about his life in science are extraordinary, and true, including one he tells the first seminar he gave at Princeton in 1939, attended by Wolfgang Pauli, John von Neumann, and Albert Einstein.
"Einstein," Feynman writes in Surely You're Joking, Mr. Feynman!, "appreciated that things might be different from what his theory stated; he was very tolerant of other ideas." The young upstart had many other ideas. As biographer James Gleick writes, Feynman was "nearing the crest of his powers. At twenty three… there may now have been no physicist on earth who could match his exuberant command over the native materials of theoretical science." He had yet to complete his dissertation and would take a break from his doctoral studies to work on the Manhattan Project in 1941.
Then, in 1942, Feynman submitted his thesis, Principles of least action in quantum mechanics, supervised John Archibald Wheeler, with whom Feynman shares the name of an electrodynamic theorem. Published for the first time in 2005 by World Scientific, "its original motive," notes the publisher, "was to quantize the classical action-at-a-distance electrodynamics"—partly in response to the challenges posed to his early lectures. In order to do this, says Toby, host of the video above, "he'll need to come up with his own formulation of quantum mechanics, and he does this by first coming up with a new formulation in classical mechanics," which he must apply to quantum mechanics. "This turns out to be a bit of a challenge."
Feynman himself found it insurmountable. "I never solved it," he writes in Surely You're Joking, "a quantum theory of half-advanced, half-retarded potentials—and I worked on it for years." But his "field-less electrodynamics" possessed a "stupendous efficiency," argues physicist Olivier Darrigol, that "appeared like magic to most of his competitors." The value of this early work, says Toby, lies not in its ability to solve the problems it raises, but to come up with "a new way to approach things"—a method of continual searching that served him his entire career. He may have discarded many of the ideas in the thesis, but his "magical" thinking would nonetheless lead to later massive breakthroughs like Feynman diagrams.
Those who follow the math can do so in the fifteen-minute video walkthrough of the Feynman's thesis—and read the thesis in pdf form here. Toby lists several sources on key concepts on the video's YouTube page to get you up to speed. If the high-level physics flies right over your head, learn more about how Feynman's incredible ability to learn and teach almost any subject made him such a flexible and creative thinker in Gleick's book, Genius: The Life and Science of Richard Feynman.
Related Content:
The Feynman Lectures on Physics, The Most Popular Physics Book Ever Written, Is Now Completely Online
Richard Feynman's Technique for Learning Something New: An Animated Introduction
Richard Feynman's "Lost Lecture:" An Animated Retelling
Josh Jones is a writer and musician based in Durham, NC. Follow him at @jdmagness
Pick up this RTX 3070 Alienware laptop at a staggering $530 off
Dell
Finding a decent graphics card for your desktop PC may be nigh-impossible, but gaming laptops have never been hotter. (Literally—they need some serious active cooling systems.) Take this Alienware M15, for example: Packed inside are a Core i7 processor, an RTX 3070 GPU, and a bunch of other great features. And right now, Dell's online shop has slashed its price, taking an eye-popping $530 off the normal price.
There's a lot to like about this machine: 512GB of speedy M.2 SSD storage, 16GB of memory for generous multitasking, and a 144Hz G-sync panel to make that 15.6-inch screen and that graphics card shine. The only real downsides are that said screen is a 1080p, non-touch panel, and that Core i7 is a little older than some other laptops: a 10th-gen model from 2020. But those sacrifices are more than worth it for such a deep discount. A laptop that retails for $2,129 is now just $1,600, and it should be able to run the latest games for years to come.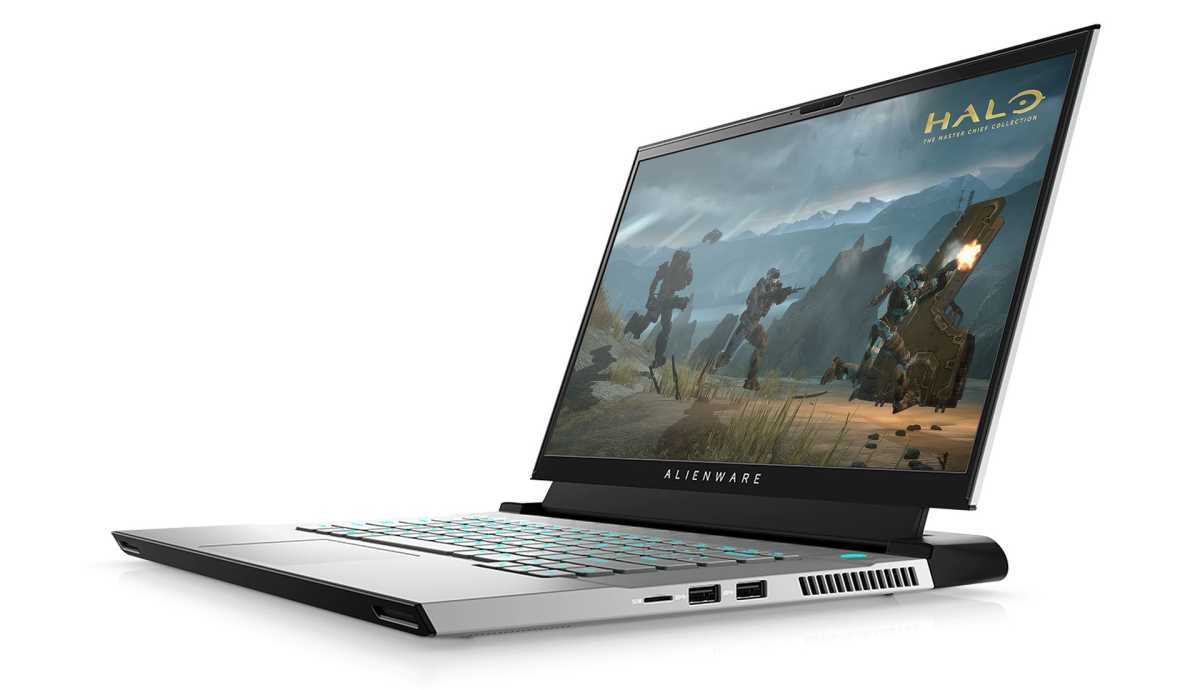 Dell
The fourth revision of the Alienware M15 comes with an impressive array of ports: triple USB-A, fold-out Ethernet, headphone jack, and MicroSD card on the side, and HDMI, mini-DisplayPort and USB-C on the back. That Type-C port can handle power input if you have enough juice, but the laptop also includes a standard barrel power port. And if that RTX 3070 ever becomes not beefy enough for you, you can add on an external graphics card via the proprietary Alienware Graphics Amplifier port.
Dell says that this deal is limited in terms of availability, and with those specs it isn't likely to last long. Get an order in quickly if you've made a decision.
[Today's deal: Alienware M15 with RTX 3070 for $1,600 at Dell.com.]
Note: When you purchase something after clicking links in our articles, we may earn a small commission. Read our affiliate link policy for more details.
Michael is a former graphic designer who's been building and tweaking desktop computers for longer than he cares to admit. His interests include folk music, football, science fiction, and salsa verde, in no particular order.
What to look for in a cheap Chromebook
Is a cheap Chromebook good enough for distance learning and homework? Definitely—depending on what's inside.
As a parent or a student, you may already have weighed the pros and cons of Windows laptops vs Chromebooks. One of the appeals of a Chromebook is cost, especially if a family has to buy several. But some of the cheapest Chromebooks we've seen come with some big caveats. We'll go over the key factors to consider before you buy. Consider these while you check out our best Chromebook deals for Black Friday.
Check the Auto Update Expiration
The first thing you should do when considering any Chromebook, especially one that's enticingly cheap, is to check it against Google's Auto Update Expiration list. While Microsoft supports Windows PCs for a long time, Google sets a limit—currently about six years from the product's original ship date for most consumer models, though some (especially education and enterprise models) get a few years more. 
When a Chromebook goes off support, Google won't upgrade the Chromebook's ChromeOS any further, which means no new features and no security patches. If you buy an older Chromebook, it's already a few years closer to its expiration than a brand-new model would be. Retailers do not publicize this, so it's worth checking out.
My son spent most of last school year doing schoolwork on an original Chromebook Pixel from 2013, which was way out of date, with no problems whatsoever—but there are no guarantees.
Display quality: Resolution and brightness
A classic feature of cheaper Chromebooks is a lower-quality display. Whether you're young or old, looking at a small, low-res screen for hours at a time can be fatiguing at best and detrimental at worst. That's why you should buy a Chromebook with a Full HD (1920×1080) display if at all possible. An HD (1366×768) screen—often found on the cheapest Chromebooks—can be tolerated on smaller 11.6-inch displays, but we don't recommend it. Eye fatigue can affect kids as well as adults.
The displays on cheaper Chromebooks can also be on the dim side. They may suffice for indoor use, but outdoor light will wash out the screen. If you can find a brightness spec, look for something 250 nits or higher.
Memory matters more than storage
While Chromebooks can store data locally, the vast majority of schoolwork is performed online. To my knowledge, neither of my children have ever saved something on to a Chromebook directly, so the size of the onboard storage rarely matters. PC enthusiasts may also prefer faster SSDs over an eMMC flash drive—but for a Chromebook? It really makes no difference, and you shouldn't even really pay attention to how much storage a Chromebook has if your work is mostly or always done online.
Memory plays a bigger role, because that's where your browser data is loaded. More memory means you can have more available browser tabs for surfing the Web.
Most Chromebooks come with at least 4GB of memory. Anything less than that (such as 2GB) may have a detrimental effect—in fact, Zoom recommends 4GB of memory. A child in elementary school might not be using a Chromebook for more than Google Classroom, Zoom, and some other app. An older child might need to have multiple tabs open for research. With older students, teens, and adults, consider a Chromebook with a bit more memory. (Unfortunately, Chromebooks aren't usually designed to be upgradeable.) 
Connectivity
As with any laptop, smaller and thinner models tend to skimp on ports. Think about what you need to connect—such as a USB drive, a headset, or a display. In general, look for an HDMI port (for an external display option), a microSD or SD card slot for loading photos, and a USB-A port (ideally more than one) to plug in peripherals. You'll also see USB-C ports on some Chromebooks, but usually not the cheaper ones. (We see a lot of discounted Chromebooks ignoring HDMI ports entirely, especially the ones being sold for Black Friday or the holidays.)
Choosing an older, cheaper Chromebook might mean suffering with an older Wi-Fi radio. Generally, however, 802.11a/b/g/n Wi-Fi or better, plus Bluetooth, should work, even for Zoom's bandwidth requirements of 2.5 Mbps for group video chats at 1080p resolution. 
Webcam: Just make sure there is one
No well-meaning teacher is going to care about the quality of a child's webcam as long as there is one. A better webcam can make it easier to see your child, or make their work more visible if they're holding it up for inspection, but a well-lit room can probably offset any shortcomings.
Processor performance: Zoom requires more
Chromebooks designed for browser-based schoolwork traditionally haven't required much processor power—and often saved cost with lower-end chips. Now, however, both Zoom and YouTube play a more significant role.
YouTube shouldn't give even old, cheap Chromebooks much of a workout, especially as YouTube automatically scales the resolution to deliver a good experience. But with Zoom becoming more prevalent, it might be worth leaning toward a Chromebook with an Intel processor, either a Celeron a full-fledged Core chip. Zoom's system requirements call for a "1 GHz" processor for Zoom calls. 
You'll typically find Chromebooks offering Core chips (far more horsepower than necessary), Celeron or modern Pentium chips (probably sufficient) and Arm chips from Qualcomm and Mediatek. We'd typically agree that even an Arm chip can run a Chromebook just fine (after all, there's one in your smartphone) but a quick web search of the processor can't hurt. If the chip was manufactured more than five years ago, you may want to consider a newer model.
This story was updated with additional information on November 25.
Note: When you purchase something after clicking links in our articles, we may earn a small commission. Read our affiliate link policy for more details.
As PCWorld's senior editor, Mark focuses on Microsoft news and chip technology, among other beats. He has formerly written for PCMag, BYTE, Slashdot, eWEEK, and ReadWrite.
Arturia's V Collection instruments now have native M1 Mac support
It's now that much easier to use Arturia's softsynths on your brand new MacBook. Arturia has released a free V Collection 8.2 update that adds native support to the (currently discounted) suite for Macs with M1 processors. That should improve performance, as you might guess, but it could also help with battery life if you need to play unplugged.
Other speed updates are in store. The update boosts the performance of 4K interfaces through a new framework, and presets from the V Collection factory libraries now load up to twice as quickly. You'll also find ODDSound MTS-ESP microtuning compatibility for the Clavinet V, DX7 V, Piano V and Stage-73 V.
This might be an important update if you use softsynths for music-making. Arturia has a reputation for virtual instruments that are both meticulous and relatively accessible. This both makes V Collection more viable on M1 Macs and gives you more incentive to rely on digital synths instead of hunting down their costlier real-world counterparts.
All products recommended by Engadget are selected by our editorial team, independent of our parent company. Some of our stories include affiliate links. If you buy something through one of these links, we may earn an affiliate commission.