Windows 11 22H2 review: Subtle upgrades, but in weird places
At a glance
Expert's Rating
Pros
Free upgrade
Solid accessibility improvements
Clipchamp video editor is excellent
Cons
Tabbed File Explorer isn't here yet
Voice Access doesn't work
Drag-and-drop Taskbar functions appear absent
Our Verdict
Microsoft steps boldly forward in improving Windows 11 for accessibility, but more tentatively when it comes to the features Windows users use most frequently.
Best Prices Today: Windows 11 22H2
–
PCWorld Software Store
$79.99
Rating Windows 11's latest feature update, dubbed "Windows 11 22H2," means acknowledging that many of its most useful features are somewhat hidden, and require some effort to unearth. Dig in and you'll be rewarded, but most of 22H2's more obvious new features won't blow you away when the update starts rolling out worldwide sometime in the coming months.
Windows 11 22H2 is not a return to the glory days of Windows 10. Then, splashy product launches heralded new, important additions to the operating system, like Disney teasing new Marvel characters into its cinematic universe. Windows 11 22H2 takes a subtler approach, updating the File Explorer, and adding a new Snap Layouts bar, Start menu folders, Live Captions, Voice Access, and more.
Part of this has to do with how Microsoft is rolling out updates to Windows. Remember, there was really no Windows 11 22H1, which Microsoft debuted alongside a pledge to provide "continuous innovation" — new features now aren't necessarily tied to any one release now. One of 22H2's friendliest additions, Windows Spotlight, actually launched as an 22H2 preview feature in December 2021, then was added to the Windows 11 stable channel earlier this year. (Yes, you should have it.) Microsoft's new video editor, Clipchamp, is moving from a Store app to a native Windows app, and it's excellent.
Microsoft also left out other key features that we've expected: a tabbed File Explorer, for one, and the ability to launch apps by dropping related files on the Taskbar. We expect some of this functionality to be added back in by what are now being known as Moments, or point updates to Windows 11. We explain more about Moments, here.
At least so far. We crafted this review using Windows 11 Release Preview build 22621.317 — a version of the "final" build that's been released for testing, but one which Microsoft can add to or tweak in terms of fixing bugs. It took about 39 minutes to install from a "clean" ISO file on one of our test PCs. We'll also update this review if there are material changes, such as Microsoft adding back features that it excluded. Windows 11 22H2 is expected to finish testing and roll out to PCs worldwide starting in September or October.
There's one thing we accidentally excluded from this review: Microsoft appears to be requiring a Microsoft account when setting up a new PC with either a Windows 11 Home or Pro account. (Previously, Pro users could use a local account, instead.) There are ways around this, such as one suggestion to simply use a fake account and enter the wrong password too many times, pushing you to a local account instead. But Microsoft is really, er, encouraging you to use a Microsoft account.
Basic everyday "improvements" to Start, File Explorer, and Snap
Microsoft has made two small changes to your basic Windows experience: the ability to add small folders to the Start menu, and some visual and functional tweaks to File Explorer.
Adding folders to Start essentially allows you to group related apps, along with a name — useful, true, but on a very minor scale. You'll still likely prefer the various options to resize and arrange folders as Live Tiles in Windows 10 instead, and the grouped icons within the new folders are just plain tiny (as they are in Windows 10, to be fair.) No, you still can't resize the Start menu, drag it around the screen, or open it in an entirely full-screen mode. Maybe this will happen in 23H1 instead?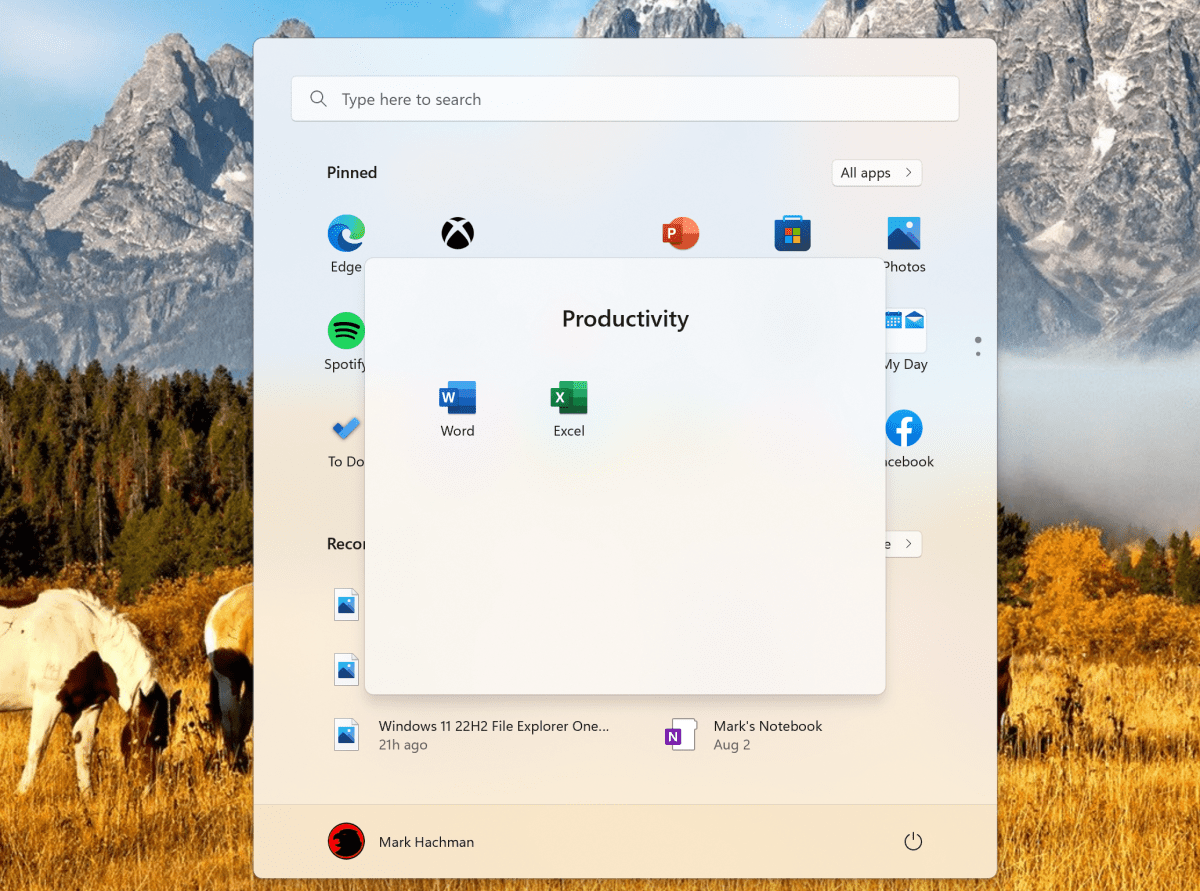 Mark Hachman / IDG
The changes to File Explorer are more nuanced. In Windows 11 22H2, the left navigation pane organizes your files so that they open to "Home," instead of the collection of "Quick Access" files that Windows 11 currently chooses. (You also have the option to open File Explorer directly into OneDrive, a first.) Individual files can now be pinned to Quick Access. A small dropdown also allows you to see how much of your OneDrive cloud storage is being used. In short, it feels a bit friendlier and more organized — although the tabbed functionality that was added to File Explorer in earlier previews has been removed. C'mon, Microsoft!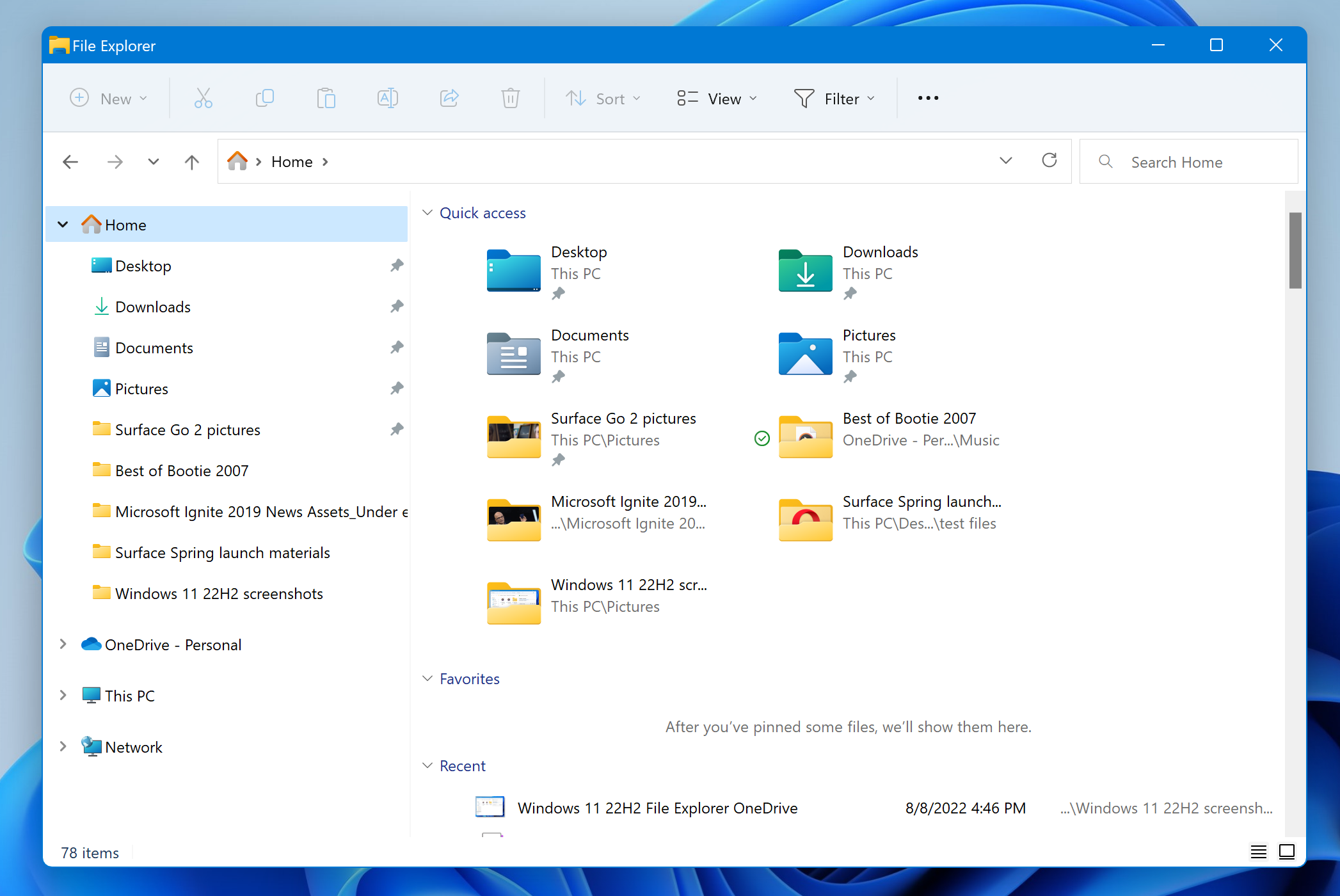 The other notable change to the Windows shell was supposed to be the ability to drag a file on to a corresponding taskbar icon (such as an image file to the Photos icon) and open it. So far, however, basic correlations (dragging image files on to Paint and Photos, or an MP3 file onto Media Player) refuses to work, even with an app window open. This drag-and-drop taskbar functionality will likely be added later, but for now it's been excluded in the Release Preview build. Boo!
(Editor's Note: There are other reviews that claim drag-and-drop app functionality is currently available. At this point, performing "obvious" correlations like trying to drag an image onto a Paint or Photos app that has been pinned to the taskbar do not seem to work. We'll recheck as the software formally launches.)
Snap Bar and Snap Groups: doubling down on a winner
Fortunately, there's a small change in Windows 11 that you'll appreciate: the Snap Bar. Remember, you can maximize a window by either clicking the "maximize window" icon or simply dragging the whole window to the top of the screen. In Windows 11, doing the former opened up a variety of Snap options to organize windows on your screen. Now, the same options will appear when you drag the window to the top of the screen, where a small Snap Bar now resides.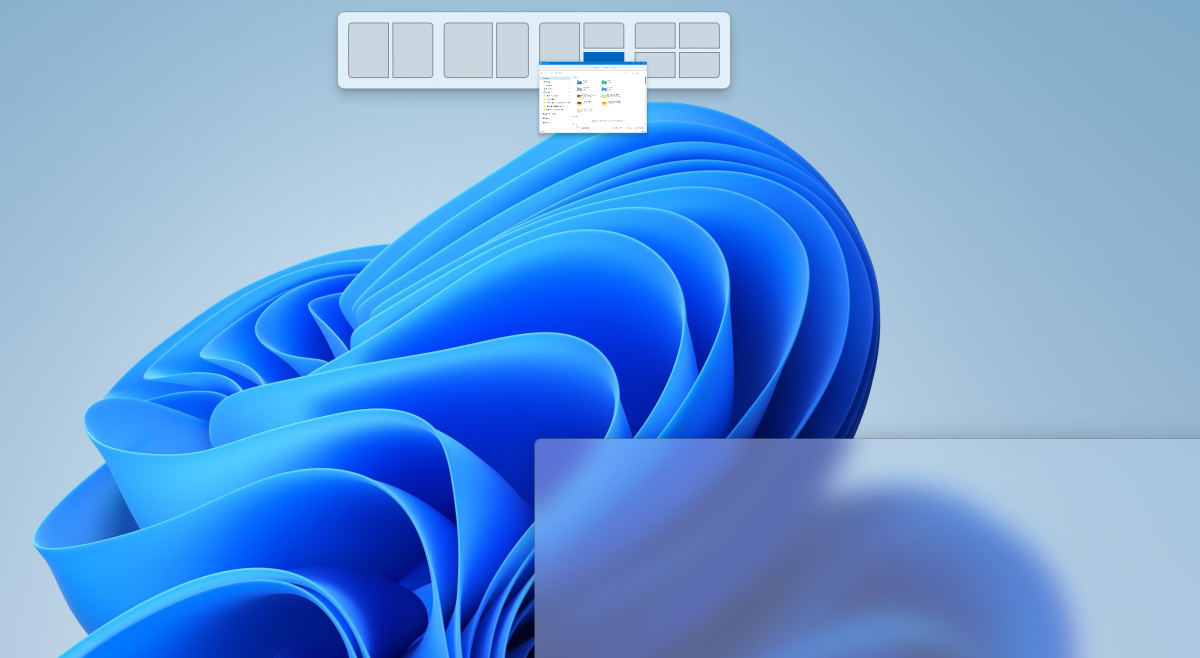 Mark Hachman / IDG
When you snap an app to a portion of the screen, you can fill the remaining screen space with one or more windows. In 22H2, these "Snap Groups" will now persist as a unified grouping when you use the Alt+TAB shortcut to move between applications.
It's a bit ironic, of course, since Snap Groups are not that much different than the virtual desktops that appeared in Windows 10, and were then de-emphasized in Windows 11. There are now many ways to configure persistent apps across multiple windows and displays, from FancyZones, Snap Groups, virtual desktops, and the Windows 11 feature that keeps windows aligned on multiple monitors when you undock your laptop. And that's perfectly okay, as they're all useful in their own way.
Live Captions: Closed-captioning for everything
In June 2022, Preply surveyed 1,200 Americans and found that more than 50 percent choose to watch prerecorded content with subtitles on. Microsoft's Live Captions seems tailor-made to suit that audience. Live Captions simply applies AI to generate captions for whatever it "hears" from your PC, whether it be footage from a wedding you captured with your smartphone, streamed video from services that lack captions (or include them!), recorded meetings that weren't transcribed, and so on.
You can turn Live Captions on in Windows 11's Settings app (Accessibility > Captions). Once enabled, your PC will download a small library file. To turn Live Captions on, you can either enable them via the Settings toggle switch or else use the Win + CTRL + L shortcut. While you can configure the options in a variety of styles and colors, the one thing Live Captions won't do is float the captions over your video, as the Settings preview option implies. You can manually position the caption window as you prefer, though.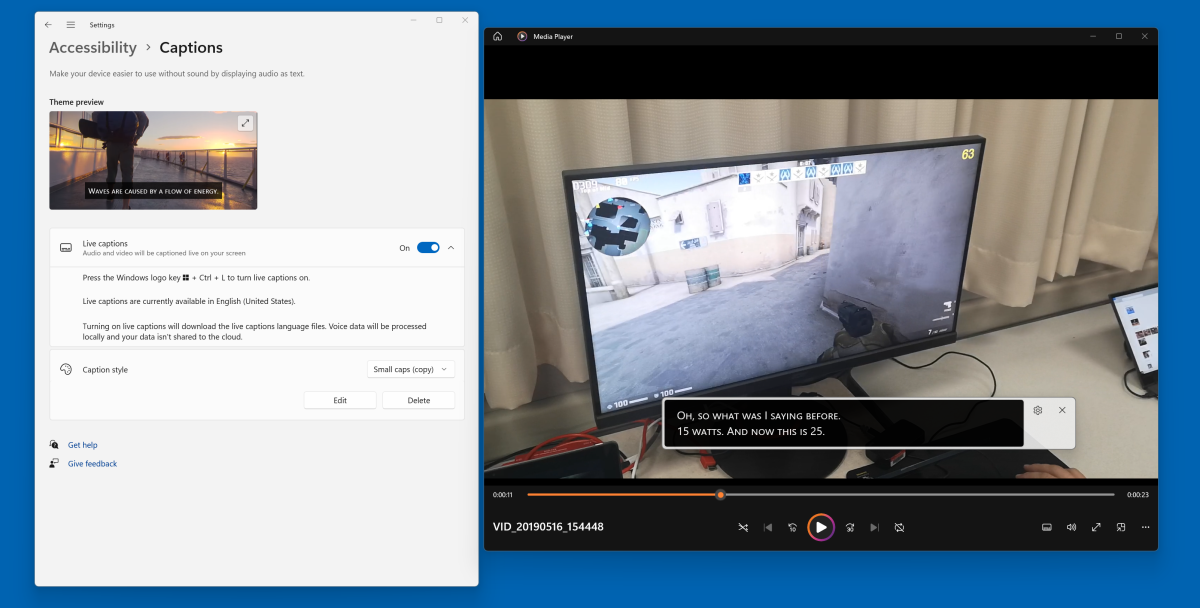 Mark Hachman / IDG
Live Captions isn't perfect. There's no differentiation by speaker, for example. Live Captions also quickly reminds you that it's a rare video that features speakers who enunciate, don't talk over one another, and lacks background noises that can obscure what's being said. With that said, it still has potential, and for everyone.
New and revised Windows 11 apps
There are three applications of note that have been added to or revised in Windows 11 22H2: Clipchamp, Microsoft Family, and the Task Manager. Clipchamp and Microsoft Family are being added to Windows 11 as pre-installed apps, while Task Manager receives an aesthetic and functional overhaul.
While we haven't formally reviewed Clipchamp, Microsoft's "free" video editor is a pleasure to use, but with some annoying bugs that are due to its roots as a Web app. Let's put it this way: I was able to build my own Clipchamp how-to video all by myself, with absolutely no guidance from our video team. (Sure, the resulting Clipchamp video demonstrates this to my disadvantage, but as they say — if I can do it, anyone can.) DaVinci's Resolve's free version certainly offers much more in terms of overall features, but there's something to be said for a quick, efficient, and fun video editor right inside Windows. I really like Clipchamp. It's simple, fun, and you owe it to yourself to try it out.
Mark Hachman / IDG
As we explained earlier, Microsoft Family is expected to be just a respin of the Family Safety mobile app, and the existing (poorly reviewed) Microsoft Family Safety app already in the Microsoft Store. Family / Family Safety simply reorganizes some of the features that have been available in your Microsoft Account management tools for some time, specifically a parent's ability to manage screen time and (if they consent) track where other family members are. I've used the app's ability to manage screen time for ages, though I don't specifically track my family's location. My kids are also young enough that they don't really take advantage of shared resources; as parents, my wife and I generally set the schedule for the family. But for a motivated, online family, I can see where Family would be useful.
Task Manager hasn't materially changed, though the look is now more consistent with Windows 11, and with a functional right-hand sidebar than can be used to quickly step through various elements of the app.
Mark Hachman / IDG
Voice Access: Unfinished?
Voice Access is another Windows 11 feature that was designed for those with issues navigating Windows' interface, but can be used by anyone. Essentially, this is hands-free Windows navigation, telling Windows what you'd like it to do. It sounds great in concept: "Click next" to click a button on your screen marked "Next," for example. Sure, it's not something that you might use — why touch the screen to navigate when the mouse is right there? — but it's another modality to interact with Windows.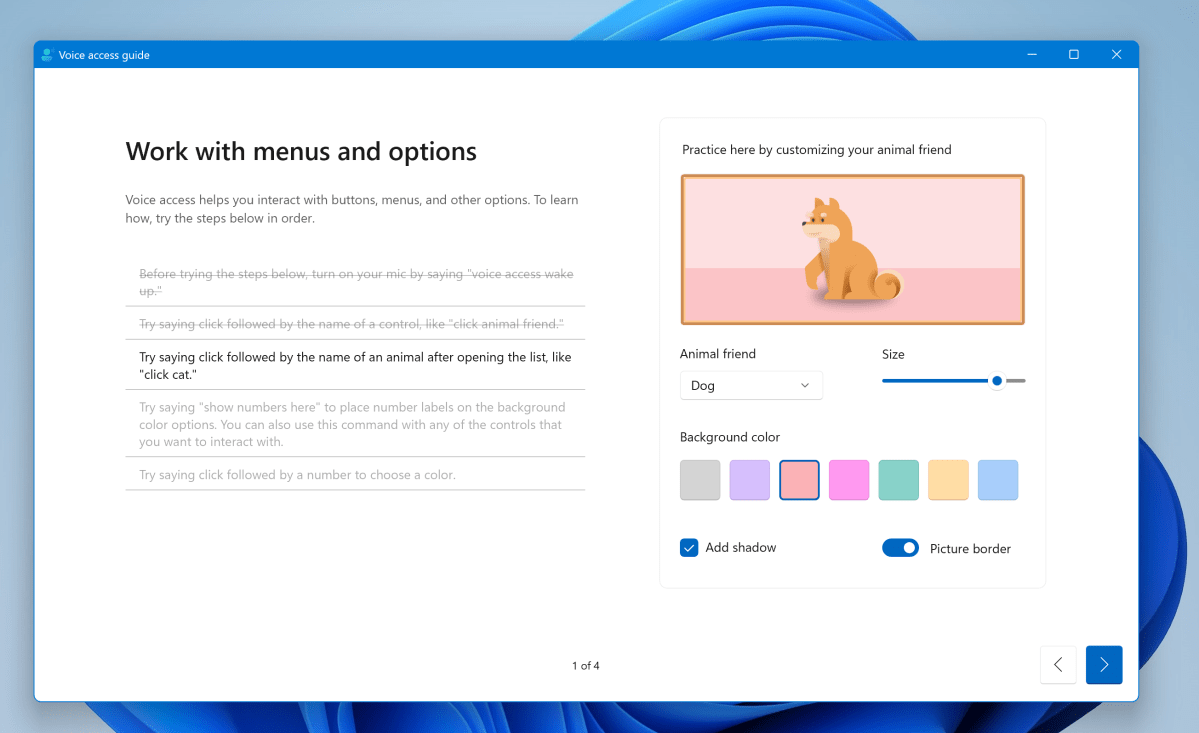 Mark Hachman / IDG
What sounds like a positive on paper, though, didn't really work on my screen. Windows was smart enough to recognize my voice and move the cursor to the correct region of the screen. But it never actually performed the correct "click" action, and I'm not sure why. So far, it's a simple failure to deliver on a promised feature.
Some handy tweaks
Microsoft has added several tweaks to Windows 11, some somewhat hidden away from the average user. You still can't add appointments to the calendar that floats above the Notifications Center, for example, but there's a little button to enter into Focus mode, where notifications will be turned off and you can listen to music, if you choose.
Windows Spotlight was actually released to the public as both a test and a finished feature during the Windows 22H2 development cycle, as part of Microsoft's new deployment scheme. It's a great way to humanize Windows 11, by swapping out your background with a new nature scene culled from Microsoft's archives.
Mark Hachman / IDG
The Settings menu now shows more of the information you care about in the Account section of the Windows 11 Settings menu, specifically which subscriptions are active at any one time. Managing a Microsoft 365 subscription may not be something you need to do frequently, but being able to stack extra time on to your subscription if a good deal crops up makes it worth knowing about.
Microsoft has also fine-tuned some of Windows 11's UI controls: adjusting the volume control on a laptop now brings up a more polished flyout control, which is also adjustable via your mousewheel if you hover the control over it. You can also access Bluetooth controls much easier, via the Action Center in the lower right-hand corner. The print menu looks a bit nicer, as well.
Will you notice all of these little quirks and tweaks? You'll be forgiven if you don't. Some might even argue that the less Microsoft touches Windows, the better.
In all, there are some interesting steps forward…alongside parts of Windows 11 where you might have expected Microsoft to make more progress. Microsoft's accessibility team continues to charge ahead, but in some of the core, sadly lacking areas in which users frequently interact with Windows — the Taskbar, Start menu, and File Explorer — Microsoft is still reluctant to budge.
This review has been updated to note the MSA requirement for a Windows 11 Pro account, and to check various features of Windows 11 22H2 with updates.
USB logos finally make sense, thanks to a redesign
For years, USB technologies have been an alphabet soup of terminology—when, really, all consumers care about is how fast the USB connection is. But now, finally, a new USB logo scheme solves this problem.
The USB Implementors Forum unveiled new logos on Friday for laptop ports, chargers, and cables that actually try to communicate what each one does. It's a far cry from the nightmare naming scheme that the USB-IF implemented in 2009. It's worth noting that the names of each specification apparently haven't changed, but the logos have, and that's all that matters.
USB-IF executives said the new logos were established alongside the new 240W USB-C power specification, which can now charge USB-C powered laptops at the levels required by even some gaming laptops. Now, the various USB specifications are defined by their speed. Charging specifications are defined by their wattage, with logos that actually indicate this.
"With the new higher power capabilities enabled by the USB PD 3.1 Specification, which unlocks up to 240W over a USB Type-C cable and connector, USB-IF saw an opportunity to further strengthen and simplify its Certified Logo Program for the end user," said Jeff Ravencraft, USB-IF President and chief operating officer, in a statement. "With our updated logos, consumers can easily identify the USB4 performance and USB Power Delivery capabilities of Certified USB-C cables, which support an ever-expanding ecosystem of consumer electronics from laptops and smartphones to displays and chargers."
Check out the new logos, which will be used on packaging, ports, and device power ports:

About the only drawback? There's no obligation for device makers to actually inscribe the logo on their laptops, which could mean a continuation of the confusion around ports.
The new USB cable logos also feature clear communication of their speed as well as their charging capabilities. The big question is whether these cables will support Thunderbolt, or DisplayPort, or USB4 —any of the protocols, that is.
Finally, there are the charging logos, which again state what the device is capable of.

If nothing else, this is a huge step forward for clarity, communicating to the consumer what they're buying. The only real regret is why this wasn't implemented years ago.
Cheaper OLED monitors might be coming soon
OLED monitors, with their vibrant colors and perfect black levels, are some of the very best screens you can connect to your PC. Unfortunately, they're also crazy expensive: with only a few models on the market, the cheapest is still more than a thousand bucks. That might be changing soon, if a report on OLED mega-manufacturer LG Display is accurate.
OLED-info.com quotes unconfirmed news out of China's manufacturing sector, saying that LG is ready to start manufacturing smaller OLED panels for smaller TVs and computer monitors. Specifically, it's preparing to ramp up smaller displays using the cheaper WOLED panel technology, which can be produced much more economically than the older types of OLED panels seen in high-end televisions.
Despite being ubiquitous on smaller gadgets like phones and smartwatches, and extremely popular in high-end televisions, OLEDs have been slow to come to the PC market. We're just starting to see them become a popular option on more and more laptops, but you can count the number of commercially available desktop OLED monitors on one hand. And, of those, LG's own offerings have been focused on the ultra-high-end professional media market — it's only this year that the company has begun supplying panels for gaming monitors to companies like Alienware and Corsair.
While we can't verify the news without a more conventional source, it makes sense. The high-end television market is currently saturated (no pun intended) with OLED screens since there's been relatively little innovation in the last few years and huge numbers of consumers upgraded their home theaters during the pandemic. OLED manufacturing technology is poised to go bigger (or rather, poised to hit the midrange between small and big) after spending a decade maturing in the mobile electronics market.
If all goes well, we might begin to see more affordable OLED monitors announced at trade shows like CES, E3, and Computex in 2023, with models hitting the market in the summer or fall. Keep your fingers crossed for some display bargains.
NASA Says Hurricane Didn't Hurt Artemis I Hardware, Sets New Launch Window
NASA's Artemis I moon mission launch, stalled by Hurricane Ian, has a new target for takeoff. The launch window for step one of NASA's bold plan to return humans to the lunar surface now opens Nov. 12 and closes Nov. 27, the space agency said Friday. 
The news comes after the pending storm caused NASA to scrub the latest Artemis I Iaunch, which had been scheduled for Sunday, Oct. 2. As Hurricane Ian threatened to travel north across Cuba and into Florida, bringing rain and extreme winds to the launch pad's vicinity, NASA on Monday rolled its monster Space Launch System rocket, and the Orion spacecraft it'll propel, back indoors to the Vehicle Assembly Building at Florida's Kennedy Space Center. 
The hurricane made landfall in Florida on Wednesday, bringing with it a catastrophic storm surge, winds and flooding that left dozens of people dead, caused widespread power outages and ripped buildings from their foundations. Hurricane Ian is "likely to rank among the worst in the nation's history," US President Joe Biden said on Friday, adding that it will take "months, years, to rebuild."
Initial inspections Friday to assess potential impacts of the devastating storm to Artemis I flight hardware showed no damage, NASA said. "Facilities are in good shape with only minor water intrusion identified in a few locations," the agency said in a statement. 
Next up, teams will complete post-storm recovery operations, which will include further inspections and retests of the flight termination system before a more specific launch date can be set. The new November launch window, NASA said, will also give Kennedy employees time to address what their families and homes need post-storm. 
Artemis I is set to send instruments to lunar orbit to gather vital information for Artemis II, a crewed mission targeted for 2024 that will carry astronauts around the moon and hopefully pave the way for Artemis III in 2025. Astronauts on that high-stakes mission will, if all goes according to plan, put boots on the lunar ground, collect samples and study the water ice that's been confirmed at the moon's South Pole. 
The hurricane-related Artemis I rollback follows two other launch delays, the first due to an engine problem and the second because of a hydrogen leak.
Hurricane Ian has been downgraded to a post-tropical cyclone but is still bringing heavy rains and gusty winds to the Mid-Atlantic region and the New England coast.