2022 smartphones we are already waiting for
Despite the industry's many struggles throughout the pandemic, manufacturers managed to release a notable assortment of smartphones throughout 2021, ones that could last consumers another year or longer. If you're keen to stay on top of what's on the horizon, though, we have rounded up the most exciting phones rumored for release in the first quarter of 2022. These models, which we're particularly excited about, are listed based on reports and leaks.
Image: LetsGoDigital
Samsung Galaxy S21 FE
WinFuture
Samsung usually kicks off a new year with an update for the Galaxy S series. Early 2022 will likely mark the launch of the long-awaited Galaxy S21 FE (Fan Edition). The affordable flagship is expected to bring the premium features of the Galaxy S21 series to more buyers and it should have launched in 2021, but production issues linked to global chip shortages may have pushed back its release.
Samsung has not mentioned anything official about the Galaxy S21 FE, but based on rumors, it will probably look similar to the Galaxy S21 with the exception of its bigger size (via WinFuture). The rumored model is likely to feature a 120Hz, 6.4-inch screen with a 2340×1080 resolution and draw power from a Snapdragon 888 SoC. The phone's expected 4,500mAh battery may support 45W wired fast charging, while its three rear-facing cameras could include a 12MP main camera, 12MP ultra-wide, and 8MP telephoto lens with 3x optical zoom.
Samsung Galaxy S22 Ultra
LetsGoDigital
Samsung's Galaxy Note line may have reached its end and the company's Galaxy S21 flagship models released this year haven't performed terribly well (the S21 Ultra aside), at least when it comes to sales objectives. On top of that, the Galaxy S21 FE was reportedly supposed to hit the market in 2021, but is now likely to drop early next year. The Galaxy S22 and S22+, based on rumors, may be nearly identical to the S21 models, though with the usual upgrades.
Assuming all of this proves true, consumers may be introduced to three new Samsung smartphones in early 2022 with little distinction between the models, putting the burden on the Galaxy S22 Ultra to drive new sales. In light of that, it's no wonder the company is tipped to have redesigned the upcoming flagship with a flatter and more square Note-like form factor, including a slot for an S Pen.
Expected in four colors with P-shaped camera housing split into two modules, the new Galaxy S22 Ultra could feature an LTPO display with brightness levels of up to 1500 nits. Those specs aside, little else is known about the upcoming model, though we expect to hear more about it in the run-up to its debut.
OnePlus 10 Pro
OnLeaks
The OnePlus 10 Pro is going to be the premium of the two flagships from the OEM, the other being the OnePlus 10. Expected to launch in March, the OnePlus 10 Pro is likely to arrive with a 6.7-inch curved display with a hole-punch cutout for the front camera.
Like clockwork, the OnePlus rolls out its flagships every year with a new flagship processor and that's expected to continue with the OnePlus 10 Pro. The upcoming device is likely to feature a Snapdragon 8 Gen 1 processor paired to 8GB or 12GB of LPDDR5 RAM and up to 256GB of UFS 3.1 storage (via 91mobiles).
According to rumors, the OnePlus 10 Pro may drop the depth camera from last year's model to move ahead with a triple camera setup similar to that of the Galaxy S21. Not much is expected to change in terms of the specs, since it may have the same 48MP main camera, 50MP ultra-wide, and 8MP telephoto lens. The OnePlus flagship is rumored to make a difference with its 5,000mAh battery that could support 125W fast charging.
Xiaomi 12 Ultra
LetsGoDigital
One of the most anticipated phones of 2022, the Xiaomi 12 series will be the successor to the Mi 11 launched this year. The company has dropped the Mi brand to streamline its smartphone lineup for global consumers. The phone range is likely to debut in China soon with a global launch slated for March next year. According to the company's CEO, Xiaomi 12 will be powered by the Snapdragon 8 Gen 1 chipset, though Motorola has beaten Xiaomi to be the first smartphone based on the new flagship processor with the launch of Moto Edge X30 in China.
The leaked images of the Xiaomi 12 and 12 Pro and renders based on them by LetsGoDigital show the two models with similar designs, the big difference being the Xiaomi 12 Ultra's rear camera arrangement. The renders reveal a very large, circular camera bump placed right in the middle of the Xiaomi 12 Ultra's back panel. While little is known about the phones' specs, the Xiaomi 12 Ultra is rumored to feature a 6.8-inch curved AMOLED display with a hole-punch camera, though the possibility of an under-display camera has also been speculated.
Huawei Mate 50 Pro
Huawei
As if the US trade restrictions were not enough, the global supply chain issues seem to have taken a toll on Huawei, as its launch schedules were devastated this year. The Huawei Mate 50, which should have ideally launched in September or October, is still nowhere to be seen. Some sources, including the trusted leaker Digital Chat Station, point at the possibility of the new phone series landing in the first quarter of 2022.
The Mate 40 lineup, in particular the Pro and the Pro Plus models, were very capable smartphones with brilliant designs, industry-leading cameras, and good battery backup. The Mate 50 Pro is expected to pick up where the Mate 40 Pro left off, bringing an improved design and cameras. Troubling, however, is a rumor that Huawei's Mate 50 may feature the Kirin 9000 chipset, the same used in the Mate 40.
It's not all bad news, though, as the Mate 50 Pro is also rumored to feature an LTPO screen with up to a 120Hz refresh rate. As opposed to the Mate 40, which did not reach the US, the Huawei Mate 50 range is likely to launch in more markets through Huawei's partnerships with third-party manufacturers.
Wrap up
With the issue of global chipset shortages and potential continued disruption driven by the omicron variant, it's possible smartphone manufacturers may be forced to push back their 2022 launch schedules. However, based on how things look at the moment, these anticipated flagship models will most likely arrive in the next few months.
This $35 job interview skills package can help you get your dream career
StackCommerce
If you're trying to move up the corporate ladder, then you're going to have to undertake a job interview or two. But preparation is key. Not only should you anticipate questions, but prepare good answers well before. Want to learn more tips like these? Then the 2022 Premium Interviewing Skills Bundle may be your best bet, especially as it's on sale for $34.99.
The web-based package features 19 hours of comprehensive skills training that'll get you ready to tackle any kind of interview, regardless of what it's for. You'll learn how to source jobs via LinkedIn, tips for better in-person interviews, best practices for virtual interviews, and find out how to analyze an interviewer so you can better frame your answers.
The content is geared for the beginner, but can be taken by virtually anyone who wants to improve their interview skills. And each course is facilitated by experts such as Stefan Devito and Imran Afzal — both highly rated, each earning 4.6 out of 5 stars — so it's a great way to increase your self-confidence.
When you consider the amount of competition out there for jobs, then you need to take every advantage you can get. And since this one costs so little — it works out to just $4.38 per course — then this is an opportunity you might not be able to afford to miss.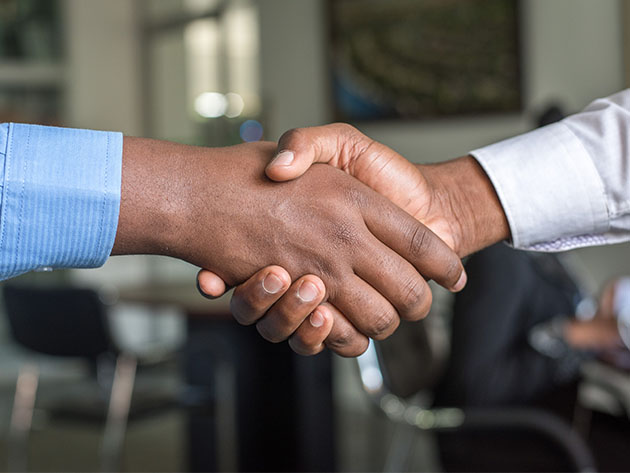 The 2022 Premium Interviewing Skills Bundle – $34.99
Prices subject to change.
Note: When you purchase something after clicking links in our articles, we may earn a small commission. Read our affiliate link policy for more details.
'Gaming Chromebooks' with RGB keyboards could be here soon
Razer
Is it even possible to play computer games on a keyboard that doesn't light up like a nuclear-powered Christmas tree? Yes, of course. But why would you want to? The inclusion of code supporting RGB-lit keyboards in the latest revision of Chrome OS indicates that long-awaited "gaming" Chromebook laptops are on their way. Possibly. Maybe. We'll see.
The report comes from 9to5Google, which spotted the new feature flag in the public-facing open-source code repository for Chromium (the project at the heart of the Chrome desktop and mobile browsers and the Chrome operating system used by Chromebooks). The code is simple at the moment, lacking any obvious tools for customization or game integration, but it's undeniably there: someone at Google is thinking about RGB keyboard hardware.
Surprisingly, this is just the latest in a long list of indications that Google wants its Chrome OS platform to have more gaming prowess in the near future. There have been indications for the better part of year that Valve is working on a version of the Steam store and distribution center for Chromebooks, running Linux-based games in a virtual machine. And of course, that's leaving out Google's own push for games both on Android's Play Store (which Chrome OS has been able to access for years and is now expanding into Windows) and streaming PC games via Stadia. Competing streaming services, like GeForce Now and Xbox Game Pass, also work on Chromebooks via browser- and Android-based apps.
9to5 claims that both HP and Lenovo are preparing gaming Chromebooks, in their Omen and Legion lines, respectively. All jokes aside, a "gaming" laptop needs more than a fancy keyboard to stand apart from the crowd. A discrete graphics card is necessary for high-powered 3D games, even on Linux, and a high-quality screen with fast refresh rates and a beefy battery to power it all are generally the bare minimum for a gaming laptop. You can add extras like specialized low-latency networking, exotic cooling solutions, and high-speed storage, too. There's no real indication that these are coming to Chromebooks in the near future: while there are high-end Chromebooks on the market, they seem more focused on boardrooms than bedrooms.
Still, a "gaming" Chromebook with its only claim to the label being an RGB keyboard would hardly be the first time gaming marketing had been applied to a fairly vanilla product. And with the segment still growing healthily, it's possible that vendors might jump at the chance to give their models a little differentiation.
Note: When you purchase something after clicking links in our articles, we may earn a small commission. Read our affiliate link policy for more details.
Michael is a former graphic designer who's been building and tweaking desktop computers for longer than he cares to admit. His interests include folk music, football, science fiction, and salsa verde, in no particular order.
EcoFlow Delta Mini Portable Power Station review: What can't it do?
At a glance
Expert's Rating
Pros
Robust set of features
Companion app is handy
Impressive recharge rate
Cons
OK-ish power efficiency
Pricey
Our Verdict
The EcoFlow Delta Mini Portable Power Station has all the bells and whistles you'd want from a power station. If it's within your budget, we have no real qualms with it. And the standard EcoFlow Delta doesn't cost a whole lot more if you need extra capacity and outlets.
Price When Reviewed
849
Best Prices Today
Adorama
Not Available
Free
Maybe it's because I've researched a lot of power stations, but I can't seem to go anywhere on the internet without seeing an ad for the EcoFlow lineup. The sleekly designed power stations look great, so when the EcoFlow team reached out to see if I wanted to test one, I jumped at the chance. A week or so later, the $999 EcoFlow Delta Mini Portable power station (as well as the $400 EcoFlow 160W Solar Panel) arrived.
Even though this station has Mini in its name, it's not all that small. It weighs 23.6 pounds and measures 14.9 x 7.2 x 94 inches. 
Note: This review is part of our roundup of portable power banks. Go there for details on competing products and our testing methods.
I really like the overall design. It looks and feels like a premium product. There are ports on either end of the station, with one end also featuring an LCD screen. The screen is big and easy to read, detailing how much power is being used or input into the station, the hours remaining, and which power options are turned on. 
Just below the display is an IoT button to enable the station's Wi-Fi feature that allows you to connect it to your local Wi-Fi network. Then, using the EcoFlow app, you can remotely view all of its stats, update its firmware, and adjust settings without having physical access to the Delta Mini. 
Below the IoT button is where you'll find four ports: one USB-C 100W (20V/5A) port, two USB-A (5V/2.4A) ports, and a fast-charge USB-A (12V/1.5A 18W) port. Below those is a gold-colored power button. 
On the opposite side you'll find even more ports and connection options. There's a small cover near the handle that flips up to reveal the input ports. From left to right is a port dedicated to charging via a solar panel or a car charger, an AC charging port, and the overload protection switch. Between the two charging ports there's a switch that controls the AC charging speed, either "fast" or "slow," going from a max of 800W to 200W (more on this in a minute).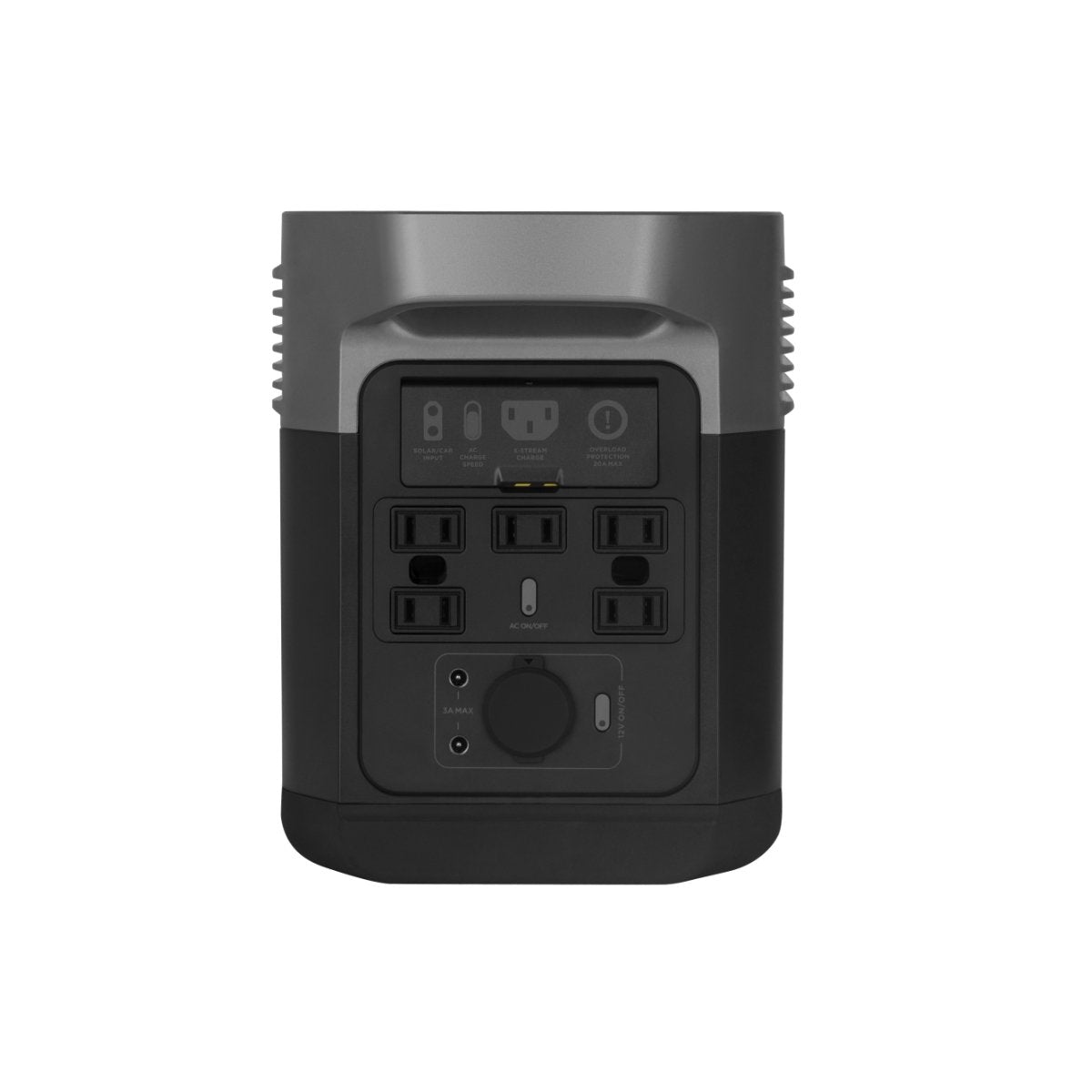 EcoFlow
Below the input ports are five AC sockets, with a dedicated power button for the outputs in the center. And, finally, below those is a car outlet port and a DC5521 barrel port, along with the 12V power button. 
The Delta Mini supports Pure Sine Wave output, meaning you should be able to use it with devices that have AC motors, such as a microwave or mini fridge, without issue. It can output a total of 1400W, with a surge capacity of 2100W. If you enable X-Boost in the app, or whenever an AC port detects that the power draw exceeds 1400W, X-Boost will automatically be enabled. However, EcoFlow recommends using just a single AC power outlet when you're using X-Boost mode. 
With that high of an output, the Delta Mini is able to power items like a hand saw or an electric skillet without any issues. 
To measure the station's efficiency, I connected my PortaPow power monitor along with a load tester to a USB port. The load tester constantly drains power, while the monitor records how much power is used. The end result was 669.446Wh of power used out of the 882Wh capacity. That translates to an efficiency of 75.90 percent. The average rating of all power stations I've tested is 83.51 percent—placing the EcoFlow Mini above only the Ego Power+ Nexus. 
Another test I use to measure output is to connect a 4W desk lamp and record a time-lapse video of how long the lamp stays powered on. When it was all said and done, the desk lamp stayed lit up for 46 hours and 14 minutes. That's the second-best showing out of all the power stations I've tested, putting it behind just the GoalZero Yeti 1000x, which achieved a staggering 111 hours and 29 minutes.
As for charging time, the Delta Mini can be fully recharged in as little as 90 minutes using the included power adapter and enabling X-Boost. Doing so will charge the station at around 800W. If you're not in a rush, you can charge the station at anywhere from 200W (takes about five hours for a full charge), all the way up to 900W. Keep in mind, though, that constantly fast charging the battery can have a negative impact on its overall life. I'd recommend using it sparingly. 
I also connected EcoFlow's 160W solar panel to the Delta Mini and monitored its charging rate. EcoFlow estimates eight hours of charging time with the panel, and that matches my experience: The power station showed it was receiving right at 140W of power from the panel, and that it would finish charging in eight hours. 
Admittedly, the EcoFlow Delta Mini and the 160W Solar Panel may be expensive, but they're also some of the nicest power station equipment I've tested. They both feel like premium products, with the solar panel including a cloth carrying case that doubles as a stand. Seriously, this is nice gear. 
That said, another option in EcoFlow's lineup is the $899 EcoFlow Delta Portable power station, which has a higher capacity and output and more ports for only $50 more than the Mini. I haven't tested the standard Delta, but assuming it's built to the same standards, I'd spend my money on it instead of the Mini.
Note: When you purchase something after clicking links in our articles, we may earn a small commission. Read our affiliate link policy for more details.
Based in beautiful Colorado, Jason Cipriani is a freelance writer who contributes to, Greenbot, IGN, TechRadar, ZDNet and CNET.