Business Agility: Why Bother?
So many things have been written and said about Lean and Agile practices in the last 20 years that the mere mention of business agility will make the eyes of most enthusiastic supporters glaze over. Are we past the point of being able to distinguish between signal and noise? Does it really even show results, at scale, in any company? Can you prove it? Why bother with it at all?
The truth is that if you don't bother with it, you may be in bigger trouble than you know. The imperative for business agility has never been more urgent. There are numerous studies that show the direct correlation between business agility and competitive advantage. The better you are at business agility, the more you outpace your competition. In government, the same correlation exists between business agility and accomplishing the mission or serving constituents.
Irrespective of organization type, if you do not have a plan for increasing business agility, you should. Even the best laid plans can fall apart when implemented. Our 2021 CGI Client Global Insights show that only 20% of executives are producing the intended digital transformation results at the enterprise level. How is this possible? Well, because many organizations still use traditional models and systems where empirical data show these approaches no longer produce the intended result. New business models and new types of competition are disrupting traditional ways of working and managing. For organizations to remain competitive, they must adjust accordingly.
Competitive Disruption Is Driving Our Need to Pivot
From the 1950s to the 1980s, we had classical competition with monopolies and resource-based firms. Market disruptions like Lean and Six Sigma drove a subsequent period of hyper competition in the 80s to 90s. This period of hyper competition underpinned the birth of Agile.
Fast forward to 2021. Over the last 10 years, classical resource-based competition has been eroded by commoditization and social action. Value streams and value chains have morphed into value webs, which are characterized by complex, connected and interdependent relationships. Today, we see a new type of player in the mix: obstreperous or highly disruptive competitors. Entering the marketplace with noisiness and unruliness, disruptive competition is characterized by pervasive innovation over short, punctuated cycles. Thriving in this environment depends on your ability to react and respond in a focused manner.
It is now even more urgent for companies to realize the benefits that a well-executed business agility strategy provides. While organizations have invested heavily in becoming digital, many of them do not enjoy the benefits of these investments. This is because they lack true business agility.
The Role of Business Agility
The role of business agility is not simply to create value. The role of business agility is to enable companies to create long-lasting, competitive advantages that ensure success in a turbulent marketplace. So, let's redefine business agility in a way that will help close the gap between strategic intent and successful achievement of the desired outcome.
There's been a lot of hype about business agility and many attempts to oversimplify something that is complex. Even trusted defenders of knowledge have been trying to sell Agile as something that's easy. While business agility is indeed complex, the good news is it's explainable and achievable.
Agile Plus Digital
At CGI, we believe the journey to business agility has two critical components: Agile and digital. If you don't do Agile well, you can't achieve true business agility; along the same vein, without a successful digital transformation, organizations cannot achieve business agility. The agile component is not about which method you choose to instantiate agility. Agile is about your ability to execute and scale the chosen model with efficiency.
The digital component is not a thing or a method. It's about moving to an operating model that is data driven. Becoming a digital organization is about what you do with your data and how to make meaningful sense from it. This digital component is both critical and difficult. 82% of business executives cite that their biggest hurdles to digital adoption are legacy processes and system constraints according to the 2021 CGI Client Global Insights.
Exponential Advantage
Once you master Agile and digital, get ready to catapult yourself into the competitive advantage stratosphere by leveraging the four forces of innovation. These are operational, product, strategy, and management innovation. While each of these is essential, the most significant exponential increase in competitive advantage is the result of thoughtful management innovation. While not a new concept, management innovation is a marked departure from traditional management principles, processes, and practices. Management innovation alters how work is done by operationalizing innovative, digital-first management principles.
Business Agility: Why Bother?
If you want to be competitive, it's no longer optional. There is a direct correlation between business agility done well and highly competitive businesses. Even a complex challenge can be explained, understood, and executed successfully. At CGI we know this because we stand with clients and guide them through this complexity daily. Our insights are forged by being, first and foremost, practitioners.
Explore our approach to business agility and take your next steps.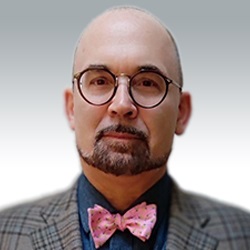 Frederick Victor is a global Lean Agile change agent who creates and implements holistic enterprise digital transformations that leverage SAFe®
as the catalyst. Providing leadership as a vice president at CGI
and former CIO and CTO, Frederick has been involved in organizational Agile leadership dissemination and HR re-engineering. Since the mid-2000s, large-scale holistic transformations have been Frederick's primary focus, working with both IT organizations and business lines ranging from 3,000 to 50,000 people across industries.
Qualcomm's next Snapdragon promises always-on smartphone cameras
Qualcomm
Qualcomm launched the Snapdragon 8 Gen 1 mobile processor for smartphones at the Qualcomm Tech Summit in Hawaii late on Tuesday, adding substantially more performance and AI-powered features to 2022 smartphones. However, one of those may be controversial. While you may be used to your phone always listening for commands, are you ready for its camera to be always on, too?
In an interesting twist, Snapdragon 8 phones will even be able to mint NFTs.
Qualcomm already powers a substantial chunk of the world's smartphones, from the Asus ROG Phone 5s to the Google Pixel 4a and 5, the OnePlus 9, and the American version of the Samsung Galaxy S21+. Now the new Snapdragon 8 Gen 1 is poised to help launch even more, beginning in the fourth quarter of this year.
With the launch, Qualcomm also rolled out a new branding structure. Snapdragon 8 Gen 1 represents a simplification of the company's branding, versus the triple-digit Qualcomm Snapdragon 888 5G brand used last year. The executives said that consumers preferred the simplified, single-numeral nomenclature, which also now assumes "5G" without explicitly stating it. In an interesting twist, they've even dropped the company name from the Snapdragon logos, as they believe that "Snapdragon" is now a standalone consumer brand.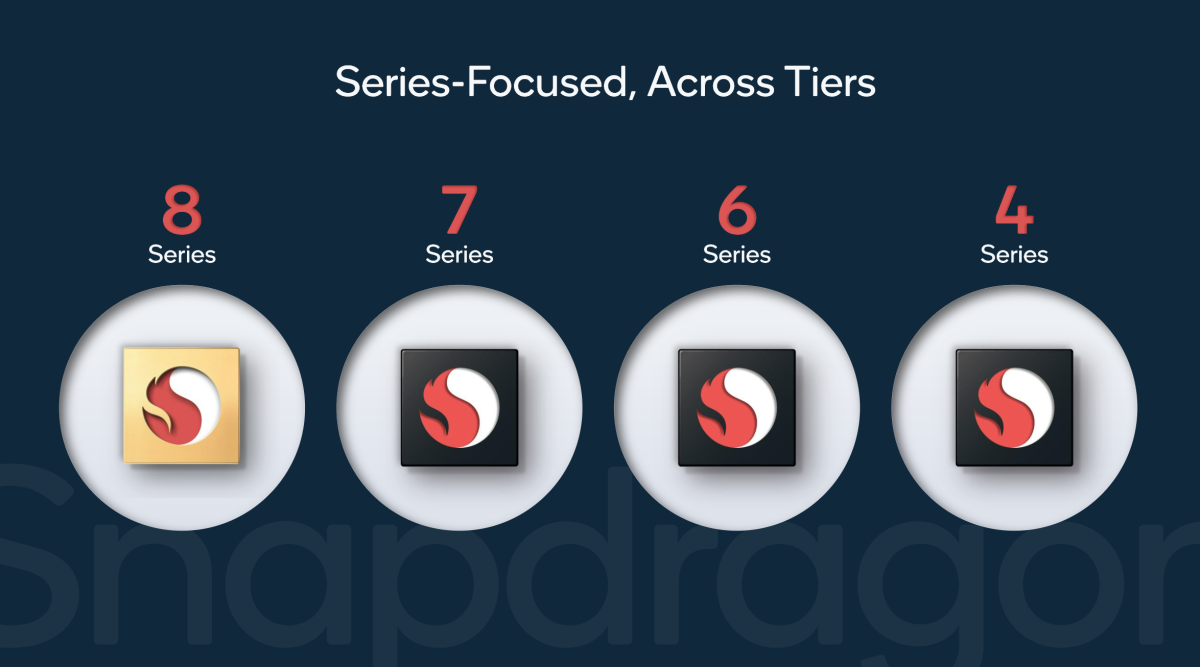 Qualcomm
Like most mobile SOCs, the new Snapdragon 8 Gen 1 represents a fusion of several different logic blocks, each with their own specific functions: the Kryo CPU, the Adreno GPU, the Spectra Image Signal Processor (ISP) for camera imaging, a Sensing Hub, and the integrated modem. In the latter case, the processor has moved wholesale to 5G, with support for 5G multi-SIM and both 5G mmWave and sub-6 GHz frequencies.
What's inside the Snapdragon 8 Gen 1
Interestingly, Qualcomm's playing the details of the Snapdragon 8 Gen 1 a little close to the vest, compared to what accompanied the rollout of last year's Snapdragon 888. In fact, the company has officially stopped providing specific model numbers for the new cores — so last year's Kryo 680 CPU is now just the Kryo (Snapdragon 8). "When we moved to our new visual identity, the Snapdragon 8, part of the goal is to simplify our branding across the board, including the 3-digit number schemes across our IP cores," a representative said in an email. "We wanted to have the premium-ness of the 8 carry our technology cores (Kryo, Adreno, and Hexagon)."
The Snapdragon 8 Gen 1 is noteworthy for its use of the Cortex-X2, the next-gen "prime core" technology Arm revealed in May alongside the A710 performance core and the A510 efficiency core, which also appear in this Snapdragon chip. All three are members of the Arm v9 family, the next-gen architecture that Arm launched in March, promising a 30 percent performance improvement. Qualcomm itself is promising a 20 percent performance improvement over the 888 with a 30 percent power savings.
As Qualcomm recently said, these chips don't include the Nuvia Arm core technology that the company bought in January. That will come in 2023.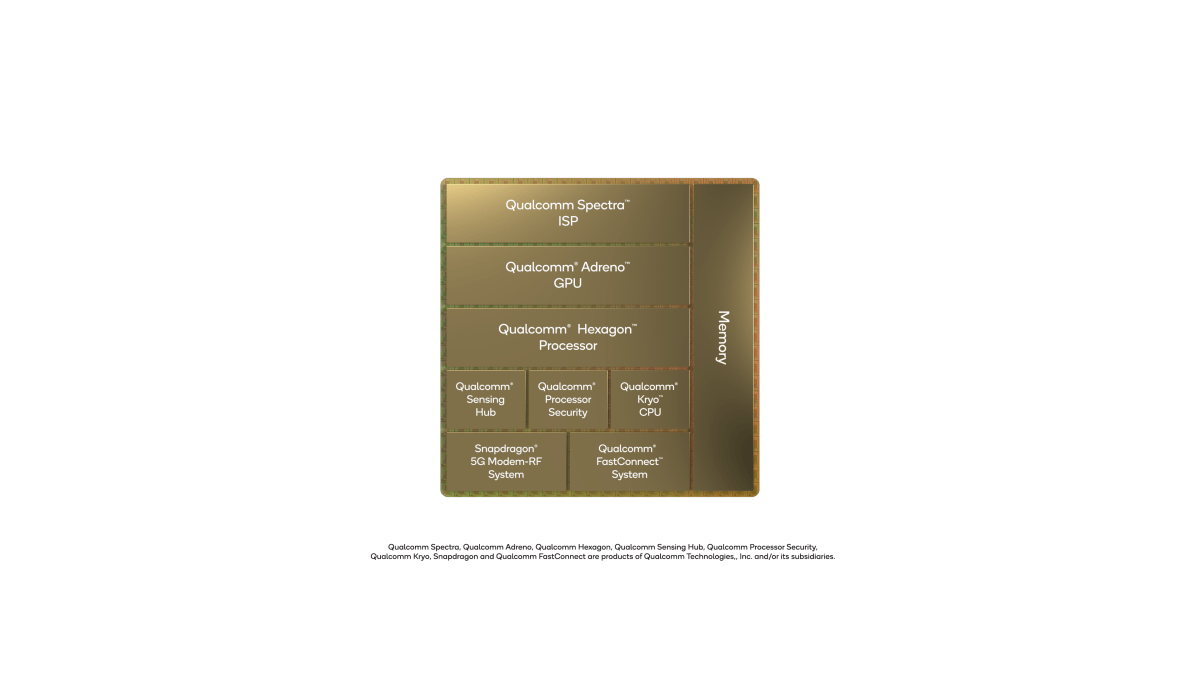 Qualcomm
Here's a quick summary of what we know about the new Snapdragon 8 Gen 1 chip. Qualcomm says that it's fabricated on a 4nm process versus the 5nm technology used by the prior-gen Snapdragon 888.
Kryo (Snapdragon 8) CPU: Octo-core architecture: 1 Arm Cortex-X2 (3.0GHz, prime) + 3 Cortex-A710 (2.5GHz, performance) + 4 Cortex-A510 (1.8GHz, efficiency) + 6MB level 3 cache
Memory support: Up to 16GB of LP-DDR5 memory, with speeds up to 3200 MHz
Adreno (Snapdragon 8) GPU: On-device display support up to [email protected] or QHD+(2,880×1,440) @144Hz; external displays up to [email protected]; HDR10, HDR10+ support with Rec.2020 color gamut; Vulkan 1.1 support with HDR gaming; HDR10+, HLG and Dolby Vision support for HDR playback
Spectra (Snapdragon 8) ISP: 200Mpixel photo capture (200MP still images (108MP/30 fps, single camera; 64MP + 36MP/30fps, dual-camera; 36MP/30 fps, triple camera, all with zero shutter lag); 8K HDR video [email protected] fps+64Mpixel photo capture; 4K video capture @ 120 fps; slow-mo 720p @ 960fps; bokeh engine for video capture, 10-bit HEIF photo capture
Hexagon (Snapdragon 8): Total Harmonic Distortion + Noise (THD+N) Playback: -108dB
Connectivity (5G): Integrated x65 5G modem: mmWave (1000MHz bandwidth, 2×2 MIMO), Sub-6GHz (300MHz bandwidth, 4×4 MIMO); LTE support (CBRS, WCDMA, HSPA, TD-SCDMA, CDMA 1x, EV-DO, GSM/EDGE); AI Enhanced Signal Boost
Connectivity (Wi-Fi): FastConnect 6900 (Wi-Fi 6e/802.11ax, 802.11ac), 3.6 Gbps peak speeds; 4K QAM, OFDMA; MU-MIMO (up to 8×8 MU-MIMO)
Connectivity (Bluetooth): Bluetooth 5.2, with support for Qualcomm aptX Voice/Lossless/Adaptive specifications
Qualcomm Sensing Hub
Power: Quick Charge 5
AI
Artificial intelligence is sometimes difficult to define on the PC, but on the smartphone it's quickly become synonymous with two things, computational photography and how your phone processes voice commands. With the Snapdragon 8 Gen 1, Qualcomm has improved across both vectors, according to Ziad Asghar, Qualcomm's vice president of product management of its Snapdragon technology roadmap. The Hexagon's performance has roughly doubled, Asghar said, and the available memory to the Hexagon has doubled too.
From a performance perspective, Qualcomm's numbers have improved quadruple the AI performance, with twice the tensor accelerator performance and 1.7X more power efficiency, Asghar said. There will be 8-bit plus 16-bit mixed integer support. What will be more interesting is what the AI engine can do such as video bokeh effects from ArcSoft, improved natural language processing, and a new "Leitz Looks" filter from Ernst Leitz Labs that you'll be able to apply to photos to give them the look of Leica cameras.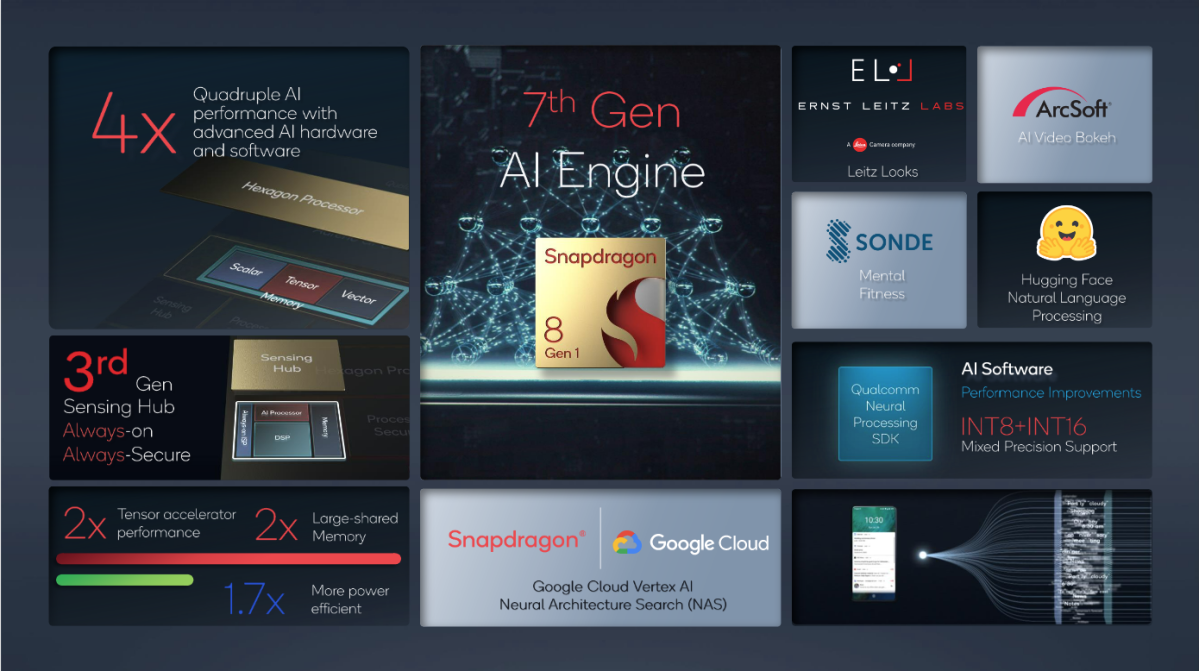 Qualcomm
The Snapdragon 8's Hexagon AI engine can also interact with the integrated 3rd-gen sensing hub, with a couple improvements that could seem cool or otherwise very creepy. Asghar said that Qualcomm is working with Sonde to develop technologies to listen to your voice as you speak to determine if you're suffering from a health issue such as asthma or the coronavirus. Hugging Face natural language processing will scan your voicemail messages and apply sentiment analysis. Is it really important that your brother speak with you?
AI is also being used with antenna tuning, helping to re-route the antenna signal path depending on how the phone detects you're holding the phone. (This certainly sounds like a possible solution to the iPhone "antennagate" scandal, and Steve Jobs' famous response: "You're holding it wrong.")
Finally, Asghar said, Qualcomm is adding a "completely new experience," the always-on camera system which represents a fourth ISP. What that allows you to do is bring in completely new use cases where your phone can unlock just by looking at it and "also prevent unnecessary looks at your display," Asghar said. Essentially, your phone will be always looking for your face, eliminating the need to "unlock" it.
Qualcomm may be walking a fine line here. Google Glass failed, in part, because users were never sure if they were being recorded or if their behavior was being tracked and there were similar questions asked of Facebook regarding the recent introduction of its own smartglasses. Some laptops have included privacy shutters over their webcams because of concerns, justified or not, that users could be illicitly recorded.
In response to a question about the ethics of an always-on camera, Asghar noted that Qualcomm attempts to "make sure that the data that is there stays on the device." Any images captured by the camera will be kept on the device itself. "As you know, these are capabilities that add to experiences…and [we want] to make sure that we have solutions that are abiding by all the privacy parameters and everything," Asghar added.
More importantly, Asghar said he believed that the always-on camera would be an OEM-enabled feature, meaning that it will be up to the smartphone OEM to actually enable it as well as provide user controls to manage its use.
Camera
Otherwise, the Snapdragon 8 Gen 1's camera has added some interesting new features.
Qualcomm is calling its new camera ISP brand "Snapdragon Sight," representing what the Snapdragon 8 Gen 1's camera can do. It can take pictures, certainly, but also recognize what the camera is taking photos of. Last year's Snapdragon 888 offered AI-based auto-exposure and auto-face detection, but the Snapdragon 8's Spectra Image Signal Processor now performs intelligent face detection. That matters, according to Judd Heape, vice president of product management at Qualcomm, when the camera is asked to unlock the phone for a user whose face is partially obscured by a mask. The camera's sensor can now map up to 300 "facial landmarks", tracking your eyes, nose, mouth, cheeks, and so on for animojis and other applications where the camera has to map your facial expression.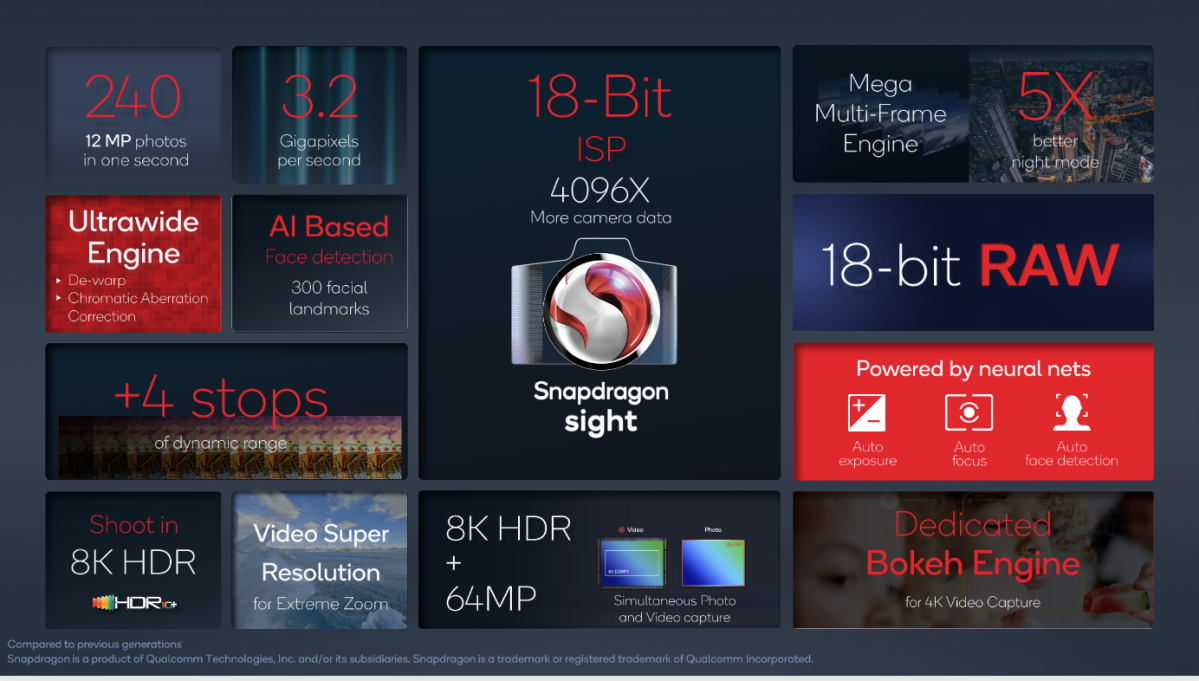 Qualcomm
Smartphone cameras powered by Qualcomm Snapdragon 8 processors will also feature dynamic range that has increased by four stops, part of a move from a 14- to an 18-bit ISP that will see the ISP capturing over 4,000 times more data than before, or 3.2Mpixels per second.
While the 888's camera ISP allowed users to shoot 8K video, the 8's ISP will add HDR capabilities to that 8K video. There's also a dedicated hardware engine that will apply bokeh in real time to 4K video, too. In addition to the various still-image capabilities talked about in the specifications, Qualcomm also developed "Panoramic View," a 140-degree wide panoramic-like shot that can be captured in a single shot, without the need to stitch photos together.
The AI engine and camera engine will work together to perform extreme ultra zooming. Basically, it's digital zoom with smart interpolation to eliminate graininess. Last year's Snapdragon 888-powered "night mode" stitched together about six frames to form a composite image. The Snapdragon 8's camera will combine about 30 frames, delivering "five times better night mode," Heape said. That's because each pixel in a night scene is tracked, so the camera can intelligently filter out the pixel "movement" caused by your hands shaking. The result will be a sharper, crisper image, he said. Finally, the company is using AI to eliminate chromatic aberration from wide-angle lenses.
Heape also provided a few more details about the always-on camera will work. Essentially, it will be able to automatically unlock your phone, but also notice when someone may be peering over your shoulder and alert you. We've seen this before in the PC space. The "Glance" utility Lenovo bundled with its ThinkPad X12 Detachable Gen 1 tablet, for example, blurs your screen if you're not there. Dell's laptops simply detect your presence, then turn on the Windows Hello-enabled webcam.
Qualcomm also showed off a video where a cook propped up his smartphone against a mixer, then periodically crouched down to unlock his phone and turn on the screen — and showed that the recipe that he was using. The phone can also hide sensitive notifications when someone else may be looking at it, too.
Hsin-i Hsu
Gaming
Mobile gaming may not be something you think of when you think of mobile phones — well, nothing more than a casual round of Candy Crush. But mobile versions of Player Unknown: Battlegrounds and similar games can sell smartphones, too. Here, processing power and GPUs rule, just as they do with PCs. Essentially, GPU performance has gone up by 30 percent within the new Adreno, while power consumption has dropped by 25 percent.
Qualcomm is promising three improvements with the Snapdragon 8. First, a new Adreno GPU frame motion engine that will essentially double frames at the same power consumption, or reduce power up to 50 percent at the same frame rate. Second, the new chips will add "desktop-level volumetric rendering," executives said. Finally, the company is promising a "pro" level version of variable rate shading, which will allow the GPU and display to sync up to provide "tear-free" gaming with fewer visual artifacts.
Modem, trust and security
On the modem side, Qualcomm is bringing together full mmWave and sub-6-GHz enablement, Asghar said. More importantly, Qualcomm is introducing 5G uplink carrier aggregation, where multiple uplink channels will be able to be used simultaneously to improve upload bandwidth. The X65 modem will support 10Gbit 5G, chief executive Cristiano Amon said, with a 3.5Gbps uplink, when the two technologies are aggregated.
WiFi 6 and WiFi 6e are also being added, as is Bluetooth Low Energy (BLE) and support for CD lossless audio. Finally, Qualcomm is adding something called a "trust management engine," which is designed to help users secure confidential information. It will be compliant with Google's Android Ready SE, which can be used for provisioning of Android keys, including digital keys for cars and homes, driving licenses and digital wallets. You will even be able to mint and store NFTs with Snapdragon 8, executives said.
The Snapdragon 8 Gen 1 supports iSIM, eliminating the need for a physical SIM card or SIM tray.
Qualcomm
Qualcomm has yet to reveal whether updates to its Snapdragon Compute line of PC processors are en route. However, the company's Snapdragon Tech Summit will run for another day.
This story has been updated with additional details at 6:34 PM.
Note: When you purchase something after clicking links in our articles, we may earn a small commission. Read our affiliate link policy for more details.
As PCWorld's senior editor, Mark focuses on Microsoft news and chip technology, among other beats. He has formerly written for PCMag, BYTE, Slashdot, eWEEK, and ReadWrite.
Xbox Game Streaming now looks even better on Edge
Microsoft
The ability to stream Xbox games to your phone or computer, regardless of whether or not you own a Microsoft console, is undoubtedly one of the coolest parts of Xbox Game Pass. Today the company is improving that streaming experience on PCs… at least, if you're okay using the official Microsoft browser. The new "Clarity Boost" feature is now live for Game Pass users on Edge.
According to the announcement post, the system uses "a set of client-side scaling improvements" to enhance the quality of the stream. Exactly what's going on isn't broken down in technical detail, but the results on a Gears Tactics screenshot are dramatic. The enhanced detail is especially visible on Gabriel's hair and skin.

Microsoft
To enable the enhanced visuals, you'll need to be using the latest early Canary build of Microsoft Edge, which you can download here. On the xbox.com/play web app, start a new game and select Enable Clarity Boost from the "more actions" menu. Microsoft hasn't said if these enhanced visuals will be coming to other streaming platforms, like Android phones.
Note: When you purchase something after clicking links in our articles, we may earn a small commission. Read our affiliate link policy for more details.
Michael is a former graphic designer who's been building and tweaking desktop computers for longer than he cares to admit. His interests include folk music, football, science fiction, and salsa verde, in no particular order.
US lawmakers hope to outlaw online 'bots' snatching up hard-to-find hardware
Brad Chacos/IDG
Anyone who's tried to buy a graphics card in the last year has felt the pinch of the chip shortage in a very specific way, enhanced by extra factors like cryptocurrency miners gobbling up limited stock. A group of US Senators are taking aim at another frustrating part of the equation: scalpers who use software "bots" to buy items from online stores the second they become available, then resell them at exorbitant prices. The "Stopping Grinch Bots Act" was presented on the Senate floor on Monday.
The bill is general in application, so it would apply for in-demand items like game consoles or popular toys. Senators Richard Blumenthal, Ben Ray Luján, Charles Schumer, and Paul Tonko (Democrats from Connecticut, New Mexico, New York, and New York, respectively) sponsored the legislation, which builds on the existing Better Online Ticket Sales act from 2016. That law targeted similar behavior from scalpers trying to resell tickets for concerts and sporting events. An identical bill has been presented to the House of Representatives.
"The average holiday shopper is unable to compete with the lightspeed of the all-too-common Grinch bot," said Senate Majority Leader Schumer, "and are then held at ransom by scalpers and third-party resellers when trying to buy holiday presents. After a particularly trying year, no parent or American should have to fork over hundreds or even thousands of dollars to buy Christmas and holiday gifts for their loved ones." The Act is also supported by Consumer Reports, the Consumer Federation of America, and the National Consumer League.
The Stopping Grinch Bots Act, H.R. 5263/S. 2957, was initially put forth in 2019, but has stalled in both houses for two years. In short, it makes it illegal to use software or "bots" that intentionally bypass the security measures on online stores to sell items or to sell items obtained via this method. That would put the kibosh on operations that have been known to snatch up supplies of graphics cards and consoles almost instantly, making millions of dollars by immediately reselling items on the secondary market. 100% and 200% markups are common on the most in-demand items, especially around the holidays.
Whether or not the law would actually be effective is likely to be a point of contention. It would only apply to users in the United States. However, it would still be difficult to monitor and enforce. Though the Democrats who support the Stopping Grinch Bots Act technically control both houses of Congress and the presidency, they do so on razor-thin margins, and passing any legislation in the current political climate has proven extremely difficult.
Note: When you purchase something after clicking links in our articles, we may earn a small commission. Read our affiliate link policy for more details.
Michael is a former graphic designer who's been building and tweaking desktop computers for longer than he cares to admit. His interests include folk music, football, science fiction, and salsa verde, in no particular order.