How Axios is tackling local news: newsletters from small teams, in more markets
Axios is popping up local news-focused newsletters across the country, with ambitious plans to be in 25 markets in 2022. But local news is a challenging undertaking, and many have failed before it. How is Axios differentiating itself? "A lean, pragmatic approach," said Ted Williams, gm of Axios Local. That means small teams, in many cities.
Williams was the founder of Charlotte Agenda, a bootstrapped company that started with an initial investment of $50,000. It was acquired by Axios in Dec. 2020, and kickstarted the publisher's move into local news. 
Axios' local news expansion plans
Axios has hired 20 new reporters (and three associate editors) to launch local newsletters in eight cities between Sept. 20 and Oct. 4, including Atlanta, D.C., Austin, Nashville, Chicago, Philadelphia, Columbus and Dallas. Each city has a two-person team (except for Atlanta and D.C., which have three reporters each) covering local news for Axios' audience of "smart professionals," Williams said. Reporters are based in the cities they are covering focusing on topics such as local government, real estate and business, Williams said. The tech, design and copy editing for each newsletter are handled by centralized Axios teams.
The Axios Local newsroom has 30 to 40 people total, according to Nicholas Johnston, Axios' publisher, and the "aspiration" is that one day it'll be the same size as the core Axios newsroom of 120 people. "We are trying to hire the two best journalists in each market," Williams said. These teams will "grow as the audience grows and revenue grows… rather than go in and hire really large teams and just burn through cash quicker." 
Axios Local is planning to move into 11 more markets by the third quarter of 2022, which will bring it to a total of 25 markets, according to Williams. Axios Local will decide which markets those will be by the end of this year, Williams said. Its current slate of 14 newsletters has around 400,000 subscribers, and open rates hover at an average of 35%. Charlotte's newsletter has the most subscribers, followed by cities like Denver, the Twin Cities and Tampa Bay, which all have between 50,000 and 100,000 subscribers, Williams said. 
The focus on fewer, long-term advertisers
Axios Local is on pace to bring in somewhere between $4 million to 5 million this year, according to Williams. Revenue comes from email sponsorships from both local and national advertisers. National advertisers can choose which combination of markets or which region they want to reach via Axios Local's newsletters. Each newsletter has an ad at the top of the email, and then two branded content units within the email. Pricing differs based on the size of each market (smaller markets like Des Moines have lower rates, for example). Williams declined to share those rates. 
The strategy, he said, is to prioritize long-term clients over having "a ton of clients." The six-year-old Charlotte Agenda newsletter (now called Axios Charlotte) has about 30 advertisers on annual sponsorship deals, including Bank of America Blumenthal Performing Arts and Atrium Health. Each newsletter usually starts off with about a dozen advertisers, Williams said. Axios has a mix of centralized ad sales teams in certain markets and regions across the U.S., according to a spokesperson. There are larger revenue teams in D.C., New York and San Francisco, as well as Axios Local revenue leads living in Denver, Columbus, Austin and Charlotte. The company will hire more people across all teams next year, the spokesperson said.
"If you can generate revenue at a local level, with larger national buyers interested in a specific amount of cities, you can start to diversify revenue and don't get ahead of your skis with too many costs," Williams said. Axios Local will also introduce job boards to some newsletters in the fourth quarter of this year and roll them out to all markets in the beginning of 2022, he said, after the success of Charlotte Agenda's job board, where each listing costs $250.
How are new cities chosen by Axios Local? It's a combination of editorial and advertising factors: where Axios' other newsletter subscribers live, where Axios' web visitors live, what markets Axios' current advertisers are interested in and what the overall advertising ecosystem looks like in specific cities. 
"This shouldn't be a hobby or charity. We need to build a successful company," Johnston said.
Facing the challenges of local news businesses
But local news is suffering. More than 90 newsrooms have shuttered since the pandemic began, according to The Poynter Institute.
While local Axios newsletters appear to be "robust," news outlets like The Denver Post "have much larger staffs and are providing important accountability journalism, whereas Axios can really only skim the surface," said Dan Kennedy, a journalism professor at Northeastern University. He worried that Axios' local news push could "come at the expense of news organizations that are putting much more resources into covering the news."
Melissa Chowning, founder and CEO of audience development and marketing firm Twenty-First Digital, works with a number of local publishers and called the space "crowded." 
"It feels a bit like a slow-moving collision between national digital publishers more aggressively pushing into the local space and the local publishers who have been in these markets for a long time," she said. However, "healthy competition" can produce more local investigative and civic journalism.
Johnston believes what differentiates Axios' local coverage is its newsletter model, rather than a business dependent on traffic and clicks for ad revenue. "Newsletter subscribers have demonstrated an intent to be with Axios and ask to be emailed every day. I'm not worried in the morning: 'I hope I have a wacky story that will trend on Facebook that people will click on.' I can email 85,000 people every morning, which is a much stronger business," he said.
Sights set on paid newsletters
Will Axios Local newsletters one day become paid newsletters? Johnston says he hasn't thought that far ahead. However, he said newsletters that were launched as free will remain free. Subscription products will be "additive," he said. 
Johnston, who previously served as Axios' editor-in-chief before he was named the company's publisher this month, is tasked with overseeing Axios' first foray into the paid subscription business. Called Axios Pro, a handful of paid newsletters will launch at the beginning of next year "on deals and dealmakers," he said. Johnston is currently in the midst of hiring reporters to launch those newsletters. "I don't even want to guess the number of journalists we will hire in the next 12 months to launch Axios Pro and take Axios Local into the stratosphere," he said.
In just the last month, Axios has announced a number of promotions. On Sept. 23, chief revenue officer Fabricio Drumond was promoted to chief business officer. Sara Kehaulani Goo was promoted to editor-in-chief. Shane Savitsky and Emma Way were promoted to deputy managing editors for Axios Local, and Hadley Malcom was promoted to editor of Axios Local. Ryan Kellett, who previously served as the senior director of audience at The Washington Post, is now vp of audience at Axios. 
This article has been updated to reflect that Axios Local will be in 25 markets next year. A previous version stated that the publisher's local division will be in 23 markets.
Pick up this RTX 3070 Alienware laptop at a staggering $530 off
Dell
Finding a decent graphics card for your desktop PC may be nigh-impossible, but gaming laptops have never been hotter. (Literally—they need some serious active cooling systems.) Take this Alienware M15, for example: Packed inside are a Core i7 processor, an RTX 3070 GPU, and a bunch of other great features. And right now, Dell's online shop has slashed its price, taking an eye-popping $530 off the normal price.
There's a lot to like about this machine: 512GB of speedy M.2 SSD storage, 16GB of memory for generous multitasking, and a 144Hz G-sync panel to make that 15.6-inch screen and that graphics card shine. The only real downsides are that said screen is a 1080p, non-touch panel, and that Core i7 is a little older than some other laptops: a 10th-gen model from 2020. But those sacrifices are more than worth it for such a deep discount. A laptop that retails for $2,129 is now just $1,600, and it should be able to run the latest games for years to come.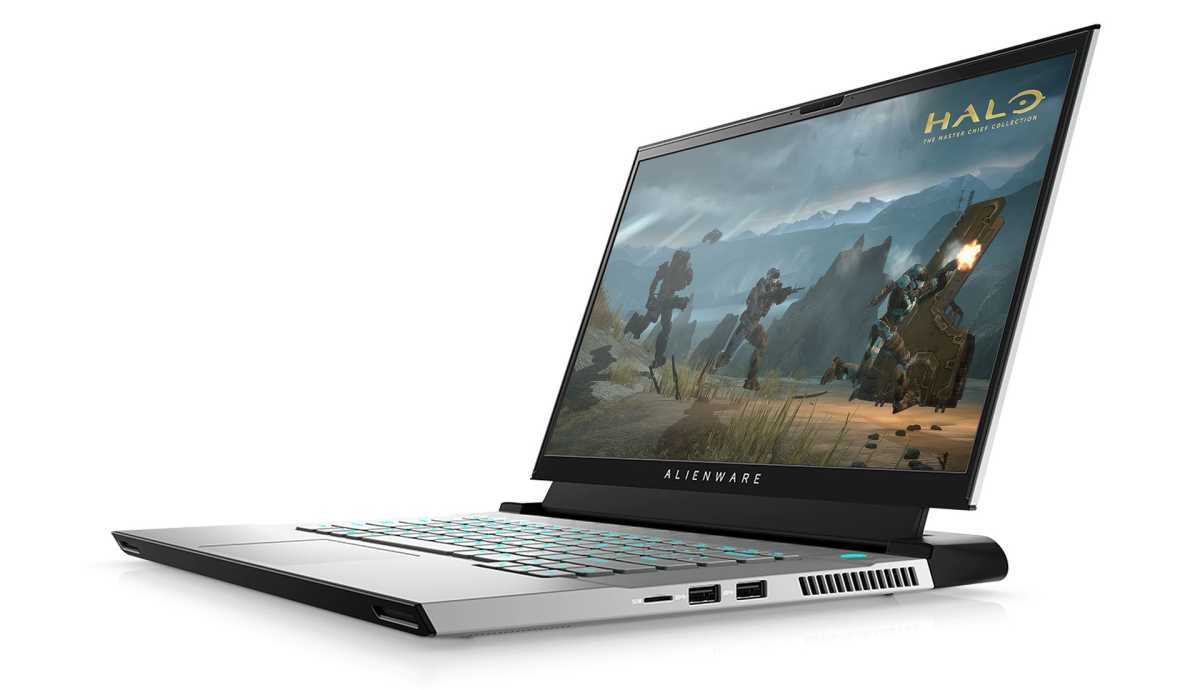 Dell
The fourth revision of the Alienware M15 comes with an impressive array of ports: triple USB-A, fold-out Ethernet, headphone jack, and MicroSD card on the side, and HDMI, mini-DisplayPort and USB-C on the back. That Type-C port can handle power input if you have enough juice, but the laptop also includes a standard barrel power port. And if that RTX 3070 ever becomes not beefy enough for you, you can add on an external graphics card via the proprietary Alienware Graphics Amplifier port.
Dell says that this deal is limited in terms of availability, and with those specs it isn't likely to last long. Get an order in quickly if you've made a decision.
[Today's deal: Alienware M15 with RTX 3070 for $1,600 at Dell.com.]
Note: When you purchase something after clicking links in our articles, we may earn a small commission. Read our affiliate link policy for more details.
Michael is a former graphic designer who's been building and tweaking desktop computers for longer than he cares to admit. His interests include folk music, football, science fiction, and salsa verde, in no particular order.
What to look for in a cheap Chromebook
Is a cheap Chromebook good enough for distance learning and homework? Definitely—depending on what's inside.
As a parent or a student, you may already have weighed the pros and cons of Windows laptops vs Chromebooks. One of the appeals of a Chromebook is cost, especially if a family has to buy several. But some of the cheapest Chromebooks we've seen come with some big caveats. We'll go over the key factors to consider before you buy. Consider these while you check out our best Chromebook deals for Black Friday.
Check the Auto Update Expiration
The first thing you should do when considering any Chromebook, especially one that's enticingly cheap, is to check it against Google's Auto Update Expiration list. While Microsoft supports Windows PCs for a long time, Google sets a limit—currently about six years from the product's original ship date for most consumer models, though some (especially education and enterprise models) get a few years more. 
When a Chromebook goes off support, Google won't upgrade the Chromebook's ChromeOS any further, which means no new features and no security patches. If you buy an older Chromebook, it's already a few years closer to its expiration than a brand-new model would be. Retailers do not publicize this, so it's worth checking out.
My son spent most of last school year doing schoolwork on an original Chromebook Pixel from 2013, which was way out of date, with no problems whatsoever—but there are no guarantees.
Display quality: Resolution and brightness
A classic feature of cheaper Chromebooks is a lower-quality display. Whether you're young or old, looking at a small, low-res screen for hours at a time can be fatiguing at best and detrimental at worst. That's why you should buy a Chromebook with a Full HD (1920×1080) display if at all possible. An HD (1366×768) screen—often found on the cheapest Chromebooks—can be tolerated on smaller 11.6-inch displays, but we don't recommend it. Eye fatigue can affect kids as well as adults.
The displays on cheaper Chromebooks can also be on the dim side. They may suffice for indoor use, but outdoor light will wash out the screen. If you can find a brightness spec, look for something 250 nits or higher.
Memory matters more than storage
While Chromebooks can store data locally, the vast majority of schoolwork is performed online. To my knowledge, neither of my children have ever saved something on to a Chromebook directly, so the size of the onboard storage rarely matters. PC enthusiasts may also prefer faster SSDs over an eMMC flash drive—but for a Chromebook? It really makes no difference, and you shouldn't even really pay attention to how much storage a Chromebook has if your work is mostly or always done online.
Memory plays a bigger role, because that's where your browser data is loaded. More memory means you can have more available browser tabs for surfing the Web.
Most Chromebooks come with at least 4GB of memory. Anything less than that (such as 2GB) may have a detrimental effect—in fact, Zoom recommends 4GB of memory. A child in elementary school might not be using a Chromebook for more than Google Classroom, Zoom, and some other app. An older child might need to have multiple tabs open for research. With older students, teens, and adults, consider a Chromebook with a bit more memory. (Unfortunately, Chromebooks aren't usually designed to be upgradeable.) 
Connectivity
As with any laptop, smaller and thinner models tend to skimp on ports. Think about what you need to connect—such as a USB drive, a headset, or a display. In general, look for an HDMI port (for an external display option), a microSD or SD card slot for loading photos, and a USB-A port (ideally more than one) to plug in peripherals. You'll also see USB-C ports on some Chromebooks, but usually not the cheaper ones. (We see a lot of discounted Chromebooks ignoring HDMI ports entirely, especially the ones being sold for Black Friday or the holidays.)
Choosing an older, cheaper Chromebook might mean suffering with an older Wi-Fi radio. Generally, however, 802.11a/b/g/n Wi-Fi or better, plus Bluetooth, should work, even for Zoom's bandwidth requirements of 2.5 Mbps for group video chats at 1080p resolution. 
Webcam: Just make sure there is one
No well-meaning teacher is going to care about the quality of a child's webcam as long as there is one. A better webcam can make it easier to see your child, or make their work more visible if they're holding it up for inspection, but a well-lit room can probably offset any shortcomings.
Processor performance: Zoom requires more
Chromebooks designed for browser-based schoolwork traditionally haven't required much processor power—and often saved cost with lower-end chips. Now, however, both Zoom and YouTube play a more significant role.
YouTube shouldn't give even old, cheap Chromebooks much of a workout, especially as YouTube automatically scales the resolution to deliver a good experience. But with Zoom becoming more prevalent, it might be worth leaning toward a Chromebook with an Intel processor, either a Celeron a full-fledged Core chip. Zoom's system requirements call for a "1 GHz" processor for Zoom calls. 
You'll typically find Chromebooks offering Core chips (far more horsepower than necessary), Celeron or modern Pentium chips (probably sufficient) and Arm chips from Qualcomm and Mediatek. We'd typically agree that even an Arm chip can run a Chromebook just fine (after all, there's one in your smartphone) but a quick web search of the processor can't hurt. If the chip was manufactured more than five years ago, you may want to consider a newer model.
This story was updated with additional information on November 25.
Note: When you purchase something after clicking links in our articles, we may earn a small commission. Read our affiliate link policy for more details.
As PCWorld's senior editor, Mark focuses on Microsoft news and chip technology, among other beats. He has formerly written for PCMag, BYTE, Slashdot, eWEEK, and ReadWrite.
Arturia's V Collection instruments now have native M1 Mac support
It's now that much easier to use Arturia's softsynths on your brand new MacBook. Arturia has released a free V Collection 8.2 update that adds native support to the (currently discounted) suite for Macs with M1 processors. That should improve performance, as you might guess, but it could also help with battery life if you need to play unplugged.
Other speed updates are in store. The update boosts the performance of 4K interfaces through a new framework, and presets from the V Collection factory libraries now load up to twice as quickly. You'll also find ODDSound MTS-ESP microtuning compatibility for the Clavinet V, DX7 V, Piano V and Stage-73 V.
This might be an important update if you use softsynths for music-making. Arturia has a reputation for virtual instruments that are both meticulous and relatively accessible. This both makes V Collection more viable on M1 Macs and gives you more incentive to rely on digital synths instead of hunting down their costlier real-world counterparts.
All products recommended by Engadget are selected by our editorial team, independent of our parent company. Some of our stories include affiliate links. If you buy something through one of these links, we may earn an affiliate commission.